Initially considered a formal attire, white shirt outfits are now a wardrobe staple for every man. With proper styling, you can wear this versatile outfit on any occasion, regardless of the dress code.
In this era of rapidly changing fashion, white shirts are a trend that evolved through the years from an epitome of luxury into everyday fashion. Wearing a white shirt adds sophistication to your entire look. For Instance, a guy wearing a white shirt on the street will look equally stylish as the model walking the ramp.
However, styling a white shirt is not as easy as it sounds. So, to help you make this task easier, here are some tried and tested white shirt outfit combinations that will take you a long way!
What To Expect In This Article?
What To Wear With White Shirt?
How you style a white shirt depends largely on occasion. For Instance, wearing a white t-shirt with jeans and sneakers for a casual gathering would be alright. But, you cannot wear the same outfit to a formal event.
Therefore, for a severely formal dress code, opt for a white dress shirt and pair it with a business suit and a tie. Wearing a pair of formal shoes and cufflinks with this outfit will be a cherry on top.
Moreover, you can style your basic white shirt with a sweater or a blazer and jeans for an extremely vogue winter look and extra warmth.
Do's And Don't Of White Shirt Fashion
While planning an outfit for a formal occasion, never opt for a graphical white shirt; instead, buy a crisp white dress shirt.
Make sure the shirt is stitched to your size. An ill-fit shirt may steal your outfit's vibe and make you look ugly.
Always style your white shirt according to the dress code and occasion.
The right accessories can uplift your look beyond measure. So, choose them carefully.
White Shirt Outfit Ideas
With so many options available in the mall, anyone can get overwhelmed about selecting a suitable white shirt to pull off an effortlessly chic look. Therefore, we have curated a list of some easy-to-carry white shirt ideas that will help you decide on the perfect white shirt outfit. So, let's dive in.
1. Casual Outfit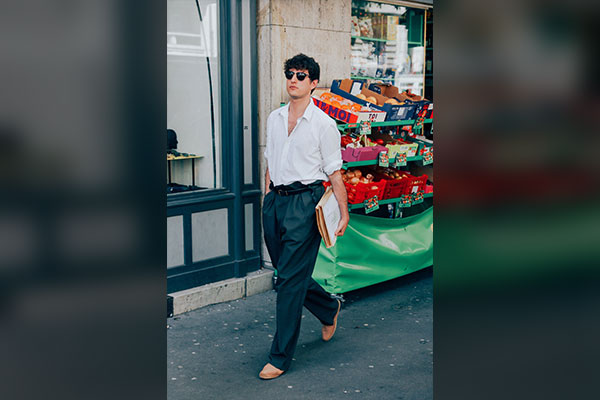 Oftentimes, we come across an event that demands casual but sophisticated attire. For such days, white t-shirt outfits come forward for the rescue. White polo or t-shirt paired with khaki chinos and white sneakers is perfect casual attire for a lunch date. Wear stylish sunglasses and a wristwatch, and be ready to sweep everyone off the feet with your charisma.
2. Business Casual Look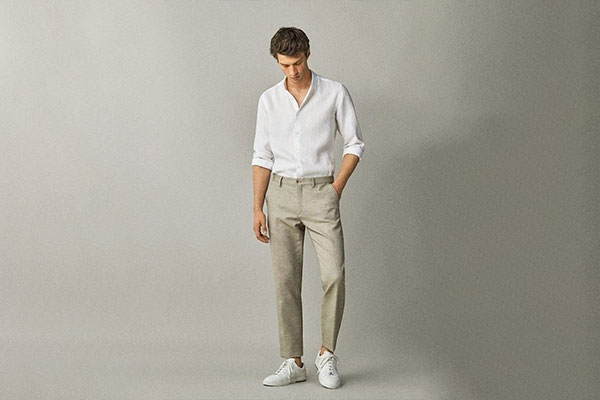 These days, most corporate firms follow a business casual dress code in their workplaces. Having a white button-down dress shirt in your wardrobe will save you from the misery of deciding on the perfect workwear outfit. Wear your white dress shirt with chinos or usual linen pants and achieve a modish business casual look to slay your next office meeting. Lastly, complete this look with formal loafers, cufflinks, and a tie. 
3. White Shirt And Jeans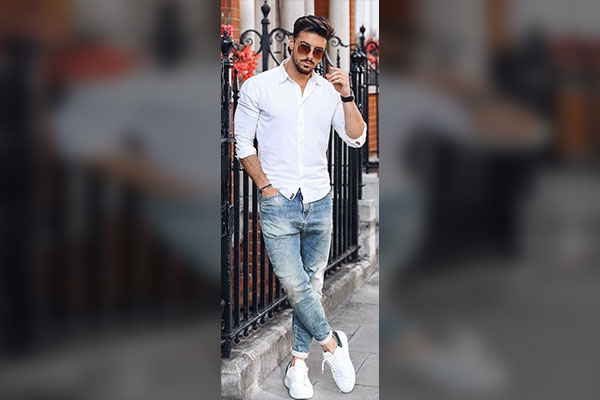 A shirt and jeans are one outfit combination that has been in the game for years, and you can never go wrong with this fabulous look. If you desire to make this outfit even more interesting, wear jeans and a white shirt outfit. 
Whether you wear distressed jeans with a basic white polo for a casual vibe or style a button-down white shirt with black jeans for a hinge of sophistication, both will look equally classy. So, stock up on your jeans and white shirt outfit this summer and get ready to slay through the season in style.
4. Formal Suit/Tuxedo Outfit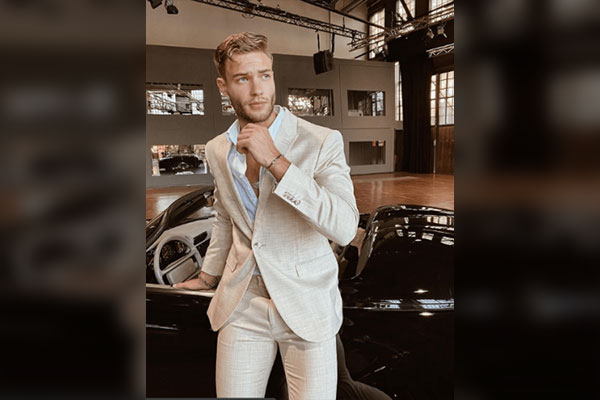 Formal suits and tuxedos are everyone's favorite outfits to adorn at a party or other formal event. Of course, you can wear any color shirt with your favorite formal suit, but no other shirt can complement your black or blue formal suit like a white collared shirt outfit. Moreover, you can also style your suit with a basic white crew-neck shirt to tone down the formal vibe of the outfit.
5. White Shirt With Sneakers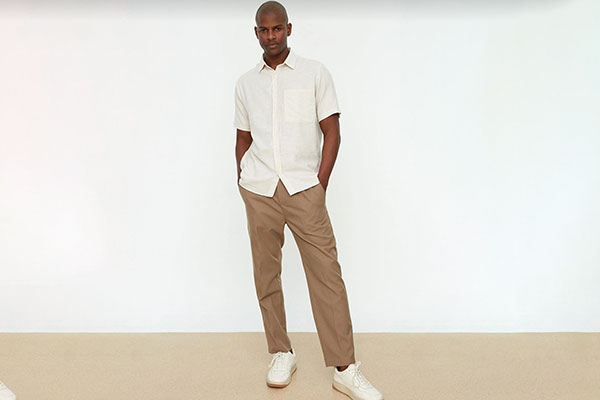 The footwear you opt for depends upon your style preference and the severity of the occasion. A pair of sneakers is a perfect match for all your white shirt outfits unless it's a formal event. Whether it's a white polo paired with shorts or a white dress shirt worn with a neutral chino, you can always show up in sneakers with these outfits, with your fashion game in check.
6. The Classic Black And White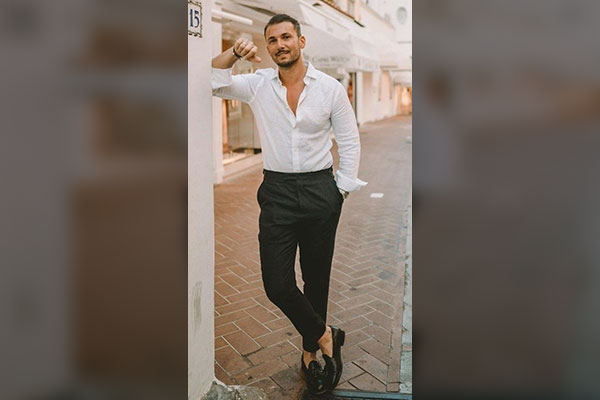 A Black and white outfit is among the rare combinations you can wear on any day, regardless of the occasion. For Instance, a white t-shirt paired with black crop jeans and sneakers is the ultimately chic casual outfit you can wear on any typical day. 
On the other hand, this color contrast will also work if you desire a less casual vibe. Wear a black and white stripe shirt outfit with formal shoes, and you are good to go. Furthermore, wearing a black suit with a white satin finish dress shirt will cover you for all your severely formal events.
7. Styling With A jumper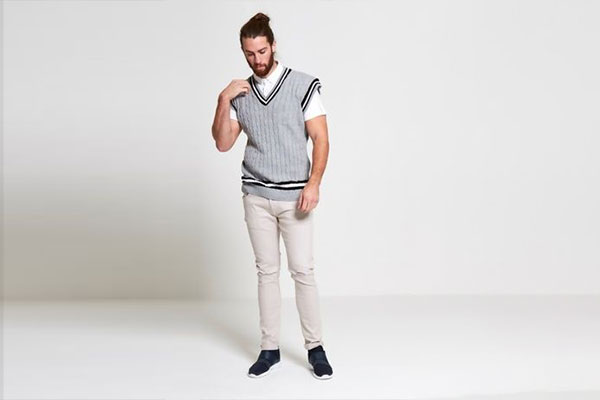 Spring is around the corner, and what else can be a better way to celebrate this season than upgrading your wardrobe with colorful spring outfits. So, wear those adorable jumpers over a white collared shirt and your usual pair of jeans for a casual spring look. In addition, you can also pull off this sweater outfit for a smart workwear look with chinos and a pair of formal shoes and be the ultimate fashionista at your office.
8.  The Bermuda Shorts Summer Look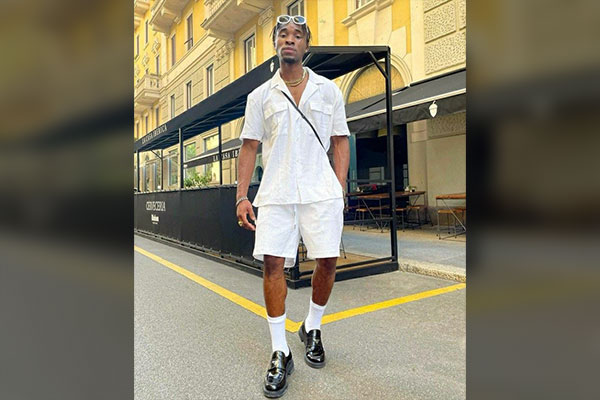 Looking for something to beat the summer heat? Then look no further. Wear your favorite pair of Bermuda shorts with a pollo or a button-down white shirt with a pair of sneakers for a cool casual summer look.
Moreover, you can also wear this outfit to your next pool party or beach holiday by replacing the sneakers with flip flops and adding a touch of cool summer accessories like a beach hat and sunglasses for a fun vibe.
9. White Shirt WIth Denim Jacket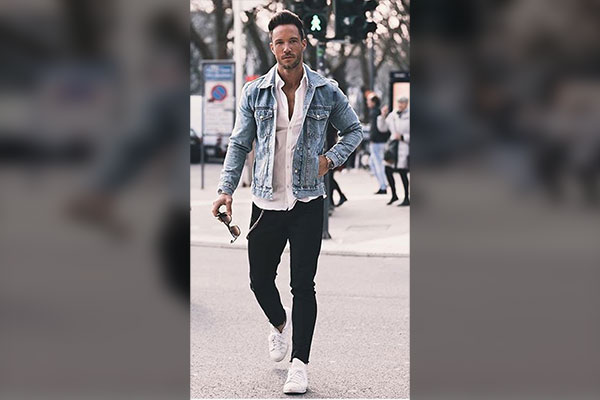 White shirts are denim's best friend. Yes, you heard it right. Whether it's a pant or a denim jacket, you can never go wrong with them while styling a white shirt. Wear a crew neck t-shirt or a typical white button-down shirt with basic black jeans or neutral chinos with a faded blue denim jacket and white sneakers for a cool casual look.
10. The White Winter Look
Trench coats and jackets are more like a winter wardrobe essential. Pairing them with your favorite white shirt outfit is all the winter styling you need for an effortless high-fashion look.
Wear a neutral color jacket or blazer and a white shirt with regular chinos to pull off a smart winter outfit. Do not forget to add a warm scarf for a complete look. Furthermore, you can also wear this look over your casual corporate attire for maximum style and warmth.
FAQ's
How should a man dress in a white shirt?
How you dress up a white shirt depends entirely on your style preference and the occasion. For example, you can wear jeans and a white shirt with sneakers for a laid-back casual dress code. While for a formal setup, dressing up in a white collared shirt with a business suit or a tuxedo outfit would be appropriate attire.
What do men wear under a white shirt?
An undershirt is necessary when wearing a white dress shirt. Wear a typical crew neck or v-neck, whatever works for you. While a white undershirt will do the work, it's better to opt for a grey and light brown undershirt, as it blends well with most skin tones.
Do white shirts look good on guys?
Wearing white adds soberness to your entire outlook and creates a soothing aura. Furthermore, according to recent studies, men look more desirable to the opposite gender in white compared to any other color. Therefore, no other shirt can look more flattering than a white shirt if styled correctly. 
Conclusion
Historically considered a symbol of wealth and dignity, a white shirt has recently emerged as a raging fashion. Whether it's a typical workday at the office or a casual lunch date, a white shirt can make any outfit stand out with a touch of sophistication. So, upgrade your wardrobe with white shirt outfits this season and be the ultimate fashionista among your peers.