Items like the humble black shoe are a critical part of men's fashion. They are super versatile and work flawlessly with almost everything, so you can focus on the rest of your outfit. They're also fairly stable, so you don't have to worry much about how they look on their own.
However, versatility is not the only selling point of these items. Black shoes, in particular, have tons of exceptional matchups that are easily S-tier material in most cases. One of the best examples of these is the pairing of black shoes with khaki outfits.
What To Expect In This Article?
Different Shades of Khaki
Saying that khaki works well with black is not wrong, but it isn't entirely true either. Khaki is not one single color. Instead, it is a group of different shades and tones and not all of them look equally as attractive when worn over black footwear.
Here is a rough ranking of the most popular shades of khaki for black shoes:
Most Compatible
If we rank different shades of khaki from the lightest to the darkest, the ideal matchup would be around the middle. More specifically, shades the like the classic khaki and British khaki look the most stylish.
Least Compatible
On the other end of the spectrum are the darkest shades of khaki including pebble and taupe. Pants with these shades are not bad, they just don't work well with black shoes.
These shades are fairly dull on their own, so pairing them with black shoes makes the whole outfit look gloomy and lifeless. If you own a pair of pants with a darker shade of khaki, rocking it over white leather sneakers is your best option.
Somewhat Compatible
The lighter shades of khaki, mainly beige and cream are the middle ground of this hierarchy. They look great when paired with the right outfits, but they can also be replaced with white pants in most outfits and the overall vibe of that ensemble wouldn't change by much.
Khaki Outfits with Black Shoes
The typical method of learning how to wear black shoes with khaki pants would require you to understand items, their types, compatibility, and biases. Crafting stylish outfits with these would be the second step in the process.
The faster and more efficient approach, however, is to learn from the greatest examples of black shoes and khaki pants outfits in men's fashion. Let's get started.
With White Shirt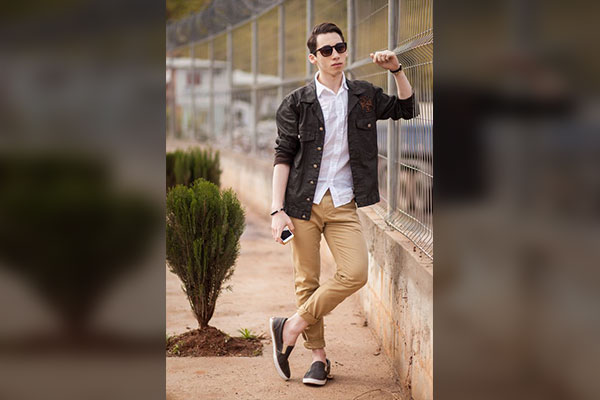 A white shirt outfit with black dress shoes and average khaki pants is one of the simplest combos you can try. It also happens to be the safest choice with a near 100% guarantee of it looking good.
Just make sure the white button-up shirt is fitted to perfection and has a slightly blue tint to it. The beauty of this simple combo is that it works great in a large number of situations, from casual to professional.
You can switch up this look completely by going with a white t-shirt instead of a button-up. In that case, black sneakers, khaki chinos, and a white polo are your best choice. Altogether, this polo outfit will come in handy on weekends.
Especially days when you don't want to look hungover but also don't want to spend too much time on your appearance and outfitting.
Brown Gradient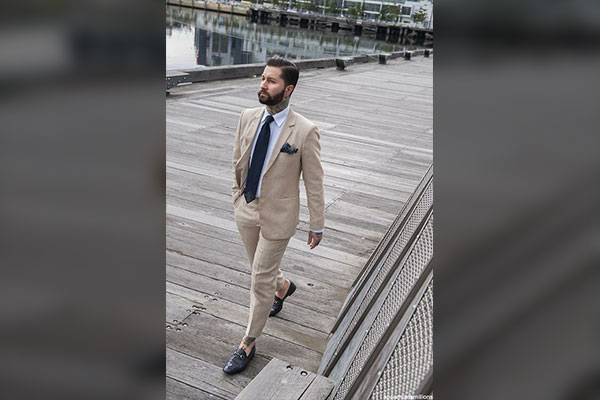 Instead of relying on specific items of clothing, this outfit is all about color and how you can use gradients to enhance your look. It starts with a pair of high-top black sneakers. On top of them is a pair of khaki pants that are then under a brown button-up.
The last piece of the puzzle here is a dark-brown leather jacket. Black jackets will work fine in this situation as well.
These black shoes with leather jacket outfits are suitable for everything casual. Depending on the exact type of jacket, you might even be able to fulfill the business casual dress code of your workplace.
With Colors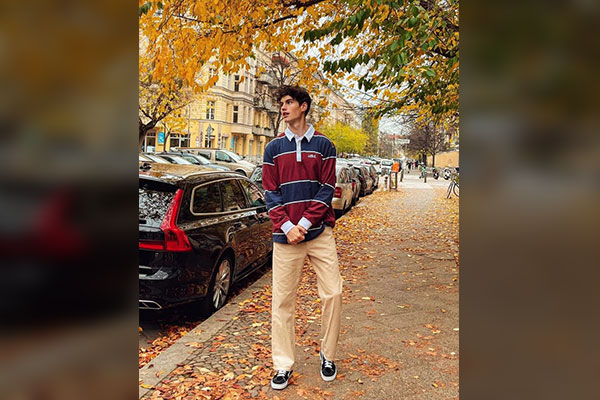 The base of this outfit starts at black leather shoes with khaki pants or chinos. You don't have to spend much time on the chino vs. khaki debate as they're both adequate replacements for each other. Once the pants and shoes are chosen, it's time to pick a shirt, and pastel button-ups are essential for this look.
It might sound a bit odd and not a good idea on paper, but it works surprisingly well, especially with light pink and light blue shirts. You are also free to choose any color for your shirt. Even khaki pants with a purple shirt are completely fine mix. Just make sure that it can be considered pastel or muted.
With a Blazer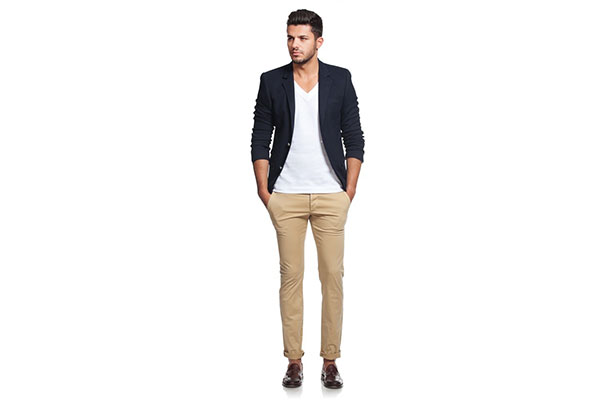 Just like black shoes for footwear, blazers are a staple of upper wear. The ease of styling a blazer combined with its mature and preppy look is what makes this outfit so great. The primary elements here are your oxford black shoes with khaki pants, and a grey blazer.
Picking the type and color of the shirt is completely up to you. It just needs to be a bit on the darker side. Everything from a black turtleneck to a brown button-up is fair game.
Another look you can try with the blazer is the low-profile urban outfit. It starts with black low-top sneakers and dark khaki chinos. On top of these are a cream V-neck t-shirt and a black or blue blazer. Between the blazer and shirt, you can also carry a fanny pack diagonally on one shoulder.
To Work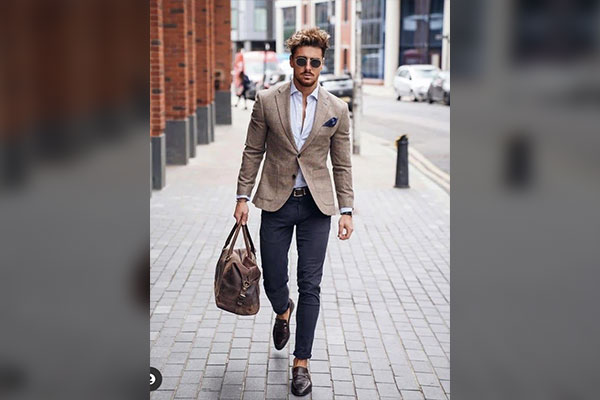 If you want to take black shoes with khaki pants to your office, you need a full khaki suit. Wear it over shiny dress shoes, and it'll work flawlessly. The thing that will complete this business professional attire would be a button-up and tie combo.
As for what color the tie and shirt should be, you have two options. The first is to lean towards the brown/khaki motif and wear cream shirts with dark brown ties. The second choice is the complete opposite with a light blue shirt and navy blue tie. Both exude different vibes but are equally valid.
As a side note, a dark khaki vest would look brilliant between a white shirt and a khaki suit jacket.
For the Outdoors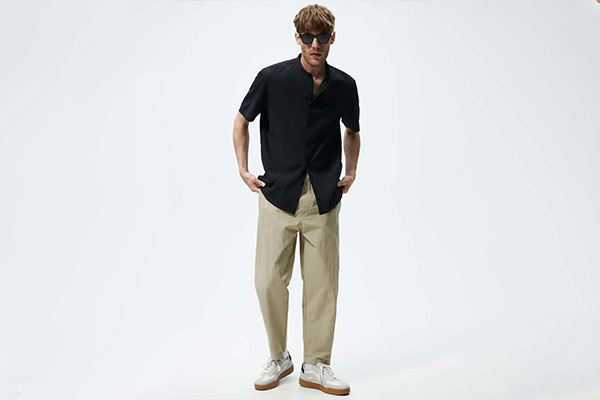 Yes, you read that correctly. The black shoes with khaki pants combo can be used for outdoor activities as well; you just have to pick the right types. For pants, there is no better choice than khaki cargo. They're comfortable and practical at the same time. On the other hand, no type of boots would come even close to the level of this pizzazz held by black combat boots.
Lastly, the top should be something basic like a dark brown V-neck t-shirt, and the whole outfit will feel natural and coherent.
Might of Black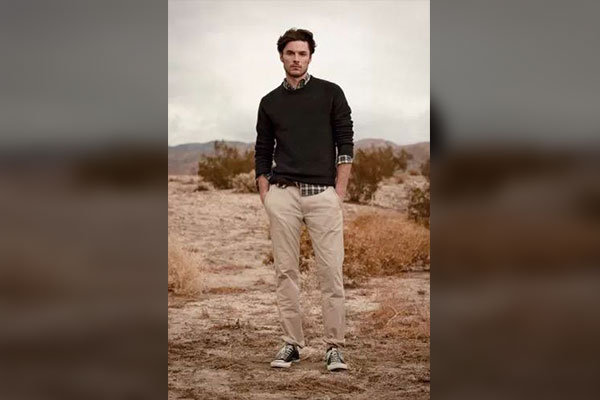 The simplicity of this combo rivals the white shirt outfit, yet the vibe here is completely different. Its base is the same, formal/semi-formal black dress shoes with khaki pants. This time, the shirt on top is a pure black button-up. Tuck the shirt inside the pants and wear a black leather belt.
If done correctly with a properly fitted shirt, this outfit will make you look exceptionally confident. With the addition of a blazer, this can also be a great introduction to workwear fashion.
Youthful Flannel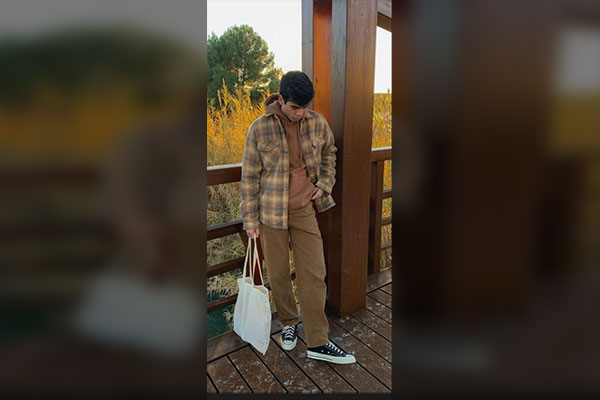 The last black shoes with khaki pants outfit on our list evoke a joyous feeling of a carefree youth. The footwear of choice here is a pair of black and white low-top sneakers paired with khaki chinos. On top of the pants is a black and maroon flannel that's then covered with a black knit sweater. Keep the shirt outside the pants and roll up its sleeves outside the sweater to complete the look.
This outfit works in reverse as well if you try brown shoes with black pants. The only other change would be adding a brown leather belt on your waist.
FAQs
What color shoes work with khaki pants?
Black shoes with khaki look the best with brown and blue coming in a close second depending on their exact shade. White is also a fairly safe option.
What color pants go with black shoes?
Black shoes are the universal option that works well with everything. That said, their best matches are with blue, black, charcoal, khaki and dark brown.
What to wear with black shoes casually?
The simplest option for black shoes features a pair of blue jeans and a white V-neck t-shirt. An option includes charcoal chinos, white button-up and a matching black leather jacket.
What goes well with khaki pants?
Khaki pants are a definite fan of button-ups, even the colorful ones. They also look great under casual t-shirts and turtlenecks.
Final Words
Men's fashion can be quite weird at times. In some cases, every detail needs to be correct, or the outfit won't work. On the contrary, put on black shoes with khaki pants and pretty much everything on top will look fine.
The example outfits in this guide are just that, examples. Your best shot at replicating those is to understand what makes them tick and then replicate that with your own personal twist on top. Good luck.