Loafers are the definition of class and sophistication. Being highly versatile, this ultra-modern footwear can be paired with multiple outfits to create formal and smart-casual looks. They're easily a wardrobe staple for a man, especially if you're interested in having a minimalist approach.
What are Loafers?
Loafers are the easiest to wear; no need to spend several minutes tying the shoelaces or adjusting your foot in the right position. You have the classic slip-on style that comes with a flattened heel, mostly made of suede. They vary in style, material, and color depending on the occasion ranging from casual to formal. It is generally observed that men wear loafers in smart casual events.
When to Wear Loafers with a Suit?
Do you know what loafers to wear with a suit? But hold on a second, can you wear loafers with a suit? Are there any specific guidelines that must be followed when you adorn this classic men's staple? Well, don't get too caught up in rules and regulations; keep in mind, that fashion makes and breaks rules every now and then. And in regards to this pairing, yes, you can wear loafers with a suit.
But there are many different ways in which you can wear leather loafers. Continue reading to get outfit ideas with loafers! 
Outfits with Loafers
There are some people who plan their outfits keeping the footwear in mind. If you can relate to this, this blog is just for you! hi
Formal Loafers
There are multiple ways to wear loafers; However, people like to pair them with a customized suit. And so below are some ideas that you can work with.
Suede Loafers with a Suit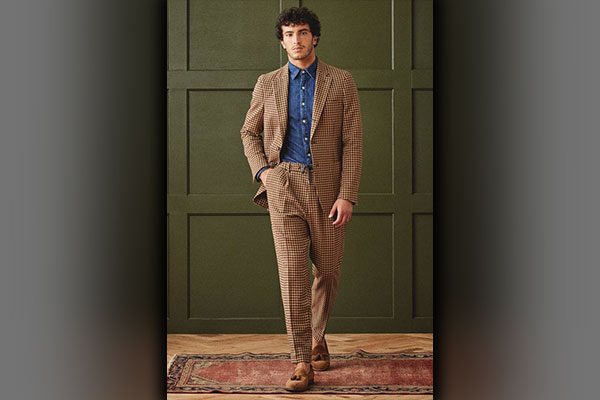 Wear suede loafers with a suit or a tailored blazer. A unique take on this look is choosing a color that is dynamic and unexpected. You can go for a green color suit with a distressed blue or crisp white button-down shirt. A tie can be an option, wear it if you like or need to, and match the suede shoes with a brown leather belt. This look says that you're classy but didn't make any effort to get ready.
All black outfit with loafers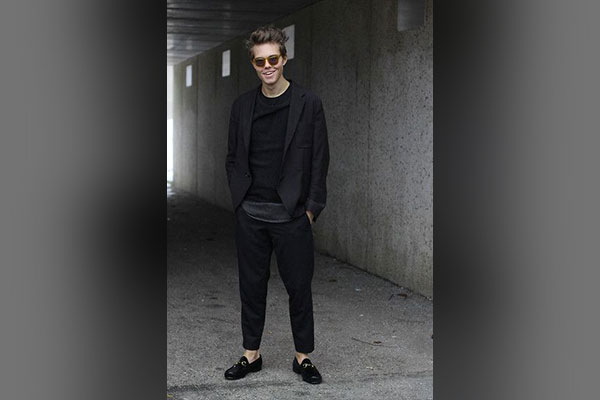 One way to wear loafers is by going with an all-black look. For this, go for a leather jacket, either a biker jacket or bomber jacket, and complete the outfit with green or dark brown tailored pants. In addition, wear slip-on loafers with a matching tie and belt. Make sure you wear a black sweater underneath the jacket. 
Blue Suit with Loafers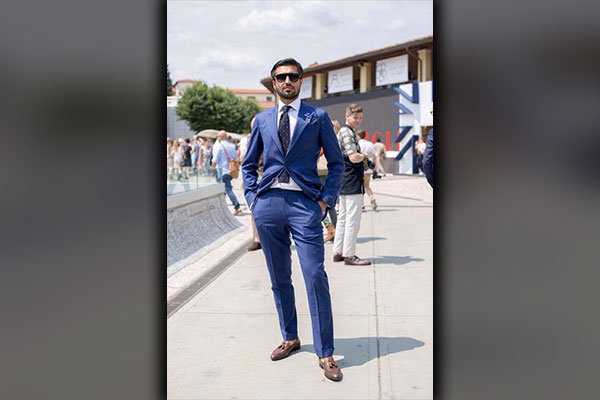 Blue is the most refreshing color when it comes to men's suits. Wear a blue-colored suit with brown suede loafers and a light blue patterned shirt. This look is preppy and helps you stand out from the crowd. If you choose to go with a patterned colored shirt, go with white-colored loafers or beige.
Brown Loafers with a Suit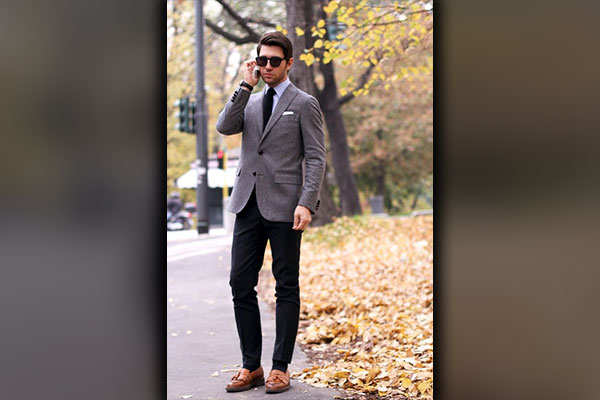 Brown penny loafers are literally a man's best friend. You can count them as your forever companion because not only do they last you a long time but they are also comfortable and easy to style. A suit might be formal but it's best to wear brown loafers with an emerald green button-down shirt with sleeves rolled up. Complete the look with brown jeans or dress pants and matching loafers. Make sure you choose a darker shade for the belt. Top it off with a classy accessory, like sunglasses.
Grey Suit with Loafers
Grey suits, especially plaid suits, are high-toned and fancy. You can wear grey suit jackets with driving loafers and shine in a crowd of hundreds. For a formal evening look, go for suede brown loafers, a white collared white shirt, and dark brown or black belt. You don't really have to wear a tie.
Loafers with Pants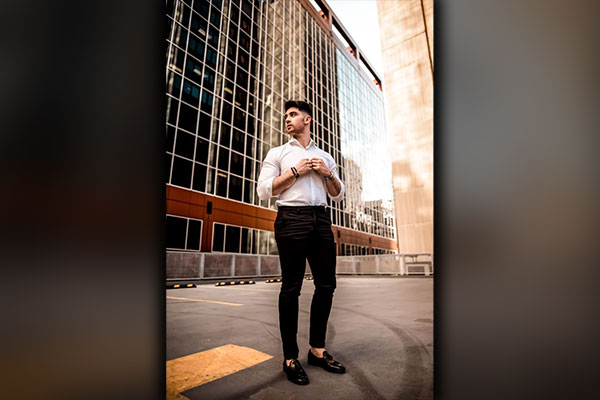 Loafers can be worn with many types of pants. If you're aiming for a formal laid-back look, try to leave drawstring pants and jeans out of the picture. Polo shirts, chinos, and loafers are definitely a look that you should aim for. Apart from this, the collared shirt and dress pant duo is something that you can always fall back on.
Smart Casual Loafers
Loafers are honestly the most comfortable shoes that a man can go for, especially if they're aiming for a business or smart casual look. Add it to your capsule wardrobe and use them in multiple ways as discussed below.
Loafers with Chinos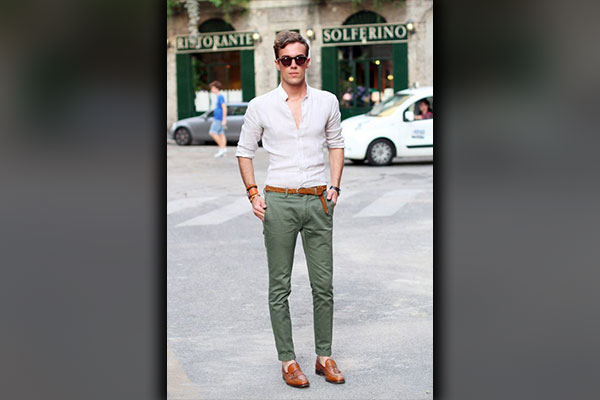 Chinos are exceptional; they look semi-formal but are casual and easy to wear. They can be matched with multiple tops and footwear. For a business casual look, go for chinos and an unstructured blazer along with boat or pump loafers. Wear polo, chambray or denim shirts with chinos and give them an edge with different types of loafers.
Loafers with Jeans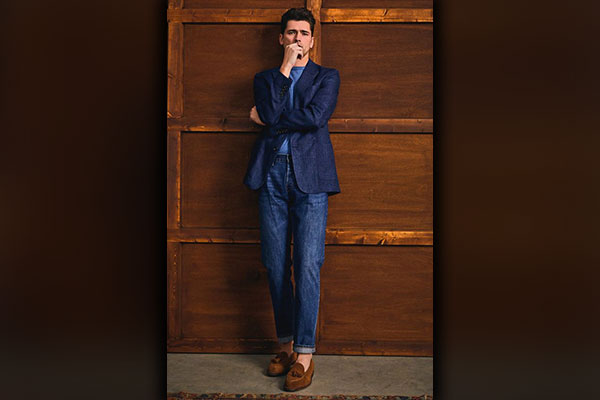 Here's an interesting take: Go for a denim on denim look and finish the outfit with slip-on loafers. The color combination is obviously going to play a role, which is why you should go for a neutral shade. Jeans look super casual with loafers, so it's always a bad idea to completely abort it.
Most Important Question: Socks or No Socks with Loafers?
Look, this is a fairly controversial opinion. Some people would say that you shouldn't wear leather shoes without socks on formal occasions while others would argue that loafers look ugly with socks. Both debates stand corrected. 
So here's what we think. Do what feels right to you. If you absolutely have to wear socks, make sure they are not visible and made of thin fabric, like stocking or linen. And if you think you can go barefoot with loafers, go ahead with that. The idea is to do whatever looks dapper and cool yet comfortable and right.
FAQs
Can You Wear Penny Loafers With A Suit?
Yes, you can wear penny loafers with a suit if the aim is to keep things casual and smart. A simple three-piece suit would look great with penny loafers for a business meeting. 
What Color Socks Should You Wear With Loafers And A Suit?
First of all, try not to wear any socks. However, if you absolutely have to, go for socks that are not visible or less visible. For this purpose, you have to keep the color neutral and without any prints or blocks. Don't wear dark and bright colors like red or yellow. 
In Conclusion
Thus, it can be said that suits look dashing and comfortable with loafers. Loafers are an excellent choice for a smart casual and formal outfit. You can wear them with any type of pants or outerwear. Wear them with a leather jacket or a three-piece formal suit or simply a smart casual blazer.