As far as leather products are concerned, the leather duster is one of the most unique and one-of-a-kind garments, with a sense of style unmatched by anything else. While the need that facilitated its popularity is a bit rare, the style, fashion, and unique silhouette have kept it in the conscious minds of men and women around the world. At the same time, its appearance in world-famous TV shows and movies has inspired a growth in following, ultimately reinforcing its classic style status.
Let's learn a bit more about what a leather duster is, what makes it unique, and how you can incorporate it into your wardrobe.
What To Expect In This Article?
What is Leather Duster?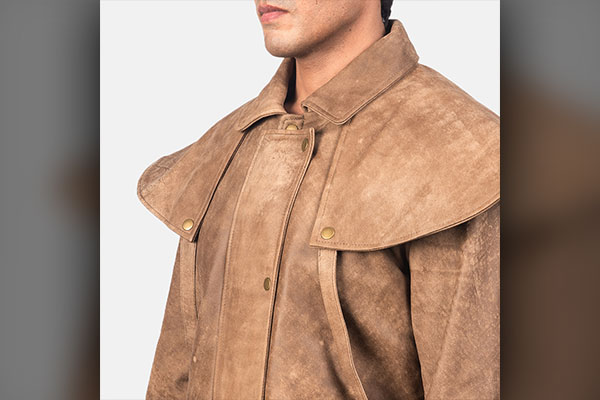 The traditional western style leather duster is a long leather coat that has a loose silhouette, a lightweight garment with a slit on the back, that is often hip level. The Equestrian-style leather dusters have additional details that include button closure on the back slit as well as leg straps to hold the flaps in place.
Back in the day, the main use of this coat was to serve as a protection against the dust and debris when riding a horse, thus the name leather "duster." 19th and 20th-century leather dusters, however, were worn by men and women when riding open motorcars while driving through mud and grime of the time. The traditional leather dusters were a lot longer, often reaching all the way to the wearer's ankles or feet, providing maximum protection. However, this protective coat evolved over the years, transforming it into more of a fashion statement, with a change in length, and details but remaining the same as the original design. In most cases.
The other major component of this outerwear essential is its comfort factor. The horseback rides were not a particularly easy thing, especially over long distances. Therefore, the riders needed as much comfort as they could get from their clothing, without wearing too much and having to put up with a lot of weight on their shoulders. The leather duster was excellent for travel in all seasons and weather. It protected the rider from the wind, rain, and everything in between while allowing them to move freely, however lengthy their journey may be.
What Is the Cape on a Duster for?
The cape on the back and shoulders is the biggest defining feature of a leather duster. It was originally added for additional protection around the head area from chilly winds, dust, snow and especially rain. This benefit is still true for modern-day bike riders since they can fully utilize the leather duster for its function as well as style.
However, to anyone who is not into bike riding and just wants to rock a distinct piece of men's leather fashion, this cape offers a huge style benefit. It makes the duster recognizable from a distance and allows the coat to stand out in a crowd.
What Is the Difference Between a Leather Duster and a Trench Coat?
To an unsuspecting viewer, it could be very easy to confuse a leather duster with a trench coat. However, just taking a second to observe them, you will find many major differences between the two. The historical use of both of these leather coats required a very different structure and this design distinction is apparent to this day.
Trench coats were used as protection against moisture and downpour while keeping the soldier in a trench safe from the cold as well. This was one big reason why the trench coats were built to fit. The snug fit is also emphasized by the belt on its waist.
Duster coats, on the other hand, were originally built for use on horseback. This meant that the overall fit and finish of these dusters are very loose and open. The length of duster coats is usually a lot more than the trench coat and the short cape on the shoulder is extremely recognizable.
How Do You Wear a Leather Duster?
Due to the modern resurgence of the men's leather duster coats, there are no preconceived notions on how you can wear them. You are not limited by what people before you wore with the leather duster. A modern-day duster can be worn the way you want to wear it and no one can tell you otherwise. Maybe you can try and experiment with a variety of different styles and designs. Who knows, the styles you invent might become the next big craze in the world of men's or women's outerwear fashion.
What to Wear With a Leather Duster?
A wonderful way to rock a leather duster is by going for a full cowboy outfit, with a pair of blue jeans, leather boots, and a plain dark t-shirt. If the classic cowboy style isn't your cup of tea, then why not create a super contrasting look with a pair of jeans, a light-colored casual shirt, a pair of trendy sneakers, and topping it all off with a black leather duster for an unequaled, fashionable looking outfit.
What Kind of Leather Does a Duster Coat Use?
Leather dusters are made from a host of different types of leathers with a bunch of different finishes. We offer a large variety of leather dusters, like our leather dusters with a shiny semi-aniline finish or with a suede finish that are known for their soft feel and a distinct matte look to them. All of these different types of leather have their own unique benefits and this variety is here, so you can choose the one that you like and desire the most.
How Do You Clean a Leather Duster Coat?
Leather garments like leather jackets and, of course, leather dusters are not a one-season item. If you purchase a high-end coat made from real leather, it will last for years on end before giving up. Interestingly, there is a way to increase the lifespan of these leather products by a huge margin, just by taking care of them and cleaning them from time to time. Here, the question arises, how do you clean a leather duster?
The first and the simplest thing you can do is to dust your leather duster on a regular basis. Dust buildup over time can hurt the color and outer look of your leather duster, so keeping it dust-free is a very simple yet effective way of preserving it. For a more thorough cleanup, you can blend up a soap mixture, or if you want a more DIY-free solution, you can try out the commercially available leather cleaning sprays and products.
If you would like to learn more about leather cleaning and caretaking, you can check out how to keep your leather clean.
Where Can I Buy a Leather Duster Coat?
There are many places on the internet where you can find and purchase leather dusters and other similar products like leather winter coats. You will find a multitude of designs, made from all sorts of exotic leather types available on the market at varying prices. There is extreme low-end stuff made from fake leather and mass-produced without a hint of care for quality. While on the other end of the spectrum is the luxury leather products market that provides high-quality stuff made from real leather, but their prices are well above the range of normal everyday people.
The Jacket Maker offers high-quality leather dusters, coats, and jackets, that are handmade from the best quality leather and stitched to perfection by our talented craftsmen. All this, at a price that makes sense to most people while keeping the standards equal if not better than the expensive luxury products. So, let's take a look at some of the best leather dusters we offer:
Deux Black Leather Duster
First on our list is the Deux Black Duster, which is a prime example of a modernized leather duster that shows what makes these outerwear pieces of old still popular today. Made from cowhide with a semi-aniline finish, this shiny piece of men's fashion retains the classic charm while making it fit perfectly with modern clothing.
Outfitting this leather duster with other garments is as easy as wearing what you want and putting this coat over it for an outfit that looks complete in all aspects. The jet black color is also a great help in this regard and further expands its compatibility limits with other colors.
Classic Distressed Black Leather Duster
Looking for something a bit more understated, then look no further than our Classic Distressed Black Leather Duster. The main selling points of this specific leather duster for men lie in its unique finish and minimalist design.
The sheepskin leather is finished with the snuffed method, which gives it a soft velvety feel. This finish is also the reason for its matte black color, which works brilliantly with a minimalist and clean design. This combination of color and design gives you a coat that is flawless at blending in with your outfit. The best way to rock this particular duster is by utilizing its potential to strike a balance with the accompanying garments you wear. From a colorful V-neck to bright blue jeans and top the outfit with this duster for a balanced, well-put-together look.
Maverick Black Leather Duster
The Maverick Black Duster is made from the same type and finish of leather as our Classic Distressed Duster, but the key difference is the style and design of the coat. This one is a lot more open and flashier with its angular design, extraordinary short cape, flap closure front, and shiny buttons that create a nice contrast with the surrounding matte leather.
This duster focuses on the classic feel and blend it with a modern feel, in a way that represents your personality and fashion sense. As an example, pair this leather duster with grey jeans, a printed t-shirt, and leather sneakers for a unique look.
Maverick Brown Leather Duster
The dusters we've talked about so far have all been in either of the two shades of black, i.e., shiny black or matte black. So let's shift our gears and talk a bit about the other popular color for leather goods, brown. Featuring the same design elements as the Maverick Black Duster, this particular coat is even more eye-catching and attention-grabbing due to its unique distressed brown color.
In terms of styling and pairing with an outfit, the best option is to go for the fresh blues in the jeans and white and other light colors on the shirt side. A simple yet tremendously successful outfit is the full white with this distressed leather duster in an earthy hue.
Classic Brown Leather Duster
Want to rock the classic yet minimalist look, but want something more unique than matte black? Then the Classic Brown Leather Duster is one of the best additions you can have to your wardrobe. Having the same sheepskin leather and snuffed finish as the classic black duster, this piece of men's outerwear adds a whole new world of styling options to your arsenal.
This leather duster works remarkably well with sweaters and casual shirts think western-style Hawaiian shirts under it. The exceptional distressed color is fairly different from regular brown and is brought to the forefront due to the soft snuffed finish of this coat.
Army Brown Leather Duster
The Army Brown Leather Duster is, in essence, a classic design brought to life in the modern world. You can honestly hand this coat to a cowboy in the mid-1800s, and it would blend right in with the fashion and style of that era, and this points us toward the best way of rocking this leather duster.
While you can pair it with almost any clothes and make it fit in, there is no fun in that. If you want to get the best and most interesting look you can with this duster, why not go full cowboy? Pair a brown V-neck, a pair of greyish blue jeans and a pair of brown leather boots to get a look that will certainly start some conversations.
Royson Brown Leather Duster Coat
Out of all the leather dusters we've talked about so far, this is one of the more unique dusters, both in terms of color and design. The design is an artistic blend of a trench coat and a classic duster coat, featuring a double-breasted front with shiny buttons and a waist belt. The overall fit is also somewhere in between a leather duster coat and a leather trench coat, as it isn't snuggly fit or entirely loose.
The highlight of the show, however, is the brown color which isn't very common. A color and style that is striking, more by its shiny semi-aniline finish on the luxury calfskin leather and overall modern vibe. It will fit perfectly in a casual setting with a shirt and possibly a semi-formal tie to a day-to-day trip to the local coffee shop.
Conclusion
Leather dusters have always had an important part to play in men's leather-wearing history and continue to play an integral part today. While the original purpose of their creation is not really a selling point for most people, their significance in modern fashion and streetwear is something no one can deny.
With the variety in styles, colors, and designs available, as well as the option to get custom tailored made leather dusters, everyone will surely find something they like and want to make a part of their wardrobe.