A cowboy outfit for men is turning heads ever since it returned with modifications to fit the needs of this generation. If we observe the history of American fashion, clothing related to cultural heritage gets reshaped in different eras. After the time of wearing your clothes to your living room in the lockdown, we can finally go out. This is why we have some cool styles back on our radar. Interestingly, this time country western wear rises from the ashes as a stronger-than-ever style.
If we observe the recent trends in the fashion world, it will give us a flash of insight that the cowboy outfit for men will go strong this year too. You will therefore notice some eccentric cowboy outfit choices on the ramp.
For those who want to embrace this style but don't know where to start, you have come to the right place. We have outfit inspiration for everyone, so let's jump straight into it.
What To Expect In This Article?
Double Denim Look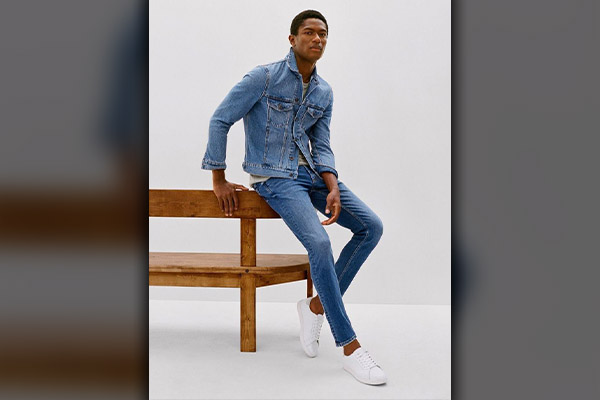 This year the trend that exemplifies masculinity is the country's western style. One of the first men's cowboy outfits we are going for is a denim-on-denim look. You can match black cowboy boots with a black belt for this look. And, make sure the belt you choose has a thick metal buckle for that rodeo twist to the outfit. This can be your normcore outfit just by changing a few things here and there. So, you don't have to change the entire outfit if you have to be in two places in a single day.
Western Shirt with Denim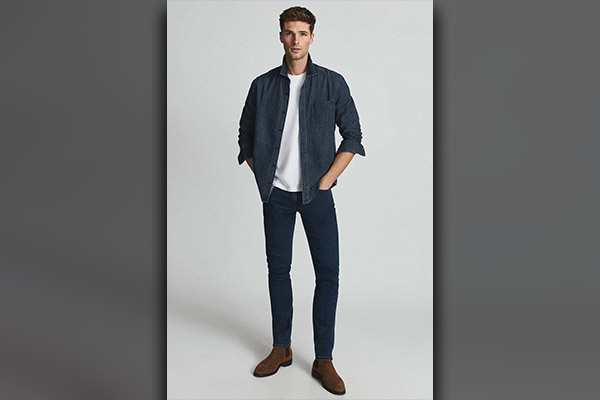 With this wild west cowboy outfit, the goal is to achieve a groundbreaking urban cowboy look. The cowboy style is responsible for starting many other trends as well, such as the inclusion of cowboy hats, boots, and belts in different outfits. In this look, you can wear a Western shirt with a front and back yolk. 
To give an instinctive flair, you can choose a maroon shirt with a snap pocket. We want to capture the unique sense of the American spirit without sacrificing our comfort. So, we suggest wearing dirty blue slim-fit denim pants or bootcut jeans. You can still flex the style with accuracy by wearing black cowboy boots and a belt.
Flannel Shirt with Pants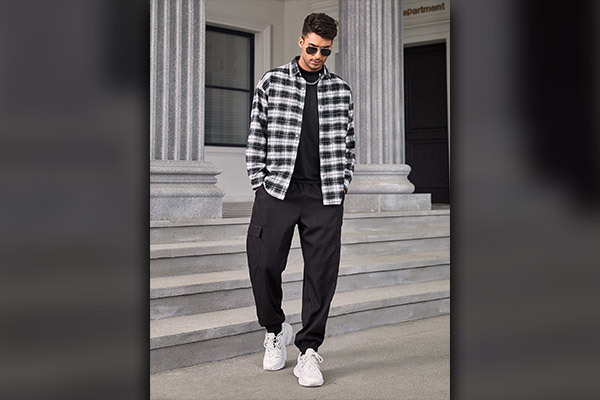 A red flannel shirt is a versatile clothing item that can help you create more than one look. You can style your flannel shirt with a white T-shirt, black denim, and boots or your regular white sneakers; and you are ready for an adventurous day. If you think that your shirt is too thick for the weather, take it off and tie it around your waist. If you are going for a smart-casual style, tuck in the red shirt with camel-colored chinos, a brown belt, and similar-colored suede derby shoes. If you want to be dressed as a cowboy with full conviction, just wear a cowboy hat. As a bonus, it will keep the sunlight away from your face throughout the day.
Button-down Shirt with Vest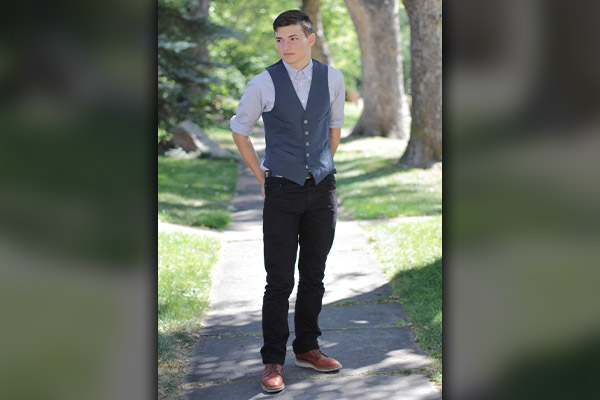 Whether you want to create a men's western outfit or a cottage core outfit, wearing a vest makes a statement for any outfit. Cowboys used to wear them to stay warm and have some pockets to keep their belongings. Another great thing about vests is that they don't get caught on bark, handrails, etc.
To recreate the look with originality and a modern touch, wear brown pants, a white button-down shirt, and a cream color vest. Black cowboy boots and a black belt will take the look of this outfit to a whole new level. 
Cowboy Costume with a Jacket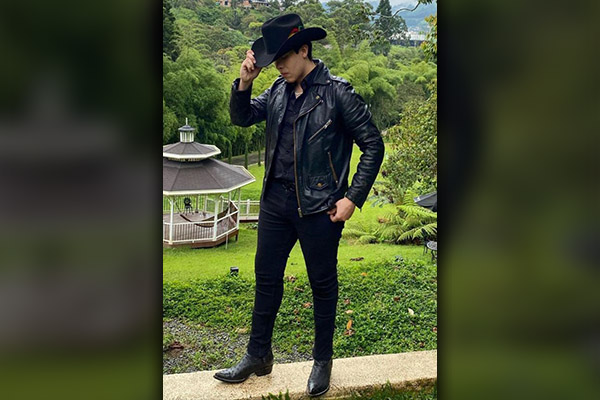 Again, for this outfit, you can wear any of the embroidered western shirts you prefer. At this point, the shirt might look fancy but wait till you put on the suede jacket. It will cancel out the quirky factor and make it more stylish. However, the shirt you are opting for must have subtle or dull colors, such as cloudy blue, sea green, or rust. Match the color of your black boots, your pants, and the belt.
A jet-black suede jacket in your wardrobe will be the center of this outfit. To give everyone around you some of that gum-chewing cowboy attitude, pinch the sides of your collar and pull them up a little. 
A desert suede jacket is also a great, rugged choice. These jackets often come with fringe. Back then, the objective of the fringe was to dry the jacket quickly when it was drenched. But when that is not the case, fringe can create a little trouble. For instance, they can get stuck in your car door, or worse, they can dip into your food. So, whether you want them or not, we leave it to you.
T-shirt and Blue Jeans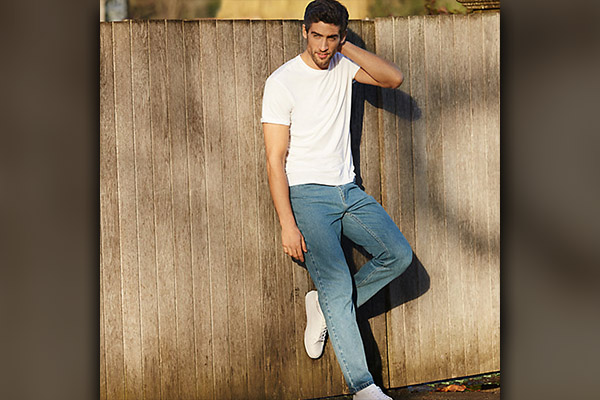 For this look, you can wear a grey graphic tee with light blue jeans. A charcoal grey cowboy hat and boots look outstanding with this look. For the accessories, you can wear a charcoal grey belt with a big gold buckle in the middle and a gold chain. Imagine, an edgy belt with a hat. Don't you think it will blend in precisely with the vibe?
On top of it, you can wear a sherpa collar blue denim jacket. Traditional cowboy clothing involves wearing lots of cowboy accessories. But when you think of it, they may or may not break your outfit. We know that you love to wear your adult cowboy costume in the most realistic way. But that won't work in today's day and age.
Don't go all-in with the aviators, chaps, cowboy boots, scarves, wide-brimmed hats, concho belts, jewelry, and bolo ties. These things together will make the outfit tacky. So, it's better to go with not more than two accessories at a time.
F.A.Qs
What is a cowboy outfit called?
The cowboy outfit is often referred to as country or country western wear.
How do you dress like a Western cowboy?
The most simple is a plaid shirt, boot-cut pants, boots with spurs, and a bandanna. Tie a bandana like a pro, by using this easy-to-follow guide .
Why do cowboys wear plaid shirts?
The purpose of plaid shirts was to prevent the Cowboys from feeling cold. They used long-sleeved button-down plaid shirts made of flannel or wool. 
What is cowboy casual?
Simply, cowboy casual is a dress code that you can follow for a laid-back look. This cowboy appearance helps you roll in the hot humid weather.
In Conclusion
We hope that after reading this article you will find the answer to how to dress like a cowboy. To add to the point, we don't think that pulling off a cowboy look can be challenging for anybody. You only have to keep in mind that the final look should be slightly rugged.
Hence, get the right shirt, headgear, footwear, and bottoms that go well together to present a western-style. Remember, the ideal pair of shoes with accessories accent your outfit.