Fashion in America is incredibly diverse, just like its people. It is inspired by pop culture and depicts the inclination of Americans towards creativity, comfort and functionality. Naysayers often compare American fashion to the French chic style. In this article, we will shed some light on American fashion and its major style differences from Parisian fashion.
We deeply observe the trajectory of fashion in America in the last century. One can notice the impact that global events and technological advancements had on it. Many of your wardrobe staples were once utilitarian. The concept of unisex fashion was ingested in the later decades.
What To Expect In This Article?
What is American Fashion?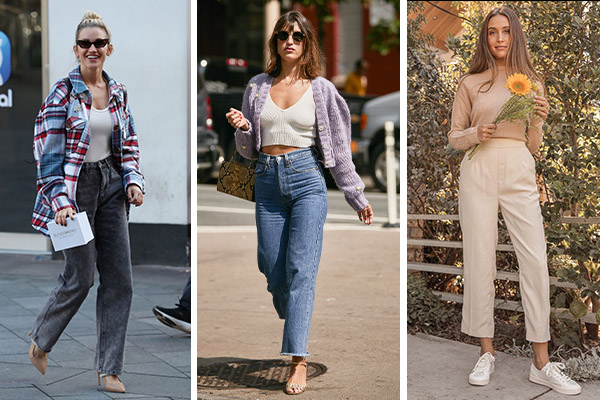 The brief mention of fashion evolution in America raises a question in our mind. What is American fashion now?
Walking on a street in any American city will define inclusivity. People of all backgrounds dress the way they feel, generally disregarding what others will think. Women in America have an evolved sense of style, integrating comfort and creativity in their clothes. They prefer to stay relaxed and have fun with the way they dress.
Athleisure dominates American fashion in a way that no other style can. Leggings, puffer jackets, hoodies and sneakers have become wardrobe must-haves. American women love to fuse these sporty staples with glamorous accessories. They also have an affinity for knitwear. Beautiful sweaters, long feminine cardigans and stylish sweater vests are quite a trend in the US.
A zesty essence is even present in smart casual and semi formal clothes, with blazers, flared pants and pencil skirts in bold colors. For casual and going out looks, they opt for crop tops, leather pants or maxi dresses. Tops and skirts in psychedelic prints and plaid patterns are popular as ever. Americans just love their t-shirts. A white crew neck t-shirt along with jeans is the ultimate classic.
Parisian Style Clothing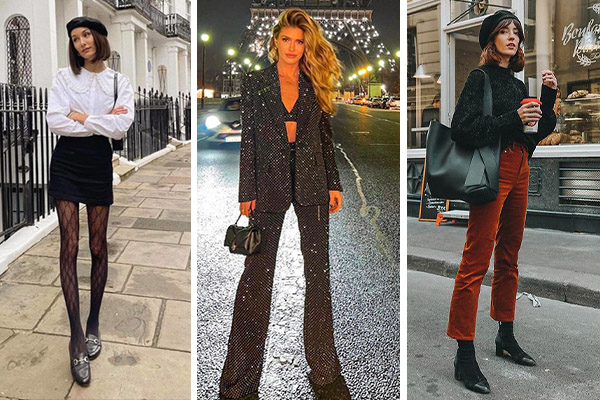 All over the world, fashion savvy women are obsessed with French aesthetic outfits. The gist of the Parisian style is effortless, elegant and minimalist classic, with a disdain for contemporary trends.
The French woman has a clear mindset about her dressing, with a penchant for premium quality clothing. She repeats those pieces without any qualms. Unlike the American style, French women consider gym wear only for the gym. They prefer simple, sophisticated looks by striking a balance with casual and dressy styles.
When it comes to the choice of colors and patterns, the flair for an elevated look with neutral colors and classic patterns is quite evident. You won't see French women wearing tight clothes or high heels, conveying their elegant dressing choice.
How is American Fashion Different from the Chic French Style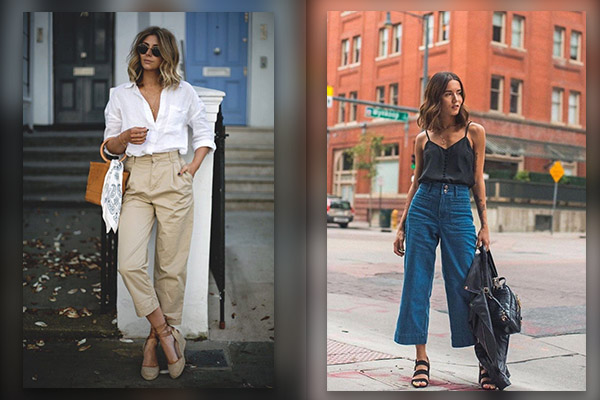 The fashion of every country is unique. It is highly dependent on the history, living and pop culture of a place. The general appearance of people, consumerism and economic stability also shape contemporary trends. The approach of the people towards style plays a decisive role in making a fashion trend huge or dismissing it.
While comparing American and French women's fashion, we can observe many points that are common as well as differences that set them apart. The general flair for chic style and utmost appreciation for fashion is common in both countries. However, the following disparities make both styles different from each other.
The Essence of American Style
American women infuse their high-spirited feel in their fashion. On the other hand, French women are simplistic and graceful, and so are their fashion choices.
Influence by Trends
The difference in the buying attitude is apparent as American women like to keep up with the trends. They have their wardrobes filled to the brim with customized clothing and fast fashion. French women clearly go for quality rather than quantity in fashion. They prefer clothes that will last a long time.
American Women Buy More Clothes
The trend of a new, unique outfit for every occasion is prevalent in American fashion. Women in the US usually have a lot of shirts and tops. They wear different styles of skirts, jeans and leggings. They also like wearing different kinds of dresses. On the other hand, French women curate evergreen outfits by mixing and matching classic staples.
Choice of Colors
French women have a strong affinity for neutrals. Even if they seldom choose a bright colored staple, they would tone it down by contrasting it with a subtle, neutral hue. American women are not at all afraid to experiment with bright colors. They also do not shy away from seemingly clashing contrasts.
The Preferred Fit
Women in the US wear all sorts of apparel shapes with various fits and sizes, from form-fitting clothes to regular fits and baggy oversized outfits as well. They mix and match, wearing a slim fit bottom with different types of shirts in a baggy style. You won't see French women wearing body hugging silhouettes.
Different Types of Jeans
French women choose a clean silhouette even for jeans. They wear cropped or regular length straight leg jeans or slim fit jeans. American women wear all types of slim and baggy jeans like mom jeans, boyfriend jeans, bootcut jeans, and wide legged high waisted jeans.
The American Affection for Athleisure
One of the most ground breaking contributions of the US to the fashion world is athleisure. It is a style that incorporates sporty clothing into fashionable looks. American women love sportswear. It perfectly portrays the American's love for comfort and trendy looks. It also conveys how people in the US are transitioning into health conscious people and love to take part in sports and fitness activities.
In contrast, French women go for activewear on a pure on-need basis. They will wear sports bras, leggings, zipped hoodies and gym shorts only at the gym or during sports activities.
All-Embracing Outfits of American Women
American style fashion is known for its eclectic looks. Fashion savvy women pick trends from different decades and incorporate them into a single outfit. French aesthetic outfits, on the other hand, are timeless. The classic clothing pieces are put together to create looks that can never look outdated.
Workwear Choice: American vs French
Workwear for French women has a relaxed, chic element. They mostly wear linen pants and pencil skirts with button downs. For chilly weather, layering these with a splendid fall jacket like tweed jackets and suede jackets is the norm. In contrast, an American woman at work is more pulled together. She would wear structured blazers and everything tailored along with pumps or low heeled loafers.
For the Love of Heels
American women have an obsession with different types of heels. They wear many different kinds of heels everywhere to portray a classy style. On the other hand, French women mostly wear comfortable footwear like sneakers, ankle boots and loafers. You won't see them wearing heels frequently that are ridiculously high.
Different Use of Accessories
When it comes to rounding off a look, American women do it differently than their French counterparts. Usually, American women have different types of bags in their wardrobes. From small, chic bags to the huge handbags currently on trend, they have a diverse collection to show off. French women spend more on a bag that would likely stay with them for many years. They won't have a lot of them, but whatever they have is definitely worth it.
Women in the US like to wear jewelry that makes a statement. From chunky bracelets, necklaces and rings, to colorful, big earrings, American women flaunt them with a flair. In comparison, French women wear delicate jewelry to express their femininity. They also love to tie pretty silk scarves around the neck.
FAQs
What is the American fashion style?
Basically, American fashion is casual, even for dressy looks. They tend to go with the current trends, but still, their diverse culture is perfectly portrayed in their outfits. To sum up, women in America believe in expressing their freedom and comfort via their clothes.
What kind of clothes do Americans wear?
Women in the US wear all sorts of jeans, leggings, skirts, and shorts paired with trendy tops and shirts. They ace the layering game with all types of shrugs, coats, and jackets. Denim jackets, trench coats, leather moto jackets, cardigans, and lightweight shackets are the most popular choices for outerwear. 
What makes American fashion unique?
The penchant for athleisure and eclectic style outfits makes American fashion stand out from the rest. Another thing noticeable on the streets of America is that women tend to wear more than one statement piece together.
What clothing represents American culture?
Mostly, a standard outfit that can represent the American culture is a white t-shirt with blue jeans and a flannel. Cowboy boots are also quintessentially American. The classic American look is casual, tailored, functional, and portrayed with confidence. 
Are jeans an American thing?
People all over the world wear jeans with much love. It is a garment embraced by all due to its unmatched versatility and comfort. However, jeans have emerged as an iconic staple of American fashion. The reason for this belonging is that jeans were first designed for American farm workers in the late 19th century. 
Summing Up
The diverse culture of America has an enormous impact on its fashion. Every woman in America has a distinctive taste in fashion, which she loves to depict with her unique style. While we can see some similarities in American fashion and French style, it is evident however, from the differences mentioned above that they are distinctly dissimilar.