For some time people have stopped making a trail towards the same fashion; instead, everyone has started to follow the fashion that they like. Thus, there has been a diversification when it comes to fashion trends.
Now the crowd looks forward to comfort and finesse together, like pairing up a men's shacket with a t-shirt, denim jeans, and white sneakers. This is where everyone agrees to less is more, making minimalist fashion extremely modern and versatile.
When we think about the diversification of fashion and pairing comfort with it. It makes us realize that we can play around a lot with these core aspects of fashion and bring out something new.
The people around us understand and adapt to new fashion even when it is edgy or unique in its own way. So let us pick up a scenario and then design an outfit for you accordingly.
Think about a farm scene with a rustic living style. This is going to lead you to pick aesthetic clothing pieces in which a farm boy dresses. Men in the farmlands have their very own fashion standards.
They look striking with that tan skin, plaid pants paired with button-down loose shirts, and vests. However, most people do not know that this is cottagecore male fashion, a completely different fashion in a completely different fashion world. 
In the modern days, male cottagecore outfits seem to have revived and men really enjoy wearing them. Such attire is out of the box, highly comfortable, and really attractive. We know that men love to experiment with their clothing and adding a modern twist to cottagecore outfits male has been the talk of the town.
So, in this blog let us go back to the same era when cottagecore was highly fashionable; let us talk about how you can bring back the same styling era to life while evolving it.
What To Expect In This Article?
How Do Guys Dress In Cottagecore?
Cottagecore male outfits require a person to think of a gentleman from the farm. Male cottagecore is all about picking between a fedora vs trilby and then pairing it with aesthetic vintage patterns, flannel shirts, and khakis.
That is not it, as you should know that corduroy can be ticked on as cottagecore too. To level up your A-game, layer up with vests, or if you want to give it a modern twist, you can even wear your favorite leather jacket over your clothing.
While talking about patterns and colors, male cottagecore aesthetic clothes can consist of clashing patterns with a day color palette, mostly. Are you ready to be that handsome boy from the farm? We bet you are, so let us talk more about cottagecore.
Can A Guy Be Cottagecore?
Cottagecore is not just about the flowy frocks or skirts that women stereotypically wear, there is more to it, even a guy can surely be a cottagecore. All you have to do is pick up vintage outerwear and wear them in a more rugged and androgynous style.
Cottage core men can be highlighted from a distance as their clothing is extremely different, all cute and shabby. With that said, nowadays, you can see a lot of women emphasizing cottagecore dressing but not a lot of men know about this aesthetic fashion.
That is why we feel that talking about cottagecore is important because missing such aesthetic fashion is a bummer.  
Cottagecore is all about a soft look. Thinking about it gives you warmth because it depicts farm life where it's sunny all around. If women have large flowery motives on their dresses, men go for plaid pants with eccentric colors.
Men's cottagecore fashion needs to be brought up in the limelight more often so that men get to know what kind of comfort and look they are missing from their life.
However, if you are a guy following cottagecore fashion and someone says that it is very girly, let them know that they are wrong. If cottagecore attire gives you a dapper vibe then do not listen to anyone, go with your fashion instincts. 
Styling Up Some Cottagecore Outfits
Pick out your favorite men's corduroy pants and pair it with an oversized button-down shirt and loafers, well that is not all. We are further going to talk about styling up some cottagecore male outfits which you can pair according to your liking. So let us get styling!
Outfit With The Suspenders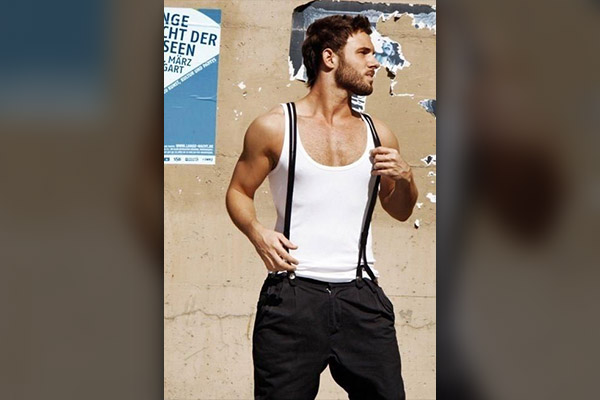 If you are that handsome hunk who loves to experiment with his outfit then this one is surely for you. People are adopting the vintage style and giving it a modern twist. You can wear khakis with a loose button-down white shirt, and to make your look stand out a suspender will look crazy good.
Roll up your sleeves, and wear Chelsea boots with them. Here this outfit with khakis is your first cottagecore look which is simple, comfortable yet a standout inspiration. You can wear this lookout with friends, or parties, or even exhibitions, as the look is fairly impactful, artistic, and nerdy. 
Clashing Patterns And Colors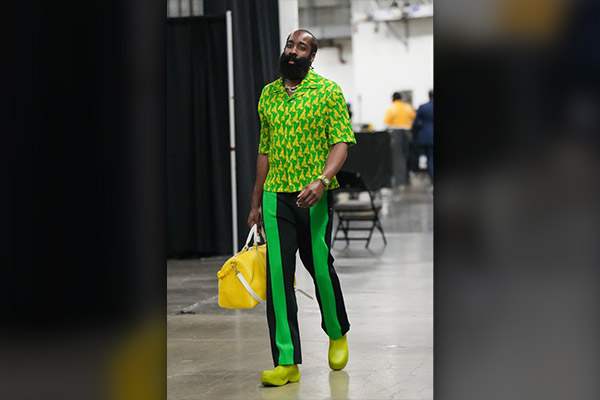 Let us talk about cottagecore boy outfits with clashing colors and patterns. If you are someone who always has a battle of joggers vs sweatpants, go for the ones which fit you better.
Pair your statement colorful t-shirt with your bottoms and then layer over a knitted patterned sweater, bomber jacket, or a chore coat. Wear a fedora and finish your look by putting on your favorite bold-colored sneakers. More about patterns, a men's gingham button-down shirt with high-waisted cotton pants can also be your go-to look. 
That Cottagecore Formal Look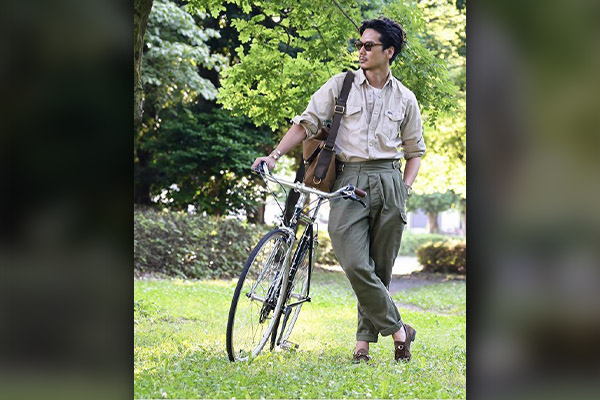 Are you tired of regular formal clothing? You can let it go for a while and opt for formal male cottagecore instead. For the cottage core men's outfit, you can go for vintage formal pants, tuck in a checkered button-down shirt, wear a contrasting tie, and slide over a suede vest.
You can wear oxfords to complete the look and also can layer on a peacoat because we know layering with different textures in a sensible way makes you the style guru.
Basics of Cottagecore Men's Clothing
Now we know for a fact that cottagecore is not just for women, as men can slay them equally. The cottagecore clothing is subjective thus you can wear it however it suits you best, whether they fit you accordingly or are baggy or oversized clothes.
So, firstly we are well aware that cottagecore men's clothing is flexible and the modern evolution has made loads of additions to the style. However, some of the basics remain the same as they were because they are classic, let us get on to knowing some of the basics of cottagecore men's clothing.
Pick Denim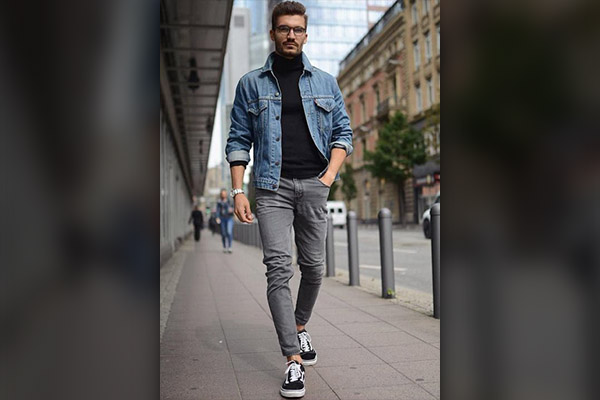 Denim is a gender-neutral option so you can add it to your cottagecore outfit, it is going to enhance masculinity and give you a rustic appearance at the same time. Like denim, a farmer jumper is going to look really appealing, and you can always pair up so many clothing pieces with it. 
To make it look more attractive you should unbutton one side of your jumper and let it fall diagonally, cool, right? Well, denim jumpers ain't all, you can always go for denim jackets or jeans. Denim will surely never disappoint.
Vests and Waistcoats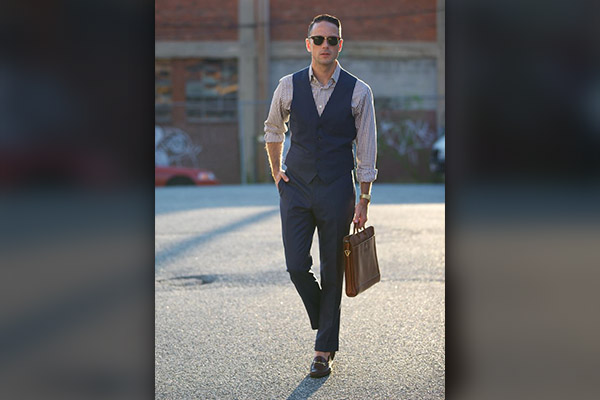 Do you love winter? If yes, then you must enjoy getting ready in winter. What do you think about layering up? Vests are great outerwear for layering up, you can always layer up your shirt with a vest or a waistcoat.
Do you know what will look the best with this outerwear? A plain white button-down shirt, or maybe any other light-colored shirt. A waistcoat or a vest makes you a masculine cottagecore outfit in all. Such men's cottagecore clothing would make you stay away from the cold and would cover you up perfectly while mankind looks like an absolute hunk.
Button Down Shirts 
Whatever shirt you choose to wear to portray cottagecore style, a button-down shirt cannot beat anything. With all the significant aspects of a button-down shirt, you should know that they are a classic timeless piece, making you look more masculine.
They are multifaceted, thus you can wear these clothing pieces all year round anytime, anywhere whether it is purely casual or formal. You can be part of the cottagecore men's crew who know how to be highly fashionable even with the classic looks from the past.
FAQs – Cottagecore Outfits Male
What is the male version of cottagecore?
Flannels, hand-knitted colorful sweaters, khaki pants, top grain leather jackets, and plaid pants. If this outerwear is put together, they are going to be the perfect version of male cottagecore. 
How do you dress a cottagecore?
Pick your plaid pants, tuck in a plain button-down shirt in it, layer over a suede vest, and put on oxfords. However, you can also wear a statement T-shirt with joggers and a suede jacket with a fedora or a trilby.

With that, you are done with your look. You already know that cottagecore men's fashion is effortless; you should just be aware of what sort of separated men used to wear back in their farm life. 
What are dark and light academia?
Dark academia is known as the subculture that is associated with literature education including poetry, Greek and Gothic culture, and architecture and writing poetry.

However, lighter academia shines on the gentler and softer side of dark academia. It does reflect the love of literature but is less focused. It shines outdoors rather than being all gothic and staying in the corner. 
Conclusion
We now know for a fact that cottage core is purely vintage and aesthetic. It focuses on the farm vibe and thus gives you the authority to make changes in your outerwear. Surely, cottage core is not feminine as you can always alter the style for it to lie in the Masculine Aesthetics.
Now let us know how guys dress in cottagecore? As there are multiple other ways you can alter the cottagecore style and look hunky. If you do not own any Cottagecore Outfits Male then you really have to hit the mall now, take out your basics, pair them with the cute vintage outfits, and slay them!