Chore coat is a heavy fabric, with a boxy silhouette, button closure, shirt collar, and enormous pockets.
It's a fact that getting an in-depth understanding of versatile fashion staples develops our fashion sense. It enables us to make sensible choices and build eye-pleasing outfits. We also get authentic knowledge regarding the appropriate fabrics, colors, shapes, and stitching styles of various clothing essentials. Besides that, fashion advice helps us to distinguish between low and high quality and make a genuine, informed choice.
What To Expect In This Article?
Typical Features and History
It is fascinating how this workwear essential, initially worn by French workers in the late 1800s', made its way to the contemporary fashion scene! Without significant changes in its paradigm characteristics, the chore coat has evolved as per the latest fashion. It now ranks among the most practical and iconic outerwear in men's fashion. This is also known as the worker jacket, even trends in women's fashion as a slick piece of layering.
A flash from the past reveals the history of the classic chore coat. Referred to as the "bleu de travail," the coat was used as a utility jacket by workers in France who did manual jobs such as farming, construction, and various forms of craftsmanship.
Considering the strenuous physical work, these workers needed a protective layer that was both functional and durable, hence the turnover collar, length, sturdy, and heavy material. The roomy patch pockets were handy to keep all sorts of tools and personal belongings.
Contemporary Versions
Today, the coat dominates everyday wear, street style looks, and even the runway as well as luxury fashion shows. Everyone from run-of-the-mill clothing stores to Designers and Brands come up with their versions of this premium outerwear. It is now crafted from various high-quality, durable fabrics, including canvas, twill, denim, and corduroy. The designers are highly creative in coming up with styles that can gel well with every type of look.
If that isn't enough, you don't have to spend thousands of dollars on a piece of outerwear as you can easily get one off the rack at a fair price.
The signature style French chore coat has a single breast pocket and two hip pockets, whereas the American version has two breast pockets and two hip pockets.
The chore coat with a slimmer fit, smaller collars, and rugged style is perfect for casual street looks, whereas the ones fitting loosely with boxier silhouettes can be perfect and practical workwear. Moreover, you will be stunned by the immense variety of colors available in the chore jacket category. Besides the classic navy blue, black and brown, you can get it in neutral shades and all sorts of warm and cool hues for added versatility.
Why the Chore Coat Is an Ideal Statement Piece for All Seasons?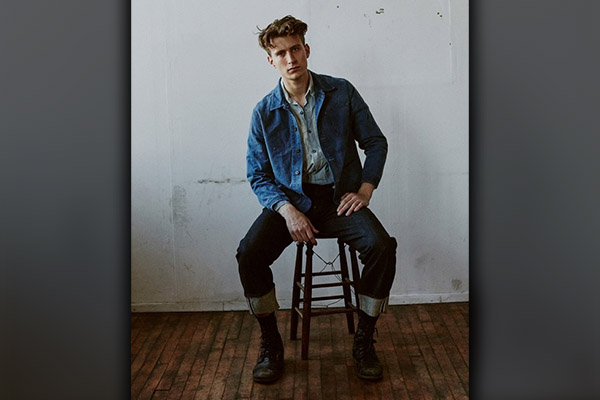 What makes a chore coat appropriate for summer wear is that you can raise its wide collar to protect you from sunburn. Don't forget that since its inception, the workers have used these coats all year long for protection against sunburn, wind, and harsh cold. However, if you wish to wear it in summer, avoid heavier fabrics like moleskin or duck canvas. Go for an easy-fit one made with cotton or lightweight denim.
The worker jacket is undeniably one of the best fall jackets. It safeguards you against the chilly winds of fall quite effectively. You will have a fun time creating stylish fall outfits with that swanky chore coat of yours.
Similarly, if crafted with a heavy fabric, the chore coat is perfect for layering in the colder months. Some brands have come up with a quilt-lined version of the jacket, increasing its warmth. Its bulkiness will keep you warm and comfortable in the chilly weather.
Why Should You Wear a Chore Coat?
Defining the Functionality of the Classic Clothing Essential
The chore coat iterations that the brands are introducing these days vary in style, but what's common in them is that they are crafted using genuine heavy materials. The primary reason for the popularity of this coat is its modest flair, easy-going fit, and durability. Therefore using an enduring material like canvas or twill is prevalent in manufacturing the classic chore coat.
The coat's heavy-duty material provides protection, warmth, and comfort, and its silhouette allows ease of movement to the wearer. It can last for many years in your wardrobe and can take quite a beating.
Though there are slim-fit versions available for street style and casual wear, the standard silhouette of this coat is rectangular, which was initially meant to provide optimal mobility for the workers.
Another feature that makes it highly functional is the oversized pockets, making it easier for you to carry your belongings like the phone, wallet, or cash at hand. The wide collar (traditionally made with corduroy) and the button closure also add to the coat's functionality and sophisticated appearance.
How to Wear a Chore Coat
Ideas for an Awesome Look
We cannot deny the versatility of the chore coat, as this utilitarian essential can help you put together uber-stylish ensembles all year round. It is believed to fall at the casual end of the fashion spectrum, but some luxury designs can give you worthwhile semi-formal looks as well.
Styling Ideas for Men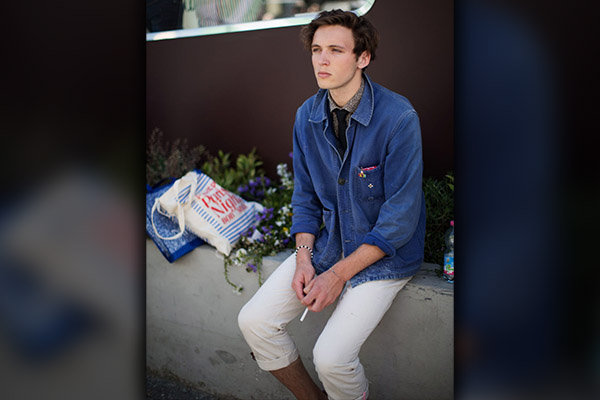 You can achieve the power dressing look by pairing a navy blue chore corduroy coat with a pressed white dress shirt and dark grey trousers. Wear a statement watch and brown derby shoes for the ultimate office look.
A self-absorbent, flamboyant style can be created with a dark olive cotton chore coat worn with tan chinos and a white t-shirt. Leave the buttons of the coat open for this dandy-style look. White sneakers are perfect for this look, but you can also wear loafers or suede ankle boots to complete the outfit.
For a laid-back casual style, also known as the street style, the chore coat again comes in handy. Choose a grey-washed denim chore jacket and pair it with a black t-shirt and dark blue ripped jeans. Don't forget to put on those dark brown Chelsea boots and Wayfarer sunglasses for the ultimate guy-next-door look.
Another smart, contemporary look can be built with a black flannel chore jacket and tailored trousers. This will be a minimalist look perfect for weekend outings and semi-formal dates.
Styling Ideas for Women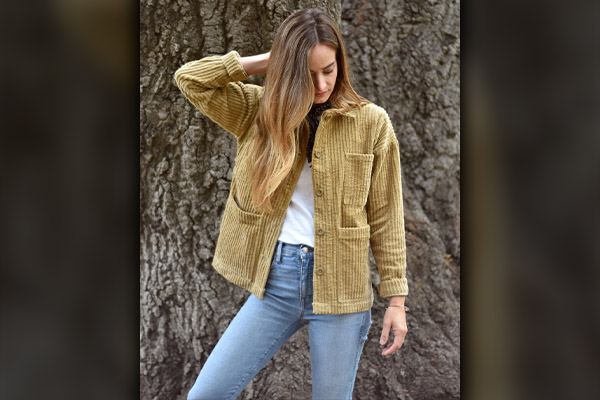 Who says that the chore coat is only for men? Some of the best divas looks have been suggested by the fashion connoisseur using snazzy chore coats for women. Choose any of the ensemble ideas mentioned below to add some elegance to your style.
For a simple, chic look, choose a cream coat and wear it over a navy blue jumpsuit. A pair of nude kitten heels and a statement neck chain will add to this outfit's elegance.
Add some fun and fun to your everyday look by pairing a short floral dress with a denim chore coat. You can opt for a handcrafted sunhat and boho-style bangles to give some bling to your ensemble. In contrasting colors, gladiator sandals will look absolutely stunning with this look, or you can go with simple ballerina flats.
Choose a slim-fit twill chore coat, which you can pair with light-shaded jeans and a plain blouse. With long slick boots and a black leather tote bag, this will create a cool, feminine look that you can flaunt at day outings and friends' casual meetups. 
Another street-style outfit suggestion is pairing a grey turtleneck with a printed skirt. Throw a dark blue flannel chore coat over the outfit for an instant voguish appearance. The footwear choice for this look should be ankle strap heels or platform heels in a matching color. Finish your look with hooped earrings and a sleek shoulder bag.
Takeaway
The chore coat is an epic example of a clothing essential that enjoys its position as a contemporary fashion staple despite being introduced a century ago. Its ultimate function is the reason why it cannot be termed an outdated fashion. The fashion-forward consider it a must-have in their wardrobe to create effortless, smart ensembles for casual and semi-formal looks.
The comfort that the worker jacket provides adds to its appeal, plus the variety of modifications and styles available nowadays suit everyone's choice. Reach for your stylish chore coat whenever you wish to carry a chic, relaxed look!