Behind every successful woman is a fabulous bag. Your work bag is your partner in your work life and it should be a fusion of fashion and practicality. An ideal bag would be one that can accommodate everything such as your laptop, water bottle, lunchbox and emergency makeup kit.
Work bags with compartments can further help in organizing your items. If you are confused on how to select the best work bags with ample storage capacity, durability and comfort then below is the complete guide to save you unnecessary hassle.
What To Expect In This Article?
What To Consider When Buying The Next Work Bag: A Checklist
Now that you are all set to choose the perfect women's work bag, you should make sure you choose wisely because many types of bags are available in the market. This is the bag that you will be carrying everyday to your office, important meetings and for unexpected business travel. Work bags are important elements of your professional ensemble that illuminates your personality.
Investing in a good work purse is smart, yet you need to ask yourselves some questions in order to select a profession-specific bag. With our in-depth analysis at hand, the best leather work bags for women should live up to the following guideline:
Functionality
Our recommendation is to prioritize function over style. If your daily essentials include heavy items like laptops, chargers, files and documents, then you need to consider a bag with shoulder straps. This will help balance the weight of your items' load and also leave you with spare hands.
Good news is that hardware and style can be found in a single work bag. There are many tote bags for work available that are cute and practical.
Size
The size of work bags for women mainly depends on the nature of your work. Do you need to pack lunch and gym shoes too? Do you need to keep your hygiene products and makeup kit at all times? Can't live without your water bottle?
This scenario suggests that you need a work bag that contains compartments so that you can keep your items separate and safe. If you do frequent business travel then you can be interested in backpacks.
Material
The most technical aspect of a work bag is the material used in constructing the bag. Since work bags are meant to be used on the 9 to 5 routine, a long-lasting fabric is most advisable. You would not want your bag to come apart while you are running between lunch and meetings.
We recommend you to choose a sturdy and strong material for your work bag such as leather. The debate on faux leather vs real leather can be helpful in this case. However, we know that leather is durable and classy. The finest work totes for women are made with leather which makes them enduring and reliable.
Look
Fashionistas say, life is too short to carry a boring bag, and we second that! So, even if you are looking for a work bag, it doesn't mean it shouldn't look appealing. Your choice of work bag should align with your personality and must not settle for anything less stylish.
Construction
The inside of the bag is the major game-changer. If your work bag is full to the brim, you will need to properly organize the items inside. For this, you will require pockets and compartments that can fit your different sized essentials. If your work demands you to keep important documents at hands, then you will need flat sections to secure them. Therefore, an organized work bag will take you places.
Color
We rest our case with black under this category. Black is the color of business, charm and power. A classic black laptop bag for women will elevate your all-black ensemble to the next level. If you want something neutral, you may go for a nude bag which will match your soft-colored office wear.
Style
There are many ways to carry a work bag, such as, on the shoulder, under the arm or in your hands. A bag with heavy items can be carried on the shoulders whereas a bag with limited items can be held on the arm. However, a clutch purse with just a few essentials can be held in your hands.
The ultimate work bags to choose from
Below are our recommended picks for work bags with compartments.
Open-top Tote Bag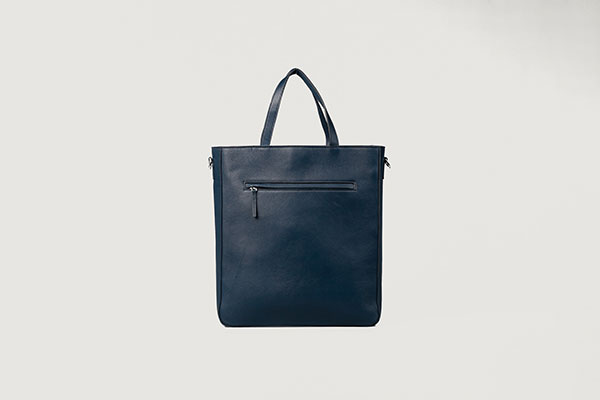 The open-top tote bag is functional and ideal for carrying large items like laptops, tablets and files. The items kept are easily accessible while you are on the go. The size and shape of this work tote is sleek and elegant.
If you are the lady boss, your tote bag outfit will be on-point with this work bag. Choose black to exude your boss lady energy.
Leather Tote Bag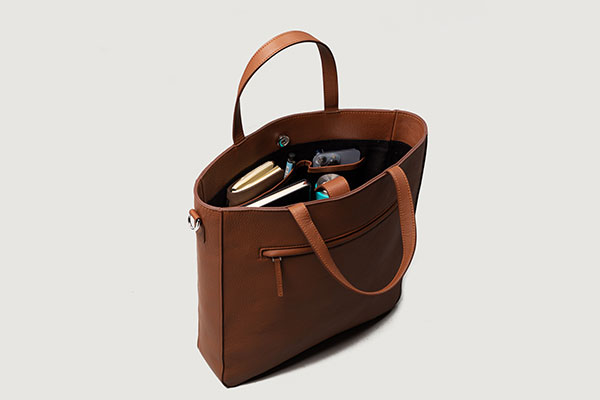 A leather tote bag with long and sturdy straps is the best shoulder bag you can take for work. It can easily hold all your necessary items and even your favorite novel for the boring travel transitions.
The traditional brown leather tote bag for work screams style and sophistication. When you will carry the tote bag to your office, everyone will admire you for your choice. If you prefer to keep your hands free, this can be the star of your go-to shoulder bag outfit.
Zip-top Tote Bag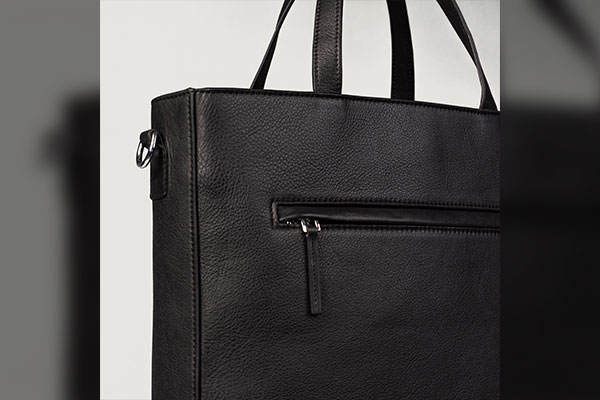 If you are always on the run, a zip-top tote can be your marathon partner. All your necessary items will be secure with no chances of contact with the outside world. Most women would opt for the zip-top tote.
Canvas Tote Bag
Without any doubt, a canvas tote bag is durable and one of the best examples of cute work bags. This versatile bag has many interior and outer compartments that keep your items secure. The outer pocket is perfect to keep your water bottle. It is available in colorful straps which are attractive for the fun soul.
Crossbody Messenger Bag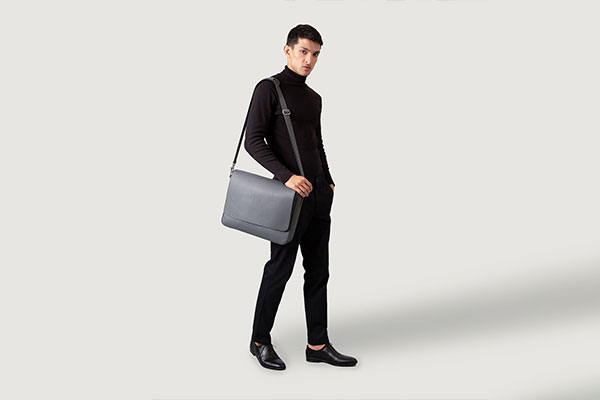 A high-quality leather laptop bag in a crossbody style is worth the investment. With a number of outside and inside pockets, you can easily add other necessary items along. The crossbody style balances the weight and adds style to your posture.
The overall look of this bag is minimalistic, luxurious and functional. It can serve as the best luxury corporate gift.
Backpack bag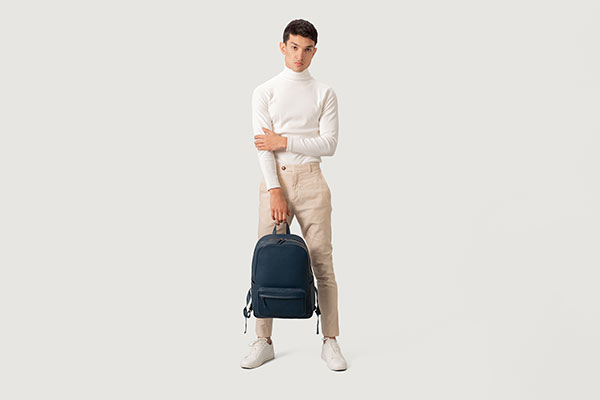 It doesn't take much time for a normal person to become a leather backpack person. Once you start enjoying the many features of the backpack, you start to realize its full potential. It is usually crafted with thick and sturdy fabric which is also water resistant and easy to clean.
It has a multitude of compartments and pockets in various sizes and styles. There is a soft, shock-proof compartment for your laptop. There are inner zipper pockets to keep your chargers, diaries, notepads, stationery etc. And there are outer zipper pockets to secure your cards, keys, mobile etc.
Large Satchel Bag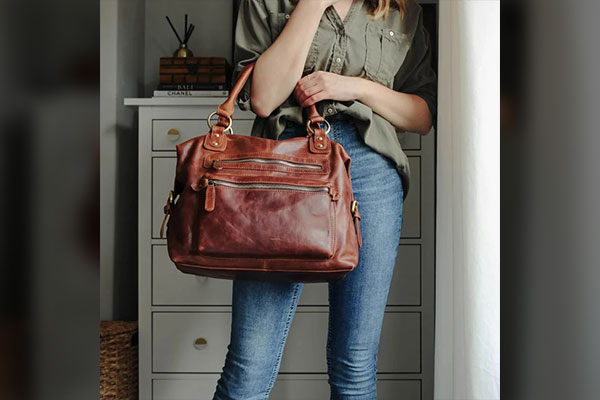 The large satchel bag is similar to the back pack but horizontal with two handles and an adjustable crossbody-style strap. It has a padded laptop compartment with multiple inner and outer pockets.
This satchel bag is made of pure leather and even though it is always on the 9 to 5 run, it won't develop a leather patina. This is so far the most stunning bag for work women's love to carry. Despite being subjected to the rough and tough office life, this bag stays fresh and functional.
Conclusion
Work bags add value to your office wear. That being the case, you need all the help to choose one wisely. After reading the guide, you can confidently decide on a bag that best suits your requirements.
We can also conclude that a work bag should contribute to making your work-life smooth. Yet, there is no need to sacrifice function for fashion.