When the trend initially started buzzing, people thought it was a fluke and wouldn't last long. After all, nobody in their wildest dreams believed that a trend like this would actually thrive the way it is today.
The mere audacity of a popular face adorning a blazer with biker shorts and getting praise for it sounded strange. At least, it did at the time. Fast forward to the present day and it has become a go-to streetwear look. Despite being seemingly outrageous, people were quick to jump on this bandwagon — all thanks to its versatility and stylish look.
Do you know how to style biker shorts? We have compiled a list of tips for you along with some outfit ideas so that you could make the most of this style. le
Tips For Styling Biker Shorts
The one thing that must be emphasized here is the universality of the look. Biker shorts look flattering on every woman and body type. Do you know why? It's because the high-waist style compresses the shape of your abdomen and also flattens it along with your hips and thigh region.
By pairing biker shorts with an oversized top, you give off a trendy vibe that is edgy and cool in every which way. You can wear biker shorts with oversized denim jackets, blazers, and leather outerwear. Add a crop top and a pair of combat boots and you are ready to roll. Biker shorts can be used to create casual and minimalist looks. Color clashing could work but it's best to choose a monochromatic outfit because subtle colors are best for this garment.
Overview of Biker Shorts and How to Style Them?
Striped tops, button-down shirts, tailored blazers, crop tops, pleated tennis skirts, sweatshirts, chunky trainers, zipped hoodies, scarves, deck shoes, there are so many things that you can use to create a fresh and stylish outfit.
If you're a plus-size person and you want to wear biker shorts, it's best to go with flowy button-down shirts with frontal knots. Curvy women can also choose a graphic tee and a flannel shirt tied on the waist.
As far as the tops are concerned, you can go with the following:
Crop tops
Turtleneck
Flannel Shirts
Button-down/collared shirts
Shackets
Oversized t-shirts
Graphic tees
Unstructured blazer
Denim jacket
Oversized bomber jacket
These tops can vary in color depending on the color of the bike shorts. However, black, grey, and white are the most sought-after shades since they help in keeping the look subtle and monochromatic.
When it comes to footwear, chunky loafers and combat boots are deemed as best. But to elevate the look and step outside your comfort zone, you may also put on stilettos and heels – especially if you're going for a blazer look. Since there are no hard and fast rules, a biker shorts outfit with sneakers is sometimes the clear-cut answer.
9 Outfits With Biker Shorts
If you're wondering what to wear with biker shorts, you can take help from the 9 outfits provided below. They are highly versatile, stylish, and comfortable.
With A Graphic Tee, Biker Jacket + Sneakers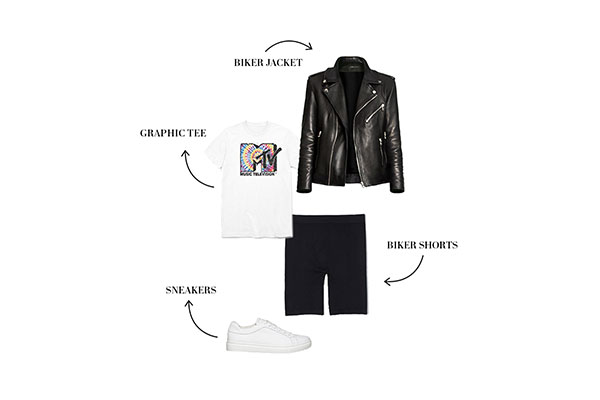 This is an effortlessly cool and aesthetically pleasing outfit; perfect for casual lunch and hangout plans with friends and family.
With A Tweed Blazer And Crop Top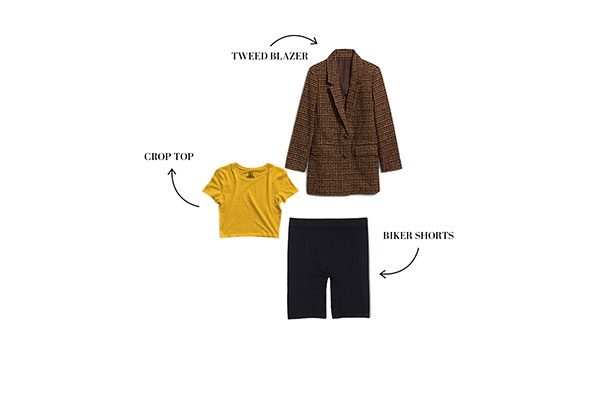 There's nothing more stylish than a brown tweed blazer. By pairing it with a bright crop top and biker shorts, you make a bold statement. You can pair this outfit with sneakers for casual streetwear or a pair of heels to make them more corporate appropriate.
With Turtleneck + A Beanie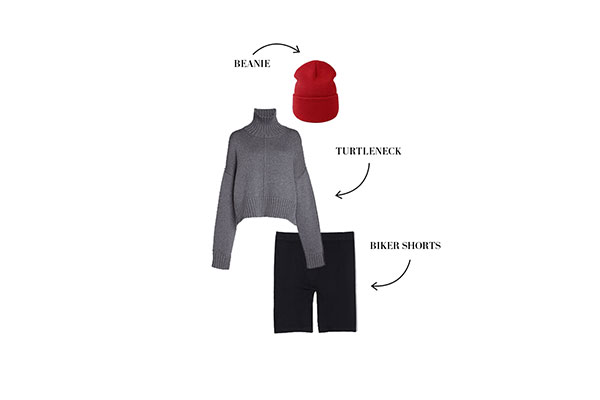 On colder days, when you don't feel like getting out of your comfortable bed, go for a cuddly turtleneck and a beanie look. They both complement biker shorts; the bright red beanie is the element of cuteness.
With A Bright Crop Top, Trucker Jacket, And Slide Sandals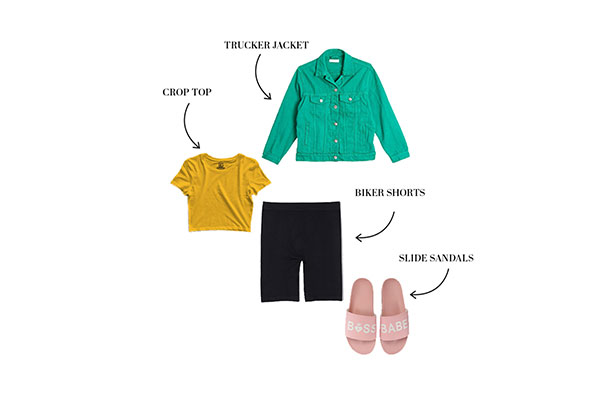 Going out for a movie night? Is it a girls day out shopping? Be your chirpy and bubbly self in this utterly cute outfit. The color combination works in the favor of color blocking — a buzzing trend of 2021.
With All Black Ensemble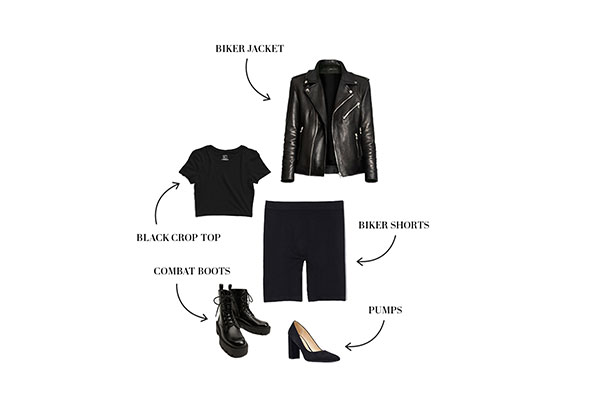 Give the goth in you a chance to let it all out; pair together an all-black ensemble. Of course, nothing is more eccentric and classy than a baddie women's leather biker jacket in black. You can go for combat boots or pumps by switching the leather jacket with a sports coat.
With Waist-Length Cardigans And Combat Boots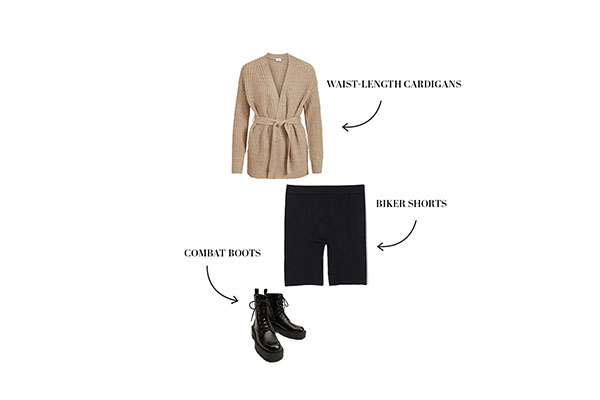 For a high-street look, there's nothing more effortless and cool than a brown waist-length cardigan paired with black biker shorts and combat boots.
With A Muscle Tee + Cropped Denim Jacket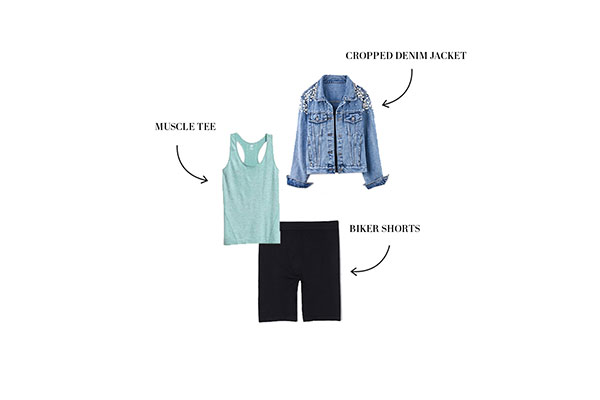 Want to go out to the club straight from training? Add a funky denim jacket with studs and switch the sneakers with suede boots and make it an easy transformation.
With An Oversized Bomber Jacket + Trainers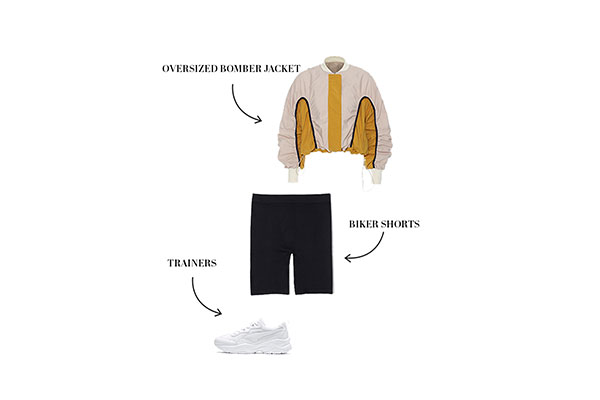 Picking up groceries? No need to make outfit changes, quickly put on an oversized women's bomber jacket and wear your everyday white sneakers.
With A Khaki Trench-Coat And Pumps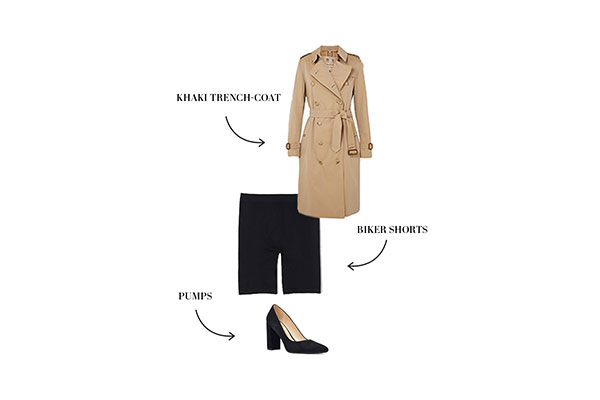 Transform your dress from day to night by putting on a khaki trench coat and adding an element of chic with black pumps.
What kind of shirt goes with biker shorts?
From collared button-down shirts to muscle tees and oversize sweatshirts, you have plenty of options to choose from to pair with biker shorts. 
How do you tuck in shirts into biker shorts?
You can either tie the shirt in a knot from the front or tuck it in very smoothly. Its best if you don't tuck it in if it's an oversized shirt; it could look a bit off and make you look broader from the waist.
What are biker shorts used for?
Designed for cyclists and bikers — to add to their comfort — biker shorts have now turned into a major fashion phenomenon. They are used for creating multitudes of outfits; smart casual to sporty casual. Add an unstructured blazer for a high-street appeal and a graphic tee for a more laid-back look. 
In Conclusion
The beauty of biker shorts rely on its versatility — it can easily be paired with a variety of women's leather jackets, tees, button down shirts and coats. As for the footwear, you can never go wrong with combat or ankle boots or even chunky loafers.