A major fashion trend that has made a massive impact in the last couple of months is hands down leather blazers. The resurgence of this fashion forward outerwear is seen on models and influencers all over social media. Available in a variety of silhouettes and cuts, a leather blazer jacket is the epitome of chic and effortless style that can be paired with many different types of dresses and shirts.
Leather blazers were cardinal to fashion in the 90s and early 2000s. A standard genuine leather blazer was owned by every woman with an elementary sense of style that took minutes to complete. This trend that lost its track a few years ago has returned with vengeance — from casual street looks to corporate meetings and dinner dates, women are loving this piece of garment and using it as frequently as possible. Clocked in every color and size, there's a lot to explore in an outfit with a leather blazer.
Leather Blazer Outfit Ideas for Women
Seek leather blazer outfit inspo in this comprehensive guide. Of course, if you are here, you've already come across a plethora of outfit ideas that keep circulating on your social media feeds. In fact, we're pretty sure that you have ideas saved as pins as well. But how do you create outfits that actually look good on you? Magazine and cover shoots are one thing but building your own outfit from top to bottom is challenging, especially if you are trying to wear a 90s blazer outfit. Let us help you identify what goes with what and how you can pair two different garments together to create a holistic look that is aesthetically pleasing.
With Leather Pants + Cotton Tee
There is nothing more chic than a leather pants and blazer outfit. You can wear this versatile combo to the club, to meetings and your casual lunches with girlfriends. Choose any style of leather pants and pair it with a lighter shade of cotton tee. It could have embroidery or printing on it; try to keep it minimalistic. And top it off with a leather blazer. Try to find a blazer that is tailored according to your measurements instead of a jacket that is oversized and loose.
With Leather Skirt + Tank Top
Need to come up with a last-minute black leather blazer outfit? No worries! Choose a leather skirt, pencil skirts would be just fine, and adorn a pretty tank top with it. The hemline of the top is up to you; whatever you are comfortable with. And finish the look with a nice, oversized leather blazer.
With Jeans + Crop Top
If you thought you couldn't wear jeans with leather, your mind is about to be blown away. Dress like a boss lady in a leather blazer paired with the combination of baby blue jeans and crop top. You can go for ripped jeans or straight legged; whatever you feel sexy in. Find a white crop top and a black oversized blazer to bring the whole look together.
With Denim Shorts + Polo Shirt
Denim shorts are cute but they are even cuter when you pair them with a college-throwback polo shirt. It could be a fashion forward and contemporary back-to-school outfit, something you can possibly get into trouble for. A charcoal denim or even biker shorts with a white polo shirt and black unstructured leather blazer.
With Leather Shorts + Corduroy Top
Leather shirts and blazers are a thing now and not the thing of the past. You can wear them with corduroy tops to make it even more appealing and stylish. This stylish outfit is gorgeous and feminine and will be a great choice for dates and night outs.
With Flared Leather Pants + Crop Top
Flared leather pants and crop tops are contemporary but a pair that is unlikely to be paired together. This strange combination makes it eccentric and powerful at the same time; it screams that you are rebellious with a dash of devil-may-care attitude. Be the boss of your own life in green flared leather pants and a bright and funky crop top. Complete the dynamic with a beige or white blazer.
With Split Hem Leggings + Knit Sweater
If there's a combination that is comfortable and chic at the same time, it is that of the split hem leggings and a knit sweater or turtleneck. You will feel at home, comfortable and extremely cozy. Add a blazer to the duo and make it a warm outfit that you can wear while hanging out with friends.
With Oversized Collared Shirt + Cotton Pants
Faux leather blazers are popular and a rage in the fashion world these days. You can make an unlikely pair with an oversized collar shirt; leave the first three buttons open to add oomph to the look. And bring totality to the entire outfit with cotton pants.
With Khaki Pants + Cashmere Top
Cashmere tops are gorgeous and make you feel luxurious. You can wear it with khaki pants and give a new element to the garment. A blazer will essentially be useful if you want to make the look semi-formal. It's undeniably chic and looks ravishing if paired with the right color combination.
With Slip Dress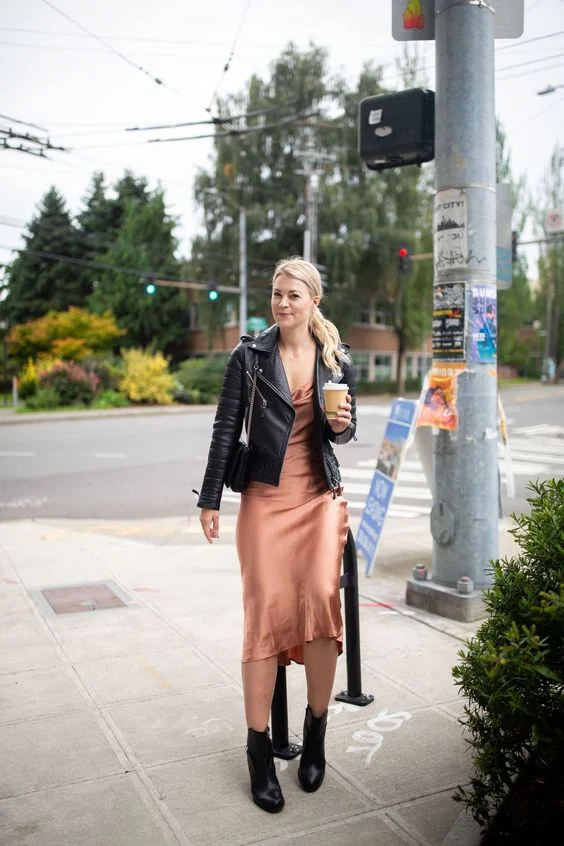 If you plan on looking sexy for the day, you should go for a silk slip dress, the material is simply exquisite. And it will look even more of a tease if you wear it with an oversized black leather blazer. The recommended color combination is, of course, lavender and black.
With Leather Mini Skirt + FIshnet Tights + Sequined Top
Another outfit that you can plan on wearing for a girl's night out is a leather mini skirt with fishnet tights, sequined top and an oversized leather blazer, an outfit for days you want to explore your style. It may seem like you're cluttering the look but once you are wearing it, you will see the difference, the fishnet tights will make.
With Pleated Leather Pants + Princess Vest
Choose a monochrome outfit by wearing brown pleated leather pants with a brown leather blazer. Add dimensions to the look by wearing a beige or mustard princess vest underneath the blazer.
FAQs
Is The Leather Blazer 2023 Style?
Yes, leather blazers, especially the oversized ones, are running the fashion industry at the moment. 
Are Leather Blazers Worth It?
Leather blazers are definitely worth your investment. They are perfect for formal, semi-formal and casual wear. Paired with almost anything, this outerwear will be a great addition to your capsule wardrobe. 
What Pants Do You Wear With A Leather Blazer?
You can wear flared leather pants, pleated pants, denim jeans or even skirts and shorts with a leather blazer.
Do Jeans Go With A Leather Jacket?
It may seem unlikely but sometimes you can pull off jeans with a leather blazer; a casual outfit would be best. 
Wrap Up
Hope you took inspiration from the blazer outfit ideas we presented above. These are all styles and aesthetics that you have probably already seen on the ramp, street or social media platforms. Choose a leather blazer to show how experimental, daring and absolutely gorgeous you are.