One thing we know for sure is that a lot of you guys are confused about how to wear a tie clip. And, we are not going to invalidate that because we know that for today's men understanding a classic accessory can be a little tough.
However, we want to take this moment to burst that bubble and tell you that a simple accessory necktie clip will add a dash of sophistication to your attire. We have seen so many iconic celebrities wear small tie clips on and off-screen, so it is your time to embrace them as they are up for grabs.
In this blog, our goal is to help you acquire all the information about unique tie clips. So, read further to know what it is, how you are going to wear it, and what style options you have.
What Exactly is a Tie Clip?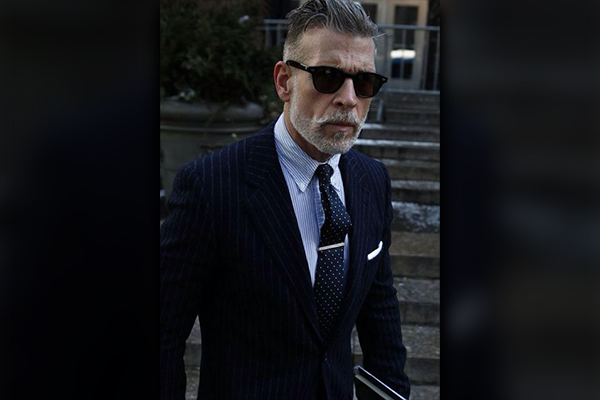 First thing first, when a guy is asked to dress up, he thinks whatever is placed on a tie is known as a tie clip. However, that's not the case. A clip is made of metal and has a jaw that keeps it attached to your tie. There is another called tie bar that you might confuse with a tie clip. The simplest definition we can put forward to compare tie bar vs tie clip is that a bar will slip onto your tie whereas the tie clip has teeth.
The Perfect Position for Tie Clip
One thing that bears repeating is that: when it comes to a tie clip and wearing suspenders, don't take suggestions from your 40-year-old flashy uncle. Not because he is dodgy, but he might not know about the dos and don'ts of modern business casual and French styles.
Moving on to the tie clips. They are actually designed to sit specifically between the third and fourth buttons of your formal button-down shirt. With that, pay a little attention to the buttoning of your suit too. Obviously, you wouldn't want to hide your tie clip.
Since we have talked about tie clip placement, it becomes mandatory to briefly go through the rules of wearing a tie. You may know how to tie a knot, but have you ever thought about where should a tie end? Does it look sloppy when you sit somewhere?
The technique is simple: the end of your tie should be close to the center of your belt or if you are not wearing a belt, it should be near the waistband. For your tie to land in the correct place, stand while you wear a tie. If you can't do it, try several times. Practicing can definitely make you perfect. And, the trick is to note down the length on either side of the tie when you start to wear a tie.
Tie Clip With Dress Shirts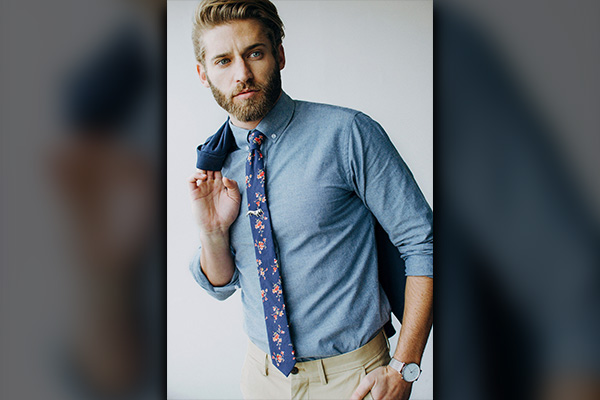 A button-down shirt, trousers, and a tie have been the corporate uniform for ages. As this is an extensively worn attire, everybody looks almost identical in it. That's where tie clips arrive into the picture to keep up with your personality.
Whether it's a solid-colored tie, a striped tie, or any other type of tie, these cute accessories are excellent to help you look different from everyone else without violating the office dress code.
You can select the ideal tie clip and design according to your wardrobe. From funky to sober, they are available in numerous styles. If you ask us, the easiest pick is silver tie bars as they match everything.
Besides that, a black-tie clip is a popular option too.
Tie Clip With A Suit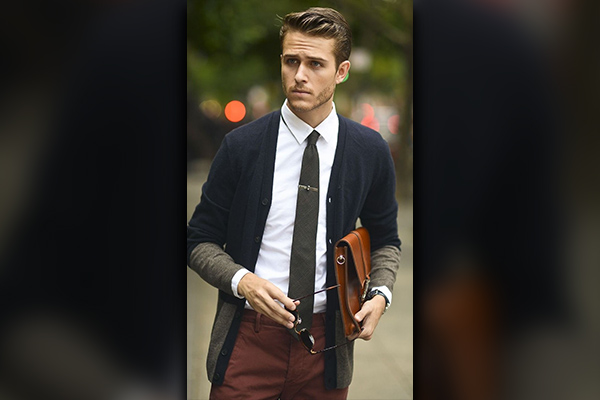 Suit outfits with tie clips are the ultimate choice of every man when they have to go to a wedding or a formal meeting. This attire gives a James Bond kind of feel. Here, you have limitless options to play with whether it's the color combination or the style. Well, the most effortless look is throwing a white blazer over an ivory shirt, black tie, and a silver tie clip.
Tie Clips Options You Have
Frankly speaking, people are tired of wedding bow ties and suspenders in formal settings. So, you have the chance to wear tie clip designs that start from anchors to animals to symbols designs. Nevertheless, don't get too excited about the design. Otherwise, you may look tacky instead of looking sophisticated.
Deciding on the Tie Clips Colors
To follow the color of your suit there is no rulebook on tie clips. Yet, we can give you one warning: don't wear a tie clip with colors that are hard and not pleasing to the eyes. For instance, wearing a red tie clip with a navy blue suit with loafers may give people a reason to isolate you at a party. It may look bearable with red pants and a white shirt formal outfit, but with navy blue, it is a deal-breaker.
For a cleaner look, you can go with a black suit with brown shoes and a shiny gold tie clip. Those who can't get enough of their navy blue suit combinations can go for a light pink tie and a silver tie clip to show off your bossy personality. In these outfit combinations, you can wear a hat to slay the Fedora and Trilby looks.
Tie Clips With Vest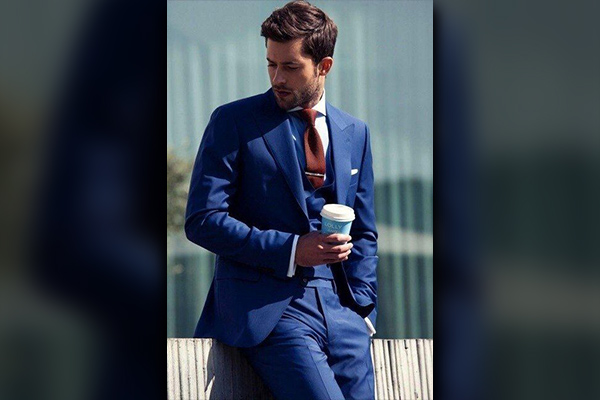 When you wear a vest outfit, there is no need to wear a tie bar shirt. That is because the vest is there to keep everything in place. Yet, there are people who work fashion more than practicality. Wearing a tie clip won't count as a fashion crime if someone wants to go for a dress to impress. The tie bar placement will remain the same for the vest as well. On a black vest, you can add a black blazer to make a perfect wedding outfit.
Clip Tie with Separates
Suit separates are great for transitioning into a business casual look. You can wear black jeans with a grey blazer and put on a black tie clip for a seamless casual look. As suit separates comprise of two different colors, you can match your tie and tie bar with either of the two. Clip suspender and a tie give a much cleaner feel and a tie bar is for finer details. Suit jackets are trending at the moment. You can use them to become a fashion inspiration for all.
Besides that, a tie tack can give so much definition to the ordinary black shirt, blue pants, and brown shoes outfit. Wait, you don't know how to wear a tie tack? No issue. To pin your tie to your shirt, push the bar through the buttonhole on your shirt and the pin through both segments of your tie.
The position of the tack will be the same as the tie clip position i.e., the third or fourth button.
F.A.Qs
How high do you wear a tie clip?
The tie pin placement or clip placement has the same principle. You can destroy the look by placing the tie clip too high or too low. The correct area for placing it in between the third and the fourth button of your shirt. 
How to wear a clip-on bow tie?
Fold the bow tie's strap back on itself by taking clip A. Clip B at the end adjusts the length. Push clip A into a gap on the backside to adjust the length. Hook clip B onto clip C to attach the bow tie. 
Why do we wear ties?
Neckties have long been associated with status and royalty. It was believed that wearing a tie earns you respect. So, if you want to dress up for a formal occasion, you need to know how to wear a tie the right way.
How to wear a tie clip with a skinny tie?
A narrow tie with a width of 2.5 inches and 2.75 to 3-inches width for modern styles are perfect choices. We suggest wearing a 1″ tie bar for Narrow ties and 1.5″ for the modern ones.
How to wear a tie-clip chain?
A tie chain connects your neckwear to your shirt. It hooks onto a button behind the tie or attaches to the placket with a bar. A tie chain is positioned in about a similar way as a tie clip.
The Bottom Line
Now that we are at the end of the blog, we will clarify one more thing. Because you don't see many reference pictures on the internet of guys wearing a tie without a jacket. But it doesn't mean you shouldn't go for it. Whether you are wearing a 2 piece suit or not, it doesn't really matter.
So, without losing a single minute get different tie clips in various styles and shapes to add a personal touch to any outfit.