A trend that disappeared from the planet is suddenly back and how. Suspenders have made a smashing comeback this season; they're easy to put on, come in different types of materials and fabrics, and are extremely affordable. You can wear suspenders casually and the formal dress code can also embrace them. Suspenders are highly versatile but they have their own set of rules that you can't disregard otherwise you will end up looking like a clown.
What To Expect In This Article?
What are Suspenders?
Suspenders have a long history, known as braces in the UK, these are straps made of different types of fabrics that go over the shoulders to hold either pants or shorts or even with pleated skirt outfits at times. These straps or suspenders may also be elasticated from the hooking to correctly attach it from the ends. There are different types of suspenders available, something we will discuss later in this blog, but the ones with an X or Y shape are woven via cloth.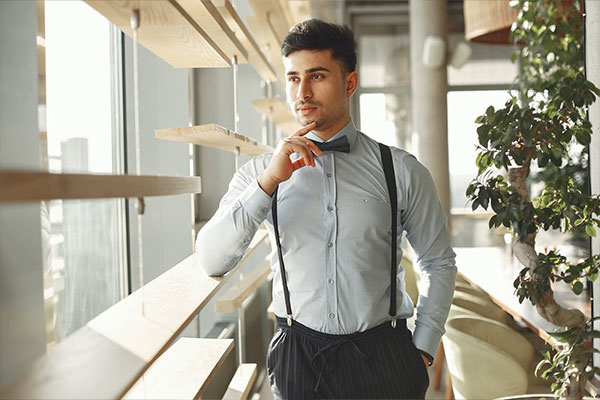 Over the years, multitudes of fabrics and materials have been used to make suspenders. For example, suspenders are found in rayon, silk, plastic, and different types of leather. All of these are elasticated at the end. People from the Upper middle class or the ones with a white collar job are observed wearing suspenders more often than not.
Types of Suspenders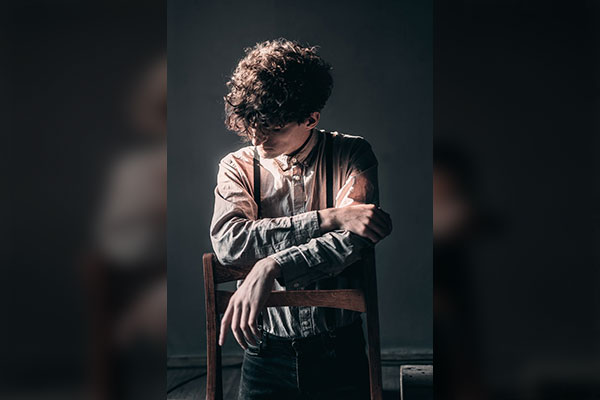 There are several types of suspenders; let's discuss them in detail.
Clip-On &. Button-On Suspenders
Clip-on suspenders are highly versatile and are usually attached to shorts and pants through clips. Use clip-on suspenders to create fashion-forward and cosmopolitan outfits; they go really well with jeans and shorts.
Button-on suspenders go well with formal attire; especially if your pants don't have buttons. They essentially help in fastening the pants; they've got six buttons that are hidden.
Create snazzy and classy casual outfits using clip-on suspenders. They work really well with ripped, embroidered jeans and casual t-shirts. Button-on suspenders, on the other hand, work really well with an oxford shirt, a leather jacket, and tailored pants.
Y-Back & X-Back Suspenders
There are different types of straps that you use for suspenders but the one thing common in all is the shape they form at the back: they either create a Y-shape or an X-shape.
Obviously, if it's an x-shape, the suspender will meet somewhere in the middle, in a cross-like setting. This shape meets twice at the back of the pants. For this, you require a clip-on suspender to hook or attach on four unique spots.
As for the Y-shape suspenders, this one also meets somewhere in the middle of your back, however, it wanders in two directions; opposite paths over the pants. What differentiates Y-shape suspenders from X-shape suspenders is that they meet at one single line at the back, forming into one.
Both styles can be worn casually and formally, it all comes down to your personal style and sense of aesthetics.
Skinny & Wide Suspenders
The most prominent difference between skinny and wider suspenders is this: the skinnier the width of a suspender, the more appropriate it would be for casual wear. Similarly, the wider a suspender gets, the better it looks for formal and business wear.
In fact, skinny suspenders can be as wide as 1-inch, making it ideal for skinny men. At the same time, the wider a suspender, the more versatile it becomes in terms of looking great on all types of body frames.
How To Put on Suspenders?
Clip-on suspenders are usually clipped at the middle of your back. Next, the suspenders go over the shoulders to the front and attach again via clip-ons on the front of the waistband.
Button-on suspenders, after you've buttoned them on the pants, are looped using the rest of the buttons that are actually on the suspenders (the hidden ones) at the front of the waistband.
Ways to Wear Suspenders
There are many outfit ideas that one can think of when styling suspenders. However, to break it down into two divisions, you can pair suspenders casually and formally.
Suspenders and Formal Wear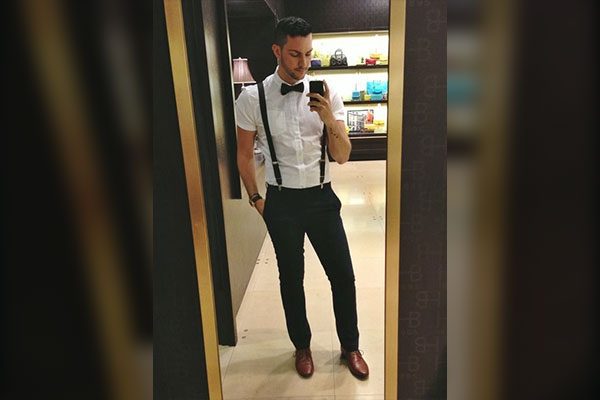 Go for a crisp white, half-sleeve shirt with a black tailored pant and button-on suspenders. Add a matching bow tie, wrist watch and brown formal footwear, preferably in suede leather.
Casual Dressing and Suspenders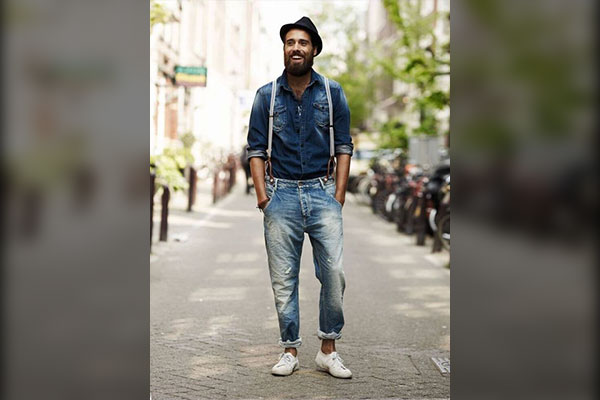 Wear washed-out, distressed light blue jeans with a blue denim shirt and white sneakers. Add a fedora or trilby hat and white clip-on suspenders. This look is preppy and comfortable at the same time.
Can You Wear Leather Suspenders with A Tie?
Contrary to popular belief, you can wear suspenders with bow ties and ties. However, the rule of thumb is to always wear them in contrast and never the same color or print. This essentially helps you achieve a timeless look.
Can You Wear Leather Suspender With A Belt?
It's best to avoid wearing leather suspenders with a belt. It doesn't matter how expensive your belt is or how grandier it makes you feel. It's best to ditch belts when you plan on wearing suspenders; it's redundant and seems like you've worn anything and everything you could grab in one sight.
Should the Color of Your Shoes Match the Color of Suspenders?
The right way to pair suspenders with shoes is to match the ends of the suspenders with shoes. Black pants and brown shoes would compliment suspenders that have a brown leather end. You can also match your briefcase if you want.
Do Pants Go Over Or Under Suspenders?
Pants go over the suspenders. Always put on the suspenders and have them go over your shoulders. 
Are You Supposed To Wear A Belt With Suspenders?
Absolutely not! You will make a fashion blunder, something that can't be excused by the fashion critics. Don't ever wear a belt and suspenders together. 
How Tight Should Suspenders Be?
Suspenders should not be too tight. They should ideally snuggle your body and give you room to breathe and move freely. 
Are Clip On Suspenders Bad?
Usually clip-on suspenders are considered informal due to their design. However, it's not like they are bad. Until and unless you use them as formal attire, there is absolutely no reason to consider them bad. 
Do Suspenders Hurt Your Shoulders?
If you wear suspenders that are too tight for your frame, it will obviously hurt your shoulders. Therefore, it's recommended that you find suspenders that are snuggly and according to your framework. 
In Conclusion
Suspenders are extremely important for menswear; both formal and informal. You can use them to elevate your style and enhance your body frame and body. They come in varied styles and designs and it is up to your personal preference to wear what type you like to wear.