Yellow is the color that has been dominating fashion runways and can be seen worn by all top models this spring. An effortlessly charming, flamboyant, and somewhat maximalist hue that transforms any outfit with one drop. By snatching victory from lime green – a color that influenced the fashion trends of last year, yellow has stood out this season because of its timeless appeal.
Simply adding a dash of it to your outfit brings an element of glamor, transforming it into a contemporary look. Of course, it's best to seek a minimalist approach when indulging in yellow; hence, utilize it in your outerwear, accessories and footwear.
Despite being such a modern and chic color, middle-aged women are often wary of adorning yellow. Many times, 40-year-old women get intimidated by the tone and vibrancy that the color yellow projects. But that's the thing, this notion is completely misconceived. Anybody who believes that 40-year-old women cannot wear yellow is an ageist.
Thereby, in this article, we're going to be addressing how a 40-year-old woman can pull off a yellow outfit. In addition to cute yellow outfit ideas, we're going to be discussing the various shades of yellow.
What are the Different Shades of Yellow?
Like any other color, yellow also has a spectrum of tones. From nude and pastel palettes to corn, medallion, butterscotch, bumblebee, and mustard, there are various options even within the range of yellow. So, how do you decide which color to choose? And are there any shades within the spectrum that are specific to 40-year-old women? Honestly, no.
The color yellow denotes warmth and comfort, making it extremely embracive and textural. It doesn't discriminate nor does it act selectively. You can wear yellow leather jackets, yellow strappy sandals, yellow tote bags, and even yellow sweatshirts. The only rule of thumb that one should keep in mind is to wear in moderation. Don't overdo it. You want to look classy and sophisticated at all times, and so, a pop of color every now and then doesn't look too bad after all.
How to Wear Yellow? A Guide for Middle-Aged Women
There are so many ways a 40-year-old can pull off a yellow outfit. You can stick to basics by adding simply a dash of this tint here and there or you can create mellow monochromatic outfits that explore the inner diva in you. So without further ado, let's get started with the list of yellow outfits for ladies.
Yellow Skirt with Off-Shoulder Top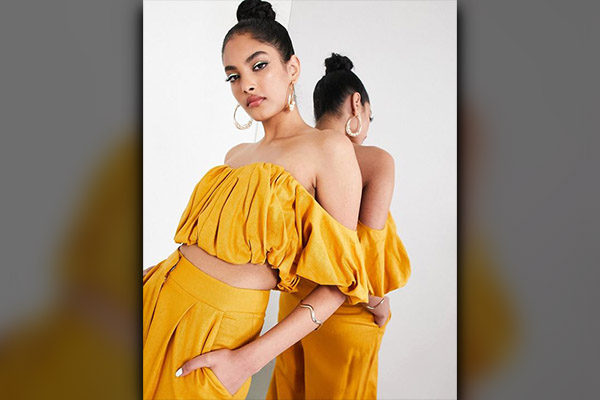 There's no other garment more feminine than a skirt. Hence, it's possibly best to embrace the warm air of summer in a yellow skirt and an off-shoulder top. Add a pashmina scarf and strappy sandals to pull off this look. 
Flared Yellow Leather Pants with White Ruffled Top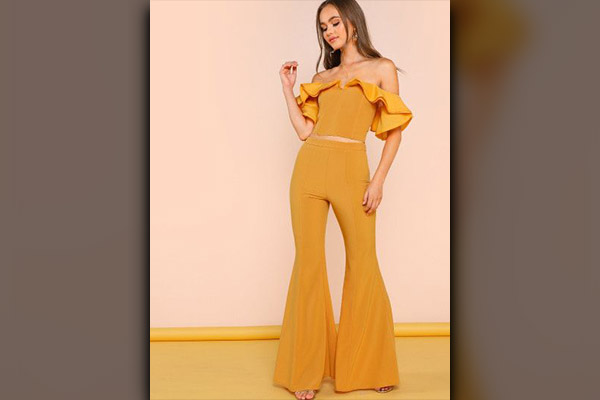 If you want to wake up the inner diva in you, time to wear the big girl leather pants with some flare. Balance the look by wearing a white ruffled top – eccentric and loud by design but moderate by tone. Complete the look by earring black aviators, nude stilettoes and a sleek ponytail. 
Yellow Shirt with Blue Jeans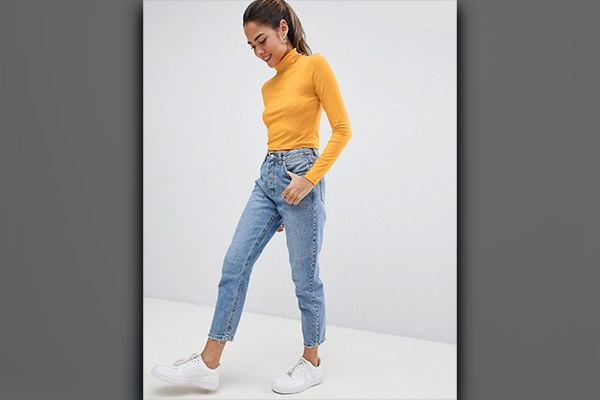 Keep your outfit casual while running errands. Choose a yellow t-shirt with baby blue jeans. Of course, you can play with the jeans by selecting something that is trendy and contemporary. Mom jeans and straight-leg jeans are creating a lot of buzz these days, so, it's best to wear them with a fresh pair of white sneakers. 
Yellow Dress with Leather Jacket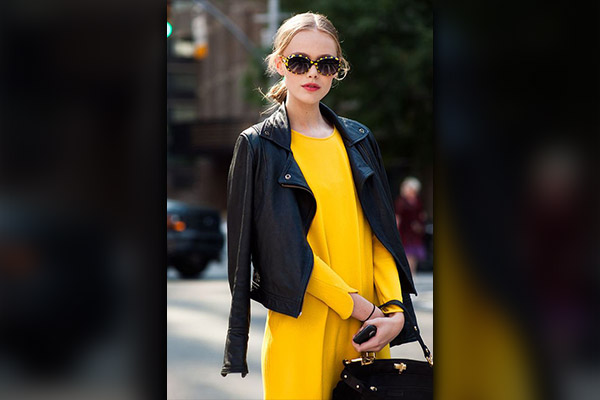 Welcome spring with a bright yellow dress. From sundresses and kaftans to midi and maxi dresses, there are countless options available for you to choose from. Of course, keep your body type and frame in mind. To layer the outfit, you can opt for a petite leather jacket in black. Accessorize the look by adding a pair of black leather ankle boots. 
Yellow Flannel with Charcoal Jeans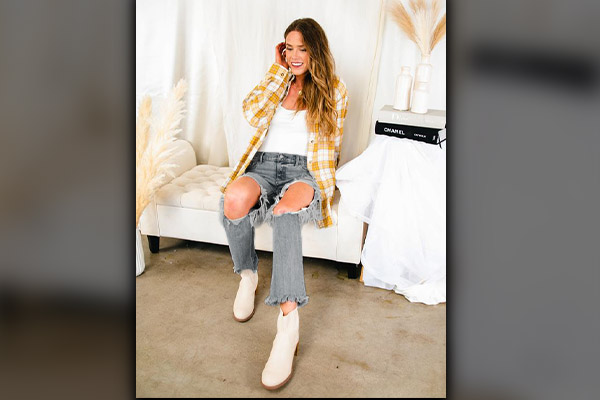 Wearing flannel is always the safest option if you're stepping out for a quick bite. Therefore, pair your favorite yellow flannel shirt with charcoal jeans and a biker leather jacket.  
Yellow Boots with A Matching Slit Dress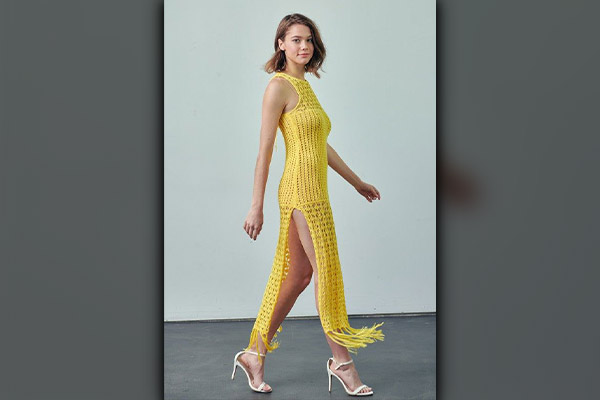 Get ready to party in a mellow slit dress. Put your fur coat on and bring the look together with bright yellow boots. Although it's best to keep the rest of the look understated since the fur coat will be the centerpiece, you can still wear your pearls for that extra bling. 
Yellow Shorts with Oversized Mustard Yellow Sweater Vest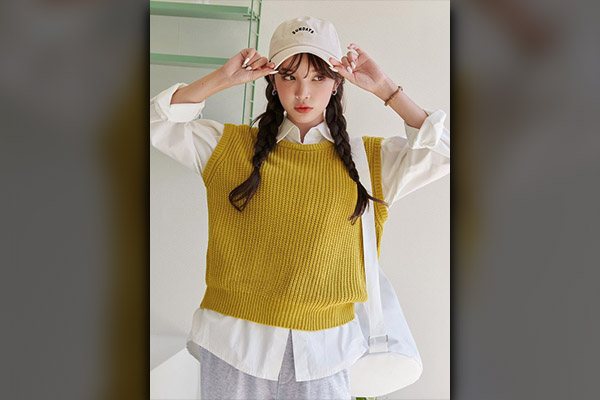 Keep things comfortable and domestic. If you have no plans to go out, wear something cozy yet breezy like yellow cotton shorts and an oversized mustard sweater vest. This look is a winner for any 40-year-old woman who is ready to open the wine and put her feet up on the couch to relax on her day off from work. 
Yellow Hoodie with Leather Jacket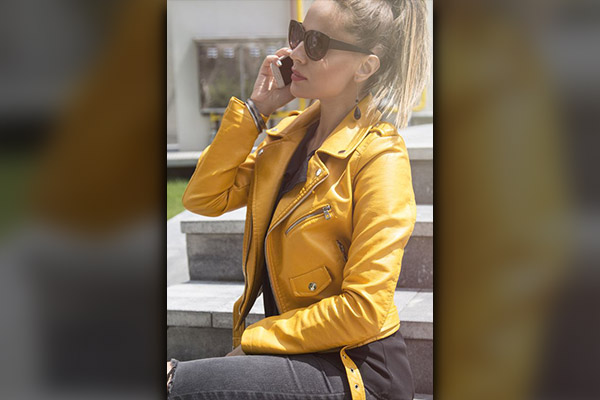 In case you're looking for a yellow outfit that is warm and ideal for winter, this is the one for you. Go for the jacket over a hoodie look by color-coordinating a yellow hoodie with a black leather jacket. Black ripped jeans would make this look contemporary and immaculate. 
Yellow Cardigan with Mom Jeans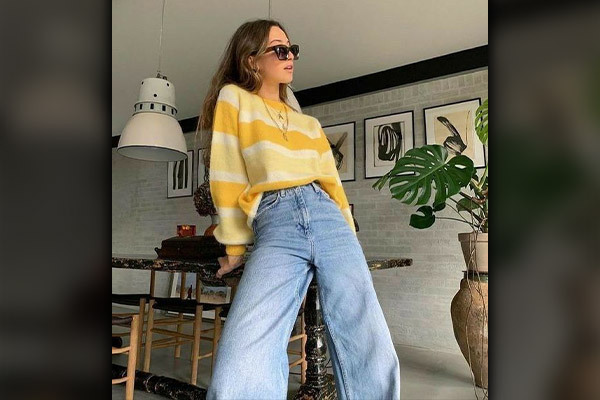 Time to wear something that is relaxing yet smart. Opt for a bright yellow cardigan with a green crop top and blue mom jeans. 
Yellow Beanie with Pink Suit
There's nothing cuter than a yellow beanie. Get inspired by the latest fashion trends and wear a bright beanie with a color completely opposite to it, which in this case, could be Pink, Fuchsia, or even Sage Green. 
Yellow Button Down Shirt with Grey Blazer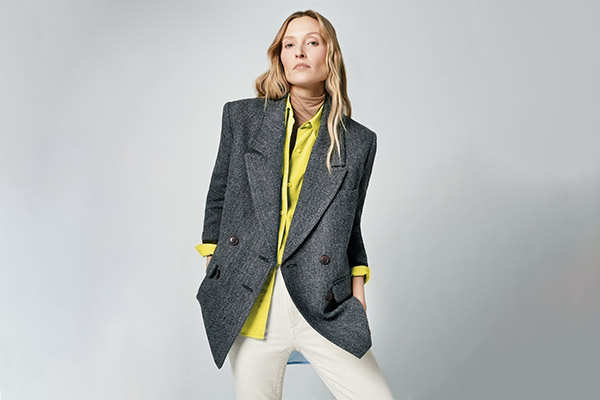 Here's another smart outfit that consists of a yellow button-down shirt topped up with a tailored grey blazer. Wear matching jeans and platform heels. 
Yellow Crop Top and Black Oversized Pant Suit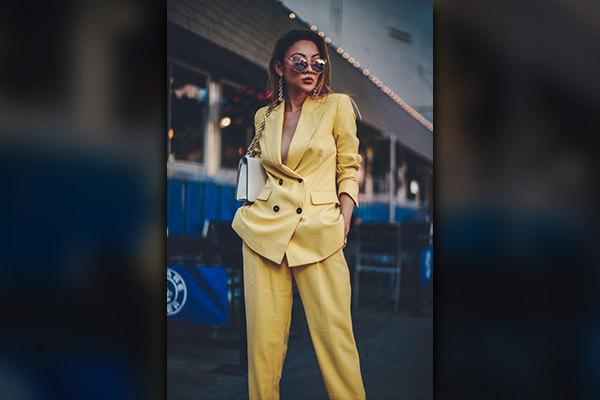 Dress like a model in an oversized black pantsuit and a yellow crop top. This look is adorned by literally every top model these days, and so, there's no reason you shouldn't be following suit. 
Neon Purple Suit with Yellow Ribbed Top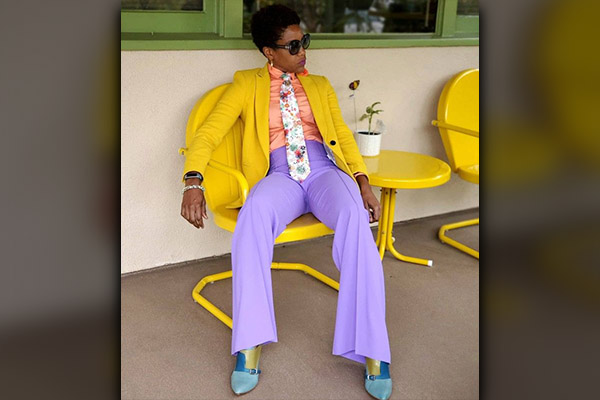 Get a little crazy by opting for a neon purple suit with a yellow ribbed top. Complete the entire look by wearing yellow stilettos and matching aviators. 
Yellow Plaid Skirt with Polo Tee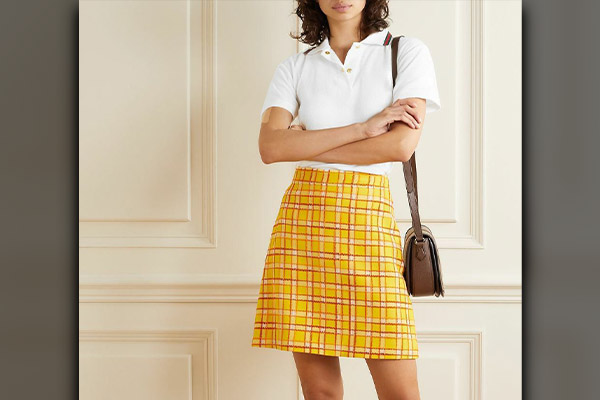 Reminisce the school days by wearing a yellow plaid skirt with a polo tee. This look would obviously make you think of that famous high-school chick flick era of the 2000s. Of course, don't forget to wear thigh-length white socks and high tops. 
Yellow Top with Green Biker Jacket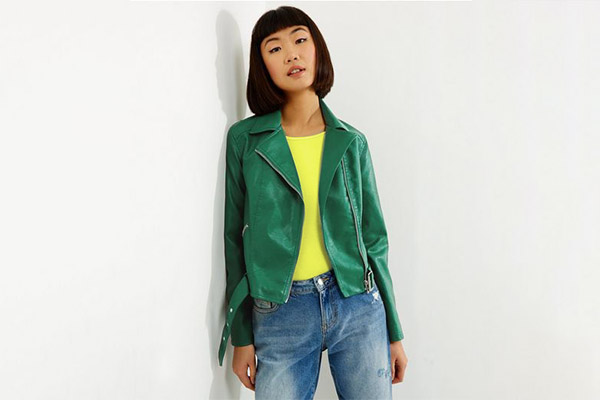 If you've got plans for an adventurous trip, time to take out a green leather biker jacket from the wardrobe and wear it with black ripped jeans and a yellow tank top. Look classy while you're being playful. 
What Colors Go With Yellow Clothes?
You can pair literally any color with yellow and still look your best. However, if you want to create cute yellow outfits, you should ideally opt for purple, pink, black and green. 
Can You Wear Yellow And Purple Together?
Of course! Yellow and purple look extremely good together. It's always how you match the undertones to make them work. 
Can You Wear A Yellow Top With A Leather Jacket?
A leather jacket is an everyday staple that goes with all types of tops varying in color, design, and silhouettes. You should definitely wear this pairing and top it off with stilettoes or ankle boots. 
Can A 40-Year-Old Woman Wear A Yellow Outfit?
Yes, 40-year-old women can always approach the color yellow with confidence. It adds a youthful charm to your outfit making you look extremely smart and chic. 
In Conclusion
It is never a bad idea to embrace the color yellow. The warm color comes in various undertones with each shade in the spectrum having its own energy and contribution to your wardrobe. Regardless of your age, you should always wear the color yellow. From yellow leather pants to yellow tweed jackets or yellow sandals, opt for yellow with confidence. Look charming as ever in this gorgeous yellow tone by applying the rules of color blocking or indulging in prints and designs.