Standing the test of time, the quilted jacket has proven itself to be one of, if not the best, winter jackets and has stayed a fashion staple for decades. The timeless design and practical superiority have kept this classic in style, and no other piece of men's outerwear wear can take the quilted jacket's place as the crowning beacon of men's winter fashion.
What Is a Quilted Jacket?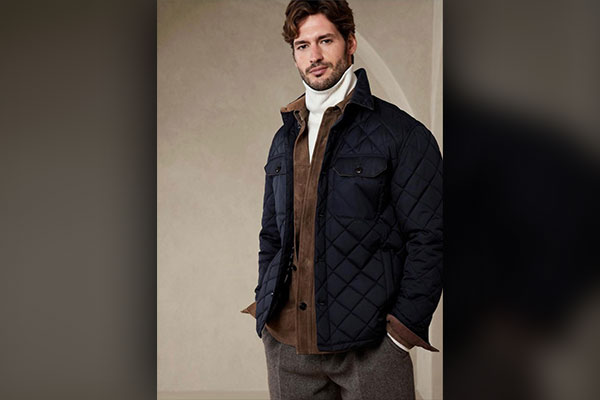 When it comes to the world of jackets and other outerwear, the term quilted refers to a technique of making jackets that involve stuffing down or other synthetic fibers inside the jacket, or on top of a jacket, and separating them with stitching. The most common form of quilt stitching is done in a kite/diamond pattern.
When someone says "quilted jackets," they are not talking about a specific subset of jackets, as this construction method can be and is applied to a whole host of designs and styles. Quilted techniques can be found on everything from a quilted leather bomber jacket with quilted sections as a style statement and puffer jackets that are fluffy quilted jackets in their entirety.
Why Are Jackets Quilted?
Now we have established what it means when someone mentions the words "quilted jacket," but the question of "why" remains. Why are jackets even quilted? Is there any reason behind it? It turns out, yes, there is, and quilting is not just done for style purposes. There are other reasons and motives behind the usage of this jacket-making method. The simplest and most prominent of which is the ability of quilted style jackets to be warm while remaining lightweight. To better understand the true appeal of these jackets, we have to take a look at the exciting history and fascinating heritage of the quilted jackets.
History of Quilted Upper Wear
Quilted jackets are like trench coats in a way, as they both boast an extensive and mesmerizing history. Let's look at the state of quilting methods throughout history
Middle Ages
While most people assume that the quilting method started to become popular in the 17th century, the reality of its existence goes back all the way to the middle ages.
Back then, there were two significant uses for quilted materials. The first was as padding material for metal armors. Almost every knight from that era had a soft quilted dress underneath their armor for both comfort and warmth reasons.
The other primary use of quilting was in winter blankets that were filled with wool or cotton. The small air pockets in quilted blankets provided excellent insulation against the coldest of winter seasons, all the while keeping the blanket lightweight and easily transferable.
The quilted stitching also prevented the insulating material from moving around and kept the density uniform throughout the whole blanket. These kinds of quilted coverings were common not only in Europe but also in India and other Eastern regions. Some countries like India and Pakistan are still utilizing the stitched fluffy blankets.
20th Century
The use of quilting in jackets and other outerwear as we know it today came up in the mid-20th century. The year that quilted coats became truly famous was 1965 when a man named Steve Guylas invented them for sale in his thermal wear company called Husky Ltd in the UK. The starting catalog consisted of quilted polyester jackets in olive and blue colors. As their popularity was increasing, so was the demand for more colors and design variants, so the company came out with a whole range of styles and colors, and there were quilted leather jackets for men.
The popularity of these jackets indeed reached its height when the royal family of the UK picked up on the style, and the Queen herself started rocking a brown quilted from Husky. She wore that jackets specifically for when she was riding. This adaptation by the respected royal family and Queen herself changed the perception of the general public regarding these types of jackets. They were not just warm jackets anymore. They soon became a definitive fashion statement for anyone trying to represent themselves as a stylish and fashionable person. This led to many celebs from the UK and internationally adopting the style as well, which resulted in a global surge of popularity, cementing quilted jackets as the ultimate outerwear.
Are Quilted Jackets in Style in 2022?
Ever since they exploded in popularity in the late 1960s, jackets with quilting have been a part of men's winter outfits and the high fashion industry. They were an essential part of a man's closet as a nice suit and this is no exaggeration. Are they as popular today as they were, let's say, a decade ago? Yes! Quilted jackets for men are still extremely popular and in style. One can even argue that they are more famous today than they ever were, thanks to the sheer variety in designs, styles, and colors available.
Which is the Best Season for Quilted Jackets?
The initial purpose behind the original polyester quilted jacket was to protect its wearer from cold winds and damp climate. However, the modern iterations are a lot more varied in their approach to the practical aspect. In essence, there are jackets with quilting available on the market for every season of the year. There are down and quilted Sherpa jackets for the colder parts of the year and lightweight leather or even polyester quilted jackets for spring and hotter times of the year.
Are Quilted Winter Jackets warm?
Yes, quilted winter jackets and quilted leather jackets are among the top contenders if we rank men's jackets by their warmth. The core insulating functionality of these jackets is still present in modern iterations, and it has even improved from the past, thanks to the invention of synthetic fibers.
How to Style a Modern-day Quilted Jacket?
So far, we've talked very little about the place quilted leather jackets hold in modern-day men's fashion and day-to-day style. So, let's take a look at the various ways in which you can up your outfit game by incorporating different quilted jackets.
The issue when talking about fashion regarding quilted style jackets is that there is no singular type. Quilting is more of a feature that can be and is added to almost all types of leather jackets under the sun. So, we can't just point at an outfit and match a specific jacket to it. However, what we can do is look at it from the other side, start from the different genres of fashion, and figure out what type of quilted winter jackets fit into that niche.
Casual Wear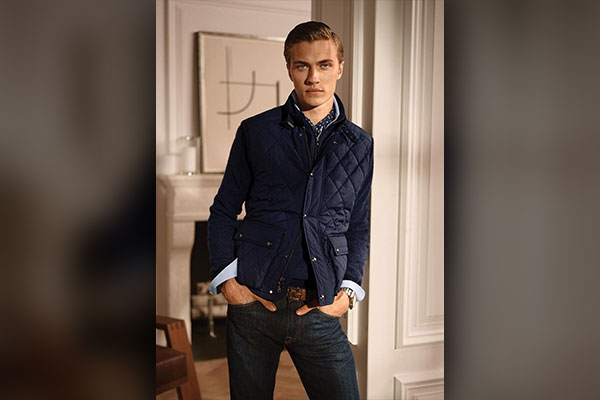 This look can be better described as comfort wear styling. What makes quilted-type jackets so great for this look is their ability to be layered. You can try a turtleneck with a sleeveless quilted puffer or a quilted leather jacket with a wool sweater underneath. Another style you can try is a polyester/nylon quilted jacket with a hooded sweatshirt, and they also work great with comfy wool pants. These are just a few examples of how quilted clothing can be used as a cozy daily driver.
Formal Attire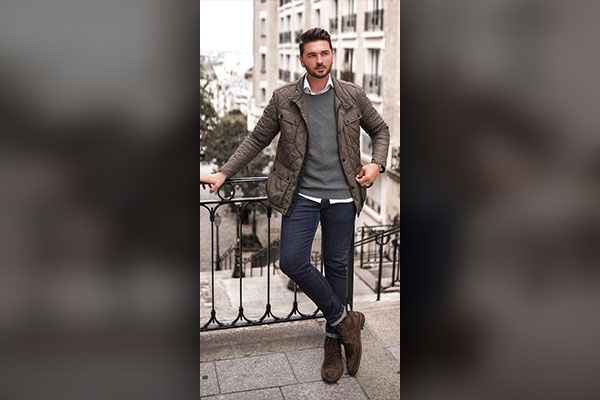 There are many great quilted jackets that work wonders with formal office environment clothing. A decent example of this apparel would be a black quilted leather jacket that fits right in with a dress shirt, pants, and shoes. Some jackets can also be layered with sweater vests and sweaters for an extra suave look. A tie that complements the color of the jacket is always a nice touch as well.
Street Smart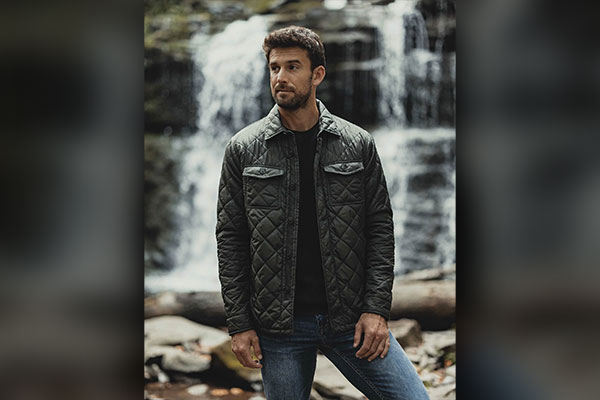 This look is all about dressing to impress without going the formal route. Maybe you are going out with your friends, or a weekend date and want to dress comfortably, yet stylishly. Sleeveless quilted jackets are a top contender for this look, but you can also try quilted biker jackets and bombers too. The core focus of your outfit should be on your color matching. Sticking to soft and muted colors is always a safe bet, but you can also introduce some tasteful contrast into your outfit. You can go super classy with a black jacket, black pants, and cream-colored turtleneck, or a bit flashy with maroon and navy-blue jackets and bold colored shirts.
Our Best, Quilted Leather Jackets
What is the point of knowing all about quilted clothing fashion if you don't own a premium quilted leather jacket to try it on? So, if you are someone who is interested in quilted leather jackets or someone who already owns one and wants to expand their wardrobe so they can try new things, this section is for you. Without further ado, let's take a look at some of our best and finest quilted jackets.
Henry Quilted Black Leather Jacket
Let's start things off with a jacket that is simple in its execution yet masterful in its application. The black henry leather jacket is quilted front to back with viscose lining with a fairly neat and simple design. The potential of this jacket lies in it having no extra pockets, crazy quilting patterns, or angular stitching. Made from real sheepskin leather, the jacket shows that quilting, if done correctly, can elevate a simple and plain leather jacket to a whole new level.
In terms of styling this jacket in different outfits, you have complete freedom of choice. Almost everything and anything can look great in this jacket. It is one of the best universal quilted jackets. You can also try creating specific mindful outfits like pairing this jacket with navy blue jeans, a white V-neck, and a pair of black sneakers for that sharp streetwear look.
Dean Brown Leather Biker Jacket
As great a color black is for men's leather jackets and outerwear, it is not the only amazing color option, and this jacket is the proof of this statement. Made from real cowhide leather, this jacket offers a very natural-looking brown color leather in a package that is the definition of tasteful minimalism. The only notable features are the quilted shoulders. Other than that, it is a very modest jacket that allows you to take full advantage of its fantastic color and craft outfits around it without having to worry about the design too much.
The welcoming brown color goes almost too perfectly with light-colored or even white shirts and blue jeans of all shades. These are not your only options, as you can also pair this jacket with a contrasting tie and a light-colored dress shirt for a look that you can rock to your office.
Gatsby Blue Leather Biker Jacket
Colors like black and brown form a huge majority of the men's leather jacket market, but this, in no way, means that they are the only two colors that leather jackets can come in. This and the next jacket prove that vibrant colors can also create some remarkable jackets. The design of this jacket is pretty standard for a humble biker leather jacket, with some quilted shoulders and elbow patches to create visual interest. Where things get really interesting, however, is the color of this jacket, which is glossy Aegean blue, not something that you see on the streets.
A jacket with such a unique color (in terms of leather jackets) requires a bit more thought than your average black jacket since, unlike black, blue doesn't work with everything. What it does work with are other blue, lighter colors, white and black. This palette gives you plenty of options for mixing and matching. A specific outfit that you can try is light blue pants, a white hooded sweatshirt, and white sneakers with the jacket for a snazzy look.
Equilibrium Black Leather Jacket
A simple quilted leather jacket is fine and dandy, but if you want something a bit fancier, then this is the jacket you should look at. The type of leather and finish is exactly the same as the previous jacket, but there are differences that grant this one with a bit of a personality. The first thing you'll notice is that the color is a bit darker and shinier. The star of the show is the non-quilted area around the front pockets and upper back. This seemingly small touch gives this jacket a personality and makes it stand out from the sea of plain quilted jackets.
Styling this jacket is also pretty similar to the previous one. You can just throw it on any clothing, and you'll look great. Something that you can try only with this jacket is using it as the focal point of your outfit. You can wear this jacket over a plain black outfit and still get a nice coherent outfit due to its interesting design and varied front texture.
Danny Quilted Brown Leather Biker Jacket
If there was an award for the most visually interesting jacket, this would be the one to get. Built on the classic and iconic biker jacket design, this jacket ticks all the boxes for a fashion statement. With its notched collar, angular build and quilted front and back upper section, this jacket is very much an homage to the best biker jackets of the past. Even if we ignore the fascinating design, the distressed brown color is strong enough to carry this jacket to the hall of fame on its own.
There are not many leather jackets in the world that can truly be classified as one-of-a-kind apparel, and this jacket is one of them. So, the best way to rock this piece of men's fashion would be to allow it to be the star of the show and make it the focal point of your outfit. To come up with astonishing and truly rad outfits, you must think from the outside in, as in creating the outfits around the jacket, not the other way around.
Urbane Quilted Maroon Leather Biker Jacket
Speaking of colors that are unusual for a leather jacket, this maroon biker jacket is the perfect kind of extraordinary. The contrast of a fairly timid design with quilted upper and elbows and striking bold color is a sight to behold. The maroon color really pops on the shiny leather and certainly makes its wearer the attention grabber of the room.
The bold color of this jacket demands a bold outfit, and that is exactly what looks best with it. The high-fashion look is the perfect match for this jacket. You can wear a denim shirt with ripped blue jeans and white sneakers for a fashionable look. Or you can try going all-black to draw more attention towards the star of the show, the jacket. Another style you can try is pastel-colored V-neck and dark grey jeans with dark brown leather shoes.
Nashville Quilted Windbreaker Jacket
So far, we've only talked about quilted leather jackets of various colors and designs. But this and the next jacket are a deviation from that trend, as they are made from fibers and not leather. First up is this nylon front quilted jacket in a navy-blue color (which was one of the original polyester quilted jacket colors in 1965). The front is quilted with a viscose lining, while the sleeves and the back are made from rib-knit material for a warm and comfortable look.
The whole vibe of this jacket is very cozy and comforting and that is the sort of outfit that will work wonders with the jacket. A pair of wool pants and a white wool sweater are a tried and tested outfit for this jacket. You can also accessorize with things like scarves or wear a beanie for extra warmth and added dapper.
Moda Black Leather Bomber Jacket
Moda black leather bomber jacket is less of a quilted leather jacket and more of a leather jacket with quilted elements for style. The seamless blend of a plain and quilted jacket in an artistic way gives this jacket a unique edge over other black jackets.
The overall design is simple enough that combining it with patterns and colors doesn't look overdone, yet interesting enough to prevent this jacket from becoming too mundane and boring. The best and most attractive way to don this jacket will be to style a flannel with it or opt for colorful checkered shirts while keeping the jeans and shoes in solid black, brown or blue colors.
Alps Quilted Windbreaker Jacket
At first glance, this jacket might look a bit similar to the previous one, but there are no similarities besides the color. This nylon windbreaker jacket is a quilted jacket through and through and offers the ultimate protection against cold wind and damp weather. The quilted hood is also great for weather protection while also adding to the overall style of the jacket.
This jacket is also great as comfort wear such as the Saturday morning look, but it also works great as a work jacket, especially in areas where winter is fairly extreme. You can layer this jacket over other warm clothing for colder days of the year or just rock the jacket over a t-shirt in spring or autumn. For work attire, all you have to do is pair it with a casual shirt and pants. Colors leaning towards blacks and blues work best with this jacket, but you can always experiment and try new things.
Conclusion
The quilted style jackets are all about fashion and function in a single package. They provide excellent protection against cold, wind, and light showers while their numerous design variants ensure that you have a banger of a jacket for every occasion. From their lavish and fascinating history to the statement styles of their modern reincarnations, quilted jackets are an essential addition to every man's wardrobe and a purchase you won't regret making.