In the realm of trending women's skirts, the pretty floral skirts top the list based on their feminine appeal. If done with the right flair, floral skirt outfits make you look stunning.
The beautiful flowery print makes these skirts eye candy. While the vast variety lets every woman choose the perfect one according to her personal style. If you have landed on this page looking for some voguish floral skirt outfits inspiration, do give this a read till the end.
Floral skirts bring a festive feel to an otherwise dull wardrobe. They may be tagged as a spring or summer staple. But the fact is that you can wear them all year round if you know the dos and don'ts of pairing them with other garments.
Floral Skirts: Epitome of Femininity
Just like real flowers, you will find diversity in floral skirts. They can be short, chic style tennis skirts, midi pencil skirts, or maxi skirts. Or, they can be pleated high waisted skirts, flared circle skirts, or bubble skirts. In short, you can get flowered skirts in any silhouette and length that you want. Deciding how to style a floral skirt largely depends on its type.
The print of these wonderful skirts can be large scale with bold, spaced flowers. Or, they can be tiny, clustered micro florals which may be a good option for modest styles. Darker prints look subtle, whereas bright floral prints are expressive, uplifting the mood.
How to Wear a Floral Skirt?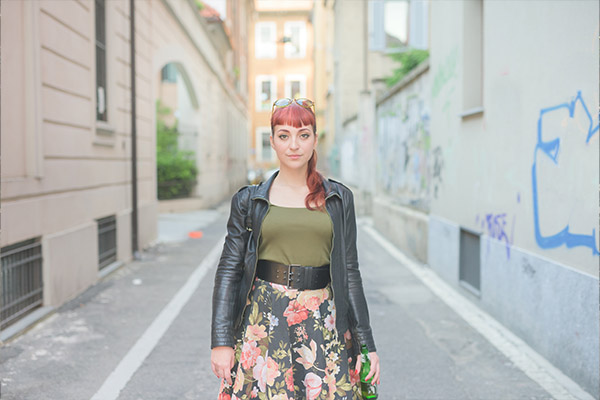 When it comes to wearing a floral skirt, the best way to do so is to pay attention to the florals on it. Ideally, the floral pattern should be the highlight of your outfit.
Learning what top to wear with a floral skirt and what layering options can go with it is vital to do justice to this stylish piece of clothing. You need to get the dimensions and colors of the staples that you match with it right. This way, you can create a coherent and visually appealing outfit.
At times, striking contrasts in the form of colors and patterns also work for women who love an eccentric style. Make sure that the scale of both prints is the same to create a balanced look.
Although pairing something solid is always a better idea, mixing patterns is in vogue these days. You can try geometrical patterns, polka dots, plaid, and houndstooth patterns with your flowery skirt.
What Top to Wear with a Floral Skirt?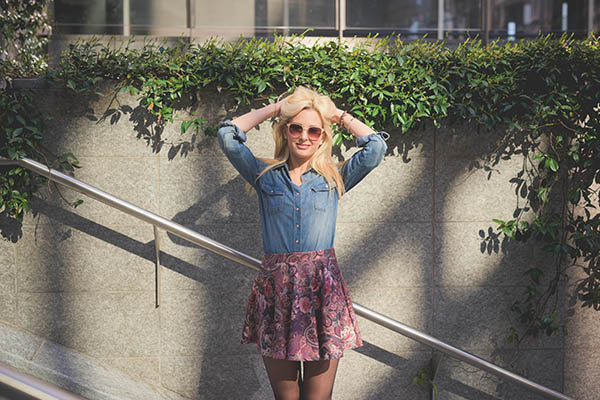 Wearing a shirt or a top matching the colors of the flowers on your skirt is always the right way to get an eye pleasing look. Complementing colors may work, like tops in shades of pink on a yellow floral women's skirt.
Neutral colored outfits with black, white, or beige tops are your best bet with these botanical prints, as they give a balanced look. A plain black or white button down always looks impressive with floral skirts, and you can dress these down by tying them on the front for a fun look. The same goes with shirts and tops in other neutral hues and black and white horizontal stripes.
If you are dressing up for spring/summer, go for lightweight t-shirts, crop tops, silk tunics, frilly off shoulder blouses, Henley's, halter neck tops, and tank tops. Try layering these tops with shrugs, denim jackets, leather jackets, and cardigans as the weather gets colder.
You can wear turtlenecks, knitted tops, and pullover sweatshirts during the cold weather.
Use long trench coats in neutral colors for a sophisticated touch to your look. Accessorize a floral outfit with flat hats, berets, beanies, and woolen scarves for winter.
Incredible Outfits with Floral Skirts
You can create so many fashion forward looks with a floral skirt. If you are keen to learn how to style a floral skirt, pay attention to its features and then choose the best tops that would look nice with it. With the outfit suggestions mentioned below, you can learn how to wear a floral skirt of a certain type with tops, jackets and other layers.
When it comes to botanical prints, age isn't a barrier as they look good on women of all ages. Determine a style of skirt that resonates with you the most, and try any of the looks suggested below.
Floral Mini Skirt Outfits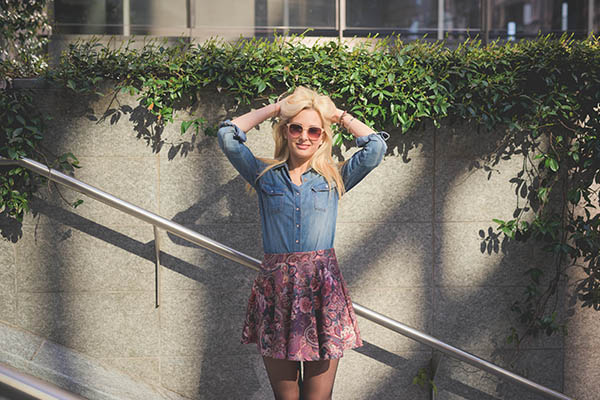 A floral mini skirt can be a skater style skirt, a circle skirt, a godet skirt, or a stylish pencil skirt. The absolute chic feeling of these short skirts with botanical prints can be used in multiple casual outfits. To learn about what top to wear with a short floral skirt, you can try the following ideas.
Pair a green tunic with a black and green floral tennis skirt. To scale up the oomph factor of this look, team it up with black ankle boots and a black crossbody bag.
You can also wear a long sleeved gray t-shirt with a blue and white floral skirt in a godet style. Match blue stilettos with this outfit, and wear pretty dangling earrings for a nice touch.
Wearing a mini floral skirt is possible in winter as well. You need an oversized beige sweater, a brown pencil skirt with a medium scale floral print, and black leggings to churn up a cozy yet stylish attire. Wear brown suede boots with this outfit, and top it off with a cable knit beanie.
Floral Maxi Skirt Outfits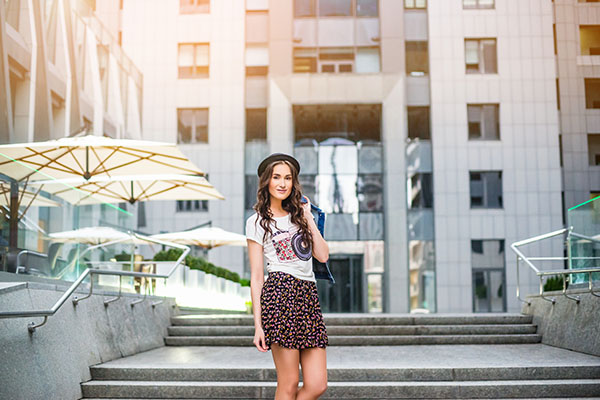 Nothing can beat the maxi skirts in floral prints when you need to portray a splendid feminine demeanor. Every woman should have at least one floral maxi skirt in her wardrobe as an all-year-round staple to create awe inspiring ensembles.
A nice way to rock a long floral skirt is to pair it with a dress shirt. Pick a shirt in a color that is represented in the skirt. Roll up the sleeves to your elbows and tuck the shirt in. Add finishing touches to the look with pointed toe heels and broad chrome bangles.
You can also create a girl next door look with a light pink skirt with a blush pink flowery print. Pair it with a white tank top and a blush pink long cardigan, preferably in a thicker knit for a traditional look. This cute outfit is perfect for a casual garden party.
For women who love to experiment with a fusion of styles, pair a charcoal grey and red floral long flared skirt with a red ribbed turtleneck. Wear a black cropped leather jacket over it. The hint of edginess with the jacket can be further elevated with black combat boots and aviator style shades.
Black Floral Skirt Outfit
Black floral skirts are incredibly versatile, lending themselves to a variety of shirts, shrugs, knitwear, and jackets. Many types of tops can work with these skirts, plus you have an option for unlimited accessories to match with them.
A black top is undoubtedly a no fuss pairing with a black floral skirt. Not only does it give a unified look, but it also gives an illusion of a slimmer and longer torso. When you wear a black tank top with a black floral flared skirt, add a pop of color with heels in a color that is present in your skirt.
Go for a black skirt with mustard colored flower print on it. Pair it with an elasticated mustard top and add a touch of formality to this look with a structured black blazer. Round off the outfit with nude pumps and a matching tote bag.
Pair a red halter neck top and a faded denim jacket with a black wrap skirt. This outfit is the perfect way to add up the chic factor.
White Floral Skirt Outfit
A white floral skirt, especially with bold florals, will stay on top of the trends for the rest of the year. A white floral skirt goes with a variety of tops and jackets, making it a versatile staple.
To dress up glamorously, grab a pretty white satin skirt with a large scale red flowery print and pair it with a white lace top. This beautiful ensemble can be styled with a white blazer and accessories like silver hooped earrings, a red beaded necklace, and fringed red heels.
Another white floral skirt outfit idea is to pair a skater style skirt with a pink one shoulder top. This easy street style outfit can be put together in seconds, and you can wear a silk bolero jacket with it for added style. For footwear, go with hot pink pumps with this look.
A blue and white floral skirt can be paired with a front tied chambray shirt for a casual look. Give final touches to this effortless look with brown strapped sandals a chunky dull golden bangle.
Yellow Floral Skirt Outfit
Floral skirts are available in every color, but as yellow floral skirts have been on the trend forecast for 2023, we will lay down some fashion forward ways to wear them. We recommend getting a yellow skirt with a broad floral print in a silhouette that will flatter your specific body type. 
If you want to know what top to wear with a floral skirt in yellow color, think of tops in solid, complementing colors like blue, burnt orange, crimson, or green. A yellow floral skirt in a pencil style is best paired with a mustard yellow turtleneck. Take up the style of this outfit to a whole new level by wearing a black double rider leather jacket over it. Wear it with black t-strap heels for an edgier look.
Another way to style a yellow skirt is to mix two traditional pieces and add some trendy layering piece to it. Pair a yellow and white gingham shirt with a microfloral white and yellow maxi skirt. If this outfit is for spring, layer it with a cream cardigan or a black puffer jacket if the weather is chilly. Round off this attire with black platform sandals.
A white tank top and a yellow shrug are ways to spruce up a yellow skater skirt with a large floral print. Kick up the style meter reading of this look with white strappy heels.
FAQs – Floral Skirt Outfits
How do you wear a floral midi skirt?
A mid length floral skirt can be paired with a variety of tops, shirts, and many types of fall jackets. A ribbed turtleneck in a complementing hue is a great option to wear with a midi skirt. You can also pair it with a half sleeved Breton top. To fuse some classy vibes to your midi floral skirt, team it up with a crochet poncho, a ruffled top, or a lapel shirt to fuse classy vibes to your midi floral skirt. 
What to wear with a long floral skirt?
A long floral skirt is one of the chicest staples in a woman's sartorial arsenal. Depending upon the print and color, choose a collared shirt tied at the front for a cute look, or go with an off shoulder crop top with it. You can use shrugs, cropped jackets, and crochet ponchos to add some stylish layering to the long floral skirt ensemble. 
Is a floral skirt formal?
The vibrant feel of the floral print is not welk suited for a formal look that requires refined touches. However, they are perfect for street style, party style, and other aesthetics that call for a level of casualness. 
Which top is suitable for a long skirt? 
Frilly tops, tank tops, choker neck style blouses, bold off shoulder tops, and classic t-shirts look great with long floral skirts. Other styles suitable for maxi skirts are peplum tops, wrap tops, and V-neck tops. You can also layer your long skirt outfits with cropped shrugs, cardigans, and denim jackets for a chic look. 
How do you style a floral shirt?
Floral shirts look best with skirts and wide-leg trousers in neutral or solid hues. Or, you can also wear plaid slacks or striped culottes with them for a trendy look. Dark colored pleated skirts work well with silk floral shirts tied on the front. 
Are floral shirts cool?
The flowery trend dominating street style and social media is proof of the popularity of floral shirts. They are undoubtedly a relaxed, chic staple to try if you want to create an attention grabbing style. 
Wrapping Up
There are a plethora of ways to build incredible floral skirt outfits. The good thing about these skirts is that they look good on women of all body shapes. As you now have a comprehensive idea about what to wear with a floral skirt, adding a few stylish floral skirts to your wardrobe is a good idea to elevate your dressing.