When they say age is just a number, don't believe them! Growing older makes you wise, and mature and helps you in making decisions wisely and maturely. Your teenage years had your free spirit as your inspiration for those ill-advised and mismatched outfits.
But then, you could easily get away with it. But once you cross the 30-year barrier, it's high time for your wardrobe to get upgraded as well and learn how to dress for your age.
So, believe us when we say, "Age does matter!"
However, just because you're in your 30s, you don't have to abandon stylish and latest fashion trends. You just need to revamp your wardrobe with some classy and edgy clothing. While doing so, you will come across clothing items to which you are emotionally attached.
You probably never want to let go of them but have to make room for more sophisticated pieces. Hold on to those classic black and white outfits that never grow old. This way you can invent a new wardrobe range by discarding unnecessary garments and keeping the classic and basic attire.  
In this article, we have highlighted the must-have clothing items for your wardrobe to enhance your 30s fashion game. Consider it as your 30s wardrobe checklist!
What To Expect In This Article?
What do 30-year-olds wear?
We are sure that when you hit 30, you think about what should 30-year-olds wear? This question rises in your mind because it is all new for you. You got to leave that old clothing and develop a new one. Well, do not be disheartened, women's fashion for 30-year-olds is not at all boring, in fact, you might like dressing up in a new way. 
Let us help you in picking the outerwear that you should be owning for making up day-to-day outfits, this is a style guide for style for any 30-year-old woman in 2023. Let us get going!
Good denim goes a long way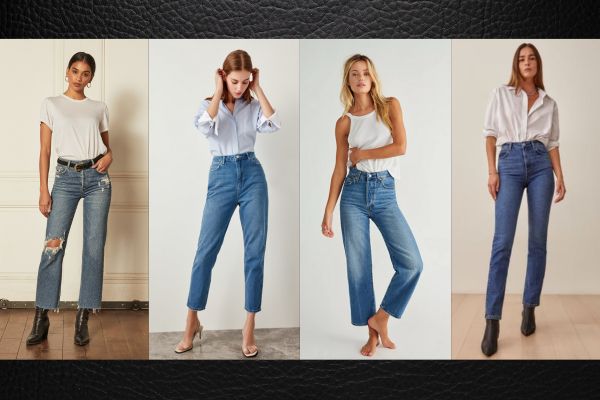 Well, women's style at 30 years old is not absolutely different, as we are sure that no one can keep away from some clothing items, like denim. Surely keep denim as it builds up the basic wardrobe for a 30-year-old woman.
However, Keep in mind that fashion is supposed to be comfortable and fun at the same time. Well-built denim jeans that fit well are the best pick for your 30s attire. We know you will wear them every day, so we recommend you keep a variety.
High-waist jeans are your transition ticket from the 20s to 30s. It gives a more mature look and is just more flattering for everyone. It creates a classic and exceptional silhouette. Grab a white shirt and tuck it in to create a simple yet elegant ensemble.
Boot-cut jeans are fitted at the thighs and wider below the knee which gives it a flared look. Such a design makes your legs appear longer which makes it a good option for slim women. If you are fashion savvy, your mind will bring into being endless outfits with boot-cut jeans. They blend with almost everything. We recommend you wear a short top to complement the elegance of the flared pants. Even tall women can craft a winning look with cropped boot-cut jeans.
Boyfriend jeans display a baggy outline. If you are a woman with a curve, don't shy away! The boyfriend jean flaunts a slouchy profile which makes you appear smarter.
Invest in a classy leather jacket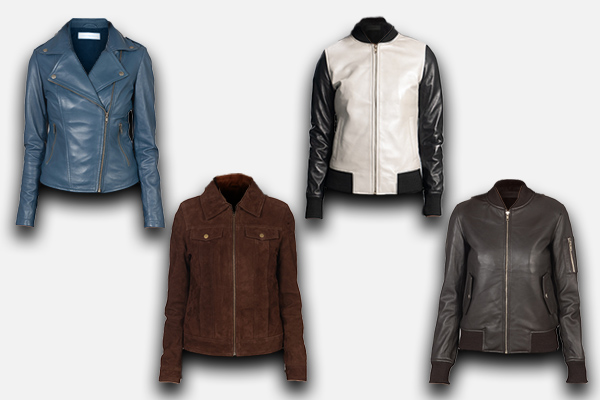 Wondering what would be the best wardrobe investment in your 30s? No doubt the answer is a luxurious women's leather jacket. It's worth it to splurge on some quality wear. Each penny spent on a leather jacket pays off every day you show it off.  You can easily rock on any versatile leather jacket and make it part of the 30-year-old women's fashion. Exciting, isn't it? 
The versatility of a leather jacket allows it to be worn as a fall-season staple as well as a summer spice. You can pair it with a high-quality silk or satin shirt for a graceful look intended for those dressy dinners. You can also wrap up your casual meet-ups with innovative leather jacket outfits.
If you are hesitant about showing your curves and skin, worry not! Ditch those fitted jeans and fitted skirts. Get yourself a long maxi dress and top it with your leather jacket. This outfit will add charm to your personality keeping your comfort as the top priority. If you are an inventive soul, you can play with more combinations of jacket with dresses.    
Tailored white blazer
A classic and must-have clothing piece for your wardrobe –the white blazer directly calls for classiness and chic appeal. It is an all-time favorite and you can even carry your white blazer outfits in every season. For example, pair it with a black shirt and blue jeans for day outs or dinner gatherings.
However, blazers give you a winning look only if they are well-tailored. The perfect fitting at the shoulders and the proper length of sleeves contribute a lot. A great blazer can make you look like a disaster if it doesn't fit you properly. So, it is best to get your blazer well-structured.
Middle-length skirts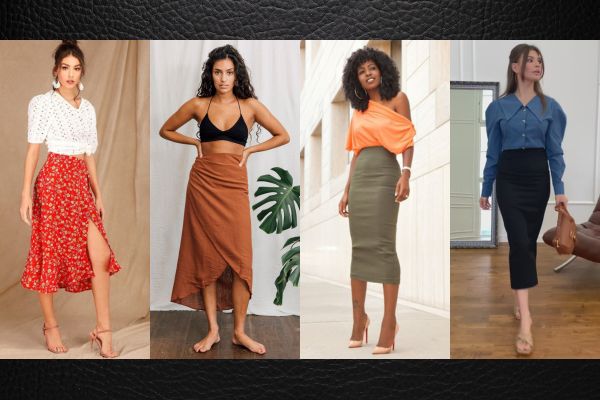 How can one forget skirts? Outfits for 30-year-olds can include several kinds of mid-length skirts. You can always enhance your curves in it or maybe just let it flow. Wear them to a picnic or wear a pencil skirt to the office, it all just works on a whole. Here are some of the mid-length skirts for your choice.
Wrap skirts
 Thinking about how to spend your summertime with a trendy and sexy look? Pick a wrap skirt and pair it with any plain-colored tee. The best options to try are boat-neck tees, tank tops, and collar tees. The first two will carry a casual tone and the latter will complement your dressed-up lunch look.
Pencil midi skirts
This is for you workaholic women! If your day is all about running between the office and home, then a pencil midi skirt is your best buy. There is a range of ways to wear a pencil skirt. For starters, pair it with a fitted blouse and you're ready to go. This ensemble is simple. You can keep it as an important wardrobe staple for seasons to come.
Enviable evening dress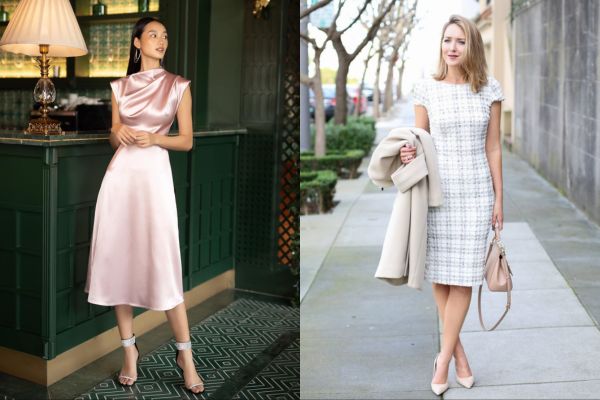 Are you a social butterfly and love to be the center of attention in upcoming events? And are you thinking about how to dress like a 30-year-old woman to a party? Well, it's a great idea to finally buy an evening dress that is avant-garde. You can select from a range of semi-formal dresses and prepare a well-organized wardrobe for bridal showers, weddings, and baby showers.
Sheath dress
Cocktail dress
However, for your date nights, we reckon, either of these two dresses will keep your date immersed in your aura.
Blouses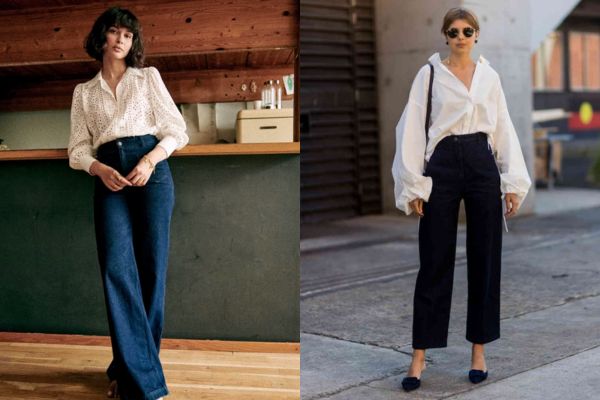 The major part of your 30s wardrobe should include high-quality blouses. Depending on your style and comfort level, you may choose amongst different types of shirts.
Our top-notch recommendations are,
Button-down blouse paired with a long maxi skirt. This ensemble highlights the slimmest part of your waist.
Laced blouse styled with palazzo pants. They look extremely fresh and stylish.
Kaftans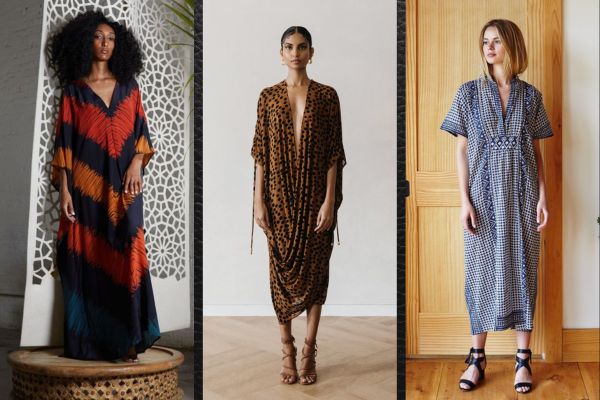 Fashion for 30-year-olds is not at all boring in fact in your 30s, you can also experiment with diverse fashion choices. Try something out of the box, something that is edgy and suits you. The kaftans have become a more practical and modern option for both work and home. The best part of kaftans is that it suits all body types.
Jumpsuit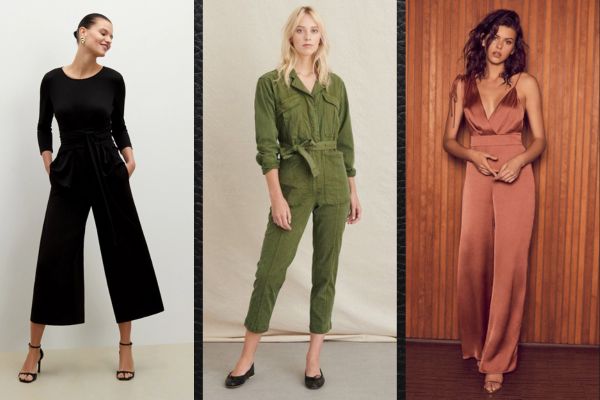 It's essential for women in their 30s to dress in a refined manner yet come out lively. Therefore, there's no need to make all bland choices. Instead, it's great to wear a jumpsuit casually. Colors like black, nudes, and blues would be ideal for workwear whereas floral and printed patterns will make the ultimate party wear.
A jumpsuit is really a classy part of 30-year-old outfits and you cannot deny the fact that you can wear a jumpsuit almost anywhere, it all depends on how you accessorize it. 
FAQs –  Fashion In the 30s
What should you not wear in your 30s?
Most of your clothing choices in your 30s should speak about maturity and sophistication. Therefore, ditch the ill-fitted clothes and skirts or shorts that go way above your thighs. Too much loose and too many body-fitted dresses do not match the grown-up vibes. 
Can a 30-year-old wear a crop top?
Yes, why not? Dressing decisions are made on the basis of your personality and comfort level. Don't pay heed to people imposing the 'dress your age' restriction. Grab a crop top in which you feel most comfortable because you are a lively 30 yr old with no bounds known!
Are skinny jeans going out of style?
Skinny jeans are always in demand on the fashion runway. It is going to keep hold of its position in the coming years. So don't let go of your skinny jeans, it's going to come in handy.
Can 30-year-olds wear ripped jeans?
Yes, at 30 you can wear ripped jeans with a trendy top. There's no harm in saying that a pair of jeans mature over time. The more distressed and ripped it is, the more valuable it gets. In your 30s wardrobe, ripped jeans can prove to be a loved garment for all seasons.
What to wear as a 30-year-old woman?
If you are talking about all casual then even your staples would work, pull out your favorite denim jeans, pair them with a solid-colored t-shirt, wear your sneakers, and pick up that tote bag to run errands for the day.

As for if you want to be dressier as if you are going to work; opt for a pencil skirt and tuck in a white button-down crisp shirt, put on those kitty heels, wear your watch and let your hair down. 
Conclusion
A woman entering her 30s is often restrained by people into making boring and tasteless clothing decisions. However, your actual life starts after 30. You are mature and are making better decisions. Your personality is groomed and defined. You know who you are. And that's when you make the right wardrobe choices for yourself!
What should a 30 year old woman wear? We are sure we have answered this question for you in the way you wanted. In a gist of it, you can choose simple and classy. You can also choose colorful and elegant. You can even choose chic and lively.
You can choose sexy and sophisticated. You just need to know what is 'right' for you. For the fashion 30 year old woman, you just got to know the event and get the perfect outfit for yourself, ladies trust us that this is not going to be a boring journey!