As they say, "look good-feel good-play good" definitely applies to golf. In this article, you will find all the amazing women's golf outfit ideas you can try out while playing golf in style.
Golfing is a fun sport and even more fun to style. If it is your first time going golfing, you might find yourself fetching the closet for a unique golf look. There are several versatile fashion staples that make it easier for women golfers to switch into sports mode anytime.
While there are specific rules for playing golf, there are also special ways to dress up for golf. We are here to lay out some of the most stylish outfits for your next visit to the golf course.
What To Expect In This Article?
A Brief Intro to Golf Fashion Outfits
Forever considered an elitist's sport, the game has evolved much since its inception and also its dress code. An example for this would be golf dresses that are an emerging trend. Made with stretchy fabric, these dresses allow women golfers to play with ease while looking presentable.
Golf fashion exudes nobility and honor given that it was a sport especially dedicated to elite businessmen. However, with the swift popularity of this sport, we now see women golfers excel at the game. This radical shift also allowed women to fuse traditional golf attire with modern day styling.
Golf Dress Code for Women
The dress code for women golfers is traditionally a collared polo shirt paired with either shorts or skirts. Denim is a strict no for golf dress code. Most exclusive golf clubs have firm rules about women's golf outfits. However, there are many variations to this dress code depending on the golf clubs.
An appropriate golf attire for ladies includes a knee length bottom with a basic polo. This outfit is easy to pull as it doesn't require much effort from your side. Opt for a navy polo shirt with a white tennis skirt and a pair of tennis shoes. As comfortable as it gets, you can never go wrong with this golf attire.
Wardrobe Staples for Women's Golf Attire
Once the meeting point of business men, golfing is now considered to be a leisure activity for women. Since you will be spending a lot of time outdoors which is why comfort becomes the first priority, you will need the wardrobe staples listed below to build modern golf looks for women.
Tops
You can never go wrong with a basic collared polo shirt neatly tucked inside the bottom. However, not many ladies like sticking to the basics. Tops can vary from season to season thus a neutral colored turtleneck could be a good choice to wear on a golf course in winters. Besides that, there are a variety of golf blouses for women available at ease.
Bottoms
No women's golf outfit is complete without the right choice of bottoms. The standards of some golf clubs strictly banned the use of denims, sweatpants, and athletic pants on the field. But it doesn't restrict us in any way. It is common to see women golfers wear shorts, capris, tennis skirts, and skorts while playing golf. If you choose to wear shorts, be mindful of the weather. Also, many clubs make it a policy to wear knee length bottoms.
Sweaters and Jackets
There is hardly any woman who doesn't like layering her outfits. As the weather gets colder, layering becomes a necessity and what better than leather jackets to keep you warm in style. Sweater vests are another chic option to beat the cold yet give an overall elegant look. The lighter vests can also be worn on warmer days for style.
Women's Golf Outfit Accessorizing
To hit the right golf post, you need to make sure you are accurately accessorized and perfectly styled.
Accessories
The most fun part of a women's golf dress is the plethora of accessories it can be matched with. When it comes to picking the best accessories for your golf outfit, there are a variety of caps you can choose from. An adjustable straw cap, a baseball cap, or a visor is perfect for tropical sunny settings, while sun caps can be used to keep the sun out while playing.
Footwear
Probably the most essential part of a women's golf outfit, the right footwear can be a game changer. There are plenty of options for spike less golf shoes to adjust to your playing settings. If you tend to play in soggy conditions, waterproof shoes are the right option. Tennis shoes or running joggers are also acceptable shoe types to wear on a golf course.
Women's Golf Outfit Ideas
Let us have a look at all the easy to build women's golf outfit ideas listed below.
We understand the needs of ladies who want to ditch the basics. If you're one of them, opt for a floral pattern matching top and bottom paired with plain white shoes for an effortless golfing look. Florals are so on trend that you can absolutely never go wrong with them. This girly outfit can be paired with a straw cap and a belt to seal the look.
Women's Spring Golf Outfit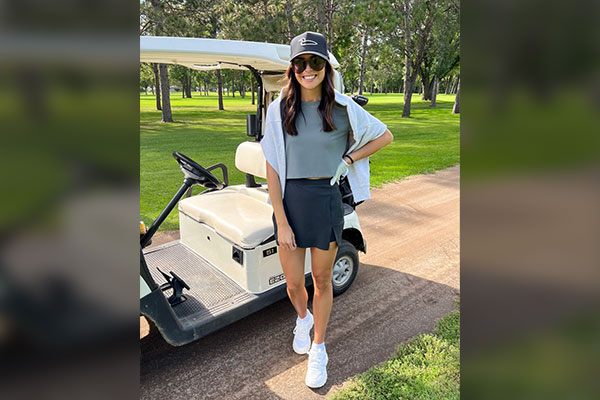 Even the spring days can be chilly and nights even chillier. For a hassle free golf outfit, dress a sweatshirt with a white pleated skirt. If the weather is not too windy, the skirt would perfectly go with the spring aesthetic. This preppy spring look can be accessorized with small stud earrings and a visor cap for a cute finish.
Summer Golf Attire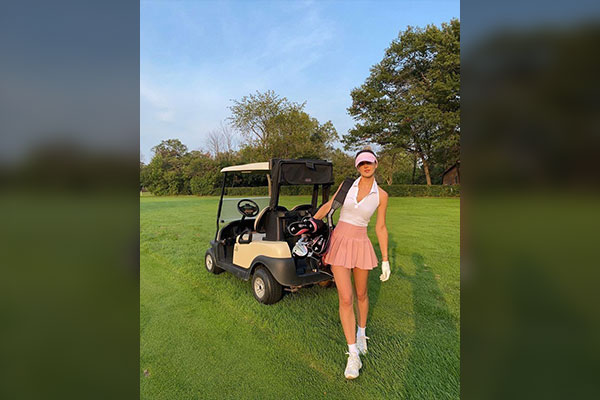 Golf is a summer sport and requires appropriate clothing. On a sunny day, don a sleeveless sports top paired with light colored shorts. Put on a pair of your favorite sneakers and a sun cap to beat the heat. Don't forget your SPF!
Fall Golf Outfits for Women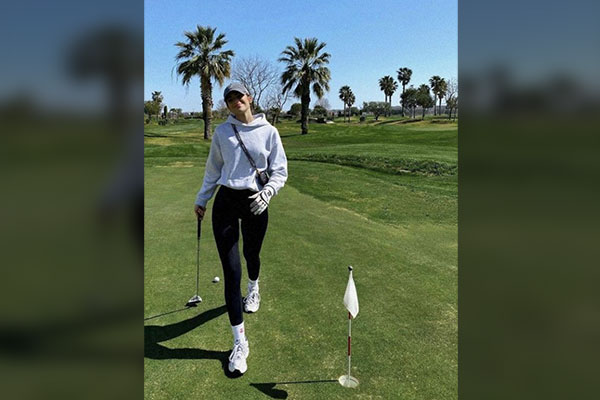 Fall can be the best time to enjoy golf in style. To stay warm and comfortable during the rainy fall days, layering becomes the easiest choice. Pick a full sleeved athletic top from your wardrobe paired with a basic sweater vest to protect from the wind. Consider wearing heavy cargo pants and cozier socks, as well as beanies to stay warm.
Women's Winter Golf Clothes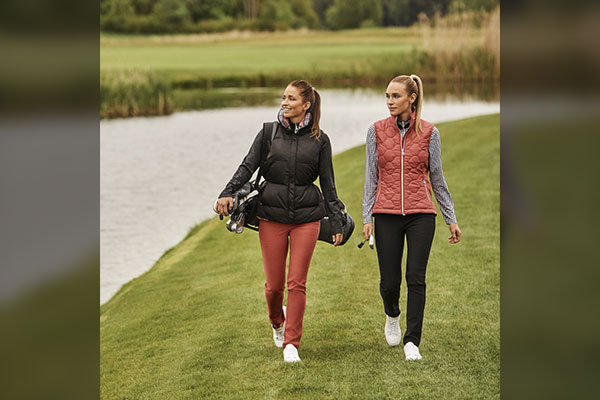 As long as the weather isn't freezing, you can play golf in winter. It is played in many US states where the temperatures don't drop much in winter, such as Florida, Texas and Arizona. You should get dressed in adequate layers while playing golf in cold weather. Style your leather jackets with warm undershirts and thick pants to make golfing easy in winters. Don't forget to keep some extra golf gloves and socks if the weather is not on your side.
Trendy Female Golf Attire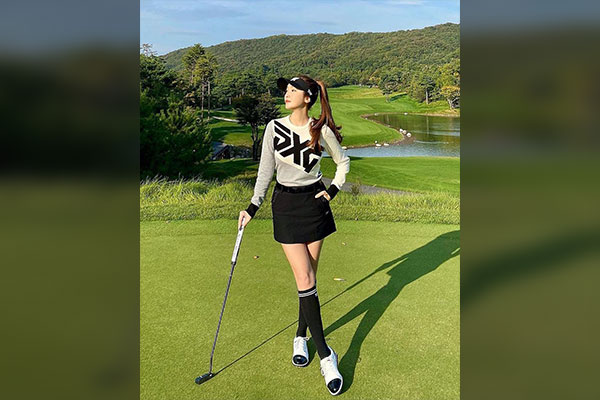 Golf outfits aren't limited to basic colors. If you like going for trendy golf attire, this is for you. Pair a crew neck top with pastel stripes with a knee length yellow skater skirt for a cute summery look. Put on a pair of long white socks complementing the golf shoes, and you're all set to win the game!
Golf Skirt Outfit Aesthetic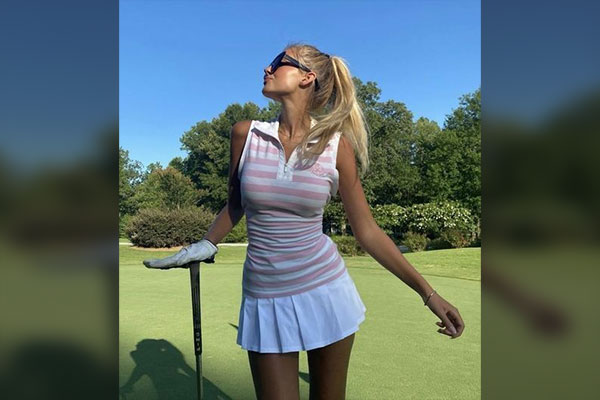 A golf skirt is a versatile piece of clothing that can be worn on and off the field. It can be worn with a variety of tops such as crew necks, polos or sweatshirts. You can also opt for skorts which are a hybrid of shorts and a skirt. For this outfit, we are putting together a plain white polo with a polka dot golf skirt for the 90s aesthetic. A basic pair of sneakers can elevate this look in no time.
Preppy Women's Golf Clothes
Navy and white are an essential combo when it comes to preppy clothing, They aren't flashy, and serve a very nautical look as well. Pair a striped navy and white full sleeves shirt with a pleated skirt of your choice to create a classy ensemble. Put on a white sports cap and play in full swing!
FAQs
What Should Ladies Wear Golfing for the First Time?
First time women golfers can opt for a polo collared shirt paired with shorts or slacks. Accessorized with golf shoes, a pair of socks, a belt, and a baseball cap. 
What to Wear on a Golf Date?
You can wear a preppy golf dress accessorized with basic stud earrings and a sports watch. Opt for summer colors such as pastel pink, blue or green.
How to Look Like a Golfer?
Pair a white collared polo shirt tucked neatly into navy shorts. Tie up your hair for that effortless chic golfer look.
Takeaway
By now you most certainly know how to dress like a golfer. Following the above mentioned women's outfit ideas can become a game changer whether it is your first time stepping on a golf course or not. The ideas listed above can serve you as inspiration for building your own personalized golf looks or a guide on what you can and cannot wear on the golf course. Either way, take a swing! And Happy golfing!