As soon as we start feeling the crisp breeze of fall, our wardrobes are the first thing that needs attention. The swanky leather jackets are not to be missed, as they are the ultimate transitional garment. They will stay in rotation throughout the cold season, but keeping warm isn't the only intent of these jackets. To inspire the fashion savvy women of today, we have compiled some stunning women leather jacket outfit ideas. 
Women's Leather Jacket Outfits
Women enjoy a vast array of leather jackets that can give them different looks. There are so many types of designs and styles apart from the popular shearling, bomber and motorcycle jacket styles. You can get quilted, cropped, studded, and embroidered leather jackets for your wardrobe that are readily available in stores.
Some fancy jackets even have chain embellishments, pins and glitzy accessories on them. Such jackets make a powerful style statement.
Jackets with patches of different materials and fur hoods and collars can also be a great addition to your wardrobe. You can also go for simple shirt jackets for a no-fuss look. Reach for an appropriate style whenever you try to create a distinct look.
Try the following outfits with leather jackets for an effortless style that impresses everyone.
White Leather Jacket Outfits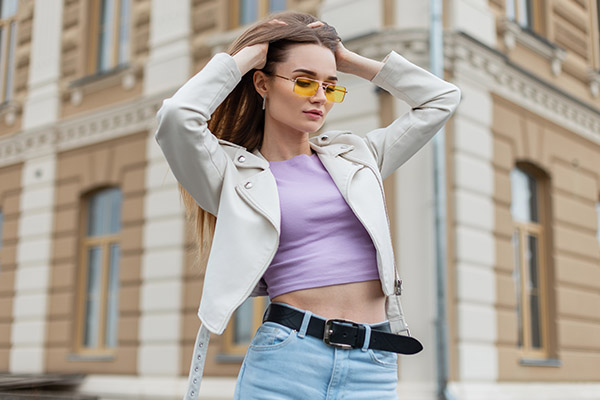 Create an awesome impression by layering your ensembles with a white leather jacket. You can use a plain white jacket for a refined look or an embroidered or studded one for edgy looks.
Team up an oversized black hoodie and black faux leather leggings along with a white moto jacket. This off duty ensemble can be finished with white sneakers.
Pair a parrot green pullover sweater with a white tennis skirt. To add a splash of white to this vivid green outfit, wear a white leather jacket with green floral embroidery.
Wear a pretty statement necklace and retro style shades with this look.
Women's Black Leather Jacket Outfits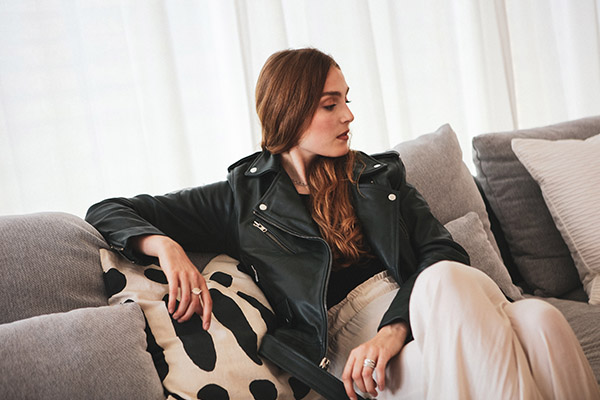 Nothing can beat the versatility of black leather jackets. You literally can ace any style with the right one. We suggest a custom fit black biker jacket for your capsule wardrobe. If having a capsule wardrobe is not your goal, go for a few more styles to diversify your outfit choices.
Go for a cream coordinated crossover top and palazzos, and layer it with a stunning black biker jacket. Wear white heels and cat eye shades for the ultimate street approved look.
Another way to rock the black outerwear is to wear it over beige high waisted slacks and a dull gold silk shirt. Tuck the shirt in and use a chained belt for a model inspired look. The choice of the jacket with this ensemble would be a black leather bolero jacket.
Colored Leather Jacket Outfits
We can not deny the ease that white, brown, or black leather jackets give in terms of matching. But owning colored leather jackets opens a new world of fashion for you. In 2023, outfits with colored jackets are ruling the streets.
Not only are these colored jackets fashionable nowadays, but they also serve to highlight any outfit. Whether it's a simple jeans and white shirt look, or a subtle jumpsuit in a neutral color, an attractive colored jacket is going to enhance your look right away.
We have suggested ensembles with some of the top trending colors in the women's leather jackets arena.
Burgundy Leather Jacket Outfits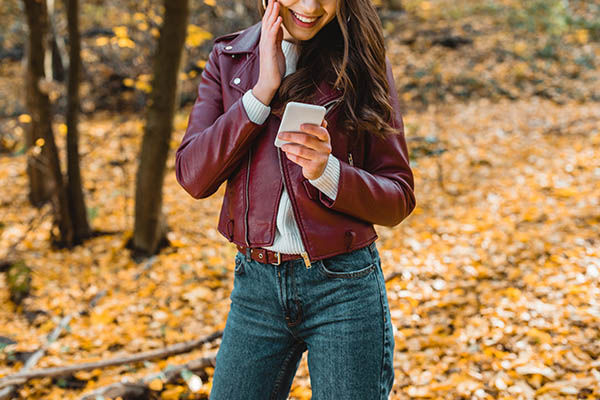 Leather outerwear in burgundy looks incredibly stylish. The dark hue is well suited with classy outfits, but it looks equally good with casual looks.
Pair a beige bodysuit with brown sweat pants and a burgundy bomber jacket. Brown platform heels will go well with the earthy tones of this outfit. 
Another outfit suggestion is to choose a basic combo of a white tank top and navy blue slim fit jeans. Wear a fringed burgundy jacket over it and round off the wonderful look with burgundy sneakers.
Cognac Leather Jacket Outfits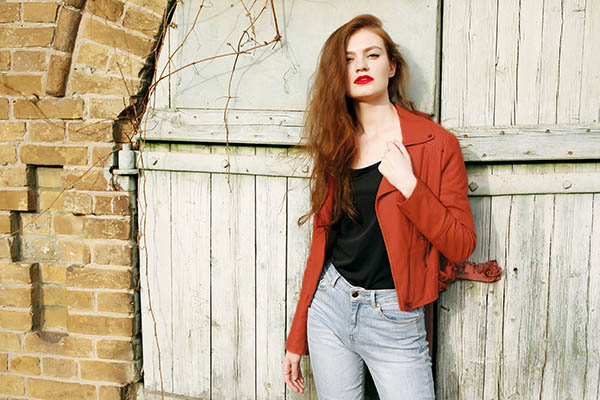 Cognac is a reddish brown shade. Leather jackets in this color look very stylish and look great with a variety of different looks.
For instance, go for an off-white cropped fitted sweater and faux leather pants combo. A cognac leather jacket would instantly uplift the flair of this baddie style outfit. Match cognac pumps and a long beaded necklace with this look.
For a subtle quality in a casual look, team up a cream button down shirt with a light brown plaid tennis skirt. Wear brown suede ankle boots with this outfit.
Wear a baggy Breton top along with a black pleated midi skirt. Use your cognac jacket to layer this outfit. This flawless look gets completed with a pair of leopard print pumps and a black mini handbag.
Grey Leather Jacket Outfits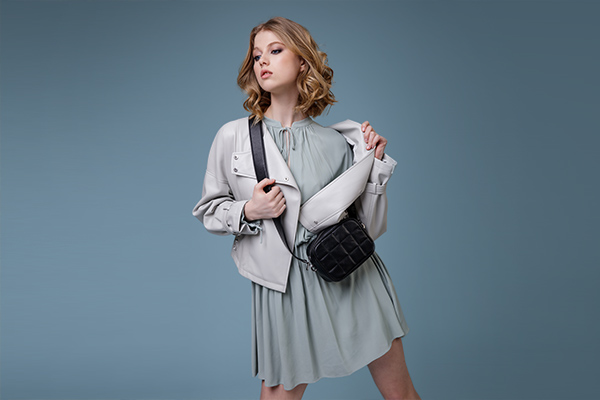 Look and feel fabulous with plain and embellished leather jackets in shades of grey. This unconventional color would do wonders for your style in the following looks.
A black turtleneck bodycon dress with a grey biker jacket is an ensemble that can be put together in seconds. Elevate its style meter reading with black boots and a stylish black sling bag. Wear your hair in a high ponytail with this look.
You can also try a figure flattering look with a maroon peplum top and blue flared jeans. Wear it with a cropped grey leather jacket. Wear grey pointed-toe heels and a chained shoulder bag to complete this look.
Red Leather Jacket Outfits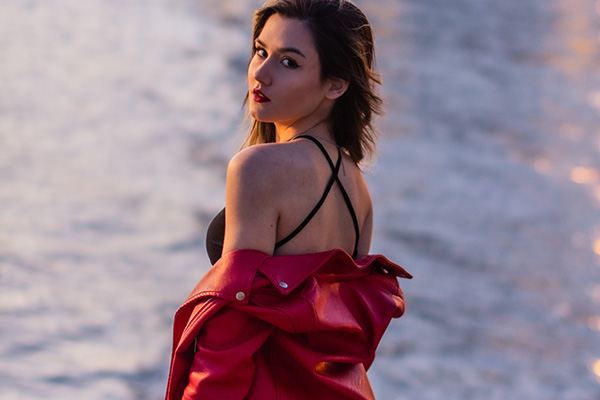 What better way to make a bold style statement than with a red leather jacket. It will lend itself to various looks, whether it is smart casual or a chic one.
A sleek white jumpsuit with a red biker jacket answers your desire to look classy. Wear red mules with this outfit for an added flair.
A black halter neck top along with white cropped jeans can instantly become street worthy with a red quilted jacket. The footwear choice with this outfit can be your comfy black loafers.
Blue Leather Jacket Outfits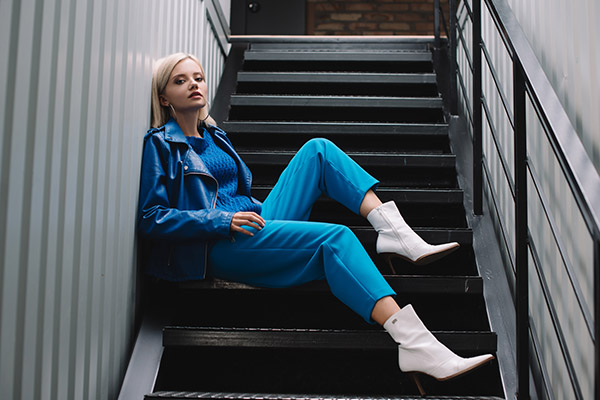 If you want to get your hands on a beautiful blue leather jacket, here are a few ideas to rock it.
Go for something stylish yet comfortable, like a white polo shirt tucked in black straight jeans. Layer it with a light blue double rider leather jacket. White sneakers would go well with this outfit.
You can also try a pairing of dressy black culottes with a black crop top. Over this outfit, wear a deep blue bomber jacket with studded lapels. A pair of black t-strap heels will complete this outfit.
Green Leather Jacket Outfits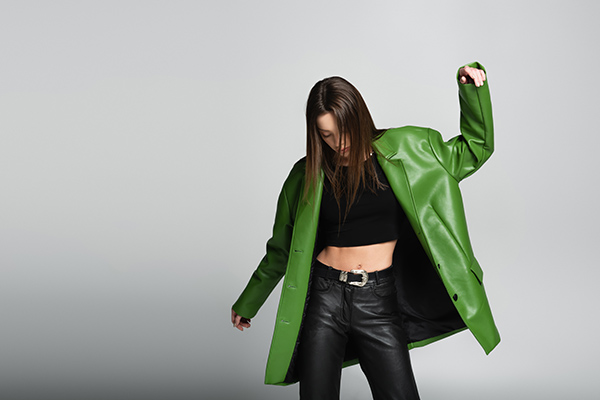 Green leather jackets can be an excellent addition to your fall jackets collection. Olive and army green are the most popular shades in these jackets as both look quite appealing with many other colors.
Choose a splendid olive green leather jacket with a fur hood. Wear it with a classic grey henley and black high waisted jeans. Black ankle boots will round off this awe inspiring look.
You can also wear a green leather shirt jacket over a beige t-shirt and a black midi pencil skirt. This feminine look can be enhanced with black stilettos and a black crystal necklace.
One more fantastic way to style a cropped green biker jacket is to wear it over a white floral shift dress and black over the knee boots. Wear a black scarf around the neck for a chic finishing touch.
Cute Leather Jacket Outfits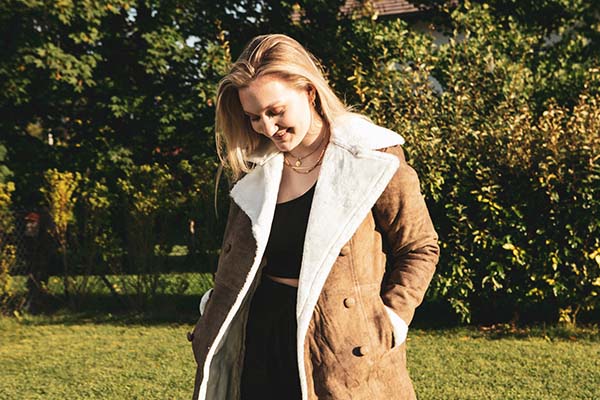 Aiming for a cute look means you need to work your outfits around light, pastel colors, skirts, frilly tops and feminine jackets.
Wear a white bodysuit with mom jeans and a cropped light blue shirt jacket. Adorn your simple look with hooped earrings and white platform heeled sandals.
Team up an off-white peplum top with black leggings and a cropped tan leather jacket. This pretty outfit will look even better if you add champagne colored transparent sandals to the equation. If you are wearing this outfit in colder weather, you can even add a top layer with a trench coat.
Don the most comfortable sports top and black yoga pants. Wear a blush pink leather jacket with quilted sleeves to make it look captivating. Adorn your feet with black booties.
Edgy Leather Jacket Outfits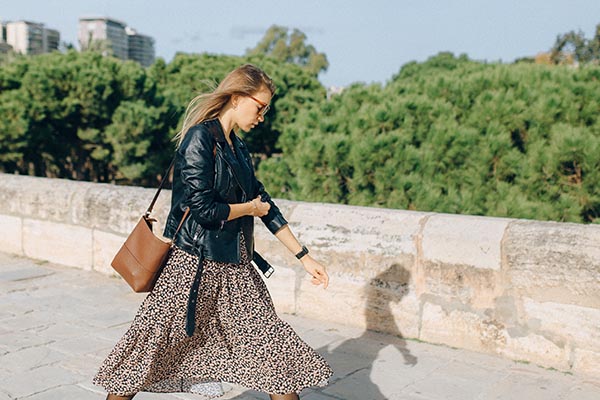 There are multiple ways to wear a leather jacket in an edgy way. The all black look with a biker jacket and skinny jeans tops the list of edgy outfits. Other ways to nail this creative style are:
Wear a leopard print midi layered skirt along with a black buttoned shirt. This off duty look will be enhanced with a black crossbody bag.
For a casual look, you can for a slouchy white tee and wear it over textured mini skirts.
Dress and Leather Jacket Combos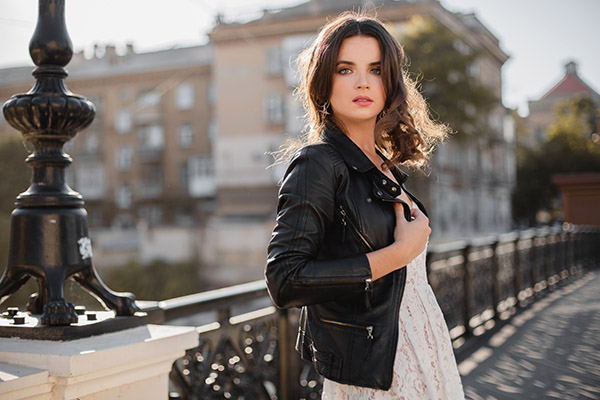 Wearing a leather jacket over a dress has become a popular trend now. Here are the top 4 dress and jacket pairings that will take your style up a notch.
A black double rider jacket over a maroon t-shirt dress.
A cream quilted jacket over a violet slip dress.
An outfit with a floral midi dress with a brown bomber jacket is perfect for spring.
Pick a studded white leather jacket to wear over a white lace shift dress.
Oversized Leather Jacket Outfits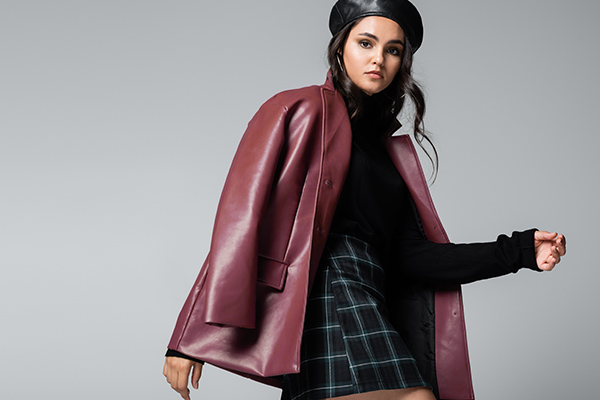 Jackets in a bigger size are currently a raging trend. The comfort of the leather jacket is further optimized when it comes in a baggy fit. You can wear them with shorts and mini skirts for a chic look.
Pair a black tank top along with denim shorts with a frayed hem. Cover up with an oversized moto jacket and wear slip on sneakers for an effortless style.
Another casual attire can be put together using a black tennis skirt and a light pink t-shirt. Layer the outfit with an oversized brown jacket and opt for long boots to complete the look.
FAQs – Female Leather Jacket Outfit Ideas
Are women's leather jackets in Style 2023?
Leather outerwear fashion for women is here to stay for 2023. New designs of women's leather jackets have joined the list of classic styles, which increases their versatility. The jacket serves as a transitional garment and looks incredibly voguish.  Plus, women can wear these jackets over anything. 
Can a 50 year old woman wear a leather jacket?
Being a certain age doesn't limit a classy woman to wear a leather jacket. If you are over 50, wear a jacket in the correct size over jeans and t-shirts, dresses, and pencil skirts. Make sure the jacket is comfortable so that you can carry it with a flair. 
How should a women's leather jacket fit?
Ideally, a leather jacket should be well fitted but not too tight as it would be restrictive. You should be able to move your arms easily. The sleeves of the jacket should reach slightly below the wrist. The length of a standard style jacket should be at the top of your thighs. 
Conclusion
Besides being comfortable, leather jackets are a simple solution for classic and contemporary styling needs. You might feel confused about styling these right. All you need to do is to pick the right colors and appropriate staples that will elevate the look of your jacket. Trying our female leather jacket outfit ideas will ensure awe inspiring looks for you.