A timeless wardrobe staple as they call it, cardigans are versatile and classic outerwear that amplifies your winter wardrobe with style. Ranging from elegant, formal looks to a casual, more laid-back outfit, cardigans are perfect for all occasions. To master your outfits, it is important to know how to wear a cardigan the right way to avoid looking outdated. From what to wear, and when to wear, we have prepared the perfect guide on how to wear a cardigan.
Perfect as a winter staple, cardigans are as easy as donning a stylish men's biker jacket .Like any other outerwear, cardigans are worn as an outerwear to provide warmth and comfort with an amp of poise. The ease of taking them off and putting them on without ruining your hair makes them any man's favorite.
What To Expect In This Article?
Milestone Cardigans Through the Ages
Don't let anyone tell you cardigans are old school. They may have come a long way, but there is a reason why they are still loved this much. The name itself is an ode to the 7th Earl of Cardigan, a British commander who served in the Crimean war during the 1850s. Later on, the garment became a favorite of fishermen from France and Britain who found it highly comforting to battle the cold winds out at sea.
Cardigans became a pop culture symbol after Mr. Rogers from the children's tv series Mr. Roger's Neighborhood wore it. Kurt Cobain's cardigan which he used to wear at his performances was a green, oversized one. The cardigan became symbolic to the Grunge style which has lately made a comeback in contemporary fashion.
Cardigans have survived the wild Roaring Twenties, and paved the way through the classic 50's era. Cardigans are a staple in the minimal Scandinavian style as well.
Types of Men's Cardigans
Men's cardigans are not restricted to one style. They come in various stitches, knits and colors making them suitable for all weather and occasions. You can add the style you find desirable in your fall and winter wardrobe.
Based on Knits
The type of knit plays a major role in defining how warm and comfortable a cardigan would be. Chunky knits are insulating, while thin ones are perfect for layering. You can get your hands on any of the types mentioned below depending upon the level of warmth you need.
Ribbed
What can ever go wrong with a finely knitted ribbed sweater! Ribbed knits are usually worn when you feel less dressier and want to dress down. Men's long cardigans in ribbed knit style are all-rounder staples that can serve casual looks. But on the days you opt for a smart-casual look, the same ribbed knits can be turned into button-down cardigans for an extra edge.
Chunky Knit
When you want a cozier yet voguish look, you can never go wrong with a chunky knit cardigan. Whether it is a casual outing with friends or going on dinner, these cardigan styles lift up the overall look. Despite its rough appearance, the look is very relaxing and fine. Due to their bulky appearance, it is not advised to pair men's chunky cardigans with any other outerwear such as shearling coats or suede jackets.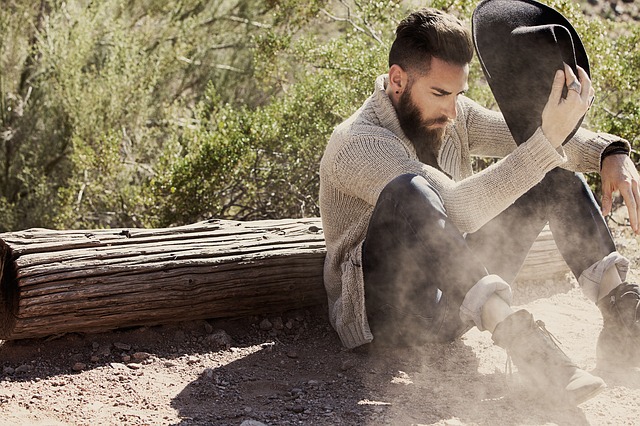 Heavy Knit
Heavier than ribbed, and lighter than a chunky knit, a heavy knit cardigan is an outstanding winter staple. Different knits complement different cardigan outfits for men. Like men's suede jackets, heavy knits are known to serve a casual yet very polished look. Wear a men's bomber jacket over a heavy knit cardigan for absolute style plus warmth.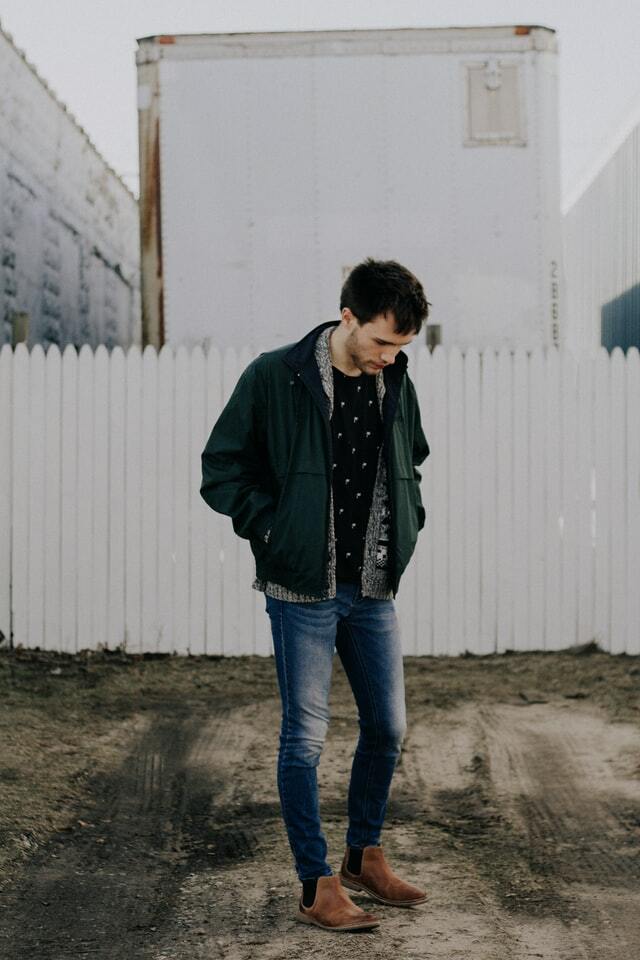 Cardigan Types Based on Colors
As important as it is to decide the correct knit depending on the occasion, it is also necessary to match the hues accordingly. Contrary to the traditional colors such as black, gray and fawn, cardigans are now available in the dashing navy blue and deep green. These colors are a good way to adorn cardigans without looking too aged.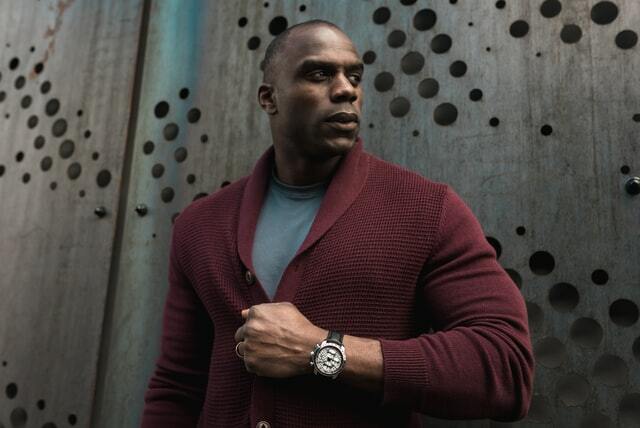 If you are up for a flamboyant style, go for classy red or a green cardigan. Choose pastel hues for an easy going, charming look. For your smart casual needs, opt for muted hues which will add to the dapper vibes.
Based on Collar and Closure Type
Button up
This is the type of men's cardigan that you mostly see, being worn by men everywhere. As simple as it can be, the classic button up cardigans are suave and sophisticated. If styled right, they can elevate your look in no time. To pull off a dapper look, opt for a slimmer silhouette with minimal buttons.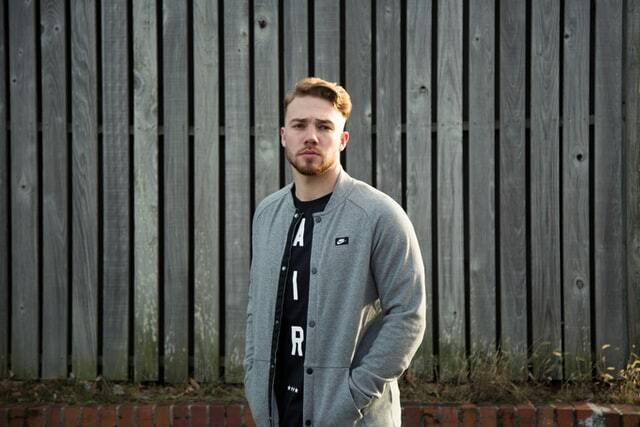 Crew neck
Crew neck cardigans for men are the new aesthetic. If a woman is asked to pick a fit for a man of her dreams, she will most probably opt for this neckline. Classic and versatile, crewnecks are placed midway on the spectrum of business formal clothing. You can add a pair of khaki pants to seal that flattering look. If styled right, these aesthetic cardigans can be a game changer for all.
Turtle neck
The ultimate go to for winters, turtle neck cardigans feature a high neck which fold over itself. They exude charm and elegance like no other while adding warmth in cold weather.
When we think about turtle necks, all we can think about is modern British men's street wear oozing sophistication and elegance. These come in handy when you first feel the fall breeze till the very last day of winters.
Shawl Collar
A shawl collar men's cardigan is probably the trendiest of all the styles we will talk about. This features a thick, warm stole-like element, draping around the neck and aligning down the shoulder blades. Due to its non-traditional collar, men's shawl collar cardigans lie on the more casual end of the spectrum.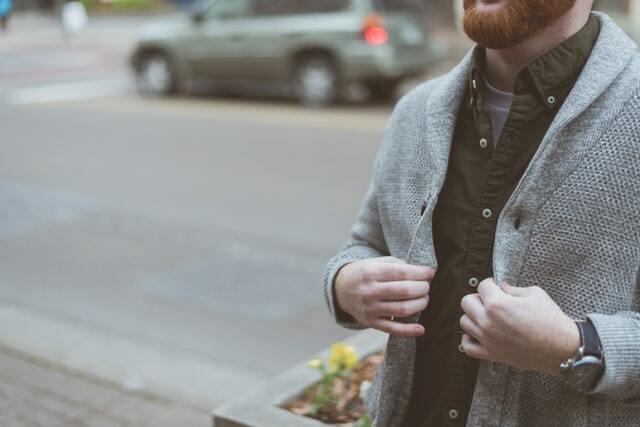 How to Wear a Cardigan
Thanks to their inherent versatilty, men's cardigans can be styled in a number of ways.
Classic Casual Looks
Nail the street style or laid back ensembles with a comfortable cardigan. You can choose either of these styles.
Longline Cardigan
The relaxed structure of these cardigans makes them a great option for casual looks. When in quick need of comfort, pair a longline cardigan with a white T-shirt and a pair of straight black pants to seal the street style.
Men's longline cardigan can also be used for a laid back airport look. When you feel like dressing down, these come in handy for a casual yet warm look, perfect for long haul flights. Add on a pair of gray sweatpants and your favorite sneakers. To top it off, layer a black longline cardigan for an excellent casual style.
Hooded Cardigan
You might not see them too often, but they are still real. These are similar to men's long cardigans but with an extra hood for added comfort. These make a perfect loungewear for some holiday movies while you sip on your hot chocolate! Cardigans with a hood offer an additional functionality to cover the head as well. This gives a very stylish vibe and you can wear it over your usual shirts and jeans.
Remember the general rule, an oversized staple crafts the best casual looks. Similarly, pairing an oversized cardigan with straight trousers work best for a casually chic outfit for mild winters.
Business Formal Looks
Contrary to what you might think, cardigans make an eye dropping business attire.
Pullover Cardigans
These elegant cardigans can easily turn into your work clothing if styled right. Pullover cardigans are well put together which makes them a reasonable replacement for dress shirts. Donning them over a collared shirt and adding a pair of straight pants can alleviate your work look in no time.
To seal the look, choose your favorite brown loafers and a'las you're done!
Sweater Vests
If the conventional suits are too boring for you, a blazer can be finely replaced by a knitted vest. Though it is structured differently than a blazer, these vests should fit nicely on the upper body and accentuate the other half.
Just add a pair of chinos, and an office tie peeping through the V-neck for a polished, sleek office attire. If you're a rebel enough, you can opt for loafers as a replacement of lace up shoes to maintain the business casual balance.
FAQs
How should a business formal cardigan fit? 
A formal cardigan should be well fitted and never be too loose. This not only steals away the elegance of the cardigan but ends up giving an overall awkward fitting. Cardigans are usually paired with double monk straps or derbies.
What kind of pants should I wear with a brown cardigan?
Brown cardigans are known for their old school vibes but this one is not for your grandpa! Pair a brown cardigan with blue faded jeans for an effortless casual look. For a dressier look, add on a button up brown cardigan with a pair of pencil gray office pants. 
Can a cardigan have a zipper? 
The answer is a simple yes! Cardigans with zippers are the easiest way to wear a cardigan without looking too old. If you are among those who love to rebel, this one's for you. The zippers usually do not go all the way up to the neck. Instead, it stops at the chest creating a V-shape effect. 
Are men's cardigans considered business casual? 
Why not! They make fine layering for business attire. A sweater vest, crewneck or a 
V-neck works well for all business events specially during winters. 
Can I pair a cardigan with a leather jacket? 
Wearing knitwear under a jacket is a balanced equation between voguish style and retro fashion. Keep a few things in mind when pairing a leather jacket or a sports jacket with a sweater. The pullover style sweater looks good with a leather jacket, provided it isn't bulky. A light knit would do the trick.
If you are wearing a cardigan under a jacket, the look would be different as the front for both is opened. Select a light weight v-neck cardigan and keep it fastened for a neat look. Make sure the length of the cardigan is not longer than the jacket.
Do men's cardigans look good with trench coats?
Well this one is tricky. Not everyone can pull this combo well but the ones who do it, they deserve a bow. A trench coat in itself is a long winter coat so try to wear a fitted cardigan that ends at the waist. 
How to wear a cardigan with a winter scarf? 
If you ask this question, you surely know your style well. The scarf not only keeps you warm, but it also adds a method to your fashion. Wrap around a thick flannel stole around your neck or let it down on both sides. Introduce it to a heavy knitted cardigan and don on a pair of boots. This ensemble is worth a try!
Summing up
If you are a fan of old school clothing with a touch of contemporary fashion, then cardigans are your best shot. Once you master how to wear a cardigan, you'll learn that these are not just for your grandpa! But if you still somehow do not own a cardigan, this is your sign to upgrade your wardrobe right now.