Many claim that modern parties have become bland and boring. This is not entirely true, but there is some truth to this statement–especially when we're talking about fashion. Modern party fashion is unrecognizable from the Studio 54 outfits of the past.
Parties are the ultimate way of socializing. You get to meet new people, talk to potential new friends, consume quality alcohol with your current friends, and have an all-around fire time. So, why not make these already fun events even more exciting with our Studio 54 fashion?
What To Expect In This Article?
The Changes in Modern Disco Party Outfits
The issue with modern disco party fashion is that the era of dedicated party clothing is past now. Most party fashion trends are just fancy everyday casual clothes with a tiny hint of the extra fair. Even that is if you're lucky. The line between regular day-to-day clothing and party-worthy clothes is getting thinner by the day. This wave of modernization is even hitting what parties look like, in general. The set design and disco vibes of the 80s fashion are all but gone.
This might not look like that big of an issue until you compare modern party clothes to Studio 54 outfits and realize what we've lost. Luckily, one great thing about modern fashion is that it is very open and welcoming to exciting experimental clothing, and Studio 54 outfits are no different. So, all you need is a little knowledge of this style, and you can dress retro to your heart's content.
What Is A Studio 54 Outfit?
Defining Studio 54 outfits in their entirety will take books upon books, and we would still have more ground to cover. This term refers to a collection of hundreds of unique outfits with distinct styles, colors, materials, and aesthetics. The only thing in common between these hundreds of outfits is that they are all flamboyant and glamorous to the max. They have the confident vibe of all the different eras of rock fashion but with the sophistication of high-society elite fashion.
Studio 54 Inspired Outfits
Getting into studio 54 Fashion today is a bit challenging but not impossible. Here are a few examples of studio 54-inspired outfits that you should try.
Sleek Black for Women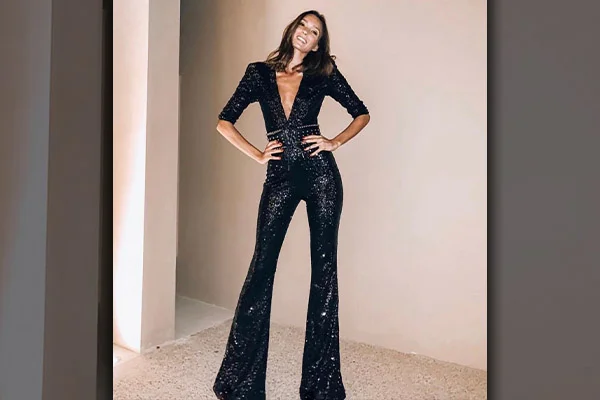 Let's start things off on a lighter note with an all-black outfit. The upper layer of this ensemble would be a black V-Neck camisole top followed by a sleeveless black vest. As for the trousers, nothing adds more glam than shiny black leather pants matched with black leather boots. If you want to skip on the leather pants, then swap out the camisole top for a black blouson dress and keep the rest the same.
Sleek Black for Men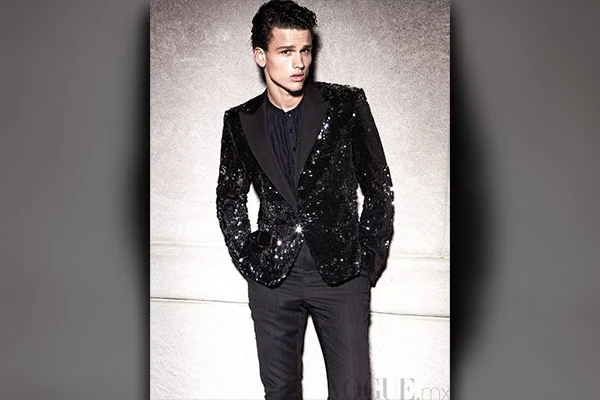 A men's version of this sleek outfit would start with a black button-up with an Italian spread collar. This shirt is then tucked inside black bootcut trousers with leather oxford shoes as the shoes of choice. The item that brings this whole ensemble together, however, is the black leather belt with a massive metallic buckle.
Suit Power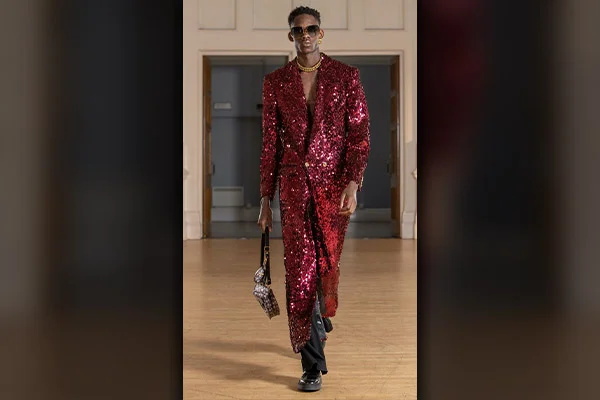 This outfit is suited for both Studio 54 men's and women's fashion. The start of the show here is a white two-piece suit with ankle-high trousers. Now pair the suit with a shiny blue Charmeuse button-up and an optional black tie. The tie makes this outfit look cohesive, but a lack of tie puts more focus on the unique shiny shirt, so the choice is all yours. Just remember that this suit needs to be well-fitted for this outfit to work.
High-Waisted Pants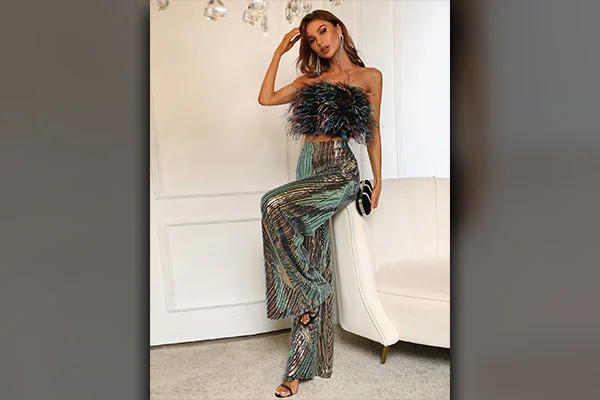 Men's 70 fashion was a wonderful time for innovation and experimentation before it all became the same. There is a lot of iconic clothing from that era, but the most notable one has to be the high-waisted jeans. In fact, these were loved equally by both men and women.
The best part about these jeans is that they don't require any extra effort or preparation to rock today. Just wear a colorful turtleneck t-shirt and tuck it into your high-waisted bell-bottom blue jeans. Don't forget to tie it tight with a brown suede belt and shiny brown leather boots.
For women, the high-waisted blue jeans are almost the same. On the other hand, the top is swapped for a yellow loose-fitting crop top, and the Studio 54 shoes of choice here are white sports sneakers.
Winter Party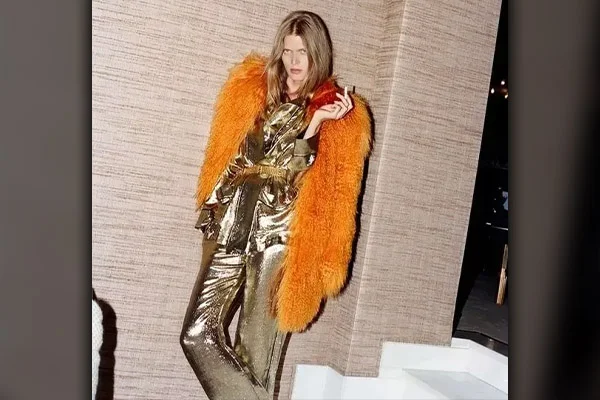 Winter and Studio 54 fashion is not that good of a matchup since most winter clothing tends to be quite basic. There is, however, an exception to this, and that is the semi-aniline winter coat with a lot of fur. These coats are so glamorous on their own that they can carry you through a Studio 54 part on their own. But you further improve your dashing Studio 54 looks by crafting the rest of the outfit around the coat.
The outfit will start with a shiny tan leather coat with brown fur lining on the inside and around the collar and the cuffs. The shirt under the coat is a black button-up with a thin floral pattern in red. The shirt is tucked in straight-cut high-waisted jeans, which are held up with a brown leather belt. Make sure to find a pair of aviators that match the color of your winter coat.
What Is the Best Studio 54 Haircut to Get Today?
Studio 54 clothing is extremely iconic and still relevant to this day. Some of the items used for glistening glamor back then have now become a part of the essentials. However, the same cannot be said about the Studio 54 haircuts. They are only part of fashion studio 54 trends that cannot be fixed by modern modifications. Plus, these haircuts are only applicable to a certain age group. Unless you don't have any desire to dress for your age, these are not the cuts for you.
Not all hope is lost, though. There are still plenty of modern haircuts that follow similar design decisions and have an attention-grabbing aesthetic.
What do you wear to a Studio 54 party?
Unless the host has set a certain dress code, the general rule for Studio 54 style parties is to be vibrant and flamboyant. Show up in clothes that demand attention with bright colors and unusual cuts. For women, this means wearing shiny Studio 54 dresses, leather pants, and pink high-top boots. For men, it is all about matching the color of your bootcut pants with the pattern on your shirt.
What Do You Wear to an 80s-Themed Party?
The party clothing in the 80s is just as flashy as in the 70s, or maybe even more. One thing that certainly bumped up was the number of colors and the color saturation. Men's shirts and women's dresses got drenched in neon-bright colors. So, any outfit that portrays this obsession of the 80s with matching and contrasting unusual colors (like purple for socks) is the way forward.
How to Dress Like The 70s For A Girl?
The key to dressing like a girl from the 70s is to own the right clothing. Here's a quick list of the items you will need.
Bell-bottom jeans
Velvet suit
Wide lapels jackets
Peasant blouse
Blouson dress
Halter top
Leather biker jacket
What should I wear to a movie party?
The ideal Studio 54 clothes for movie parties are the ones that look good but also have a strong focus on comfort and coziness since you'll be sitting down for around two hours at the very minimum. Jeans, loose-fit tops, plain t-shirts, and denim jackets are all great choices for the movie party studio 54 aesthetic.
What should a 54-year-old wear?
The clothes and outfits for 54-year-olds should have a clear focus on practicality and comfort. You might be able to endure uncomfortable clothes that are too tight, hot, or cold when you're younger. But at 54, fill your closet with properly-sized jeans, cozy sweaters, and easy-to-style tops.
Final Words
There used to be a time when party fashion was quite distinct from regular day-to-day fashion. The Studio 54 glam outfits are unmatched by anything else in the fashion industry. But, over time, these styles faded into obscurity, and the line between daily life and disco party fashion started becoming thinner.
Now we're at a point where rocking the Studio 54 fashion is back into style. Its open approach to experimentation and individual flares resonates heavily with the fashion masters of today. So, this is your chance to understand what these classic styles are all about and how you can integrate them into your 21st-century life.