No other decade has enriched the men's fashion game more than the 80s. So many trends sprang up in that era which continues to make waves even today. Many 80s trends go through a cycle of going obsolete for a while, only to come back in fashion once again. In many ways, 80's fashion for men is termed classic, and knowing about it in detail is important for the style conscious men of today.
We have heard a lot about massive trends and edgy fashion aesthetics from the eighties. There were distinct colors, silhouettes, accessories, and hairstyles that changed the face of men's fashion. Following the loose and flared silhouette trends from the 70s, the slimmer fits, vivid colors, and funky hairstyles of the 80s were quite a revolution in style. Men weren't afraid of experimenting with their clothing and style.
Read till the end to discover the 80s men's fashion trends in depth.
What was the Men's Fashion Trend in the 80s?
It was in 1980 when revolutionary things were happening in the music industry. The emergence of soft rock, punk, electronic and new wave contributed incredibly to reshaping the music scene. As music stars have always been fashion trendsetters, the men's fashion trends were heavily inspired by 80s music.
To summarize fashion in the eighties, we can say that it was daring, unrestrained, and mostly full of vibrance. The fits were usually loose and relaxed. Men dauntlessly embodied the fancy trends, such as mohawks, mullets, acid wash jeans, or neon colors, to name a few.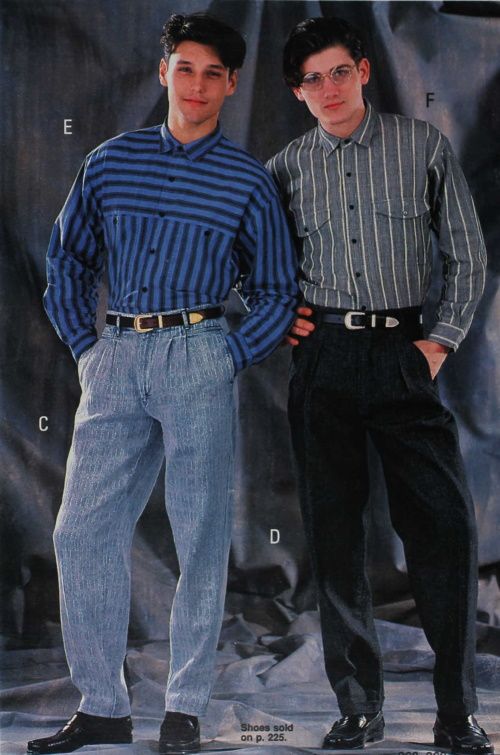 Majorly, the essence of the decade was trends that were unisex. Staples like leather bomber jackets, sneakers, wayfarers, parachute pants, and converse shoes were worn by both men and women.
Just like the flavor of old movies and songs is ethereal, the retro style from the 80s is sensational. Contemporary fashion is actually a mixed bag from many of the trends from that decade, plus the classy, minimal styles that came after it.
80s Inspired Outfits
Trends from the 80s were far from being subtle and definitely not minimal. Many of the fads, like the hip hop style, are still relatable, especially to the enthusiasts of this music genre. You can still achieve the 80s look and not look dated if you do it with a flair. Here are a few outfit inspirations from the decade that you can rock.
Varsity Jacket with Ripped Jeans
Dress up in a black crewneck t-shirt and ripped light blue jeans, and layer the basic look with a red varsity jacket for the 80s touch. Finish off the look with high top trainers.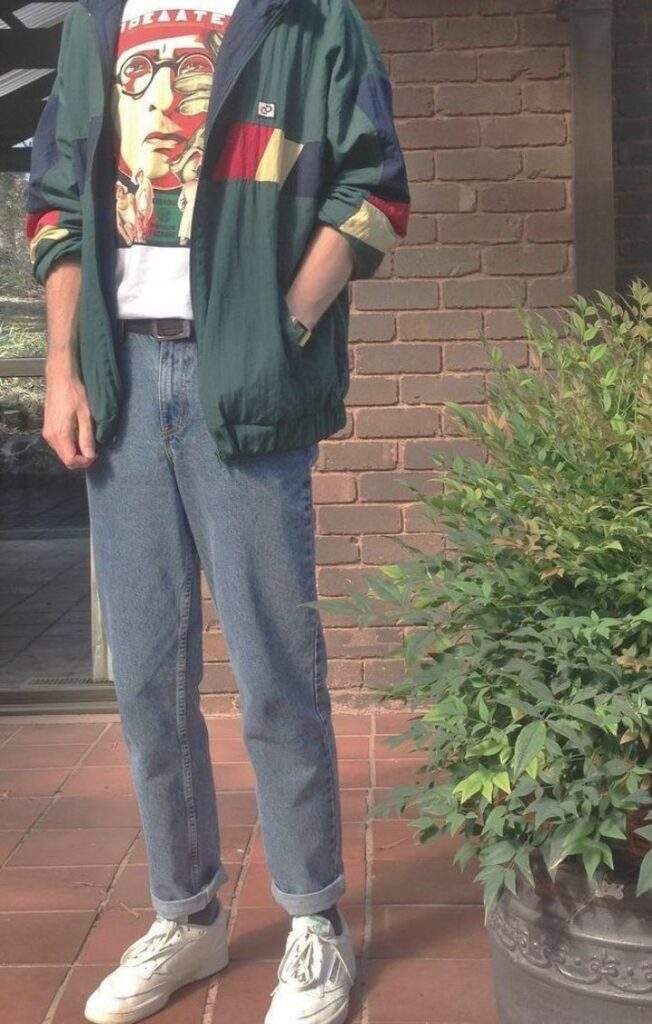 Baggy Athleisure Wear Outfit
High quality workout clothes, especially the tracksuit, are still in style. You can totally rock a baggy tracksuit paired with chunky sneakers, a beanie, and stylish sunglasses and fall in the contemporary luxe sportswear category.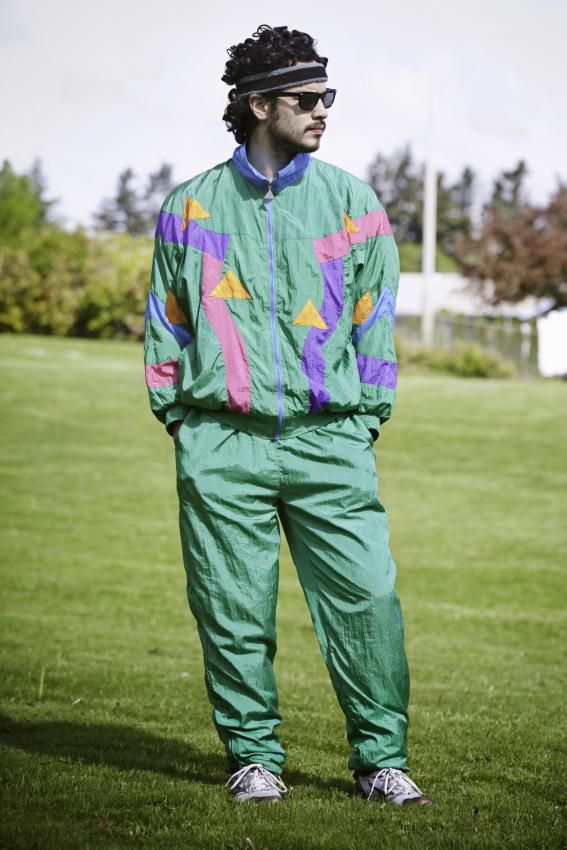 Casual Attire with a Hawaiin Shirt
The flamboyant Hawaiian shirt is one of the 80s fashions that are still on rotation. Rock one with white shorts and low top sneakers to beat the summer heat with style.
Pinstriped Suit
Whether pinstriped suits from the 80s ever went out of fashion is still debated. They look very elegant, even when dressed down with a simple t-shirt for a street style outfit.
80s Casual Fashion
Casual wear in the 80s was all about comfort and being expressive. Men usually wore loose dad jeans with oversized, brightly colored jumpers. They frequently layered outfits with letterman jackets, men's windbreaker jackets, or bomber jackets. The choice of shoes was usually a pair of white sneakers or loafers when they needed a dressier style.
Other than that, comfortable slacks and khakis were also very common day to day garments. Striped tube socks added a vivid flavor to the casual t-shirt and shorts outfits.
80s Men's Hip Hop Fashion
The decade marks the emergence of hip hop music, a genre that took music lovers by storm. The studded leather jackets, ripped jeans, band tees, and large boots which the hip hop artists wore were quickly adopted by the masses.
The hip hop look was quite energetic, letting people be expressive. Outfits were accessorized with long gold chains, athletic caps like snapbacks, and chunky sneakers. The style is still popular, sans the intense edginess it earlier had.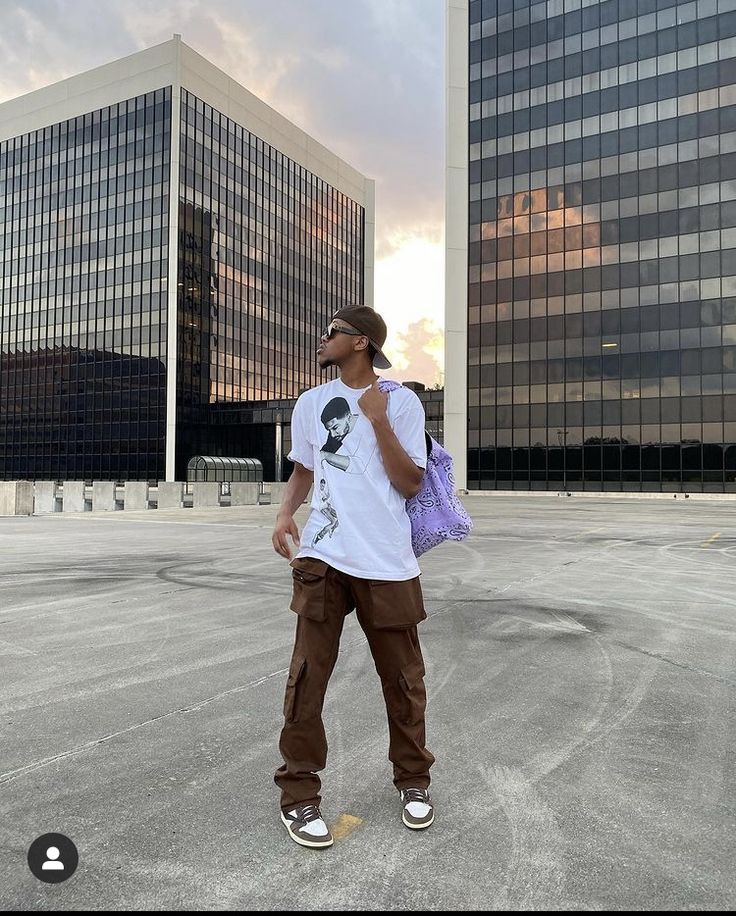 80s Preppy Fashion
Unlike the edgy punk and hip hop style, the preppy style for men was clean and crisp. It included bright or pastel colored polo shirts, slack, and khakis. A v-neck sweater or a sweater vest was often worn over the collared shirts. A distinct style of 80s preppy fashion for men was the sweater they used to wear around the shoulders. Boat shoes or loafers were the footwear of choice for these smart men.
80s Athleisure Fashion
Fashion was in the blood during the 80s and extended to workout wear as well. The term athleisure was coined just before the 80s, and style was meant for people who wanted an athletic look with their clothes. Yoga pants, tanks, and tracksuits worn with trainers and beanies were all the rage, and the sporty outfits looked very cool.
80s Summer Fashion
The bright colors, bold styles, and the need for comfort shaped the summer clothing for men in the eighties. Lightweight fabrics, dynamic prints, bright hues, short sleeved shirts, and shorts were making waves. Hawaiin shirts were a raging trend that dominated summer fashion for men in the decade.
80s Rock Fashion
The glamorous of all the fashion trends in the 80s was undoubtedly rock. Besides the edgy clothing staples, it consisted of heavy accessorizing and long messy hair, which was the essence of this rebellious style.
Different types of leather jackets, torn jeans, spandex, and graphic t-shirts are quintessentially rock style. Leather was also seen in accessories in the form of high top boots and wrist bands. Other accessories for this outlandish style were headbands, bandanas, and metal chains.
80s Formal Fashion
Back in the eighties, the pinstripe suit from the 1920s made a comeback. The trend resurged and ruled formal men's fashion like no other. The stripes were wider than they earlier used to be. Wearing a pinstripe suit exhibited absolute power and professionalism. The suit was usually paired with patterned shirts and solid colored ties. The most common formal footwear was a pair of loafers.
80s Shirt Fashion
Casual shirts that were in style during the 80s were mainly plaid shirts and silk shirts with abstract prints. As for the formal scene, men used to wear white cotton shirts and pinstriped shirts. Turtlenecks were also very common, often paired with bright colored blazers.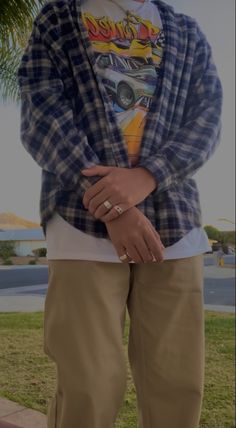 80s T-shirt Fashion
Black, white, and pastel colored crew neck t-shirts with slogans were the ultimate choice of men in the 80s. Polo shirts and plain white cotton tees were also in fashion, but for the dressier style, like preppy. T-shirts had band slogans either on the front or back.
80s Jeans Fashion
Jeans were the epitome of comfort during the 80s for men. Dad jeans with slightly tapered ends that were often rolled up were in vogue, and so were ripped jeans for edgy looks. The high rise 501 jeans were also very popular.
The 80s saw a new jeans trend that was of acid washed jeans. The adventurous feel of the acid washed jeans synced with the generally rebellious style of the decade and hence became immensely popular.
80s Bottom Wear Fashion
Jeans were not the only choice for bottom wear in the eighties. Men often opted for comfortable khakis, plaid pants, slacks, and even harem pants for distinct looks. A spectacular 80s trend was that of parachute pants, a style which became popular thanks to the surge in breakdancing.
Another prominent trend from the 80s was spandex. Lycra pants made men feel edgy and stylish, plus they wer symbolic of the rock and punk fashion of the decade.
Men wore shorts not just for sports activities, but casually too. But as opposed to the knee length shorts trending today, the 80s shorts were shorter.
80s Jackets Fashion
In 1980s, jackets with big shoulder pads and big lapels were in vogue. The most popular style was undoubtedly the bomber. Other popular jacket styles that men preferred were denim jackets, windbreaker jackets, and black biker jackets for men. Denim jackets were often adorned with a back patch featuring band slogans.
80s Leather Jackets
Leatherwear dominated the 80s guys outfit and added the qualities of edginess, quirkiness, and rebelliousness that the eighties fashion was known for. Jackets made with leather were highly popular in many styles, such as the bomber, biker, or the fringed leather jackets.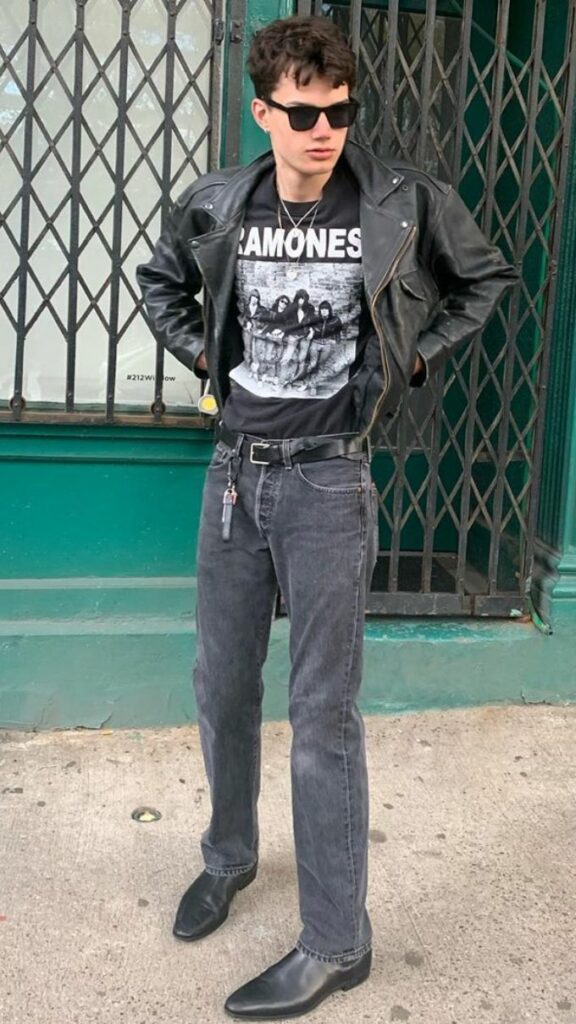 Fringed leather jackets are an 80s inspired fashion. Men who have a knack for the Native American style still go for these jackets for unique street wear looks.
80s Bomber Jackets
Bomber jackets in leather and polyester were the most popular off all the other types of outerwear. Be it the simple leather bomber for a classy casual look, or the vivid letterman or varsity jacket, the style meant a bold statement by men of that decade.
80s Tracksuits Fashion
Neon tracksuits in baggy fits are an 80s inspired fashion that is slowly making a comeback. The tracksuits were mostly made with parachute material and were often in bright colors.
80s Double Denim
A daring style men used to pull off in the eighties was wearing a denim jacket over jeans, often in the same color. The look may feel unfashionable to many, but it was very common back then. Even popular Hollywood celebrities sported the look with flair.
80s Shoes Fashion
Most trending shoes from the 80s fashion were Dr Martens, the high top boots that have an air-cushioned sole. They were symbolic of the punk and rock cultures in that era.
Another type of footwear frequently opted by men was chunky sneakers. They gave an athletic look that was highly sought after in those days. Converse all-star Chucks and leather shoes in other forms were also quite popular.
80s Hairstyles for Men
Observing the men's hair trends from the eighties, we can conclude that men used to have long hair and had a lot of fun with them. Mullets were the most common, and perms, flat tops, and mohawks hair were also the fad from the 80s.
Grooming trends were meant to signal rugged style, and one of those was the mustache that every other man used to keep.
80s Color Palette for Men
The most popular colors for men in the 80s were neon hues, pastels, and neutrals like black, white, and khaki. The immense use of colors signifies that men embraced the edgy styles with open arms and dared to dress voguishly.
80s Accessories for Men
80s era was known for heavy accessorizing. It was the excessive use of hats, sunglasses, and jewelry that made it a glorious period of fashion. Chunky sunglasses, often colored, round hats, snapbacks, and chunky neck chains were the norm for men. Black rubber bracelets were also very much in trend for rock-style lovers.
FAQs
What Defines 80s Fashion for Men?
While many term the 80s fashion trends as outrageous, all the vivid colors, comfortable fits, and heavy inspiration from the music subcultures actually signify it as an era full of expressive style. To define 80s fashion simply, we can say that it was all about flamboyant looks, long hair, edgy outerwear, and sporty shoes.
What Colors Men Used to Wear in the 1980s?
The most popular colors for men in the eighties were black, white, and bright neons and pastels. Men didn't hesitate to add flashy hues to their wardrobes, and often their letterman jackets were of vivid colors.
Which 80s Men Fashion Trends are Making a Comeback?
Some of the 80s trends like leather jackets have never gone out of style. But a few that are said to resurge are that of acid wash jeans, suits worn with t-shirts, and the double denim look. Tracksuits and fanny packs are also on the trend forecast for the upcoming year.
What Shoud You Wear to an 80s Themed Party?
For an 80s inspired look, wear a short sleeved Hawaiian shirt and tuck it under high waisted dad jeans. Roll up the hems a bit, and put on your retro style sunglasses. White sneakers will go well with this outfit.
Are 80s Pinstripe Suits Still in Style?
Pinstripe suits are definitely a trend that hasn't gone obsolete. A tailored pinstripe suit worn with a solid colored tie and oxford shirt is your answer to a power suit.
Summing Up the 80s Men's Fashion
The 80s decade was ripe of fashion that pushed boundaries. While many fashion aesthetics were a result of the music culture of the time, some were simply contrary to the 70s style. Many of the 80s trends are now resurfacing, letting you create stylish retro looks.
Fusing the trends from the past with contemporary fits is the key to paying an ode to the classic fashion era of the 80s.