One of the more famous phrases heard in the fashion industry is, 'Less is more'. The fashion world revolves around this statement and it seems to hold true most of the time. One such discovery is the creation of fishnets.
Fishnets is a woven, mesh kind of material that is available in a characteristic diamond shaped-knit. It gets its name from the uncanny appearance of actual fish nets used to capture fish. This unique material is used to make all sorts of clothing pieces like tights, gloves, stockings, and tops. It comes in a variety of colors, yet black is the color of choice for most.
Fishnet tights (and stockings) are the most sought style of fishnet clothing. These tights are extremely versatile and work with many different styles of clothing. They are unique in the sense that they are revealing while simultaneously concealing. The glimpse of skin that peeks through these tights creates an extremely sexy and seductive look.
These tights pair well with many clothing pieces but, the best thing about them is that they add an element of grunge to an otherwise boring outfit. With hotter days approaching us, it gets harder and harder to come up with summer-chic outfits that are different from basic floral and animal prints. Just the addition of fishnet tights is enough to vamp up any look in no time.
7 Different Ways To Wear Fishnet
For centuries, women have been expected to dress in the way society deemed right for them. They were forced into picking from similar types of dresses and clothing pieces. The idea of a woman expressing herself through fashion was preposterous.
The fashion world today is all-inclusive. You can channel your emotions and personal style through the way you dress yourself. Fishnet tights are a great way to upgrade your wardrobe.
Here are 7 different ways you can style fishnet and get the grunge look, without trying too hard.
Burgundy Babe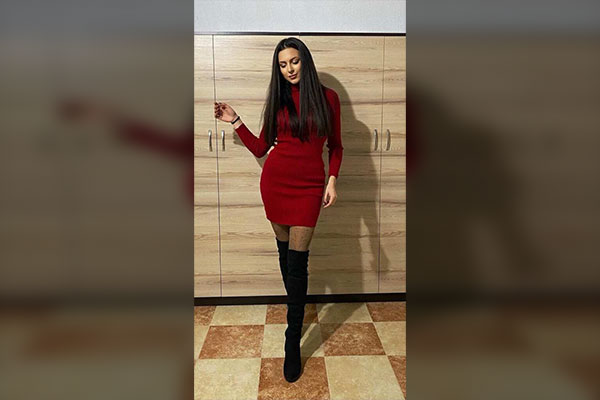 Fall is a time when even the leaves know it's time for a change. The color palette is all about deep colors, including browns, greens, oranges, and plums. One color that really stands out is burgundy. This shade is stunning on every skin tone not to mention how sexy burgundy dresses and tops are. 
Try pairing a halter neck, burgundy, body-con dress with fishnet stockings. These two clothing pieces alone are enough to create a head-turning look. For a more day-appropriate look, add on a black floppy hat. Complete the look with a pair of black block heels and you are ready to take on the world.
If sophisticated-chic is more your speed, then try pairing a burgundy mini dress with fishnet stockings and black ankle boots. Add on a gray oversized blazer for the days it gets a bit chilly.
Concert Ready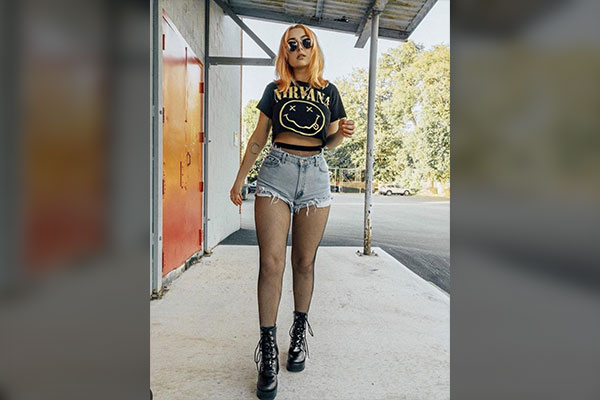 The days of isolation are behind us. If Covid has taught us anything it's that life is too precious to be wasted. Go out and have the time of your life with your friends. Concerts are a magical experience and we have the perfect outfit idea for you.
Pair a band tee (or graphic tee) with fishnet tights. Slip-on a pair of distressed denim shorts and complete the look with black combat boots. Add on oxidized jewelry to complete the look.
If shorts aren't your style then you can exchange them for a black leather skirt. Throw on a plaid shirt to add some color back to the outfit and you are good to go.
Office-Appropriate Fishnets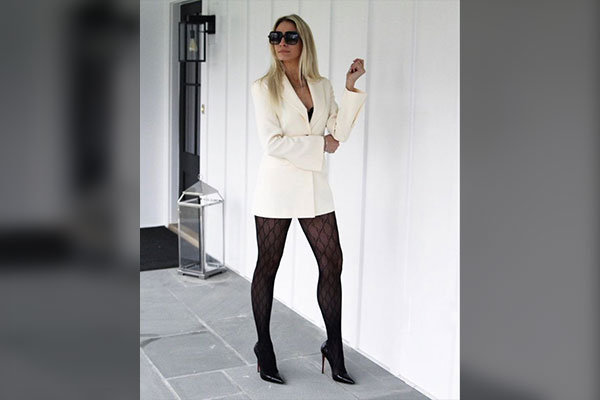 Fishnets are known as these 'sultry' clothing pieces but that doesn't mean they can't be styled into a toned-down look. Instead of a traditional fishnet pattern, pick a floral variant of fishnet tights. Pair it with a black blouse and a mint green skater skirt. Add on a pastel-colored cardigan and knee-high boots to complete the look. 
The fishnet tights will subtly peek through giving the overall covered-up outfit, a hint of glamor.
This look can be worn to the office, at work parties, and even to exhibitions.
Fishnet Baddie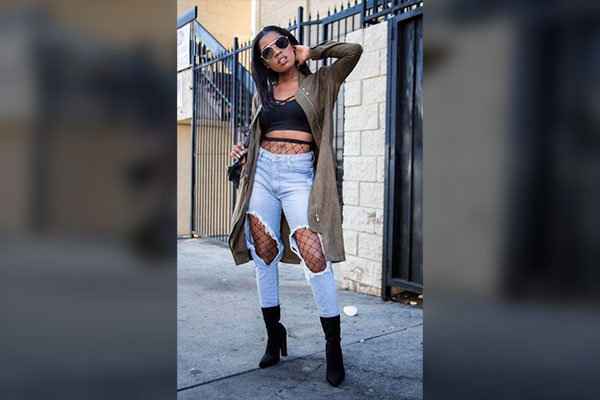 These days, social media is all about fashion and beauty. There are a few terminologies that stand out, like 'beauty gurus'. Being a social media baddie is another popular term. A baddie is a girl who is always put together and looks incredible in whatever she wears. 
For the ultimate baddie look, pair a black crop top with fishnet stockings. Add on a pair of light blue ankle jeans and clear rubber ankle boots. Complete the look by braiding your hair into a fishtail braid and add on a pair of sunnies. The look is ready to be captured!
Fishnet and Leather – An Incomparable Duo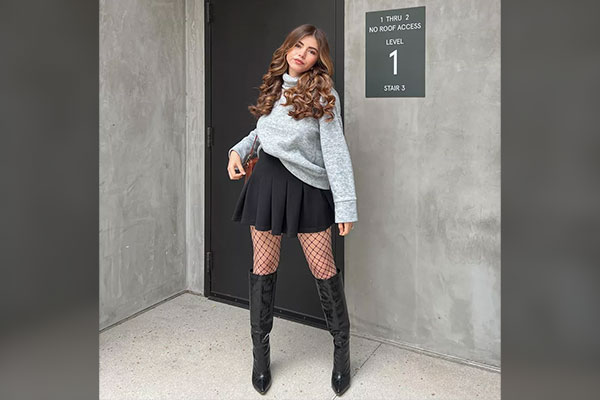 If you want a more effortlessly-chic look then a leather jacket is the way to go. Female leather jackets are snug-fitting and shorter in length. The hem of the jacket ends around the waist giving a cinched appearance. They are statement pieces and look great with just about everything. 
Try on a crisp white button-down shirt and pair it with fishnet tights. For a more off-duty look, you can tuck in one side of your shirt. Add on a black leather jacket and ripped, faded blue jeans. Complete the look with a pair of chunky black boots and a black crossbody. The fishnet shows through the rips of the jeans creating a peek-a-boo sort of appearance and the leather and fishnet work together brilliantly to create an edgy outfit.
Gray But Cute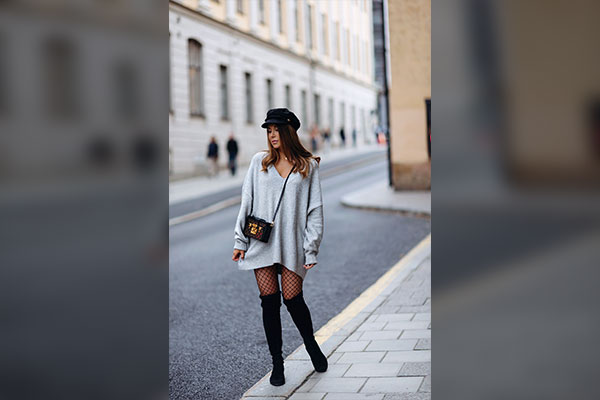 Winter is all about keeping warm and cozy. What better way to do that than by styling chunky knitted sweaters. Pair a gray chunky knit sweater with fishnet leggings. Throw on a cute skirt and boots of your choice and you have an enviable outfit ready. 
For a more elegant look, pair a black turtleneck with fishnet stockings and a red leather skirt. Add on an oversized gray patterned blazer and black ankle boots to complete the look.
Redefine Streetwear with Fishnets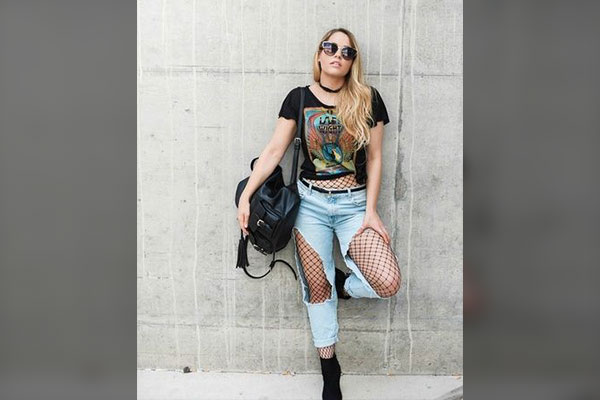 What do you get when you combine edgy fashion with street style? A sensational outfit. Streetwear is all about exploring your personal style while prioritizing comfort. You can wear clothing pieces as you please. One of the more famous trends of streetwear is baggy clothes. 
You can wear a baggy shirt like a dress or like a basic tee. Try pairing a graphic tee with fishnet leggings and combat boots. You can add on a pair of shorts if you want, but the whole oversized T-shirt with just the leggings looks bold and exciting.
FAQs
What is Fishnet?
Fishnet is an open mesh-like fabric, which resembles an actual fishing net. It is available in a number of different styles and colors. 
How to Put on Fishnets?
You wear fishnet stockings just like any other stockings.  First, grab the top of the right leg of the stockings. Insert your right foot in and pull on the outside by your right and left hands. Make sure your thumbs are on the outside of the tights so that you can pull the stockings up easily.
How to Wear a Black Dress with Fishnet Tights?
There are many ways you can wear fishnet tights with a black dress. You can pair a little black dress with fishnets and accessorize with a black belt. You can also combine a black body con dress with fishnets and knee-high boots. Maybe keep things simple and wear a little black dress with fishnets and add on a black chunky sweater and combat boots.
Fishnets – A Final Review
Fishnets are a great style of clothing to have in your wardrobe. They have a texture unlike any and add an edge to any outfit. They pair well with all sorts of clothing and work all year round.
If any of your outfits feel boring or basic, adding a pair of fishnet tights will give them a whole new look.
Keeping in touch with the idea of 'less is more', fishnet tights create a more sexy look as compared to just bare skin. They are flirty without being too out there. These tights look best in black but come in a variety of shades. We hope this guide gives you the inspiration you need to create edgy looks with just a pair of fishnets.