Fashion trends change at the speed of light. But some trends are like fine wine, they never go out of fashion. And, burgundy color is one of those deep hues that shows power. A burgundy dress is an all-rounder perfect to celebrate Christmas, and New Year, among other celebrations like weddings.
The way you style a burgundy dress is another thing altogether. The accessory people notice the most is a pair of shoes. According to some people, the style of the shoe woman wears tells if she is exquisite.
To be honest, looking for a shoe that fits the bill with deep color like burgundy is not that easy. So, you can focus on the footwear that either matches your dress or elevate your style quotient by contrast.
If you are on the fence about how to style a burgundy dress and how to accessorize it then we have some spectacular options for you.
Burgundy Dress and Black Shoes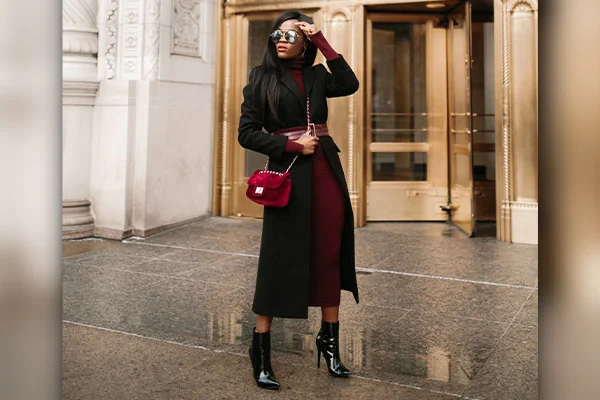 If you are thinking about what color matches with the burgundy dress then your answer is 'black'. The first one from our burgundy dress outfit ideas is simple to achieve yet undeniably classic. It is none other than a burgundy dress with black shoes. These two dull colors always work well together. And, that is what makes it one of our shoe color pairings with a burgundy dress.
To make it a perfect party outfit, you can wear it with a faux fur jacket. If you are going out to grab lunch with friends, you can wear a burgundy leather jacket on top. Take a black bag with a gold chain to add a little sparkle to the outfit. Loose curls and maroon lipstick will look dapper with this attire. 
Burgundy Dress and White Heels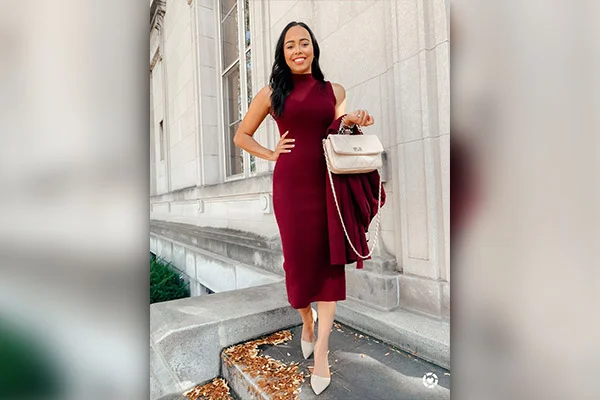 White is one of the most classic colors to wear with burgundy. Although these two colors almost lie on the opposite spectrum, their combination gives you a refined look. You can use perfect neutral white court shoes to accent your burgundy dress the right way.
For a glamorous daytime look, you can wear dark red or maroon glasses. So, if you are wondering what color shoes to wear with the burgundy dress to keep things simple, you know the drill. You can wear gold jewelry to complete the look.
If you want a break from your effortless white shirt and jeans outfits, you've got yourself another easy-to-achieve outfit. The picture below is the same maroon dress casual outfit we described to help you understand the way you will look. 
Burgundy Summer Dress with Animal Print Shoes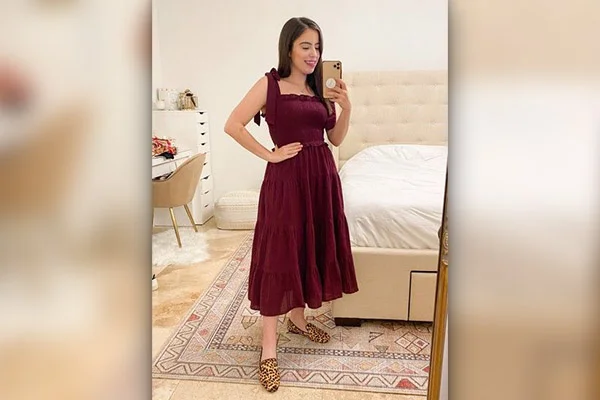 A burgundy summer dress and leopard print shoes stand alone without stealing each other's spotlight. A burgundy dress with a print on it is refreshing to look at. No matter how rapidly fashion evolves, a burgundy-printed dress will not go anywhere. You can carry an animal print shoulder bag with this outfit.
Although this look is complete without adding accessories, you can wear tiny gold jewelry pieces if you want. In the end, wear glasses with leopard print to make a good match. This will enhance the outfit, and the overall effect will not stop a little. Over and above, this makes a cute holiday outfit too.
Burgundy Dress with Pink Heels
Wrap dress with a v-neck looks sensual when the color is burgundy. In this look, you just have to wear the dress with a pair of pale pink heels. and you will be able to simply grab people's attention.
This is the easiest way to create a more understated look. Pink is one of the colors that go with a burgundy dress flawlessly. You can take a black bag with this look. For the final touch, wear a pair of black sunglasses and some wine dress accessories.
Sleeveless Burgundy Dress with Nude Heels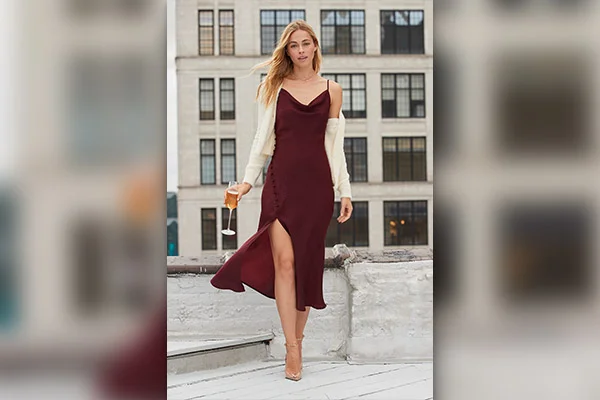 There is no doubt that the color of your shoes can drastically influence how people perceive you. That means, if you know what to wear with a burgundy dress, you can dictate the kind of impression you want to give to people. If you are successful in finding the nude heel that matches the color of your skin, you will have footwear that would go with everything.
Besides that, it will give the illusion that you are taller than you actually are. lengthening your legs. In this look, you can take a black clutch with a sleeveless satin burgundy color dress.
Nude 6-inch heels, silver dangling earrings, and red lipstick will give you that chic look to stand out at the party. If you think you have tried all maroon outfit ideas, we have a collection of chic styles outfit inspirations for all our lovely ladies. 
Burgundy and Glass Heels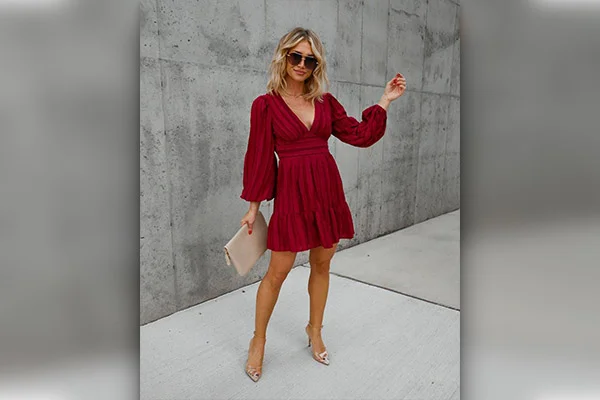 What comes to your mind when you see clear heels? Fairytales, magic, and princesses. The moment we see shimmery clear heels, we can picture Cinderella in a blue dress glass dress with slippers. So, imagine, how excited and confident you would feel after you will put on clear heels with a burgundy dress.
If you're going somewhere special, then a burgundy dress outfit with a clean pair of heels is an outstanding idea. Transparent heels capture all the attention, increasing the look of your dress. On these types of dresses, you need appropriate accessories like a diamond necklace and earrings. Also, make sure that the heels don't have any stains or spots on them.
Burgundy with Golden Shoes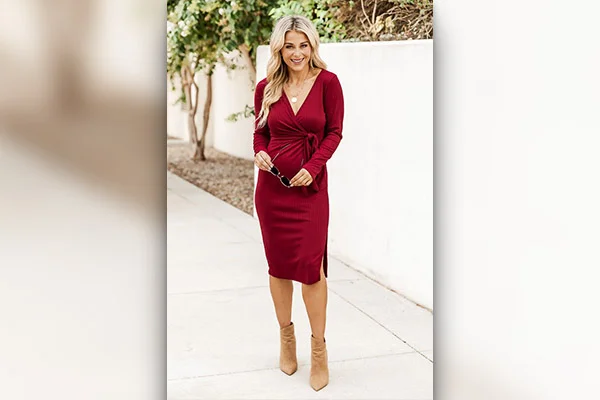 High-heeled shoes are a superb way to show your taste to the world. When you partner your flowy burgundy dress with gold-colored heels, your waistline tends to look more prominent. If you cinch the burgundy dress with gold shoe outfit with a golden belt, it will look bold and noble. A belt is an indispensable piece that can change the shape of any dress.
Moreover, flowy dresses are awesome choices for a rectangular-shaped body. ‍This type of burgundy dress has draping that falls pleasingly over the body frame, elevating the curves of your body. If you need more suggestions for a rectangular body, we have ideas for you.
Burgundy Bodycon Dress and Brown Boots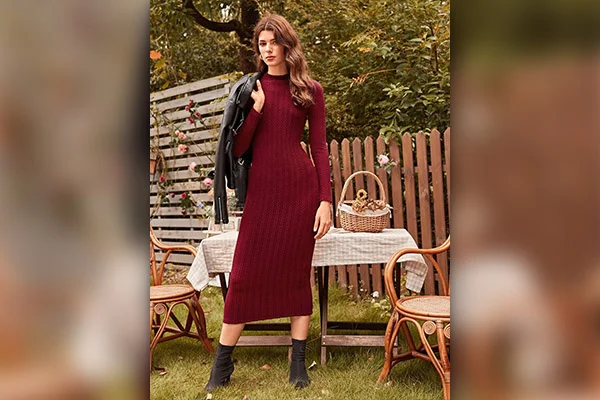 After numerous burgundy dresses with heels outfits, we have something that you must try in winter. If you're wearing a skirt, short dress, or shorts, you can pull off the maroon and brown outfit without a problem. A burgundy dress will look trendy when you wear it with long brown boots. 
In addition, you can wear this outfit with pretty socks or a fishnet stocking inside your ankle boots to exude a super chic look. On top of it, a nice scarf can give you a modern edge.
Burgundy with Silver Heels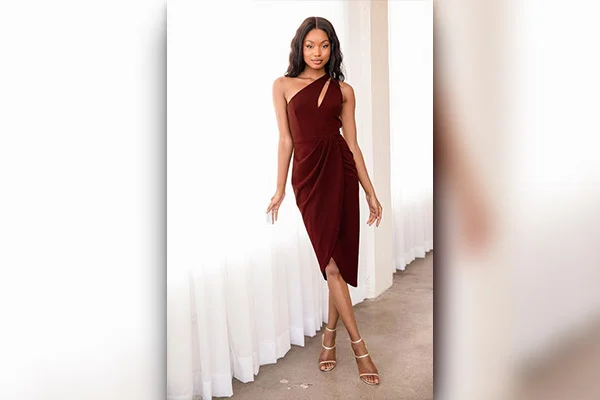 With a dark color of clothing like burgundy, you can wear your silver heels. They look absolutely sassy in dresses. They provide an extra glimmer that you don't typically get from wearing black or white shoes. High heels with ankle straps are great for formal attire. So, go ablaze with your dress, heels, and silver jewelry.
FAQs – How To Accessorize A Burgundy Dress
Can You Wear Burgundy in the Spring?
Of course, you can wear burgundy dresses in any season. You can find several blush-colored shoes to wear with the dress in spring and summer. Plus, nude-colored shoes work well with burgundy in every season. 
What Color Shoes to Wear with a Maroon Dress?
A number of shoes that look amazing with a maroon dress. Gold, suede, tan, bejeweled pair of shoe pair excellently with the maroon dress. These colors instantly dress up your ensembles. You can count on these colors to bring out the subtle shade of your classy burgundy dresses like no others. 
What Jacket to Wear with a Burgundy Dress?
If you are thinking about what color jacket to wear with a burgundy dress then think about when you wear a burgundy dress, you exhibit modernization, refinement, and a vivacious personality. Therefore, it is simple to pair it up with black coats and brown leather jackets, among others. Also, don't hesitate when you are not going for burgundy matching outfits.
What Accessories Go Well with Burgundy?
Give your burgundy dresses an elegant touch with metallic gold accessories. It looks best with fancy jewelry pieces. We guarantee that you will get a lot of compliments wearing your statement pieces. Then, blend the outfit with your simple heels and be ready to set out for your big events.
How to Add Prints with Burgundy?
Dresses with prints are inherently feminine. They befit people with minimal or simple preferences. Prints add sophistication to the dress, making it apt for the workplace or an event. You can wear accessories with different prints on them. For instance, you can carry handbags, scarves, or bracelets with unique prints.
What color goes with the burgundy dress?
Grey and shades of black go really well with a burgundy dress. However, if you are looking for lipstick for a burgundy dress then red might be your ultimate choice. 
What color purse with burgundy Can you wear burgundy in the summer dress?
With a burgundy color dress, you can go all edgy and choose something flashy or bright. A white purse is going to add a lot of character to your look. You can always pick a sparkly silver or golden clutch if you like being seen.
Can you wear burgundy in the summer?
Burgundy is the color for cooler seasons, however, you can wear a burgundy top with white shorts or light grey pants in summer. Or wear a burgundy dress at a night event. 
In Conclusion
In recent times, matching your shoe with a dress is just too old school. Now, it's time to make your own style statement you can try whichever style you like and wear it confidently. But if you really want to take the safe road and match a shoe with your burgundy dress, follow our tips. Think about what color goes with a burgundy dress, it can be in contrast, and that is your pick for the shoes.