As the summer season has arrived, subtle colors are coming back into the picture. When people get fed up with wearing black, blue, and brown shoes, the best option becomes solid neat-looking white shoes.
Despite the plain color, white sneakers are an interesting choice for many people. That's why they qualify to be the wardrobe staple for the majority. Although the trendy colorful pieces cloaked with jewels look exciting, they can't become your everyday shoes.
Influencers, bloggers, celebrities, and everyone has a lineup of white sneakers to pair with different outfits. They suit distinct aesthetic preferences, making them a dependable option for everyone. Because of their color, people assume that it would be a tedious job to clean them. But many pairs in the market are easy to maintain.
If you are still not befuddled about getting them for your next purchase, we will make things easier. Scroll down to learn ideas on how to wear white sneakers like a total fashionista.
What To Expect In This Article?
Lilac Suit with White Sneakers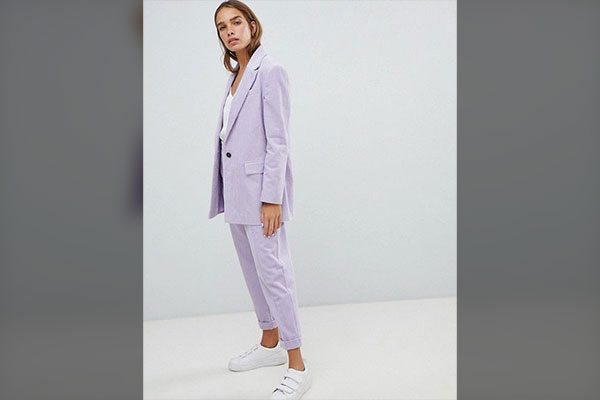 Lilac is the hottest color of the season, and wearing it with white shoes makes it look more polished. We know that swapping heels with sneakers is a tough decision for many ladies when wearing shoes. But trust us! You won't lament this ever.
If you know how to wear white sneakers for female with a business casual ensemble, this one's for you. You can wear a white tank top under a short pantsuit and white sneakers. This is already an eye-catching look, so don't go overboard with the accessories. Wear a simple pair of silver studs and a few rings to avoid looking underdressed.
Bet on Green Pants with White Shoes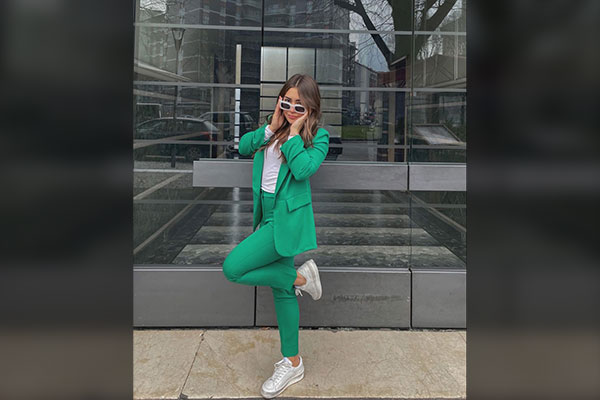 There are multiple ideas that tell you how to wear white sneakers with jeans. However, the one we have is unique in its way. The green color is known to look flattering on every skin tone and body.
If you don't want to miss out on this color, get green pants with a matching top and wear a black leather jacket on top. When you are ready to head out, slide into your white sneakers. If you feel like repeating this outfit, you can pick tops of different colors that go perfectly with green pants. We don't want this look to seem distracting. Hence, a gold locket is the ideal jewelry item for the accessory.
Flaunt Your Confident Self with White Shoes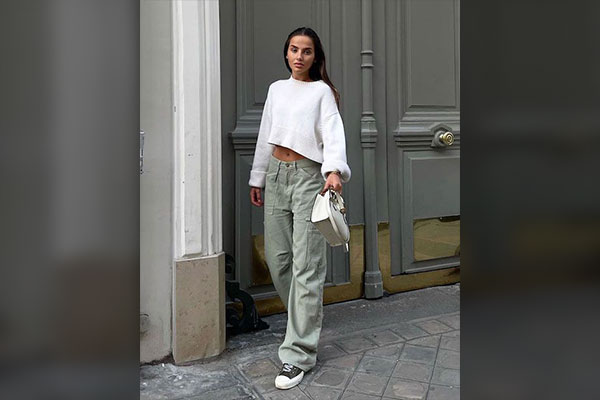 Are you searching for outfits with white sneakers to doll up for lunch with friends? You need beige cargo pants and a cute white off-the-shoulder top. You can wear a layered gold necklace and dangling earrings with this outfit to make the cut. Match a beige shoulder bag to kind of hit it out of the park.
Plus, if you are going out on a sunny day, don't forget your brown retro sunglasses.
Rock in Your Denim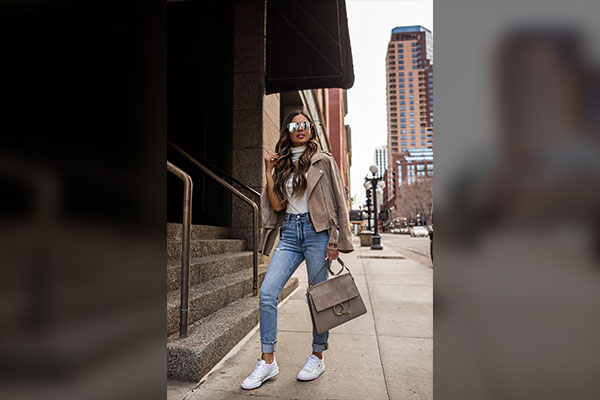 Women love their denim, but they don't have to lose their individuality to wear them up. You will only need a trench coat to bring a drastic change to the outfit. Wear your regular white tee with light blue straight pants. And for the layer, throw over a beige trench coat. These trendy white sneakers outfits for women look best when you carry a straw bag for a casual touch.
All Glammed Up with White Sneakers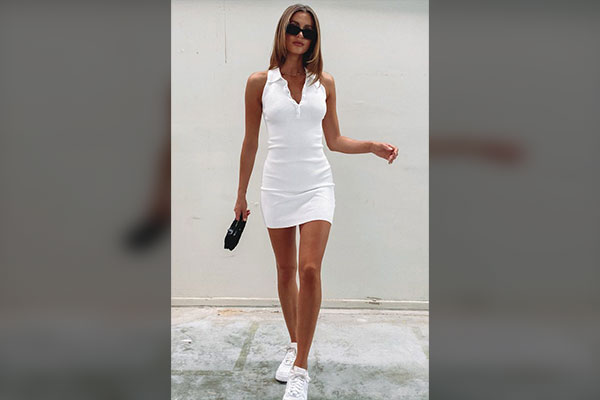 White sneakers look great with dresses and are the most sought after combination for preppy girls. But what if we tell you that you can wear them for the events without the fear of becoming a fashion fail. The trick is to go for a monochrome outfit.
Choose a square neck silk midi dress and wear it with white sneakers. Go for a pretty braided bun, bold makeup, and white statement jewelry pieces that reflect your personality. To bring character to the dress, grab a white clutch adorned with embellishments.
Comfort Dressing with White Sneakers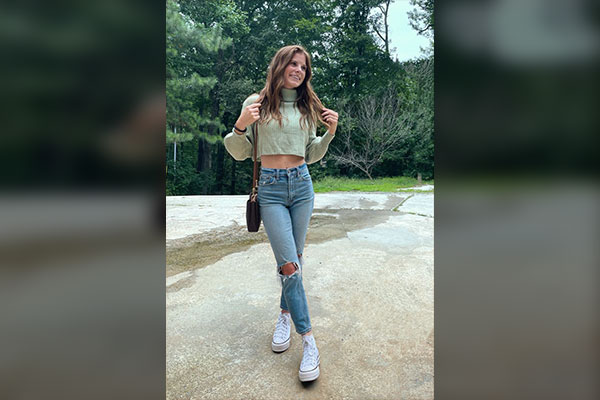 At any age, women's outfits with white sneakers make you feel stylish if you wear them the right way. You can wear a grey button-down crop top with blue baggy jeans and a pair of white sneakers. To add elegance, you can wear gold hoops and a thin chain. To dial the accessory game up, wear a black belt, black bucket bag, and your aviators. As this look is all about being functional, you can sweep your hair up in a cute ponytail which doesn't have to be perfect.
Brunch-Ready Outfits with Sneakers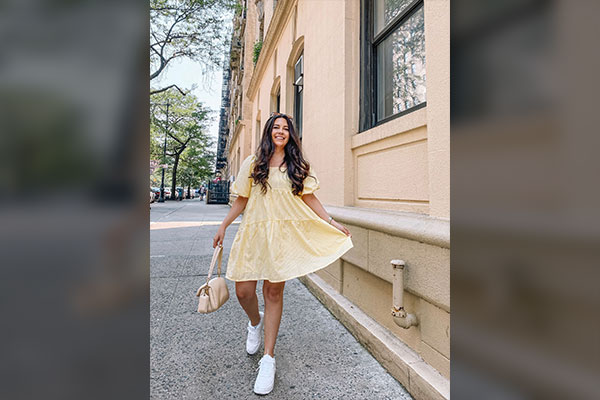 White is a bright color that mixes with different colors to form a refreshing sight. You can wear a dull yellow puffed sleeve casual dress with sneakers for a stylist-approved look. Beachy waves, delicate gold jewelry, and black sunglasses will look extremely flattering with this outfit.
Questions
How do I wear white sneakers?
There are numerous ways to style outfits with white shoes, from rugged to super chic looks. You can wear them with your tees, suits, gym wear, skirts, tie and dye overalls, and the list goes on.
Can you wear white trainers with black jeans?
The answer is a 100% yes. Black jeans with white trainers are one of the contemporary casual outfits with jeans and leather sneakers that look ultra-stylish. To create a stunning outfit, you can wear a white halter top and a black suede moto jacket.
Do white shoes go with an all-black outfit?
A black outfit with white shoes has always been a hit duo when it comes to color combinations. When you wear an all-black outfit like a black shirt and black leggings, white shoes add a pop of color.
What color of shoes goes with everything?
White sneakers look perfect with a wide array of colors and styles. To name a few cute outfits with white sneakers, you have a tan trench coat like dresses, maroon bodycon, lavender dresses, mint hoodies, black jeans, and blue monochrome outfits.
The Bottom Line
Now you know what to wear with white sneakers for female; we hope you will justify the purchase of your shoes by wearing them frequently. In recent times, the only style rule that lives by is to look presentable and feel snug. For that, there is nothing more suitable than white sneakers. So without any more excuses, create these attractive looks.