You are missing out on a big deal if your wardrobe contains everything but a trench coat. This wardrobe staple is a blessing, a smart investment indeed. A trench coat can complement your outfit anywhere and at any time. It never runs out of style.
What To Expect In This Article?
A Brief History
Trench coats were originally created by British Army Officers in a period that can be dated back to the distressed times of World War I. These coats served the purpose of protecting the soldiers from wind, harsh temperatures, and water/rain when they resided in trenches (hence the name 'trench coat).
The purpose of its creation explains the generously oversized look of trench coats
Trench Coat Style Dresses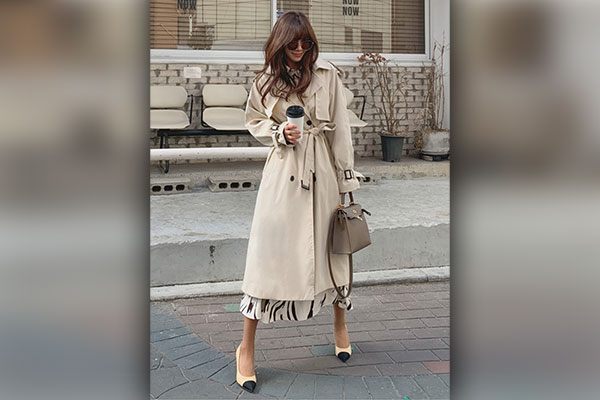 In modern times, trench coats have gone through ample modifications suited to the trend and fashion of the current era. Throughout this course, the coat never fell dormant or was never rendered outdated. You can never run out of styling options if a trench coat is your wardrobe staple.
Khaki Trench Coat- A Primitive Style Statement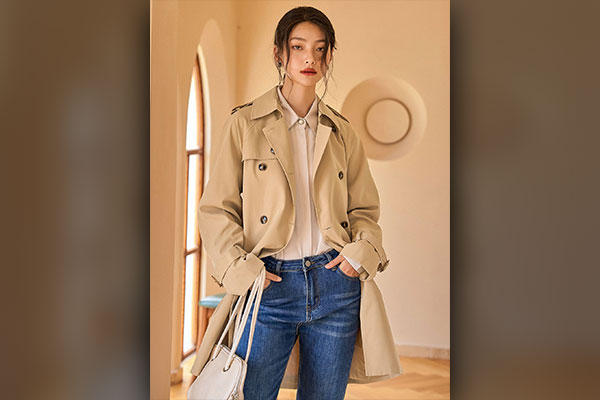 Originally, trench coats were made using khaki material for military uniforms. The trend still exists today. An oversized khaki trench coat complements all kinds of attire, not limited by season or occasion. Grab your coat when out on the streets or when headed to a meet-up. You will never fail to impress everywhere you go.
Trench Coat Dress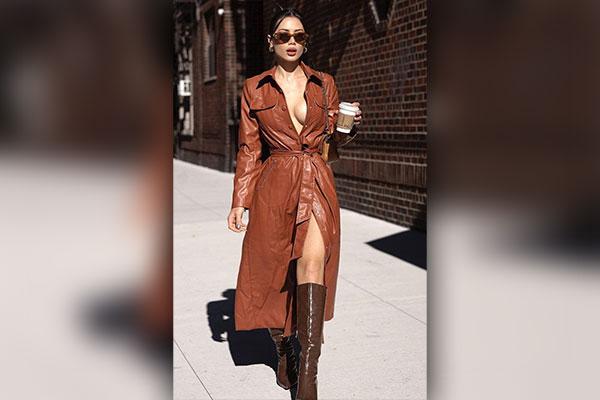 Coat coupled with a dress: enhances the style of your look. Resulting in never leaving a gathering without being admired. Keep the fabric tone sober and see how it complements different prints. Trench coat style dresses will never leave you short of styling options.
Trench Coat Street Style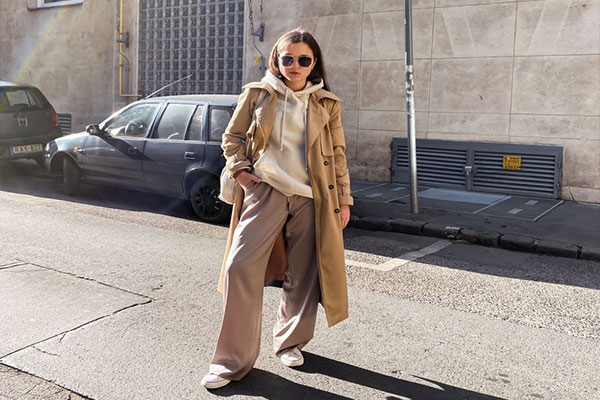 Team up your regular trench coat with jeans and sneakers; or wear it over a crew neck t-shirt or your tank top. Choose neutral colors when adorning yourself for a street look. Neutral colors of any shades that are neither too sober nor too vibrant are best. Blue or black jeans, a pair of white joggers, a khaki trench coat and plain t-shirts will do justice to your street-style look.
Trench Coat Style Dresses In Summers:
Heat should not be the reason to break apart your sense of fashion. Choose the right material for your coat depending upon the weather of your region. Lightweight trench coats are made of fabrics such as tweed, light wool, cotton, jacquard, and boucle. Medium Weight coats use polar fleece, cashmere, wool blends and polyester; more suited to pleasant weathers such as the spring and autumn.
Use your regular pair of denim shorts with a long overhanging trench coat. Complete the look with fine pieces of casual jewelry and a pair of trendy shades.
A monochrome, slim-fitting trench coat will also get along with a classy jumpsuit and some bold shades.
Trench coats in hot temperatures can use vibrant happy colors complemented with delicate floral or geometric prints. Skirts, trousers and jeans go well along with slim-fit coats when the temperature is soaring outside.
PRO-TIP: keep the hemline of your dress shorter or equal to that of your trench coat, so as to make it look something other than the norm.
Trench Coat Style Dresses In Winters
Snow itself calls out for the trench coats in your wardrobe. Winters and trench coats work conjointly. They add style to your everyday look besides serving as a windbreaker. Nothing can beat the look of bright-colored sweater vests worn under an oversized trench coat that carries a dull tone. To add to its embellishment, wear a leather belt over your coat and use your regular jeans underneath. Sweater vests can also go well with ripped jeans and faux leather pants if the weather is on the cooler side.
But why does it have to be your old pair of trousers all the time? Can you rather wear a skirt with a trench coat? Absolutely! Midi-skirts with leggings can give an extravagant look to your winter attire. Long skirts with leather trench coats can revive dressing trends of the Victorian era. Knee-length leather skirts with black trench coat outfit and a pair of monochrome leggings are yet another unique way to complete your winter style statement.
Those adorned with thick fluffy fur are fashion statements of the next level. Perk up the winter look with a fur-lined hood accompanying your long, well-fitted trench coat made of cozy and warm colors.
How To Wear A Hoodie And Trench Coat?
Redefining the purpose of trench coats has added more to its value over time. Ever thought hoodies could be worn underneath coats? Not even a bit? Well, give it a try then.
Wearing flowy trench coats over regular-themed hoodies is a surefire way of adding elegance to casualness. The combo will make you look neither too dressy nor too casual.
For a celebrity-like touch-up, add a beanie cap, athletic shoes, and a pair of nerd glasses.
What Is A Trench Coat Business Dress?
Trench coats are not merely limited to streets and gatherings. In fact, it can be a part of your business meet-up, business travel, or your daily officer wear. Everyone appreciates Sherlock Holmes who carried his trench coat much professionally, unintentionally marking this versatile piece of wardrobe staple as a uniform for detectives.
Beige, black, and grey are the traditional colors favored for workwear. If you wish not to look 'too formal,' chequered patterns with underlying dull color tones can do the trick
Trench Coat Style Dresses In Various Fabrics:
This classic piece of timeless beauty never runs out of styling options. Over the past decades, trench coats have been adapted by various cultures and regions, which modified their basic make-up by altering their fabric and outlook.
The original trench coat look is that of khaki color with a double-breasted front, loose-fitting, and a length of that below the knees. It comprises thick, water-proof, wind-breaker material, that serves the purpose it has been created for.
However, in terms of fashion, various weather-friendly fabrics can be used to tailor your trench coat. Some of the famous ones are:
Leather:
Ideal for harsh winters, where snow covers the land for most of the time of the year. Leather trench coats impart a tough, bold, and strong essence to your personality. Alongside the outlook, they are easier to maintain and clean, and the freshness of the fabric is rather long-lasting. Trendy leather trench coats with cozy wool sweaters of contrasting tones underneath, denim jeans paired with a pair of sleek vibrant heels or boots, is a perfect ever-green winter look. Huge pockets on the coat are a plus.
Flannel:
Flannel is a soft woven fabric that is made of cotton, wool, or synthetic fiber. It is an ideal winter material, however, not restricted to the season. For those who stay super-busy with work and find hardly any time for styling, carrying a flannel trench coat in the closet can do them some wonders. Pair up a black and white flannel coat with a monochrome sweatshirt and denim jeans. Off you go on your trip all sleek and stylish.
Gabardine:
Made out of wool blends, these coats are dense but lighter than the leather ones. They serve as wind-breakers and can keep you from soaking wet in rain. Hence, if the leather is not your fabric type, gabardine trench coats can comfort you with similar benefits. The material can also go well in crisp and dry autumn weather.
Cotton:
Ideal for summers and spring, lightweight, less dense, and have more room for styling. They intensify the outlook of casual dressing and can accompany you in your daily styling. Cotton is a quintessential material for a casual trench coat outfit.
How Should A Trench Coat Style Dress Fit A Woman?
Trench coats are gender-neutral, the styling manner may, however, be different for all. Trench coats for women are sophisticated and sleek if they are formal, and rather baggy if casual.
This eloquent piece of clothing is not subjected to many styling restrictions, however, few parameters yet define a lady-like trench coat fitting.
The Waist:
This part of your coat is the closest to your body, hence, buttons around the waist must not apply any tension across the chest and the shoulders. A broad stylish belt can adorn the waist of your coat. When buttoning the coat, the cut-off point between your waist and hips must rather be loose (but not over hanging) to impart the garment a coat style.
The Sleeves:
Plain sleeves or details around the cuff; in both styles carry their own charm. The length of the coat sleeves must exceed a few centimeters below your wrist, and an option to fold them up to the elbow with a tie-around ribbon would be a plus.
Short-length Vs. Long Length Vs. Cropped Trench Coats:
Just like trench coats, trench jackets are a thing too. They are cropped versions of the original garment and ideal for styling in moderate weather. Short-length coats are a little longer than leather jackets, and make favorable outfits for formal gatherings.