Are you bored of wearing the same dull and monotonous casual clothes? Are you searching for some outfit inspiration to incorporate into your summer wardrobe? Continue reading, as we are here with some casual black leggings outfit ideas you can sport all day, every day with your fashion game in check.
Leggings are a wardrobe staple that you will find in almost every woman's wardrobe. It's been in the apparel industry for centuries; previously considered a fitness gear it is now a vogue fashion clothing trend.
Despite being versatile and easy to style articles of clothing, leggings have some style limitations. But, do not worry; we have got you covered; as we discuss cute casual ways to wear leggings, especially black legging outfits, in this article.
So, keep scrolling and style your black legging outfits like a pro this season!
What To Expect In This Article?
What to Wear with Black Leggings?
Black leggings are the easiest to style among all the other apparel bottoms. Whether it's a work meeting or a casual lunch date, black leggings are always there to rescue you in any last-minute styling emergencies. Here are some cute ways to wear your black leggings by styling them with a nice top and suitable accessories.
Baddie Outfit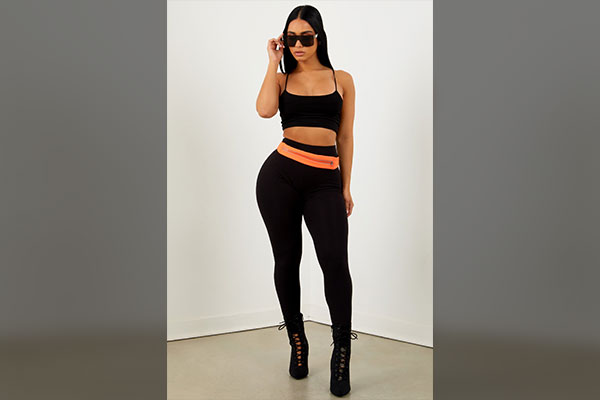 In this age of social media, who does not want to be in the limelight. Try styling yourself in baddie outfits with leggings; it's the easiest way to join the cool gang and be a trendsetter.
Style your casual graphical t-shirt with black leggings and athletic shoes for a baddie look. Wearing a cool snapback cap with this outfit would be a cherry on top.
All Black Look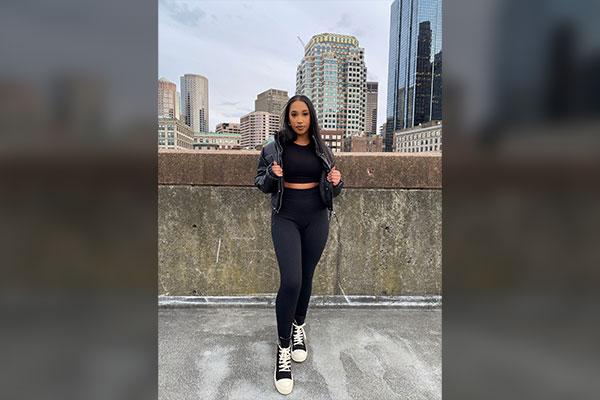 Though black is a color that can go well with most colors but wearing black on black is an unmatched styling trick that can instantly add class to your existing outfit. So whether it's a party or a workout session, you can leave a lasting impression on all, with your stylish all-black leggings outfit.
Wear your black leggings with a black t-shirt or blouse for a smart casual look. You can style the same look for winter by layering it with a black leather jacket and suede boots.
Styling Black Camo Leggings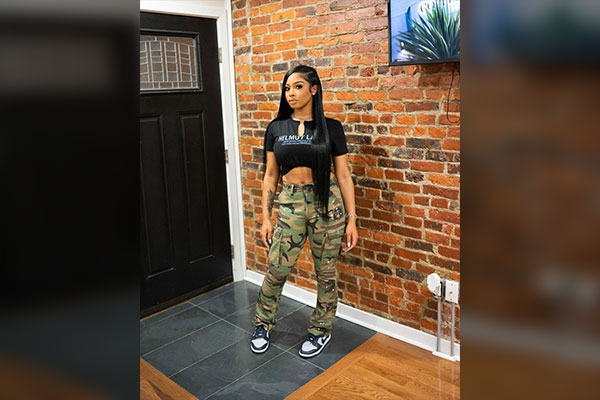 It would be unjust not to mention the trendy black camo leggings outfit ideas when discussing black legging outfits. Are you planning on attending a tailgate event or an upcoming football match? Wear camo leggings with a basic black or white t-shirt and sneakers for a trendy summer outfit. In addition, wearing a turtleneck with camo leggings and layering it with a trucker jacket is a smart trick to pull off an effortlessly stylish winter look.
Business Casual Outfit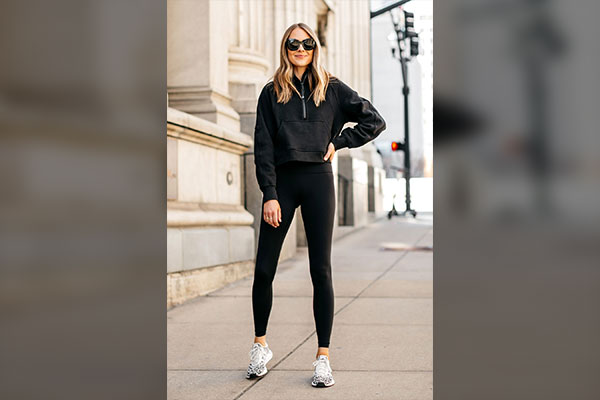 Let's be honest, we all have, at some time or the other, reached a point when we can't find anything to wear in our wardrobe. Black leggings can save your style reputation in those crucial times. You can style a sober business casual outfit by wearing black leather leggings with a white dress shirt and work blazer. A lovely handbag and pointed-toe heels would be a great addition to enhance the overall look.
Trendy Summer Outfit with Leggings
In summers, everyone prefers to wear easy-to-carry lightweight outfits that help you endure the hot weather. So what else can be a better clothing option for summer than legging outfits? Here are a few black legging summer outfit ideas you can style in the summer months.
Leggings with Tank Tops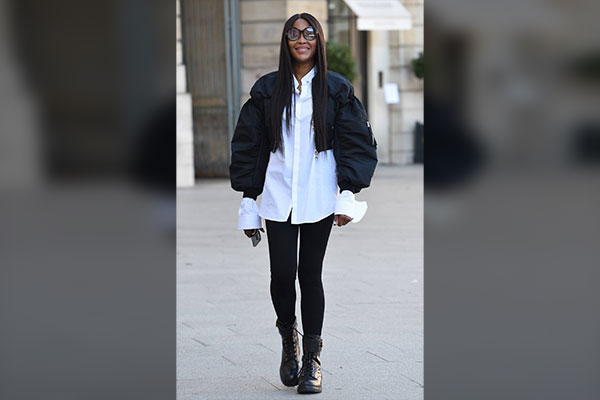 Tank tops are a summer wardrobe essential. You can find this basic clothing article in every woman's closet in various designs and colors. You can style your tank tops with almost every bottom to pull off an adorable summer look, but black leggings outfits stand at the top of that list.
Leggings and tank top outfits are a trend with which you can never go wrong. Wear your casual black leggings with a graphical or plain tank top for a smart summer look. You can wear this outfit to a grocery store, a party, or even at work by adding a formal blazer and heels.
Styling with Baggy Shirts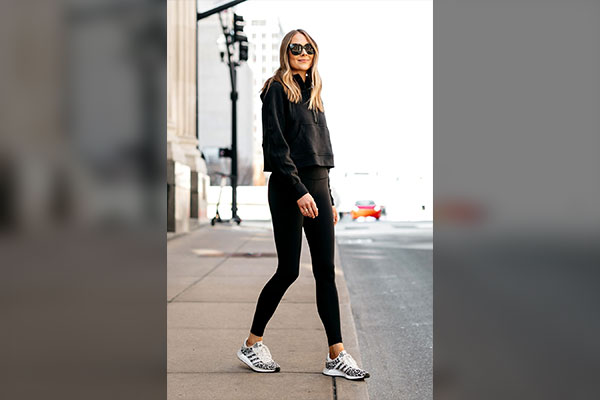 If you are a woman who likes to wear loose baggy clothes and looking forward to upgrading your summer wardrobe, then cute and comfy outfits with leggings are all the inspiration you need.
Baggy shorts with a comfy, breezy fit, styled with black leggings are a perfect outfit to wear on a sunny summer morning. So why wait when you can effortlessly pull off a trendy summer look with your favorite baggy tunic or shirt teamed with black leggings
Crop Top Outfits 
If there is one garment that is equally loved by women of all ages, it is a crop top. Thanks to the rapidly advancing apparel fashion, you can now choose from various innovative crop top designs to style cool outfits with leggings.
Although any color or design would look perfect with black leggings, a monochrome crop top outfit will always be top-tier clothing to dress your summer in style. Moreover, you can also create a trendy corporate look by pairing this outfit with a long work blazer and heels.
Winter Outfits with Leggings
Dressing up for winter is a daunting task. Especially when you have a thing for wearing mini dresses but cannot bear the extreme cold, this is when the neglected black leggings lying in the corner of your wardrobe come out to your rescue. So, here are a few ways to recreate a chic winter outfit with black leggings. Let us dig in!
Leggings with Boots Outfits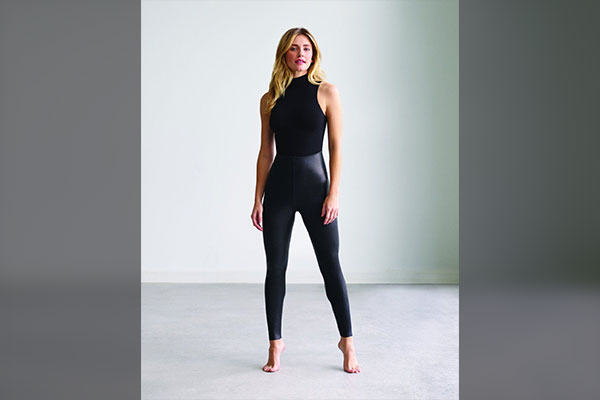 Tall leather boots are essential winter footwear for every woman. Styling your boots with thick black leggings would save you from the cold and give your outfit the much-needed style and structure.
You can wear this leggings outfit with a sweatshirt or a mini dress for a classy winter look. Moreover, do not forget to layer it up with a jacket or blazer for added style and warmth.
Trench Coat Look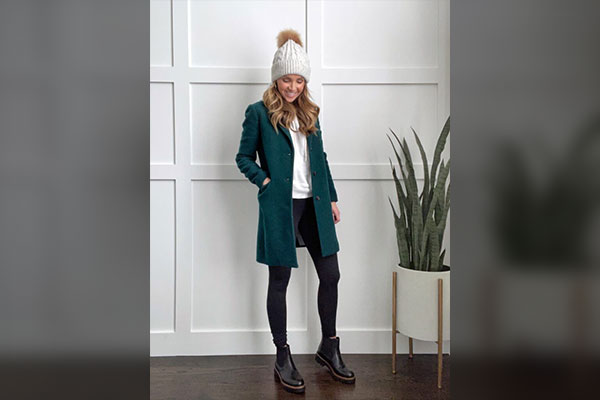 A trench coat is our go-to winter clothing article for all those extreme winter days when no outfit works well to beat the cold. So now, the question arises of how we can add dimension to our long trench coat outfit for a more trendy look. The answer is simple, wear a basic black leggings outfit underneath your trench coat with white platform sneakers for a smart casual winter look. Not to mention, it is among the most famous outfit combinations adorned by most celebrities.
Winter Skirt Outfits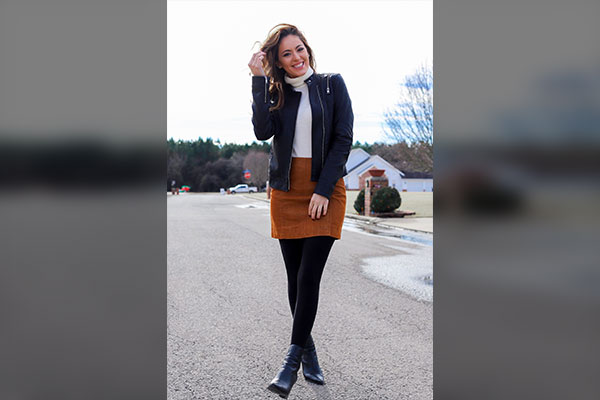 Miniskirt outfits are among the most trendy summer outfits, but you can't wear them in winter unless you have high cold resistance or a pair of leggings to keep you covered. You can create an adorable winter skirt look by styling it with thick black leggings. Wearing a pair of leather shoes and a turtle neck blouse with your skirt outfit will make this look even more chicer.
FAQ's
What to wear with brown leggings?
The choice of color is crucial when styling a brown leggings outfit. White, beige, ivory and black are the colors that will best complement your brown leggings. So, choose your top accordingly. 
You can also wear a  pair of leather shoes and a few accessories to enhance your look. Lastly, wearing a scarf or a dark-colored jacket will be a good trick to add dimension to your outfit.
How to dress up in leggings for a party?
The easiest way to pull off a chic party outfit is to style your leggings with a formal dress or skirt outfit. For a night out at a club, faux leather leggings with a sequin top will be a top-tier outfit in a level of its own. Lastly, wearing formal footwear with suitable accessories makes your outfit even more presentable.
What to wear with grey leggings?
Wear your basic white or black t-shirt with the grey leggings; this outfit combination will never disappoint you. A casual pair of white sneakers would be the perfect footwear to complement your grey leggings outfit. Lastly, layering a denim jacket over your grey leggings outfit would be a great addition to elevate your entire look.
How to wear denim dresses with leggings and sneakers?
Wearing your denim dresses with black leggings is a classic legging outfit. Style a thin leather waist belt and a printed wrap-around white neck scarf with this outfit for a more defined look. Lastly, wearing a pair of platform sneakers with this outfit would be the ultimate finish.
Can you wear leggings in summer?
Leggings are a versatile clothing article you can style year-round, regardless of the weather. For summers, wear your usual leggings with a tank top, crop top, t-shirt, or tube top to pull off a stylishly casual look. Lastly, wear casual footwear with minimal accessories to match the fun summer vibe.
Conclusion
Leggings are the most comfortable apparel that can be styled with most outfits to create a chic look. These pieces are the most popular in women's fashion among all the other options. You can style them in any season to create an effortlessly stylish look. So, why spend money on those expensive clothes when you can stock up on black leggings to style yourself through every season.