You might not realize it at first, but the fourth of July is the ultimate day for fashion. Think about it. It's a festive day, so you have the chance to get past the traditional "right method" of clothing and get a bit creative with July 4 outfits.
You can be a baddie through style or incorporate cute elements in the look. Plus, it's a national holiday. That gives you plenty of time to plan out your outfit beforehand and also wear it in its entirety on the big day.
The best part about July 4th fashion, however, is the weather. It's hot enough that summer has actually begun, and you can wear all of your gorgeous summer outfits. At the same time, it's cold enough to prevent profuse sweating under the sun.
What to Wear On 4th Of July?
This sounds like a simple question at first. After all, how many popular Independence Day outfits can be there? Well, it turns out, thousands.
Moreover, it's not just like thousands of variations of the same style or idea. Instead, this list of classy 4th of July outfits consists of everything from swimsuits for pool parties to cute holiday outfits.
The only way to understand this collection of fourth of July outfit ideas is to divide them into loose categories and go from there. Let's get started.
July 4th Outfits: Red White and Blue Outfit Ideas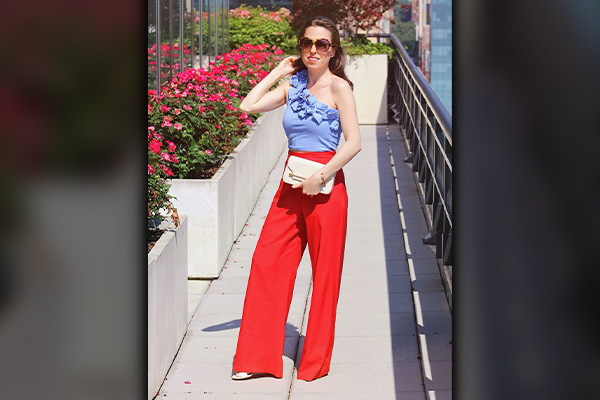 On the top of the list is the most obvious July 4th outfit idea ever, one that incorporates red, blue, and white color into a cohesive look. For some, this means outfits that contain just the right amount of these three colors to be accurate to the American flag. However, there are a lot of other ways to go about this look.
For starters, you can vary the amount of space given to each color according to your personal preference or even the latest fashion trends.
In other words, an outfit with a blue jeans skirt, a white button-up, and just a pair of red pumps are just as valid as a maxi skirt with an equal number of red, blue, and white stripes on it.
You can also go one step further and skip out on one or two of the three colors entirely. A fine example of this would be a plain red slip dress with a pair of white heels as the footwear.
On a similar note, a pair of blue jeans with a red t-shirt and blue denim jacket is one of the best looking casual July 4 outfits. Denim jackets, in general, are pretty much the default 4th of July jacket.
July 4th outfits: Dresses for Women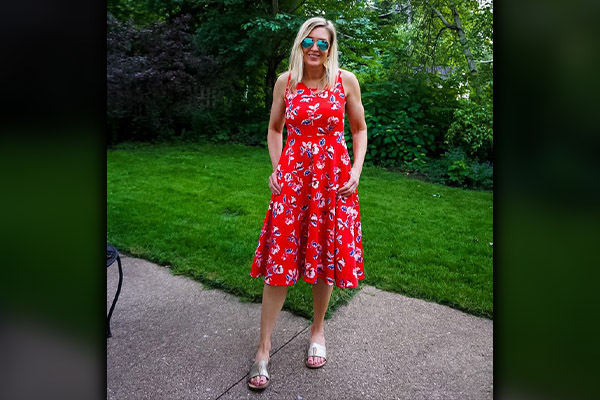 We already mentioned the red slip dress in the previous point, but dress and July 4 outfits go hand in hand at all stages. Almost all types of dresses are suitable for this festive holiday, giving you the perfect opportunity to look graceful and glamorous at the same time.
Women's fourth of July dress outfits are also the resource you need to make super patriot clothes look as stylish as they can. Case in point, a knee-high white A-line dress with red and blue alternative colors inside the folds.
If a dress on its own is too basic for a festive holiday like the fourth of July, then rocking a coat over the dress is not a bad idea either. This coat can be any of three flag colors, or it can just be neutral to tone down the vibrant vibe of the dress.
July 4th Outfits: Trendy Looks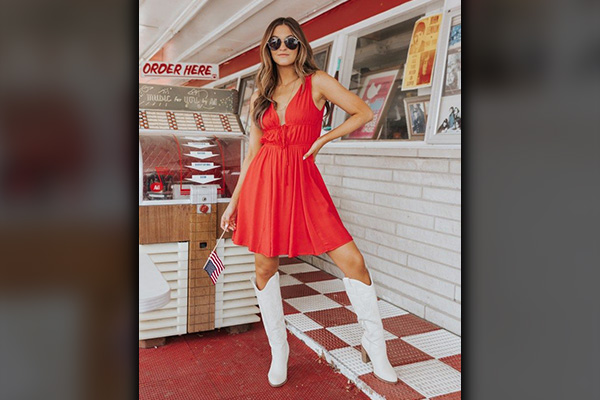 The trendy July 4 outfits are the complete opposite of the dresses. Instead of focusing on being classy and methodical, trendy outfits are punchy and attention-grabbing. That said, there is no clear way of defining each July 4 outfit as trendy or not. What we can do instead is define them based on their fourth of July aesthetic.
So, a quick way to tell whether an outfit is trendy or not is to see if it has any twist, unexpected element, or anything out of the ordinary. For example, traditional floral dresses are worn with matching heels or flats. So, a red and blue floral dress paired with white cowboy boots would be considered trendy.
July 4th Outfits: Last-Minute July 4 Outfits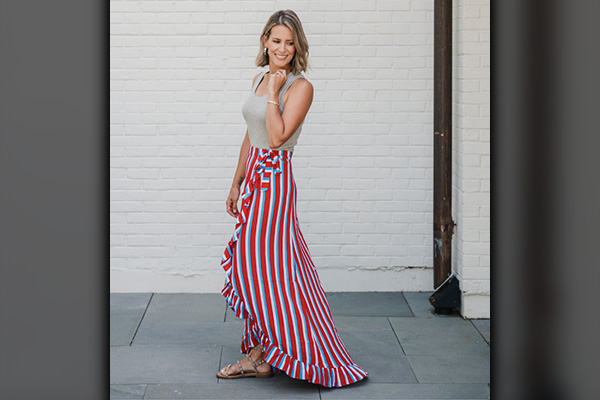 Say you had worked up until the 3rd of July and had no time to prepare an outfit ahead of time. Now you don't know what to wear to a 4th of July party. What are your options?
First of all, know that you are not alone in this scenario. Thousands of other adults face a similar issue every year. Secondly, you can make an outfit as simple a white shirt and jeans work on the fourth of July, just by wearing bright red lipstick.
Other accessories like handbags, hats, and jewelry can serve a similar purpose in these last-minute July 4 outfits.
The key to crafting last-minute yet aesthetic fourth of July outfits is to stay simple and try to add a single fourth of July aesthetic element to your ensemble, e.g. the lipstick. Even something as basic as an all-red outfit can be turned into marvelous Independence Day clothing by rocking it with a white and blue handbag.
July 4th Outfits: Baddie Outfits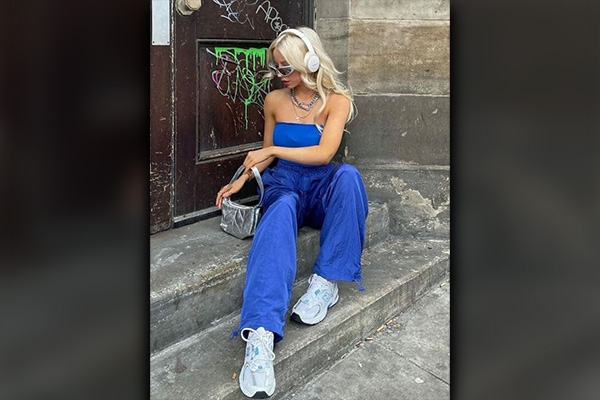 Baddie 4th of July outfits are the middle ground between not incorporating this holiday into your fashion and setting your personal preferences aside to rock a memorable fourth of July outfit. Now, there are a lot of ways to go about this look.
But the most popular one is to wear women's 4th of July shorts (which can be just regular blue denim shorts) with a t-shirt printed with American flags. If you're not that big of a fan of shorts, try jean skirts. They have similar baddie energy and July 4 association.
FAQs – July 4 Outfits
Can You Wear White After the 4th Of July?
Yes, you can wear white outfits after July 4th. There are no fashion rules against wearing white after the 4th of July or style guides that prohibit you from doing so. The only reason why you would want to avoid white for a while after July 4th is if white was your primary color on that day. This can mean anything from white skirts and shirts to full white dresses.
Can You Wear Shorts On the 4th Of July?
Yes, you can wear shorts on the 4th of July. In fact, jean shorts are the premier legwear for last-minute July 4 outfits, as well as other styles like being a baddie. Shorts are also the perfect choice for pool and beachside parties on that holiday.
What Are Red Outfit Ideas for a Party?
For many, red is the perfect color for parties. It doesn't even matter what type of party it is. Unless it has a specific dress code that forbids this color, red will make you look excellent everywhere. That said, red alone cannot make your overall outfit look amazing; you have to wear the right type of outfit as well. For example, a casual friend's party will work just fine with blue jeans and a red t-shirt. A semi-formal party, on the other hand, requires you to wear a well-fitting red dress alongside matching shoes and accessories.
How should I dress for the 4th of July?
The ideal way to craft stylish 4th of july outfits is to mix in what you want to do with the spirit of the occasion. Try a unique silhouette with subtle inclusion of American flag colors to create 4th of July baddie outfits.
What do you wear to independence day BBQ parties?
The most aesthetic 4th of July outfits for BBQ parties are the ones that incorporate the independence and patriotic theme in a comfortable package. This includes both comfortable to wear and comfortable to look at. In other words, stuff like blue shorts with white and red striped button-ups are okay, but a t-shirt with an American flag printed on both sides is a bit much. 
What color is for July 4th?
The classic colors of the fourth of July aesthetic are red, white, and blue. Your outfit doesn't have to include all three though. In fact, most modern trendy 4th of July outfits don't.
Final Words
July the 4th has a different meaning for different people. For some, this day is all about loving their country, while others see it more as a holiday to get rest and watch TV.
For a lot of women, however, July 4 is the ideal opportunity to dress up and express their sense of fashion in new and exciting ways.
The best part about this new fashion is that most of the July 4 outfits can be worn on a regular basis with some minor adjustments here and there.