A scarf is a clothing accessory adorned by women and men equally to enhance their overall look instantly. The trendy scarf fashion roots back in the nineteenth century. Before setting foot in the fashion world, the people of Ancient Rome used them like sweat towels to keep them cool and dry. Moreover, In the modern world, besides being a fashion trend wearing a scarf is considered a sign of prestige in most far eastern cultures.
There is a heap of trendy scarf options available in the market to wear with our favorite outfit. But each of them comes with some style limitations. Therefore, we will discuss all the details about how to wear a scarf with a shirt in this article. So, you can slay in style all year round.
How To Tie A Scarf?
Scarves are one of the most highly acclaimed clothing accessories in women's fashion. However, styling a scarf is not all fun and games. If you do not pay attention to tieing the scarf properly, you might end up in a fashion disaster.No matter how cool your outfit is; an inappropriately tied scarf will ruin it all. Therefore to save you from an awful situation, here are a few ways you can secure your scarf fashionably.
The Basic Way
The easiest and chic way to tie a scarf is the basic wrap-around way. Take a long-length scarf and drape it over your neck twice to create the basic loop scarf tie.
The Cravat Style
This scarf style works perfectly for square scarves. Take a square silk scarf and fold it in a triangle shape. Now tie both the end on the back of your neck and leave the corner hanging in front. Your cravat style scarf is all done.
The Infinity Loop
The infinity scarves are the most popular way of styling among young girls. For creating an infinity loop, spread your scarf over a flat surface and line up the ends parallel. Now tie the ends of the scarf to create a loop. Wear this loop over your neck, with the knot, on the back. Afterward, wrap the loop around for a finished look.
The Classic Neck Knot
Take a square silk scarf and fold it in a triangle for this classic style. Now fold the triangle to create a long tie-like structure. Wrap it around your neck firmly and tie a neat knot in front. You can also double knot it for a tidier look.
The French Way
To create a voguish french scarf look, take a square silk scarf and fold it diagonally to form a triangle. Now place it over your head and tie the ends in a knot under your chin.
How To Wear A Scarf Professionally?
If you are tired of wearing the same boring outfit to your work and want to experiment with your professional style. Then beautiful silk scarf is an answer to all your prayers. Styling a scarf for work might seem like a high-risk fashion drift, but it is the most decent way to add a hinge to sophistication to your workwear outfit. Here are some different ways to wear a scarf at work professionally.
Bow Tie Scarf With A White Office Shirt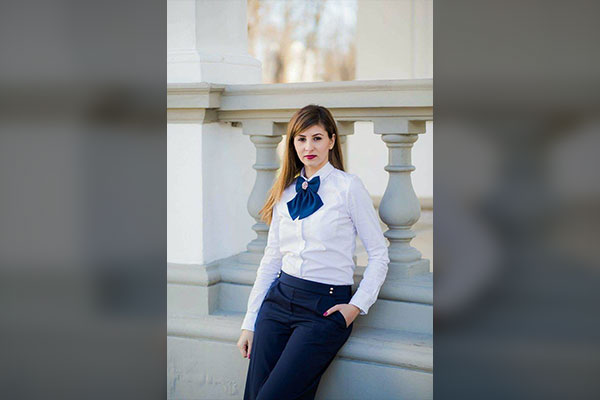 Wear a white button-down dress shirt with your usual pair of jeans and pointed-toe heels for a professional look. Now tie a bow scarf with a collared shirt by wrapping the scarf around your neck and then tieing the hanging edges in a front bow. This is the most effortless and fabulous scarf outfit to pull off at work.
Knot scarf With A Turtleneck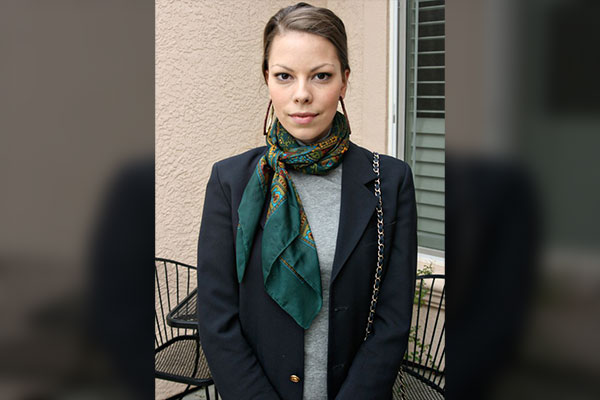 This is one scarf style that has been in trend for many years. In order to create a workwear look, style your basic turtle neck sweatshirt with corduroy pants and office heels. Now grab a long scarf and wrap it over your turtle neck collar. Now tie a loose knot in front and slide it slightly to the right. Now, you are ready to slay your next work meeting.
Triangle Scarf With A Blazer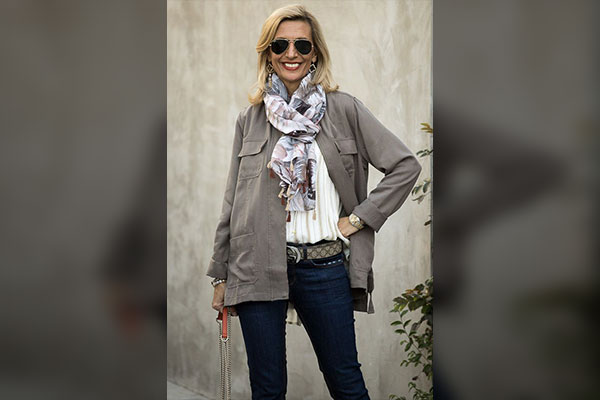 A blazer is an essential clothing accessory in workwear fashion. You can create a minimalist professional look with a blazer outfit. Wear a t-shirt and skinny leather pants with a contrasting blazer and footwear for this look. Now tie the scarf around your neck and let the extra fabric hang over your blazer front. Make sure the hanging edges are not so long.
How To Wear Scarf With Jeans?
Casual fashion is all about wearing jeans and tops every other day, and sometimes it is tiresome to be trapped in this monotonous fashion loop. So why not add some innovation to your boring jeans outfit with a trendy scarf. So, here are some jeans outfits with scarves you can adorn every day and any day for a smart-casual vibe.
The Trucker Jacket Outfit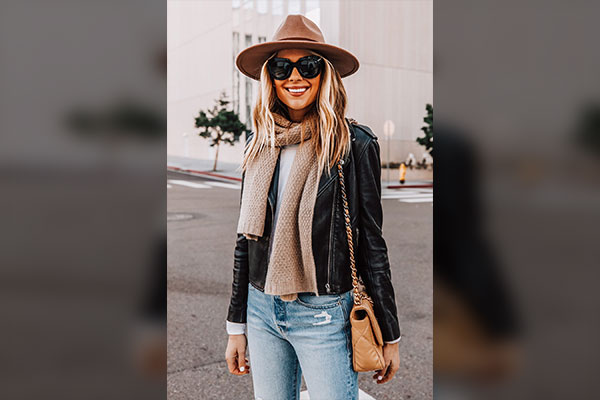 Create denim on denim outfit by wearing a trucker jacket with your casual pair of skinny jeans and t-shirt. Now take a square silk scarf to drape it over your neck and tie a bow knot by joining the two ends of the scarf. Your trendy trucker jacket scarf look is complete. Also, try experimenting with other scarf styles to come up with one that goes well with your personality.
Tank Top And Jeans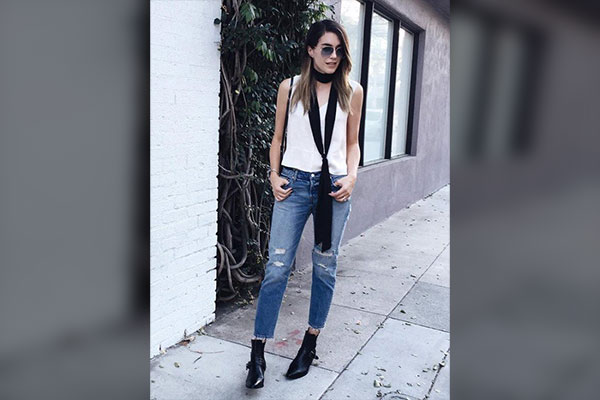 Looking for some trendy outfit with a scarf to wear in summer. Try wearing your casual tank top with a pair of skinny jeans and a scarf. You can leave your scarf hanging from around your neck or tie it in a loose knot from the front. Both ways will look equally graceful. A nice pair of sneakers will be a finishing stroke for this entire summer look.
Leather Jacket Scarf Look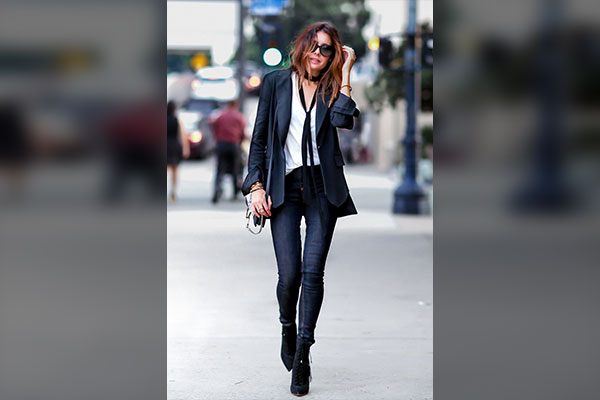 Looking for some really cool fall outfit inspiration. How about wearing your leather jacket with denim pants and a chic scarf? For styling, a scarf with your leather jacket outfit, wear it in the form of a loop with the two ends hanging around in the front. In addition, a pair of suede ankle boots would add up more to the beauty of this outfit.
How To Wear A Scarf With A Dress?
Wearing a scarf with a dress is a style statement of its own. So if you want to add instant glamour to your existing dress outfit, here are a few scarf outfit ideas.
Scarf With A Mini Dress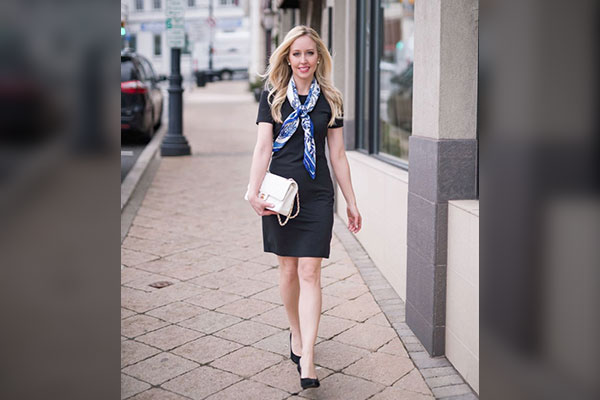 In order to style a scarf with a mini dress, drape the scarf around your neck with the two ends hanging in front. You can leave the scarf as it is or add dimension to your look by wearing a thin waist belt. You can also style your mini dress scarf outfit with a long coat for a vogue look for writers. Lastly, wearing nice leather boots will complete your entire mini-dress look.
Scarf With A Maxi Dress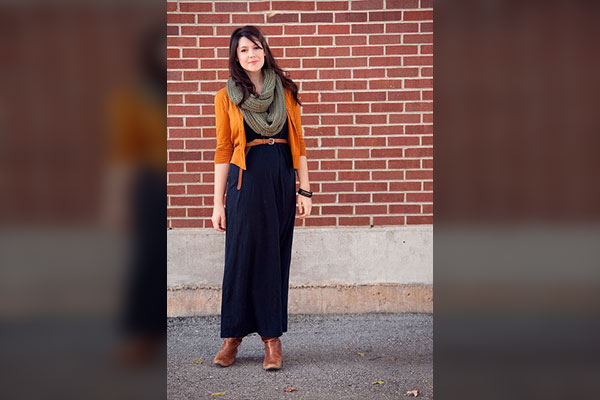 The best way to style your maxi dress with a scarf is the Infinity Loop style. In addition, you can also wear it with a loose knot scarf. Wearing a blazer or cardigan may add more to the beauty of this maxi dress outfit. Moreover, do not forget to accessorize your dress with delicate jewelry pieces and accessories.
FAQs
Can you wear a scarf with a shirt?
Yes, wearing a scarf with a shirt is an effortlessly chic way to add definition to your outfit. If you want to carry a printed pattern scarf, a nice solid button-down shirt would be a good choice. Alternatively, a simple plain scarf will work for a graphical shirt.
How do you tie a neck scarf with a shirt?
There are different ways to wear a scarf with a t-shirt but tieing a neck scarf is one of the easy and trendy ways to uplift your outfit. To tie a neck scarf with your shirt, fold it in a triangle and drape it around your neck by knotting both the ends at the back and leaving the third corner hanging in front. Your neckerchief-style scarf is all done.
Is wearing a scarf professionally ok?
Wearing a scarf professionally is the most effortless way to add instant sophistication to your workwear. It is one clothing accessory you can carry year-round regardless of the weather and occasion, with your fashion quotient in check. So, go and slay your next business meeting in style!
How do you wear a big scarf?
Wearing a big scarf can be more tricky than a usual scarf. However, you can always pull off a decent scarf outfit by folding the scarf in half and then styling your scarf the way you want. Moreover, there are a few scarf styles that are only tied with an oversized scarf like an infinity loop or wrap over scarf style.
What are some stylish scarf fabrics? 
There are various fabric options available for you to create a stylish scarf look. Some of them are highly breathable cotton fabric, a suitable choice to wear in summers. While other fabrics are chiffon, silk, or cashmere, usually worn formally for their delicacy, softness, and shine.
Conclusion
A scarf is a clothing essential that is equally popular among both men and women. So, whether it is a sophisticated workwear outfit or a casual jeans look, you can slay all your attires in style by adding this chic fashion accessory. So, be the fashionista by stocking up your wardrobe with these cute and trendy scarves!