Over the last two years, a new trend has been hitting the mainstream. Yes, you have guessed it right; the hottest fashion trend is the overall attire. Fashion trends come and go all the time, but overall outfits have become trustworthy wardrobe pieces instead of another fad that vanishes.
This trend is a dream come true for those who want to achieve a proper look with less effort. Because hundreds of the high-end brands are offering these outfits, no one is going to question overalls outfit as your wardrobe staple.
The fun element about these styles is that they are fit for the summer cool-hipster to the non-typical workwear styles. Thankfully, it's neither too early nor too late to plan out your wardrobe for this year, so buckle down to get a jump-start on the outfits you will rock in 2023.
With so many people searching how to style overalls men, we have some unaudacious outfit inspirations for you.
The Back in Time Outfit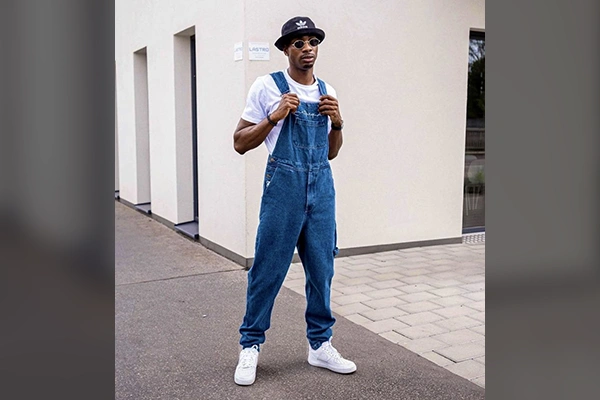 If you are invited to a '90s party or if you are obsessed with the fashion trends of that period, you will love this outfit idea. Those days there were a number of styles of denim that worked for everyone. The denim dungarees are one of those outfits.
Nowadays, the men's overalls fashion permits you to wear a dungaree that hangs dashingly off one shoulder, so don't miss the chance. Men can wear denim overalls with white button-down shirts to balance out that business casual vibe these shirts have. If you are going for a weekend type of look, wear white sneakers.
The Keep it Casual Outfit
In an overalls outfit, there is a myriad of hip, simple, and options out there to go with your style and any destination. However, we know that there is a category of men who don't hate to put their energy into deciding their outfits. That's why our next outfit is super casual.
You can pair green overalls for men with a basic tee. Wear the comfiest black footwear you have. This outfit is ideal to beat the heat on the hot summer days when you're heading to a festival, picnic, or roam around the city.
Cute Shortalls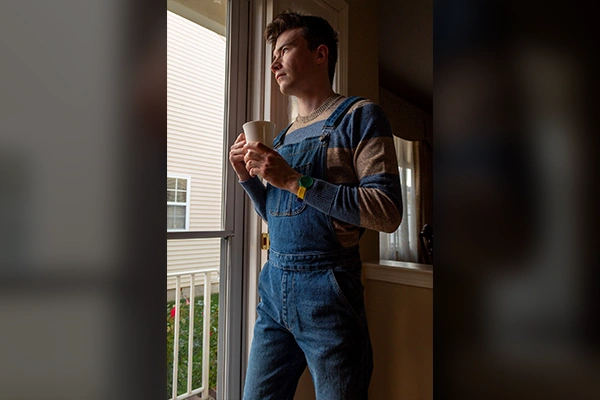 Men's overall shorts are the cutest and quirkiest soft boy aesthetic outfits you can purchase right now. This style is mainly reserved for dressers who want a feminine touch in their outfit choice
If you are thinking about what to wear under overalls to stay true to the soft boy aesthetic, wear a loose colorful t-shirt. You can wear them with pretty much anything, so you don't need to repeat the same shirt every time. The street style lovers can pair it up with converse high-top sneakers, sunglasses, and a thin chain.
Embody the Indie Look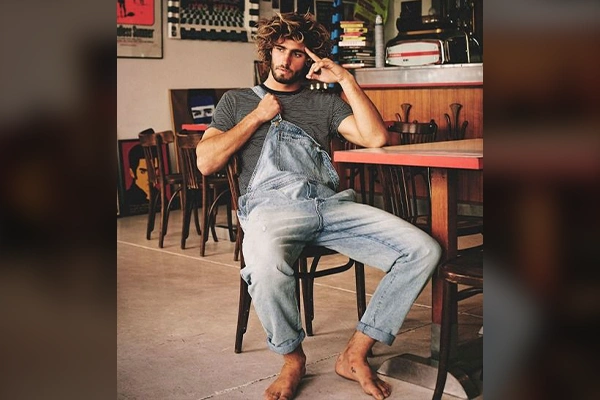 Undoubtedly, the indie outfits are making a full-scale comeback. The overalls are versatile pieces that look amazing with any outfit. Specifically, for the indie outfit, you can wear a long-sleeved turtleneck with a cool pattern under men's black overalls. Add a pair of chunky black sneakers to finish the look.
A Concoction of Layers and Buckles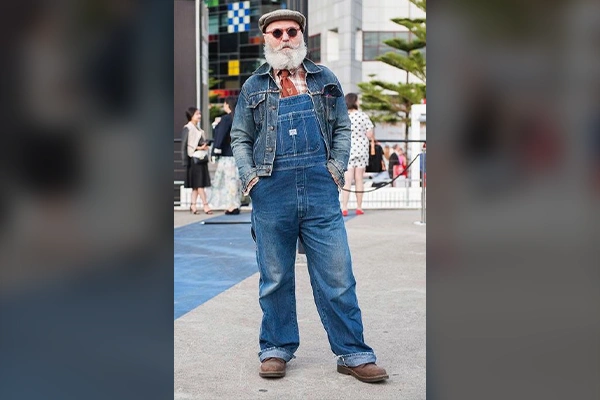 To some the idea of wearing overalls is impractical. However, this is not as strange as they think it is. Don't be afraid of attracting bullies and pranksters because what we have for you is absolutely stunning. You can wear jeans overalls for men with any jacket you like on top.
To give off that painter vibe, you can wear a denim jacket as well. Make sure that the overall has buckles and zippers on it. Wear the classic converse All-Stars for a refined final touch.
The layered men's designer overalls have hit the runway, it's a solid sign that they will be the microtrend of this year.
Zingy Black Outfit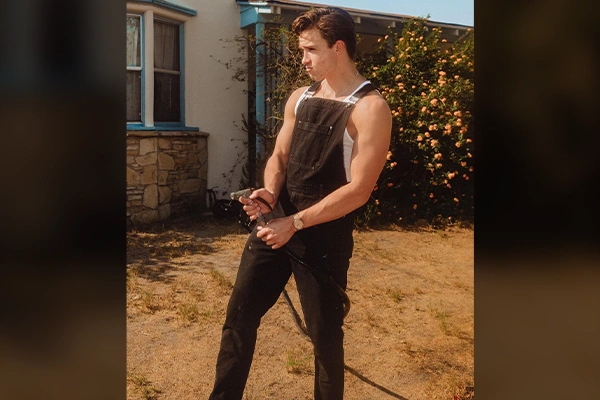 You can give a unique spin to a black overalls outfit as there are no rules in fashion. No item is more crucial to a men's closet than the black outfits. You can give this style a little extra verve with a black sweatshirt and overalls. You can accessorize it with a fanny pack, baseball cap, and canvas top sneakers. This is the perfect 90s dad outfit that is still relevant today.
Neat All White Outfit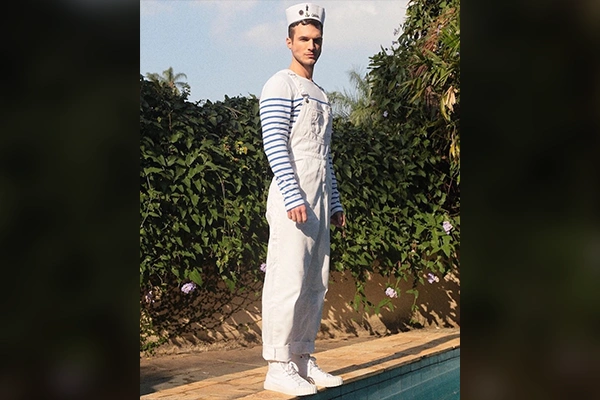 White is the symbol of sophistication, class, and elegance. White overalls outfit looks best when paired with a beige trench coat, and a white shirt. Modern men love contemporary fashion, this is a Californian style that looks super stylish when you finish it off with casual leather boots.
Cozy Sweater Outfits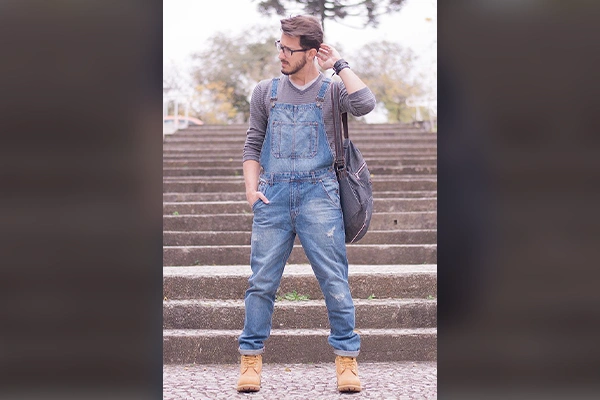 The street overalls with sweater outfits should be as mind-blowing as the cover we see in the famous magazines. With that, it should be comfortable to wear in everyday life.
If you want to go for a chic look, you can try tighter overall with a warm sweater. Also, you can throw a leather jacket over it. For the footwear, a pair of laced-up boots look fabulous. As this is the basic everyday kind of look, adding a beanie would be a shortcut to look magazine ready. Whether you want to keep the straps and bib up or down, you can go for anything.
Authentic Streetwear Outfit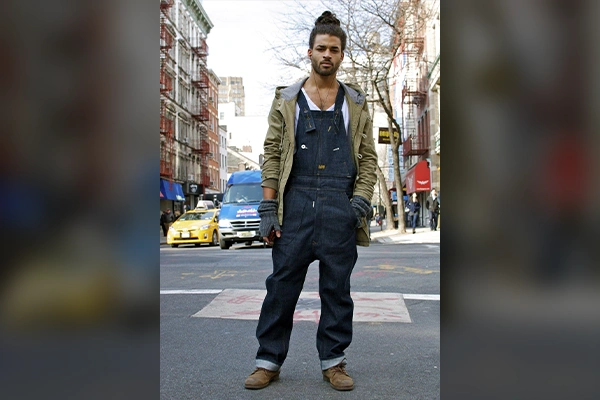 In general, a simple shirt, denim overalls, and a pair of sporty sneakers are said to be classic streetwear overalls. These types of outfits are suitable for loungewear as well.
That being said, there is no hard and fast rule when it comes to shirts to wear with overalls. You can try on every style you have and recreate a new fresh look. A printed sweatshirt in a neutral color and denim overalls are the tested looks for the unaltered street style outfit.
To add a pop of color to the outfit with one item, you can go for orange canvas low-top sneakers. If you don't have orange you can try other vibrant colors that match the print of your shirt.
Minimalist Aesthetic Outfit
Less is more, especially when it is so easy to pull off like solid color aesthetic outfits overalls. You don't have to wear stripes or plaids on every occasion. For the days you want an effortless look, you can don a pair of overalls in an unexpected color or pattern.
In this outfit, you can wear plain khaki overalls and taupe Chelsea boots. What we love the most about this men's overall style is that it is good for all seasons.
F.A.Qs
How to wear overall shorts?
There are many ways to don overall shorts. You can wear it with a striped tee or a printed long-sleeved shirt. These are the ultimate options that spark some wardrobe inspiration to get you going. 
What do you wear with overalls?
Although we have shared some pretty good outfits, we have another safe and unique look for you. Wear a jacket over overalls and denim overalls for a simple getup. Play down the dressiness by getting into high-top sneakers in dark blue or white. 
Are overalls still in style in 2023?
They are popular items to wear every season. In our opinion, these are versatile pieces that can be dressed up or dressed down. These outfits can keep you relaxed and calm while still making it possible for people to carry an outfit that looks admirable.
Why do farmers wear overalls?
Overalls are extremely functional as they can be worn over other work clothes. Farmers wear them to offer protection to their bodies and regular work attire. This helps ward off oil stains and other things that could get spilled on work clothes.
How to get a layered look with overalls?
To get a layered look with fall overalls, you can slip in a plaid or flannel coat over your go-to pair of charcoal overalls. Besides that, you can wear plaid shirts with a pair of snug overalls and a jacket. 
In Conclusion
This is an outdoorsy kind of trend you need to wear to the rock 90s and the soft boy vibe. It is the time when overalls have become an inevitable representation of modern men's preferences. Therefore, in this how-to style overalls guide, we have covered newfound popular outfits, so you won't be clueless next time you step out.
Also, it is so easy to get your hand on them. They are everywhere from thrift stores to general retail stores in multiple color and fabric choices.