A white shirt for women is just like a blank canvas. You can create a number of voguish outfits with a casual white shirt and jeans for females. Also, you can use the power of layering and accessories to elevate its look.
Wearing a white shirt with jeans is the most traditional and no-fail way to rock classic style. Here we are with several casual white shirts and jeans outfit suggestions for females who want to look stunning in this classic combo.
Those who are unaware of voguish trends may term the white shirt as a piece only fit for formal wear. As you develop your sartorial sensibility, you realize how versatile the white shirt can be. You can literally wear it all year round, casually and formally, during the day or night. There can be several infallible ways to style a white shirt and jeans outfit for female fashionistas.
Trends come and go, but the white shirt is an evergreen staple, staying on constant rotation in your wardrobe season after season. You can incorporate this classic with fashion trends in 2023, such as pairing the white shirt with an artsy print skirt or periwinkle flare pants.
The street style casual white shirt and jeans for females is a combo that is making waves with celebrities and fashion influencers styling it in unique and eye-pleasing ways. Let's lay down the white shirt suggestions that will compel onlookers to stop for a moment and admire your style.
What To Expect In This Article?
Types of White Shirts for Women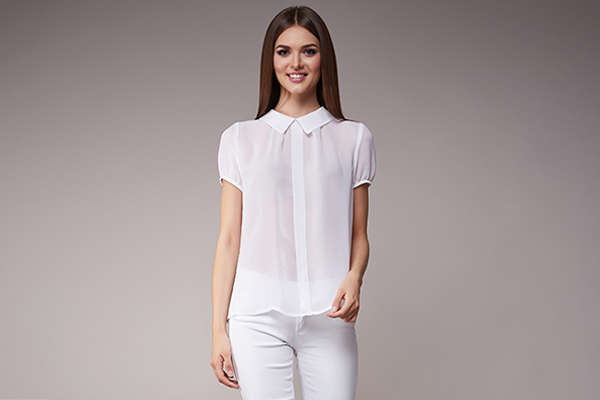 Women can enjoy styling a variety of white shirts. Besides the classic white Oxford shirt for women, you can opt for plain poplin shirts, casual collared white shirts, silk shirts, white tunics, or different types of white tops.
You can also go for white camisoles for a glamorous look, half-sleeved shirts, and sleeveless white shirts in summer. White crew-neck t-shirts, full-sleeved Henleys, or polos are equally versatile. The shades can range from pristine white to off-white shades with a yellowish tinge.
Also, there are not only-fitted or only-baggy style rules this year, so we suggest you implement the same in your wardrobe. Keep shirts in fitted, slightly loose, and oversized types to increase the number of outfits.
You can wear your white shirts with beautiful floral skirts, shorts, faux leather pants, or slacks. However, in this blog post, our suggestions lean towards the highly sought-after pairing of a white shirt with jeans. Thanks to the abundant variety of jeans and white shirts, women's jeans shirt outfit ideas can be quite diverse. Ranging from the nonchalant, tomboyish look, to the ultra feminine, sleek look, the styling range for white shirts and jeans for females varies a lot.
Jeans to Wear with Women's White Shirts
We suggest women maintain diversity in their jeans collection to avoid repetitive outfits. When you have denim in different styles and colors available, pairing each of them with white shirts would be fun. Certainly, all these pairs of jeans will give you ample opportunities to create interesting looks.
For relaxed looks, you can opt for low-rise boyfriend jeans, or ripped, oversized jeans in lighter shades of blue and grey. To upgrade the casual look, it's good to pick your mom's jeans, flared jeans, or straight-leg jeans. You can choose them in medium wash or dark hues.
When it's time to shine and create a dressy, glamorous look, go for dark-washed slim-fit jeans or high-rise bootleg jeans. Don't limit your jeans to classic denim shades like blue, white, grey, or black. It's good to have a few in fascinating colors like red, yellow, or pink. In particular, white shirts go well with green pants, so consider this color as well.
Jackets to Wear Over White Shirt and Jeans Looks
A great jacket would instantly upgrade the white shirt and jeans look, so make sure you choose one wisely. There are many jackets that go well with a white shirt over a denim look. For instance leather biker jackets, denim jackets, hooded jackets, or quilted gilets. Apart from the splendid fall jackets, you can also opt for stylish long coats or blazers. During winters, layer your white shirt and jeans outfit with cardigans, different types of coats, or bolero jackets.
Tips on Wearing White Shirts
Here are a few points to remember when you opt for different types of white shirts with jeans.
No matter how laid back the look, your white shirt should never have those unsightly pit stains. It's a sign of a worn-out shirt that would fail to look impressive.
Check for other stains on the shirt. Sometimes, a small, seemingly unnoticeable smudge can ruin your look.
White shirts can be see-through. Even if you are building a chic summer outfit, it's better to be cautious with sheer white shirts.
White is synonymous with neatness, so make sure your shirt is ironed correctly.
Avoid looking mediocre in a white top by opting for outerwear in bold colors and trendy prints.
Learn to accessorize smartly. With a white shirt, your choice of scarves, footwear, bag, jewelry, and sunglasses is significant to create a fabulous look.
Outfit Ideas for White Shirts and Jeans for Women
Learning how to wear white shirt with jeans will be a splendid style move to elevate your sartorial sense. Presumably, everyone wears the combo, as it is incredibly easy to nail, but you can do it with an unmatched flair if you pick up the inspiration from the looks we suggest. It's up to you whether you don't want to look ordinary, but still, be able to blend in the crowd with your white shirt and jeans outfit. Or create a distinct look with a newly emerged fashion trend ( a mesh top over your white shirt, maybe?)
When you decide to wear a white shirt with jeans, you can be just a cute girl next door, or make quite a strong style statement. The Jacket Maker has got you covered with outfit suggestions to ensure distinct, captivating looks with a white shirt and jeans for females.
Street Style Casual White Shirt and Jeans Outfits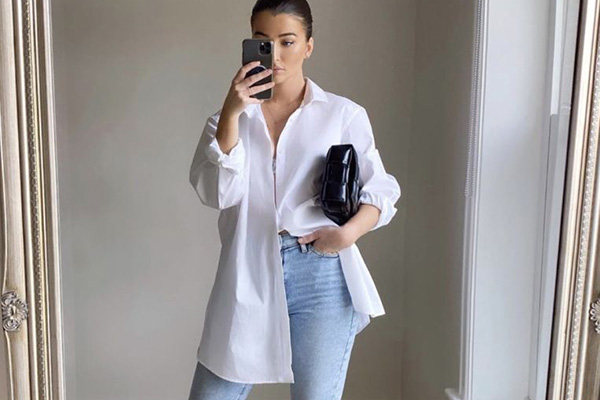 Ace the contemporary street style look with the following outfit ideas featuring white shirts with jeans.
For a look that transmits comfortable vibes, wear a white poplin shirt with baggy denim cargo pants. The completely tucked in shirt with jeans style for females is classic. But for this outfit, you can keep half of the hem tucked for a nonchalant appearance. To give this relaxed look a nod to street style, wear black stilettos. The use of shades and dainty jewelry would be an added plus.
Grab a pair of black high-waisted slim-fit jeans, and pair them with an off-white half-sleeved shirt. Give a voguish touch to this outfit with a long cardigan in vivid colors, such as periwinkle or fuchsia. In the end, all you need is a pair of complementing mules and a statement necklace to complete this look.
A knitted cropped top in a neutral shade like grey or beige over a white cotton shirt gives an absolutely gorgeous look. Wear it with mom jeans and black pumps. To give this ensemble an added flair, opt for a black crossbody bag.
Classic White Button Down Shirt Outfits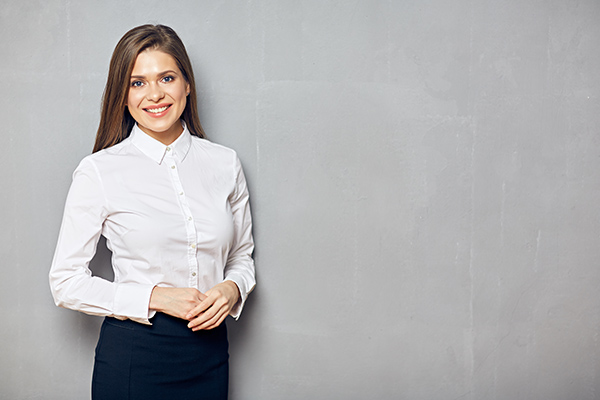 It's hard to go wrong with a classic white button-down and a pair of trendy jeans. If you are afraid that the combo is difficult to pull off, try the following ways.
Go for a front-tied shirt and wear it with dark wash bootcut jeans. You can also layer this jeans and white shirt outfit with a denim jacket to create fashionable denim on denim look. Round off with white low-top sneakers and a messy bun hairdo.
Tuck a white shirt inside grey straight-leg jeans for a no-nonsense look. you can tie a printed silk scarf around your neck to amp up the look. Complete the outfit with black high-heeled pumps and a black tote bag. This is your perfect travel outfit to impress the onlookers.
Another way to nail the crisp white shirt for women is to wear it with blue slim-fit jeans and a navy blue overcoat. The outfit's elegance is unmatched, specifically if you finish the look with navy blue or white printed mules.
Different Styles of White Tops with Jeans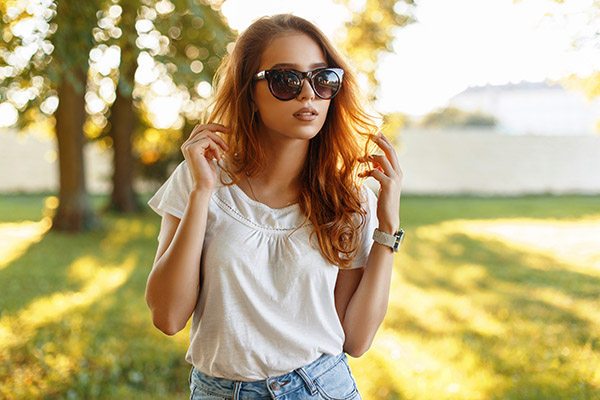 Casual white collared shirts are not the only option when it comes to creating a jeans and white shirt outfit. You can try wearing a gorgeous white top and jeans outfit for a totally different look. There can be several types of white tops in a female wardrobe, as mentioned in the earlier sections of the blog. Wear jeans with a variety of white tops in the following ways.
Pick a white jersey cowl neck top and pair it with dark-washed slim-fit jeans. A green oversized blazer would perfectly complement this outfit. Accessorize the look with a black fedora hat and black t-strap heels.
A white peplum top paired with ankle-length red jeans is an absolutely ravishing outfit. Wear a grey cable knit pullover sweater over it to dial up the glamour factor. Finish it with grey heels and aviator-style sunglasses.
Team up a white camisole with blue low-rise boyfriend jeans. You can wear a red blazer over it to give it a contemporary spin. Red kitten heels would nicely accompany this outfit.
A white t-shirt paired with ripped black jeans and a red and black flannel is your ultimate grunge-inspired look. Complete it with black chunky-soled boots.
Fitted White Shirt with Jeans Outfits for Women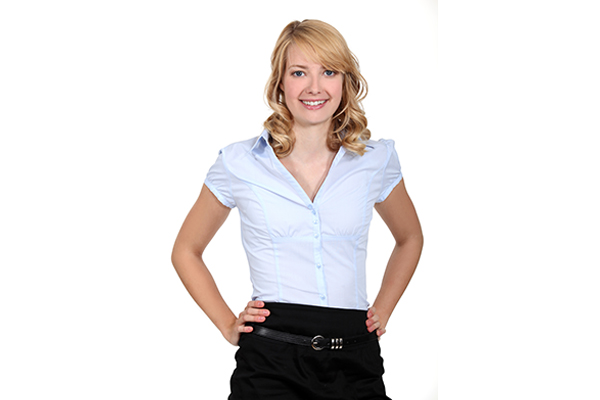 Do you love to wear fitted white shirts? Here are a few ways to rock a fitted white shirt and jeans outfit.
Keep things simple yet stunning with a fitted white shirt tucked inside blue slim-fit jeans. Sleek backcombed hair, golden hooped earrings, and brown suede heeled boots are enough to elevate the look.
The casual white shirt combination with bralettes, corset tops, and mesh tops is a raging trend. Not only that the unique fusion is quite popular these days, but it is also worth trying if you like to experiment with different looks with your shirt. Layer a black corset top over a white shirt and wear mom jeans with it. You can wear black moccasins with this outfit.
Do you want to know How to wear white shirt with jeans for a glamorous brunch outfit? Wear a fitted lace shirt with grey low-rise flared jeans and layer it with a brown racer jacket. Complete this chic white shirt and jeans outfit with a leopard print scarf, brown strappy heels, and a large brown leather bag.
Women's Oversized White Shirt with Jeans Outfits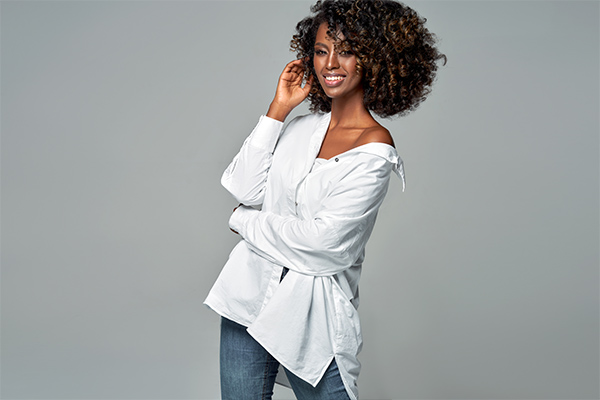 A white oversized button-down shirt should be in every fashionista's wardrobe. You can style it in so many different ways, like these:
Wear it in an off shoulder style and tuck it in high waisted ripped jeans. This glamorous look can be boosted by incorporating a pair of leopard print heels and a silver clavicle necklace.
Wear an oversized white shirt and tie a brown leather belt to cinch the waist. Wear it with cropped blue jeans and brown pumps. The belt is a statement piece in this modern outfit.
An oversized cotton shirt with bishop sleeves makes an excellent pairing with slim fit burgundy jeans. Wear brown knee high boots with this outfit.
White Collared T-shirt Outfits with Jeans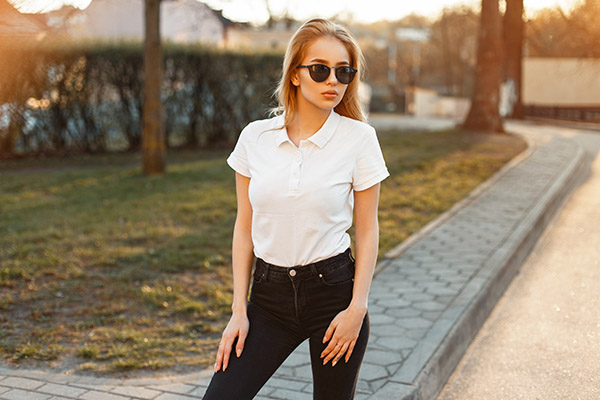 Another must have in your wardrobe is the white collared t-shirt which is the epitome of versatility. Several girl next door outfit ideas can be put together with these cute collared tees. Here are the ensembles to get you inspired.
A full sleeved white collared t-shirt pairs well with blue acid wash boyfriend jeans. Wear the ensemble with a plaid overcoat for a graceful touch.
Create a smart casual look that is trending high these days. Wear a collared t-shirt along with black slim fit jeans. A black blazer gives a dressy touch to the outfit, while black pumps and a black tote bag completes it.
A short sleeved white polo makes an eye pleasing combo with light blue cropped jeans. Give a pop of color to the ensemble with red suede heels and a red clutch.
FAQs – Casual White Shirt and Jeans Female
Can you wear jeans with a white shirt?
Yes, you can definitely wear jeans with a white shirt. Not to mention countless ways to do so.
Can you wear white shirts casually?
Yes, you can wear white shirts casually. Furthermore, there are many different casual looks that can be achieved with white shirts.
What tops go well with jeans?
Anything from bold crop tops, cut out tops, peplum tops and tiered tops go well with jeans. A great alternative to the classic white button up shirt.
What is the jeans trend for fall 2023?
Update your jeans collection and get your hands on Y2K style low rise, baggy jeans that will be a massive trend in fall 2023. Apart from these, jeans with zipped slits, wide-legged jeans, and acid wash jeans are also making a comeback. 
Wrapping Up
The combo of a white shirt with jeans is a classic one. But when you embrace it with an added touch of personal style, you can make a head turning statement. Try any of the above mentioned ensembles with the casual white shirt and jeans for females to rock the combo with flair. You can be inspired to put together your ootd with white shirt and jeans by incorporating the ongoing trends with your personal style to bring out your individuality.