Going to a concert involves more than just listening to live music. It is a complete experience that you want to enjoy to its fullest. There are a lot of things you can do to increase your overall enjoyment before the concert even begins, and dressing up is a part of that.
Having the right outfit for the concert will help you connect with the artist on the stage a lot more. Think for yourself. What will be a better upper for a heavy metal concert, a suit jacket over a button-up, or a spiked leather vest? The correct answer is obviously the leather vest.
This is not to say that the suit jacket over a button-up isn't a good outfit. It just doesn't fit the vibe and atmosphere of a heavy metal concert filled to the brim with metal screams and artistic headbanging. So, how can you wear the right concert outfit? Let's find out.
What To Expect In This Article?
Types of Concerts
The first step in finding the right outfit for a concert is understanding the type of concert you're going to. There are no two factors that go into determining that. First is the musical genre of the artist. This is critical since a few genres like rock, metal, and hip-hop have whole worlds of fashion inspired by them, while others like pop don't have any specific style attached to them.
The second factor to consider is the event itself. Is it going to be in an open space or under a roof? Would it be at night or during the day? What will be the length of this concert event? Answering these and similar questions will help you further narrow down your choices and decide on an outfit. Skipping this step will often lead to an attire that works well in the context of the music but will leave you uncomfortable.
For example, let's say you wore a fancy suede jacket to a pop concert. But it turns out that the event will be indoors and will also be quite packed. Now your jacket is both uncomfortable due to the heat of the crowd, as well as at risk of getting damaged during the show.
A better upper for an indoor-packed event would've been something along the lines of a denim jacket. It will easily survive the crowd while also preventing you from overheating. Blue denim also fits nicely in a pop concert setting.
Dressing Accordingly
Now that you have an idea of the type of concert you're going to, it's time to dress up accordingly. The only thing you have to remember is that a concert is all about having a good time. So, you do not have to wear any clothes that will not make you comfortable, no matter how well they fit the theme of the concert.
That being said, here's a general guide to concert-appropriate dresses and how you can look dandy while also enjoying the concert to its fullest.
Casual Concert Look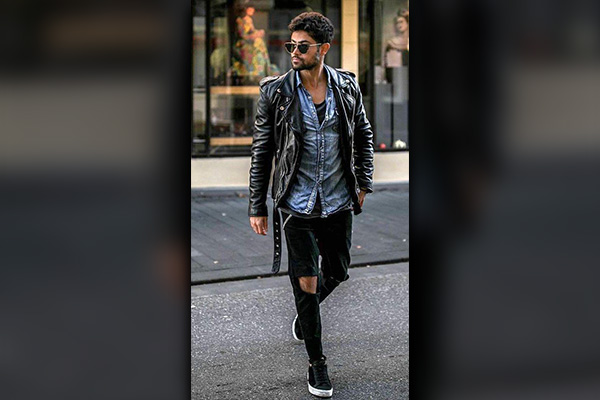 Starting things off is the comfortable casual look. A regular everyday casual outfit consists of things like plain colored t-shirts and jeans. Some variation of this basic look includes uppers akin to hoodies and leather jackets. Even though these outfits are perfectly fine for day-to-day use, they will most likely look bland and uninspired at a fun event like a concert. So, a casual concert outfit has to be a bit fancier.
A great example of a casual concert outfit would be a pair of ripped blue jeans with a flannel shirt on top of a plain black t-shirt. Keep the buttons of the flannel open, roll up the sleeves, and complete the outfit with a pair of white low-tops. This attire works flawlessly for both indoor and outdoor concerts. However, you'd need to top it off with a trend-forward men's bomber jacket or something similar.
Speaking of bomber jackets, uppers play a massive role in concert casual fashion. For example, if you're attending a hip-hop concert, a colorful shacket will make you look a lot more reminiscent of hip-hop music. Another reason to wear an upper to a concert would be due to the weather. A nighttime outdoors concert will get a bit chilly. So, topping your regular concert casual attire with a warm trucker jacket is the way to go.
Smart Casual Concert Look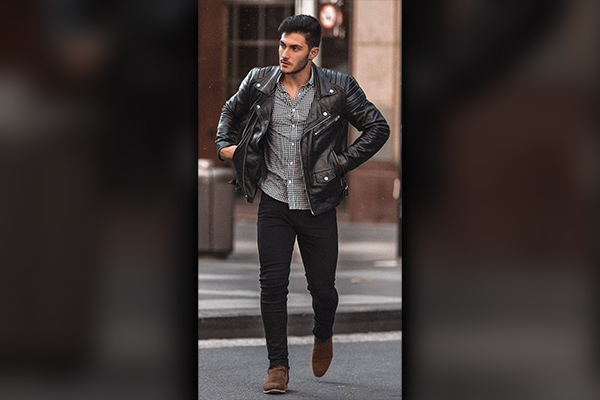 Just like casual is the ideal style for hip-hop and pop, smart casual is the way to go for a jazz concert. You need to use your knowledge about how to dress well while also keeping the comforting nature of casual attire.
Getting started with smart casual is pretty easy. All you need is a classic button-up and combine it with a pair of well-fitted jeans. Both black and blue work well. The thing that separates a casual flannel outfit from a smart casual one is the presentation. The smart-casual flannel attire would consist of a close-fitting flannel that is tucked into a pair of tight black jeans. A brown leather belt and a pair of brown leather boots complete this outfit and make you look like a casual gentleman.
You can then take things in a more preppy style direction and integrate blazers and similar uppers into the mix. Wearing a pair of plain blue jeans with a light blue t-shirt and a charcoal blazer on top will make you look sharp while also keeping you comfortable and cozy. If you're looking for an outfit that has a bit more panache without being over the top, then swap out the blazer with a shiny leather sports jacket.
Semi-Formal Concert Look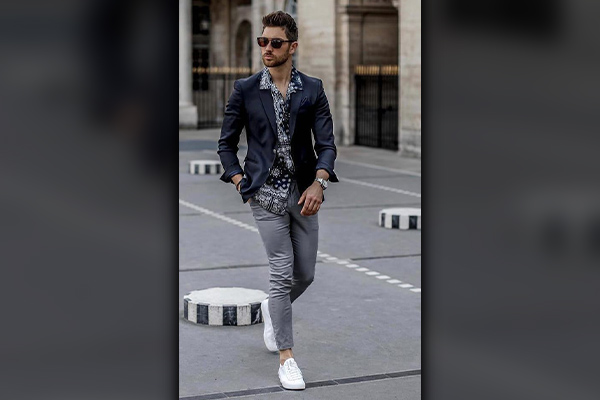 Wearing semi-formal to a concert is not very common. Most only wear semi-formal when they're going to a concert as a work hangout or business get-together. However, there might come a time when you'd have to as well, and it is best to be prepared beforehand. So, what are your options?
A safe and quick option is to go with a pair of khakis, a light-colored button-up, and a pair of brown leather loafers. You can top it off with a navy blue blazer to complete the look. If you're willing to get a bit creative with unique hue combinations, then swap out the khakis with a pair of colorful chinos. However, if you decide to go this route, make sure to wear a neutral-colored shirt to balance and dress up the outfit and keep it semi-formal.
Formal Concert Look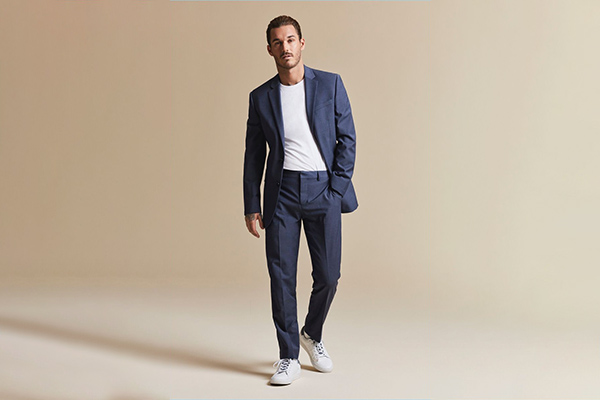 Formal concert clothing is also fairly uncommon. But, a large majority of operas, orchestra concerts, and symphony concerts have a formal dress code. Fortunately, some formal concert clothing is not that different from regular business formal clothing. A standard three-piece suit will look fantastic. You can experiment with colorful ties to give yourself an upbeat look. Also, accessories like classic wristwatches are your best friend. However, there are a few opera events that call for traditionally formal attire and will be stated on the invitation. In this case, a tux or tails would be the way to go.
Frequently Asked Questions
Hopefully, you now have a pretty good idea of what concert clothing is, and how you can dress up for different types of concerts. However, there is still a lot to learn about this world of fashion, especially when you dive deeper into a specific music genre.
Here are a few of the most frequently asked questions regarding this topic.
Can I wear shorts to a concert?
Yes, you definitely can. Jean shorts are perfect for casual concerts in summer, and khaki shorts will work well when you want to dress up a bit.
Will a sweatsuit look good at a concert?
It will not look bad. But it is not recommended at all. A sweatsuit looks too bland and boring. Even swapping out the sweatpants for a pair of jeans is a much better option.
What is the ideal outfit for a music festival?
Music festivals are hectic events. There is so much to do and so much energy all around. So, the best idea is to wear something lightweight like a linen shirt with chinos and sandals.
What is the right attire for Pop concerts?
There are no guidelines for pop concerts. Just wear elevated casual, and you would fit right in with the concert atmosphere.
Are spiked jackets still in fashion for metal concerts?
Spiked biker jackets are not as popular as they used to be. However, you can still rock that outfit at a metal concert, and you will not look out of place.
What jacket is best for winter outdoor concerts?
The best jacket for a winter outdoor concert is something that is compact but still provides plenty of warmth. So, shearling leather jackets and down jackets are perfect choices.
What is the least effort casual outfit for a concert?
The concert outfit that takes the least amount of effort is a sweatshirt over a pair of jeans and your favorite sneakers.
Final Words
Concerts are some of the most fun public gathering events out there. You get to see your favorite artist, listen to their music live, and feel the roars of a crowd that shares a similar love as you. So, it is only fair that you dress up nicely for the occasion. Luckily, you can put zero effort, wear a basic casual outfit, and you will not easily blend in with the crowd. Or, you can go the completely opposite route and take the extreme. Doing the makeup and wearing spiked clothing is a fantastic way to immerse yourself in a metal concert.
Whatever way you decide to choose, just make sure that the clothes are comfortable, and will not get in between you and the concert experience.