Being fashionable isn't conditional to a specific body type. For a big and tall guy, dressing up attractively according to the latest trends may be a challenging task. Yet, it is definitely doable as long as you know the dos and don'ts. We will lay down some outfit ideas for big guys who want to look stylish on every occasion.
Any man with a large body may have particular issues like a very tall height, barrel chest, big bottom, broad shoulders, an expanded waistline, or an overall dad body. Due to these issues, it becomes difficult to get the desired stylish clothes for big guys, let alone clothing essentials, that would suit their specific body type.
Spending hours in the clothing store to look for the right size of something that you want to wear is definitely frustrating. This struggle eventually becomes a hindrance when you wish to show an extraordinary style.
What To Expect In This Article?
How to Dress as a Bigger Guy?
Contemporary fashion standards finally expand far and beyond what were once deemed the "acceptable" sizes. Many brands come up with splendid collections of trendy clothes for big guys. And renowned stylists give fashion tips for big men so that men who shop from the XL end of the clothing rail can wear all sorts of outfits with high confidence.
Besides the casual wear for tall guys and street fashion, big and tall men can now rock fashion forward outfits as well, thanks to the usual stereotypes that are finally busted. Here are some fashion tips for big guys that you can follow to ensure the right styling.
Before anything else, dress for the occasion. Build an outfit keeping in mind where you're going, how the weather is, and what you are expecting everyone else to wear. This will ensure that you are not standing out in a bizarre way.
Build a wardrobe with neutral colored basics. Black, white, navy beige, brown, gray, and khaki are the best to conceal problem areas, making it easy to create a streamlined silhouette. Plus, these colors are highly versatile, which means that your thoughtfully bought or meticulously tailored garment could be used for multiple outfits.
You can also go for solid colors occasionally, like red, yellow, or blue.
Get your clothing tailored. If you have got your eyes on a staple off the rack, consider getting it altered so that it fits you right. This goes for shirts, bottoms, jackets, and suits.
Steer clear of bold prints and patterns. However, a fashion forward look can be achieved with narrow stripes, small checked patterns, and micro floral print shirts.
Most of the time, you should keep your shirt tucked in your jeans or trousers to draw away the attention from a bigger belly.
Select fabrics that are neither too thick nor very thin. Sturdy, lightweight fabrics like cotton, denim, twill, or worsted wool are appropriate for a big and tall body type.
Structured clothing will give off a neat appearance. Avoid wearing baggy, unshapely clothes as they add even more bulk to your appearance and look quite sloppy.
Big Men Fashion: Wardrobe Essentials
When you finally decide to present yourself in a stylish way regardless of your weight and height, the first step should be a wardrobe upgrade. We strongly suggest purging baggy, shapeless, and mediocre pieces from your wardrobe. Show the way out to outdated styles like very tight clothing and loose gym wear.
After that, shop for staples that you can mix and match to create trendy casual fashion outfits for big guys. You have a variety of choices when it comes to buying shirts, trousers or jackets.
Don't forget to reinvent the way you dress sharply with stylish pieces like a tailored peacoat, or dark colored chinos for smart casual and business casual looks. Linen or seersucker suits for big guys are also a good investment.
Make sure there is no curve hugging clothing in your wardrobe. Opt for comfortable, tailored garments that you can wear with aplomb. Anything that is neither body hugging nor it is hanging loose will be a style savior.
Shirts for Big Men
When it comes to stylish clothes for big guys, there are many types of shirts that form a foundation of an outfit and give an illusion of a proportionate body. Some of the best ones to choose for a large body are:
V neck t-shirts
Henley
Denim shirts
Vertical striped collared shirts
Casual collared shirts
Open collared shirts
Lightweight cardigans
Bottoms for Big Men
Ideally, any jeans, trousers, or shorts that you wear must not cut into your waist or thighs. Choose comfortably fit, straight legged bottom wear that tapers below the knee. Your jeans and trousers should be a medium rise as they won't accentuate your midsection.
For summer, slay the trendy casual fashion for big guys with light colored denim, cotton trousers, and chinos. For casual beach looks, you can wear Bermuda shorts that reach the top of your knees.
When dressing for the cold season, men with big bodies can wear dark jeans in thick material. We advise getting your bottom wear tailored so that it complements your body. Avoid pleated pants at all costs.
Jackets and Knitwear for Big Men
Ace the layering game with custom made jackets, sweaters, and cardigans suitable for the big and tall guys. Many types of jackets complement a broader shape, but the bomber jackets are one of the best jackets for big guys.
You can also try some dashing big guy outfit ideas with varsity jackets, which are basically a type of bomber jacket. Lightweight varsity jackets are one of the most trendy clothes for tall guys due to the boxy structure and varying color combinations.
The leather biker jackets also make a good choice for men with a large body but avoid very wide lapels as they will make your face and neck look broader. Medium sized lapels would do the trick. Also, avoid jackets with heavy shoulder padding as it adds bulk. Remember that clothes for larger guys should minimize the bulk and give a trendy look.
Structured blazers, preferably with 3 buttons will give a shape to your body. Go for stylish long overcoats for dapper street style looks in fall and winter. You can also go for knitwear like v neck sweaters and fitted cardigans.
Big and Tall Guy Fashion Accessories
Clever use of accessories is vital to ensure that your style is on point each time.
For men with a big and tall physique, belts are very useful to define their waistline. If you choose to wear suspenders with dressy attire, even better. Suspenders solve the issue of pants that keep falling low and provide a good support resulting in a better silhouette.
To complete your outfits, you need suitable accessories along with the trendy clothes for big guys. Go for broad accessories to balance your look. Large watches, bracelets, hats, and baseball caps provide the finishing touches to your savvy outfits.
For business casual outfits, you need ties that won't emphasize a broad chest. The best styles for bigger guys are wider ties in solid color, small patterns, or micro prints.
Outfits for Big Guys
Savvy dressing according to the big guy fashion is not a very complicated task. All you need to do is to pick essentials according to the occasion and match them creatively. Make comfortable outfits so that you can carry them with confidence. Try the following outfit ideas that will balance your look in a stylish manner.
Summer Outfits for Big Guys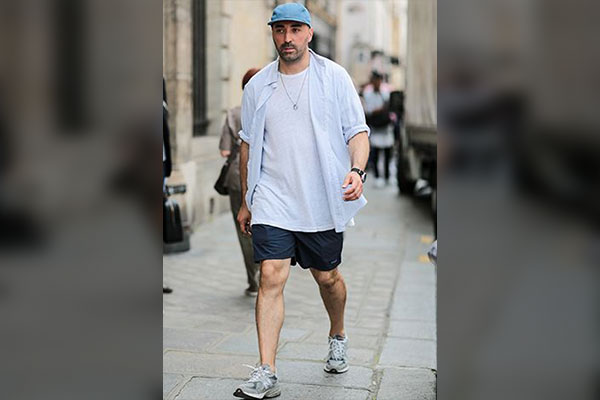 Summer fashion for big guys is all about light layers, classic cool colors, and boxy fits that would help you to stay comfortable in the hot weather.
For a breezy look on a warm summer day, try wearing a micro floral print shirt in blue over a white v-neck tank and beige shorts. Slip on leather sandals for a cool look. Use a large sporty watch and a white snapback cap to complete this look. This vacation look is definitely a game changer for any man who thought he can never look dashing.
You can also wear a grey hooded t-shirt along with dark washed jeans and brogue shoes. This outfit is perfect for a casual day out in summer. 
Another simple summer outfit for a big and tall guy is a black t-shirt along with tan or mustard chinos. For the footwear choice, nothing will look better than simple black and white converse sneakers for this outfit.
Winter Outfits for Big Guys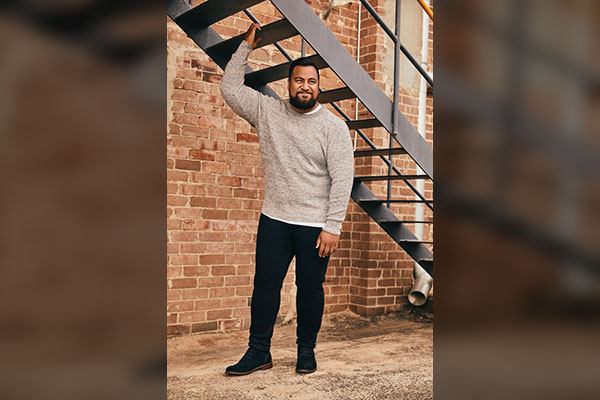 The cold season allows layering, which is a great option to conceal any lumps. A basic look can be achieved by teaming up a black graphic t-shirt, blue slim fit jeans, and a long red windbreaker jacket. Round off the look with white sneakers.
Or, you can wear a yellow cable knit sweater and grey jeans with a beige long overcoat to create a fashion forward winter look. Black leather boots will look stylish with this outfit.
A blue and white checked shirt worn under a navy blue v-neck sweater and gray jeans is another stylish fall/winter look that the big guys can safely wear. Give trendy touches to this look with a brown beret and mocha derby shoes.
Street Casual Fashion for Big Guys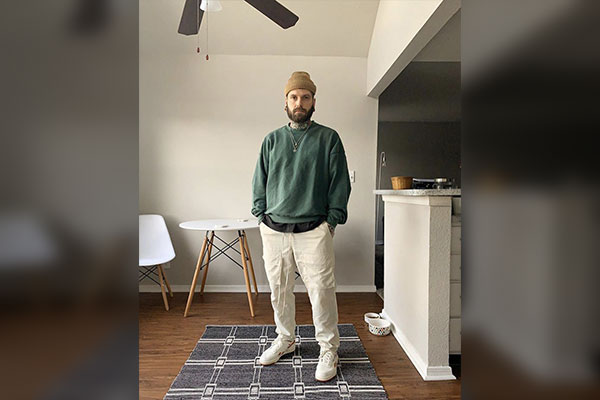 If you have a large body, that should not be an excuse not to reign the streets with your dashing looks. All you need is teaming up the right kind of stylish clothes for big guys to rock a street approved ensemble.
Try a classic all black look with a black turtleneck and black jeans layered with a black long pea coat. Wear a silver neck chain, wayfarer shades, and black Chelsea boots to come off as a true fashion enthusiast. 
Wear a pale navy blue polo shirt with white jeans and portray a classy style by topping it off with a brown shearling jacket. This outfit is the perfect recipe for a head turning style statement as the street fashion for big guys. Brown suede loafers are the right choice of footwear for this ensemble as these shoes go well with a leather jacket.
Go bold with a mandarin collar gingham printed full sleeved shirt along with black chinos. Wear a belt with a golden buckle to elevate the outfit, and complete it with a pair of black boat shoes.
Smart Casual Outfits for Big Guys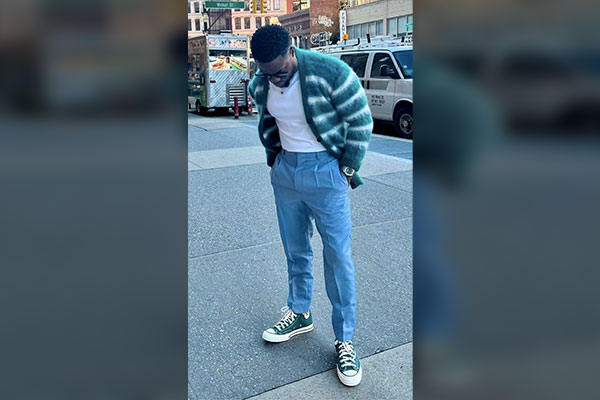 Big men hesitate to try different staples for smart casual and business casual attire. They believe that only men with a chiseled body can rock the sharp dressed look. But the fact is that you only need to learn sensible pairing ideas to make yourself look refined.
A white button down shirt with black trousers is a no fail look. Make sure your shirt is not of a shorter length as that will draw attention towards your bulging midsection.
Team up red and black plaid pants with a black shirt and a white blazer for a neat, polished look. This smart casual attire can further be elevated with a dress watch, brown suede boots and a black belt.
If you want some suit ideas for big guys to elevate the dressy look, go for single breasted suits in a dark color, such as blue. Pair it with a light grey shirt and brown shoes. Or, you can go for a medium grey suit with a smaller check pattern and pair it with a classic white button down shirt and black oxford shoes.
FAQs – Female Leather Jacket Outfit Ideas
What colors look good on big men?
To streamline their tall and big frames, men can wear dark, muted colors such as navy blue, charcoal gray, or brown. They can also go for deep green, khaki, black, and maroon colors for a slimming effect.
How can a big guy look good?
The key to looking good as a big guy is to give definition to your body. Wearing structured clothing in the right size, vertical stripes, busy patterns, and clothes that drape well on the body are a few ways to look proportionate. If you have a big physique but a shorter height, go for longer hemlines as they create an illusion of a tall frame. 
Can big guys wear suspenders?
Suspenders are a great way to give a balanced proportion to your body, making it the ultimate accessory for big guys. Wear them to hold those pants secure and draw the attention away from a pot belly. 
Can big and tall men wear prints? 
When you are trying to dress confidently as a big and tall guy, choosing suitable prints can be quite tricky. We won't suggest to avoid them completely, but it is recommended to try wearing a printed garment and look in the mirror to get an idea whether that is suitable or not. As a general rule of thumb, stay away from horizontal stripes, very small checks, and very large motifs. 
Conclusion
Any man can look stylish no matter what size he is. The secret behind dressing a big and tall body attractively is to assess particular features of your body. Build a wardrobe with the right staples, and get the desired inspirations from our outfit ideas for big guys to form the right looks. Finally, never underestimate the power of accessories along with these outfits for big guys as they certainly make or break a look.