As we all know leather jackets play a vital role in a man's wardrobe. It emits a bold look to the overall ensemble. From an early age, leather has been the optimum solution to barricade the cold. But as time has evolved, it has become a style icon in the world of apparel. The leather jacket can be worn in various ways, on various clothing elements. One needs to consider various things after buying a leather jacket, how to wear it, and how to sustain the inevitable leather jacket's look. 
Enduring Nature
A leather jacket will stay with you for decades, as it is a durable element in your wardrobe. And if you keep it well maintained it might give you some extra years too. So, always consider the long-term benefits of the jacket, whether you can abide by the look for several years. The simpler the better. Opt for a classic yet simpler
Getting the right fit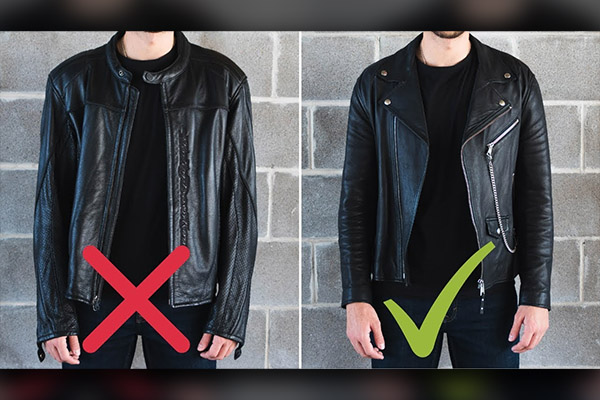 The ultimate guide to wearing a leather jacket is to get the right fit. It should fit like a glove. Not too broad, not too narrow. The well-fitted leather jacket always highlights the overall personality of the wearer.
Getting the Right Color
As leather jackets are a long-term investment, you always need to consider what color you need to go for. Black and brown being the universal colors are the best to go for. But if you can rock any other color then that's customizable and unique.  
Style Accordance with Types
The leather jacket along with the leather itself has various styles and types. And every style comes with a different styling option. There are various ways possible to assemble your ensemble when you have a bold style element in your wardrobe.
Sturdy Biker
The biker jacket, the all-time style icon in the leather jacket world makes its statement when put on a plain white t-shirt and black jeans along with some audacious boots. The jacket contains two sub-segments, a cafe racer jacket and a double rider jacket. The biker leather jackets are slim and fitted which exhibits a sleek and bold look. 
Wicked Bomber
Invented decades ago, the bomber jacket aka flight jacket has been in style for quite some time now. The zippered leather jacket with elastic waistband and cuffs provide the person with extra protection in the chilly winds. The overall design has a cool look if we see it in the sense of style, and functional when we see it in accordance with performance. Pair it with ripped jeans and a plain black or white t-shirt, bottomed with casual sneakers. 
Shearling Luxe
The shearling jacket is the epitome of luxe style. The classic way to wear a shearling jacket is to pair it with a plain white t-shirt or a sweater and black ripped jeans. With a pair of casual sneakers. It can also be worn semi-formally with a polo shirt and cotton jeans. 
Blaze it up!
The leather blazer is more for the business formal or semi-formal look. It can be worn on a buttoned-down shirt along with a corduroy or cotton pants and formal moccasins.
The Extra HeadGear
The hooded leather jacket conveys a cool and stylish look. Being streetwear mainly the jacket can be worn in concerts and night outs. The hooded jacket paired with denim jeans and a plain grey or charcoal t-shirt with all-white all-stars. 
F.A.Qs
Are leather jackets still in style?
Yes! Leather jackets are a timeless classic and have been in style for decades. 
What to wear with a black leather jacket?
The black leather jacket is considered a universal color. Mainly the jacket needs to stand out with the inner being a plain white t-shirt with black jeans and white casual sneakers. The overall ensemble would make one look sharp. 
How to wear a leather jacket without looking like a biker?
The leather jacket comes in various styles, biker being one of them. The jacket can be worn in many ways, for example, if you would wear it with a turtleneck and cotton jeans with oxfords or moccasins you would look not even close to a biker.
Can I pull off a leather jacket?
Yes! Anybody with a human body can definitely pull off a leather jacket. A jacket doesn't require a lot. It just requires to outstand among the whole ensemble. 
How to wear a brown leather jacket?
You can wear a brown leather jacket with blue jeans as it exhibits the classy look of the individual. You can also pull off a monochromatic look by gelling up the jacket along with your jeans. 
How to wear a leather jacket over 40?
This timeless classic does not come with an age barrier. We believe anybody can pull off a leather jacket. It just depends on the individual himself. The 40-year-old can combine the jacket with jeans and boots and he is good to go. 
How to wear a leather jacket in the summer?
The leather comes in various varieties. The best in summer is to go for lightweight leather jackets. That would just protect you from the breeze but would not roast your insides. 
How to wear a scarf with a leather jacket?
Scarfs are a great way to add extra spice to your casual outfit. The scarf with a leather jacket is mainly worn around the neck with various knots and draping techniques. The best would be to fold the scarf in half, wrap it around your neck, and then pull the end through the loop to secure the knot. This gives a smart casual look to the scarf. 
Ending Note
The guidelines in the above article are to know how to wear leather jackets fashionably. The leather jacket is a timeless classic that radiates the wearer's overall look, possessing a bold character that has to be in every man's wardrobe.