Fashion is a glorified aspect of your personality – it is an expression and an extension of yourself. It's a culmination of what you like and how you want to be perceived. Keeping that in mind, corporate goth is one of the few subgenres of gothic style that has gained popularity in recent years. It's a more nuanced and subtle but also a mature version of mainstream gothic style.
Although the gothic style was predominant in the 90s, the style can be traced back to the 60s when Carolyn Jones; the first actress who played Morticia Addams on-screen, stunned the audiences not just with her fantastical performance but also with her bold, gothic look. Before that, there was Theda Bara who worked in silent films. Her gothic looks were emulated by every fashion geek at the time.
The goth style was popularized in the 90s despite being heavily influenced by the Gilded fashion – which was almost a century before that. Two things are absolutely true when it comes to fashion:
No fashion trend becomes redundant, it always comes back.
Every style and fashion trend evolves over a period of time – the evolution is dependent on the voice and means of expression at the time.
Today, goth fashion has many subsidiaries with goth business casual being the more popular one; mainly because it's practical, stylish and more acceptable. In this article, we shall discuss what goth business casual is and how you can wear goth business casual outfits.
What To Expect In This Article?
What is Goth Business Casual?
Before we go on to understand what goth business casual is, let's get one point out of the way. Corporate attire, in general, follows a dress code. There are certain boundaries and restrictions implemented when you wear outfits in professional settings. Therefore, you may not be allowed to go all the way and be as eccentric or unconventional as you please.
Keeping that in mind, goth business casual can be described as a form of fashion expression that gives a sophisticated edge to the high school version of emo gothic style that is loud, dark, and too in-your-face. Corp goth or goth business casual is dark and alluring but also quite nuanced, mature and subtle in its ways.
It doesn't require you to change your entire wardrobe. On the contrary, with minor tweaks here and there, and a few changes in the way you pair the goth-centric garments together, you can formulate a style that is known as goth business casual.
How would you Define Casual Modern Goth Fashion?
Goth business casual consists of basic colors, minimal design and refined fabrics. On one hand, you can experiment with black, brown white, grey, and other industrial colors, and on the other hand, you have to hold yourself back when choosing accessories for your gothic business casual look.
You may also keep the smoky eye look but only if you maintain a nude lip in the end. Fabrics like silk, leather, and lace are acceptable whereas ruffled and eccentric cuts and silhouettes are avoided for a staple gothic business casual style.
Dos and Donts of Corporate Goth Clothing
Business casual goth clothing has its own set of dos and don'ts that give us the basis of casual goth style. The important themes and distinctive attributes are discussed below.
Minimal Accessories
The most important rule of Gothicism is to never be too indulgent. Just like the saying goes, drop an accessory before you leave home, you must accessorize in the most sophisticated and classy manner. Therefore, if you are wearing a staple necklace with a handful of rings, decide which one supports your overall look and drop the other.
Dark Themes & References
Skulls and skeletons are some of the most commonly accepted graphics and themes in a goth casual outfit. Instead of losing your entire personality and means of self-expression, maneuver it and alter it according to your environment. What it means is, to choose the themes you're emulating in your outfits well.
Of course, death and religion are important themes of goth style, but it's best to leave that at home. In a corporate setting, you want to be approachable, tidy, and smartly dressed. Instead, opt for a graphic tee of your favorite rock back and wear it underneath a leather jacket.
Leather and Denim for Outerwear
Leather is the most commonly worn fabric by goths but you can also have denim as part of your goth corporate clothing. Opt for distressed, washed-out denim jackets that come in darker shades like black, brown and charcoal grey. There are a variety of leather jackets that obviously cannot be neglected; from biker to bomber jacket and hooded leather jackets, you've got plenty of outerwear options to assemble an outfit in a matter of seconds.
Tattoos, Hair and Piercings
Tattoos and piercings are a crucial part of goth fashion but we're also aware of the taboo around people with heavy tattoos and piercings in corporate settings. You're judged and not taken seriously. Therefore, it's best to hide the tattoos on your arms with full-sleeve tops – there is a variety to choose from. Small tattoos aren't considered appropriate but instead are also labeled as chic.
Goth Outfit Ideas – How to Wear Goth Office Clothes?
When you're creating goth office clothes, you have to think about all the ways you can be true to yourself without disregarding the corporate rulebook. It might sound challenging at first, but it's not really. Here are some ideas:
Leather On Leather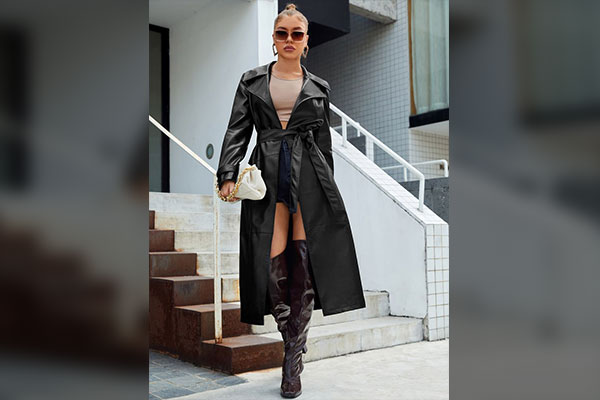 Talk to any stylists and they will tell you there's nothing more goth than leather. Be it faux leather or real, your goth business attire should have an oversized leather blazer with leather pants. Look for the ones with that gorgeous patent leather finish. Complete the goth corporate attire with a soft goth matching sweater and chunky sole boots.
Spikes and Studs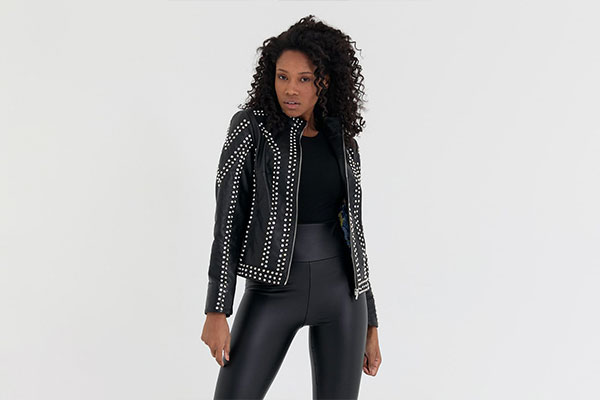 If you want to indulge in spikes and studs, you can keep the rest of the look understated. What we mean by this is, that you can wear a simple black knee-length dress with matching stockings and ankle boots. Now play subtly with accessories by adding a set of spikes and studs.
Distressed & Battered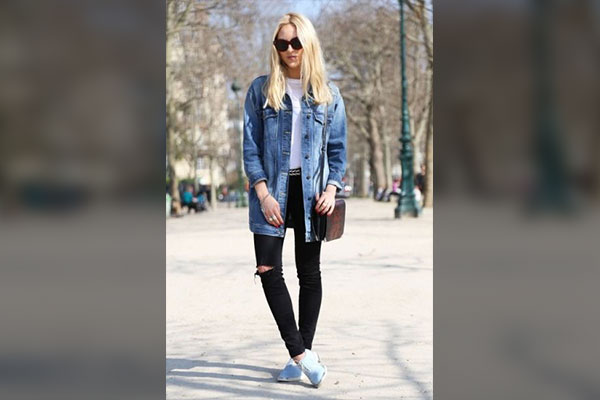 The one common factor between goths and grunge style is that both have an eye for distressed clothing. You can wear a distressed slouchy pants suit with a graphic tee (make sure it doesn't say anything inappropriate) and complete the look by wearing platform leather boots.
Embrace Metal & Silver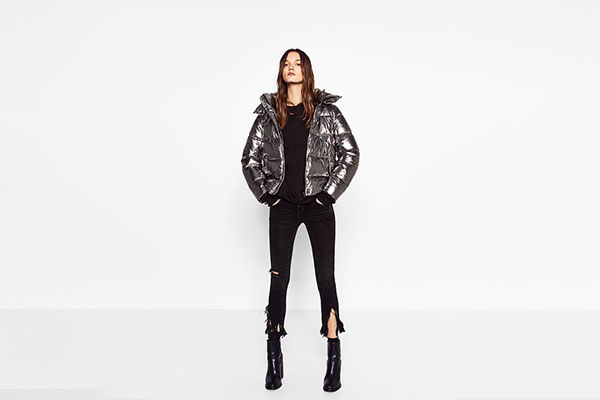 Goths love to listen to hard rock and metal music as if their life depends on it. And when it comes to jewelry, they hand it on to silver dearly. Go for a leather jumpsuit with a silver necklace. You can also ditch the jumpsuit for leather shorts with an oversized leather jacket and a sequin top underneath. Pair knee-high boots with this outfit.
Nylon is a Must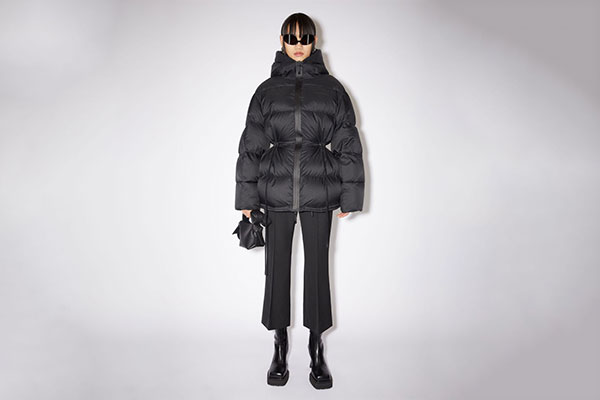 If you want a soft goth girl look, it's time to take out a nylon top with printed flowers or any other print. Wear it with a distressed pair of jeans and complete the look with a cropped biker jacket with studs.
Velvet it Up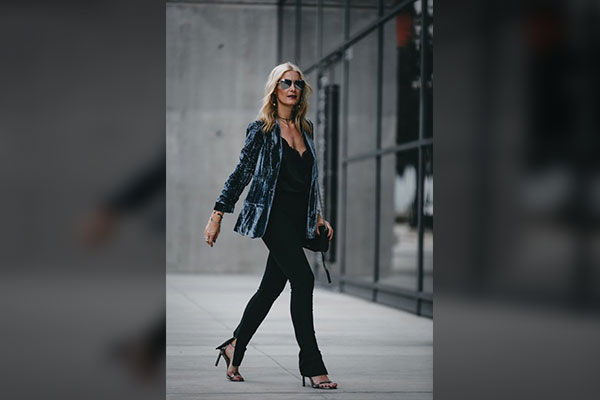 There's nothing more goth and chic than a velvet midi skirt paired with a high neck top and an oversized blazer. Add femininity by wearing your best pair of stilettos and silver dainty rings.
FAQs
Is Goth still a thing in 2022?
Yes, business casual goth seems to be the comeback trend in 2022. From reality TV personalities to models on the streets, everyone seems to be following suit. 
What is a Corp Goth?
Corp goth can be defined as a subdued version of goth outfits – it's a business goth style that is balanced and not too in your face. It is composed of the same goth elements but with a minimalist depth. 
How should you dress Goth in the office?
You can dress goth in the office by staying true to the color scheme. For instance, wear a black oversized blazer with leather pants and a basic black top. Add a pair of stilettos and dainty silver earrings if you're a fan of accessories. 
In Conclusion
Goth business attire is more or less an extension of goth aesthetics. What we mean by that is, that you can keep the goth style by sticking with the same clothes. However, the way you pair them together will make the difference. Therefore, you don't need to go all out when it comes to business casual goth. Stick to the main idea and let the rest be simple and according to the corporate norms. Focus on outerwear because jackets and blazers will be your guiding force. At the same time, you have leather, nylon and velvet as your foundational fabrics.