Crafting outfits for special occasions is easy. You only need a handful of items, and you often have plenty of time to refine their parameters. Creating daily use casual outfits, on the other hand, can be quite daunting. You need a whole bunch of items to eliminate constant repetition, and this larger number makes it near impossible to hone in on the details of any one of them.
The trick here is to master one key garment that can be the focal point of hundreds of unique outfits and what better garment to choose than the humble trench coat? Casual trench coat outfits are not only super trendy and in line with the latest fashion styles, but they're also super easy to understand from the beginning.
Without further ado, here's our complete guide on how to craft the perfect casual trench coat outfits alongside examples of the best ones. Let's get started.
What To Expect In This Article?
What is a Trench Coat?
Before we even think about integrating a leather trench coat into our daily casual fashion, we have to answer this question. What is a trench coat? In its simplest form, a trench coat is a long overcoat. Its length can be anywhere between knees and ankles.
Trench coats were originally used in the military as a protective layer from the weather when in the trenches (thus its name). So the classic material for these coats is quite heavy and water resistant. Thankfully, the modern and more stylish variants of these coats are crafted from a variety of materials, including denim, wool, cotton, polyester and a number of hybrid materials as well.
The best trench coats for women today are also easier to work with when it comes to crafting casual trench coat outfits. Variety in designs, colors and patterns also ensures that there is a near perfect trench coat for everyone out there.
Casual Trench Coat Outfit Ideas
Trench coats are versatile garments with near-universal compatibility. On the one hand, it makes them super easy to pair with pretty much everything and anything from your closet. On the other hand, these many possibilities complicate the process of finding truly magnificent outfits.
That's why we've divided this guide on casual trench coat outfits into three sections. Each section represents a different approach to tackling this challenge.
Casual Trench Coat Outfits Based on Color
The defining factor of casual trench coat outfits in this section is color. It can be the color of the coat, something under it, or even an accessory.
Black Trench Coat Outfits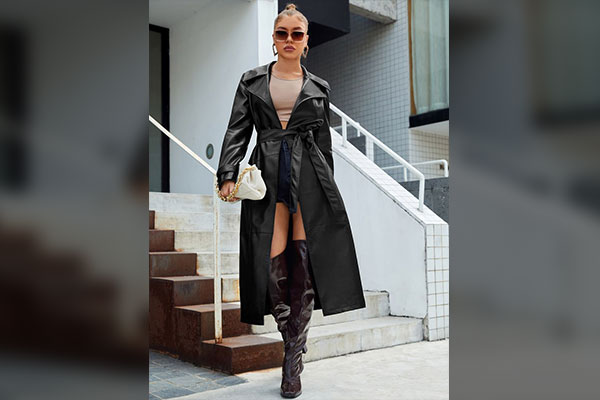 The first long coat outfit on our list involves the classic long leather coat. These coats are as universal as trench coats get, so you don't have much to worry about, but there are certain combinations that are especially good.  
A great example of a chic casual trench coat outfit would be with white flares or a tunic top, blue jeans and brown suede boots. This outfit is fantastic on its own, but adding a black trench coat makes it feel complete.
Another similarly high-caliber option would be the all-black outfit. Here the top, jeans and sneakers are all black. Though, you can opt for cropped jeans, a flared top, and shiny ballerina flats to spice things up a bit.
Brown Trench Coat Outfits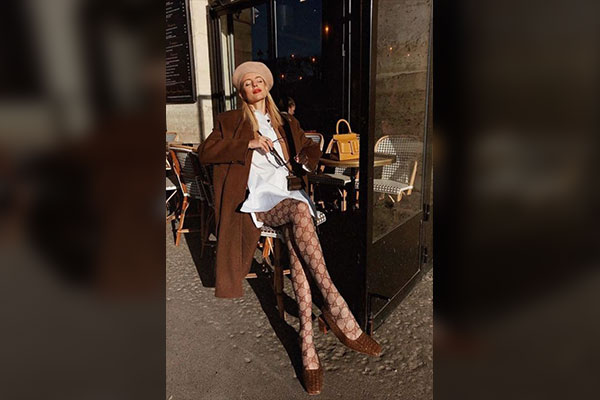 Brown, more specifically khaki brown, is one of the most popular colors for trench coats, and it is easy to see why. Casual camel coat outfits look posh and sophisticated in almost every situation. The best part about these is that they make crafting an elegant trench coat outfit much easier than it has any right to be.
For example, consider an ensemble with a white turtleneck, charcoal jeans, and ugg boots. This outfit is fine on its own, but it's nothing groundbreaking. Now top it all off with a fluffy brown trench coat, and you're ready to be the front cover of a fashion magazine.
Another thing that you can take advantage of with brown coats is their matchup with blue. So, a casual trench coat outfit with blue jeans and a light blue top would look majestic.
Pink Trench Coat Outfit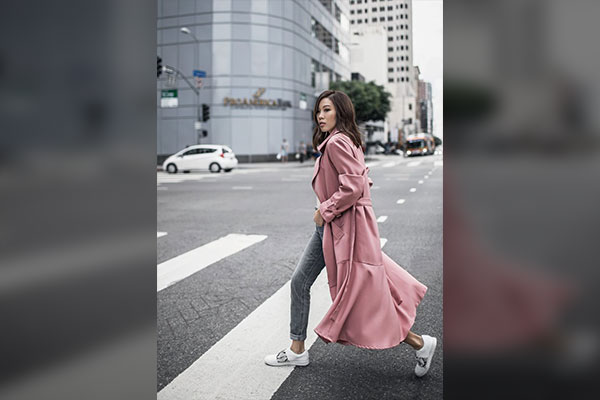 Pink is the color of cuteness, and pink trench coats are solid proof of that. So, your main objective when crafting a casual trench coat outfit with this color is to perverse that cuteness. The simplest option here would be to wear them over a loose-fitting white sweat-suit with white low-top sneakers.
If you're willing to go the extra mile, then look for items in pastel colors. A wrap top in pastel red or blue would be jaw-droppingly cute. Also, opting for skirts instead of pants will increase the cuteness factor even further. The lively vibe of pink trench coats can also be used to great effect for carnival outfit ideas.
Blue Trench Coat Outfit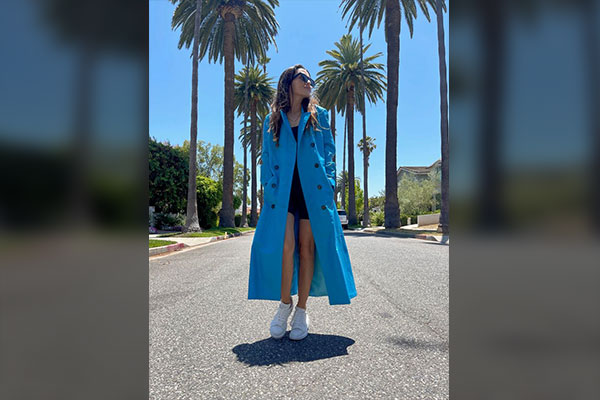 Blue is a lively color that can be both whimsical and mature. Understating both of these sides and taking full advantage of them in your casual trench coat outfits is the correct way of wearing a blue coat.
Crafting a classy trench coat outfit would require the use of button-ups, dress pants, dark color straight-cut jeans and heels. A prime example of such an outfit would feature a light tan button-up with dark gray jeans and shiny black stiletto heels.
On the other hand, a cutesy blue trench coat outfit will star a baby pink A-line skirt with a white crop top and a furry scarf wrapped around the neck. Complete look with light brown ugg boots, and you're the definition of adorableness.
(Side note: Ugg boots are a fitting choice for fur coat outfits as well.)
Casual Trench Coat Outfits with Specific Items
These casual trench coat outfits are designed around certain stylish items of clothing.
Trench Coat Over a Dress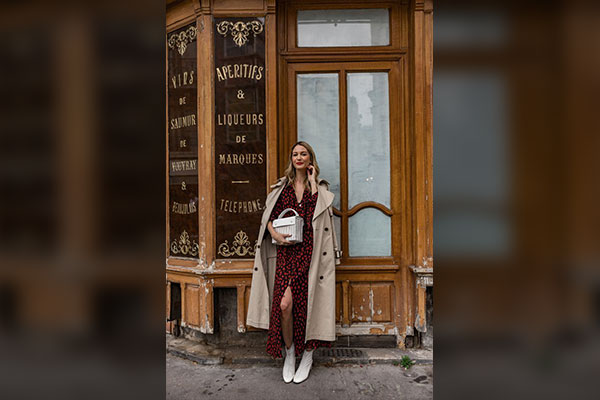 Dresses are an essential part of women's fashion. They look incredible on their own with little help from footwear and accessories. Very few items can actually enhance the look and feel of a dress outfit, and a trench coat is one of them.
Wearing a coat over a dress lets you can enjoy your favorite dresses, even when the weather gets a bit chilly. Add in a pair of warm leggings, and you can wear the same dress in the middle of winter.
A fine example of this matchup would be a cobalt blue A-line dress with a black trench coat that's slightly longer than the dress. You can also look into trench coat style dresses for further matchup inspiration.
Trench Coat with Hoodie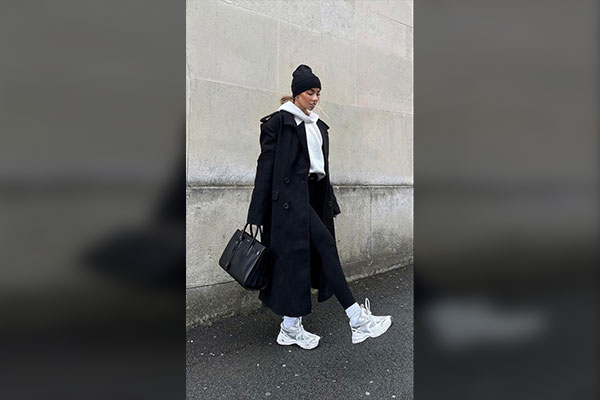 Comfort is just as essential to casual trench coat outfits as style, and this combo embraces that to the fullest. Wearing a colorful hoodie under the solid-colored trench coat creates a unique contrast that's difficult to replicate with anything else.
The rest of the outfit consists of either tight-fit cropped jeans or loose-fit straight-cut jeans with a pair of colorful high-top sneakers. Multi-colored sneakers work the best here, but a solid color could work as well, as long as it's not white, black, brown or gray.
Trench Coat with Flannel Shirt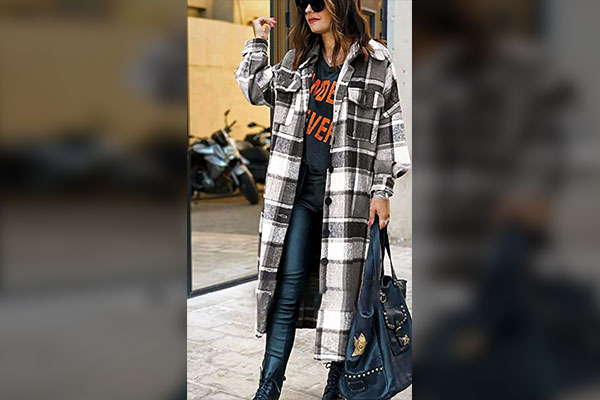 As far as tops are concerned, flannel button-up shirts are some of the most colorful and lively options out there. Contrasting them against a dark trench coat makes their colors pop even more, resulting in one of the most stylish and chic casual trench coat outfits on this list.
These shirts work best over blue jeans, though the exact shade of blue is completely up to you. You can also rock this outfit under a dark-colored peacoat for comparable results. Though, there is no clear winner between this peacoat vs. trench coat rivalry.
Casual Trench Coat Outfits for Certain Situations
The final set of casual trench coat outfits in this guide is categorized based on the right situation to wear them.
Trench Coat Outfit for A Party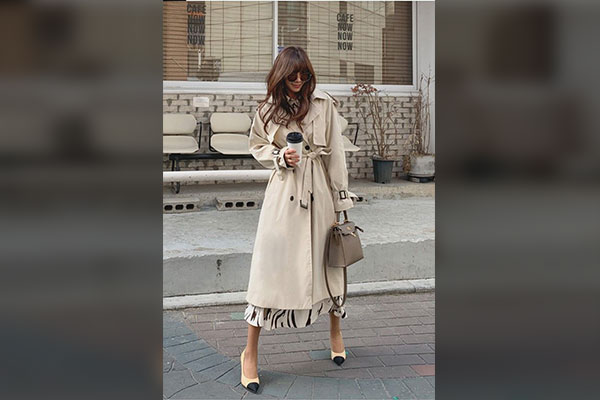 If you're wearing a trench coat to a party, try to get a bit more experimental with your outfit. Lean more towards the street-style casual trench coat outfits and make the outfit a bit unpredictable.
For example, you can wear an extra-long white trench coat with its front closed. Once it's opened, underneath is a fancy outfit with ripped black jeans and a bright red tunic string top.
Trench Coat Outfit on The Weekend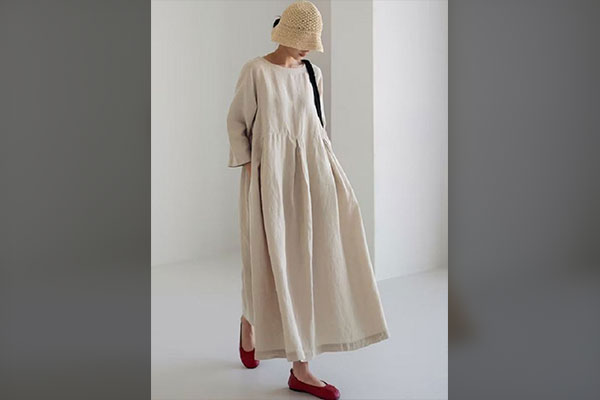 You want your weekend outfit to be as comfortable as possible. But it still needs to be well put together. In that case, look no further than a tan trench coat with a cream knit turtleneck and white pants. Alternatively, you can also try wearing a gray trench coat over a light gray sweatsuit with the oversized sweatshirt tucked into the sweat pants.
Trench Coat Outfit to Work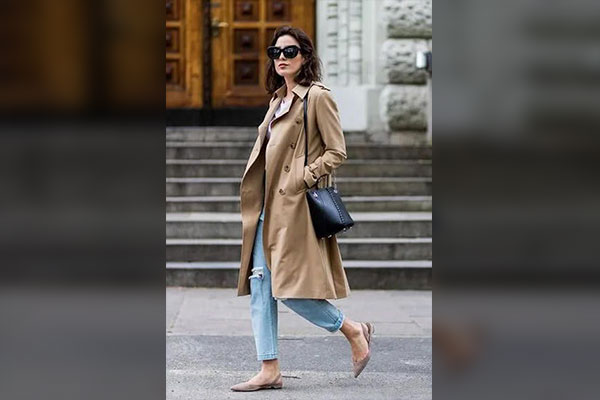 You can rock a casual trench coat outfit to work on casual Fridays or other similar events. The key ingredients for this professional ensemble are a white button-up, black tie, black trousers, and shiny black oxford shoes. All of this is then topped with a tan or khaki trench coat to complete the look.
What shoes go with trench coat outfits in a casual scenario?
Trench coat outfits work really well with all kinds of shoes. You can try heels, sneakers, knee-high boots, flats, professional shoes, and even fluffy ugg boots.
Do red trench coats look good?
They can look great if paired with the right outfits. Red is fairly vibrant, so a trench coat of this color will look great over darker clothes. Also stay away from muted drab colors.
What to wear with short trench coats?
Almost every outfit that works with regular trench coats also works with short trench coats. But, ensembles with skirts and knee-high dresses look especially wonderful.
Final Words
Trench coats are one of the most versatile outerwear you can own. Their ability to effortlessly merge with existing outfits in your arsenal is exactly why they're so good at elevating your personal style.
You can think of them as an upgrade option that will make you look more stylish, sophisticated, or fashionable, depending on the outfit underneath. Just understanding and emulating existing trench coat outfits discussed in this guide are enough to bump up your style points.
But then there is a vast potential of these coats that lets you craft unique outfits that represent and elevate your personal taste in fashion to the fullest.