A man's style staple through the ages, peacoats and trench coats have come a long way from being a part of the uniform of the military to now being part of every fashion runway show. From being distinguished as outerwear for men, both garments have established positions in the female wardrobe as well.
Trench coats and peacoats are formally introduced in winter's capsule wardrobes as they bring warmth and protection to the wearer from cold temperatures. Regardless of having similar origins, both peacoats and trench coats have their fair share of differences.
In this article, we shall unravel the elementary differences between a trench coat and a peacoat. For instance, we know that wool is utilized to produce peacoats whereas heavy-duty and water-resistant material is used for the production of trench coats. But that's just baseline information; this article will entail all the intricate details regarding their design, features, length and silhouettes.
Of course, based on this eclectic knowledge, you can increase your understanding of the two popular garments. This obviously also impacts your purchasing decision and helps you figure out which one meets your needs.
What is a Trench Coat?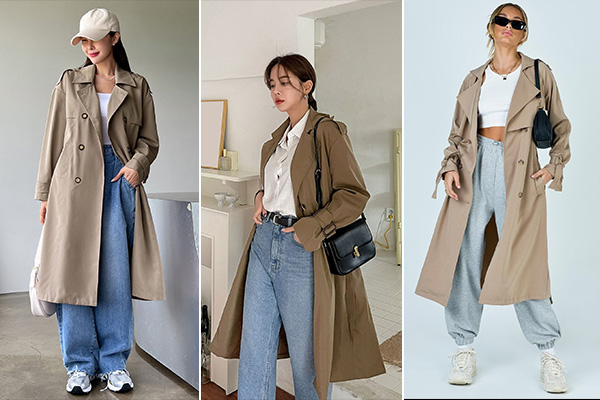 Trench coats are essential winter outerwear requiring heavy-duty construction and exquisite craftsmanship. They are made from rich materials that are waterproof and thick. You can find trench coats in a variety of colors and silhouettes. Trench coats originate from the military uniform.
Back in the day, they were worn by high-ranking army chiefs. Having high insulation properties, this heavy-duty outerwear is an important part of men's and women's winter collections.
In terms of design and style, you are most likely to find trench coats with double-breasted fronts with buttoned closures. Of course, there are single-breasted trench coats as well, but they usually have banded overlapping material.
What is a Peacoat?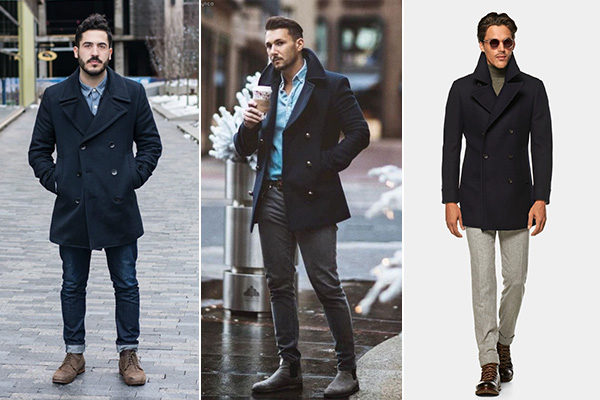 Shorter in length compared to trench coats, peacoats also have a double-breasted front. Outerwear originally worn by sailors, peacoats are constructed with wool and keep the wearer warm and protected. The material is thin compared to the heavy-duty material used in the construction of trench coats. Peacoats, too, have buttoned closures and a contemporary look.
Initially, only navy blue peacoats were adorned by the sailors. However, with passing time, many variations are observed in the color spectrum. At the same time, the design elements have remained the same.
Elementary Guide to Peacoats and Trench Coats
For an in-depth understanding of peacoats and trench coats, we have compiled a list of differences on the basis of design, fabric, length, and fitting of the two outerwear. Therefore if you're wondering what the difference between a trench coat and a peacoat is, this will serve as an elementary guide to trench coats vs peacoats as we have established some of the functional properties, cost, care, and maintenance of the two garments as well – characteristics that differentiate between the two.
Trench Coat Vs Peacoat – Design
The prominent features of peacoats have remained honest to their origins. Thereby, despite several fashion evolutions, peacoats have maintained the large judicious collar, premium buttoned closure, double-breasted feature, and shorter accents. Together, this construction contributes to its distinctive features and design.
The best trench coats for men, on the other hand, have a slightly more practical approach in their design and construction. Apart from the similar buttoned closure and double-breasted feature, the elements that give a distinct look to the trench coats are the sleeve straps that add flexibility to the outerwear. There are also cuff-style sleeves that ensure protection from wind and water.
Another distinguishing feature is the addition of shoulder epaulettes that secure carrying items. Most trench coats have shoulder epaulettes also contribute to the aesthetics of the outerwear – serving as both fashionable and functional value.
Trench Coat Vs Peacoat – Fabric
Wool is the most commonly used fabric to manufacture peacoats as this fabric has properties of warmth and water resistance. Furthermore, wool is a relatively thicker material that brings an element of comfort to the wearer. In the early days, peacoats were made from 100% wool but today they are made from a rich mix of wool, polyester, cotton and nylon. The reason for this is the cost – to offer premium quality, you would have to invest in a peacoat made from 100% wool as the culmination of all these fabrics reduces the overall quality.
You will be surprised to know that in the early 1900s, trench coats were made from rubber. The purpose of rubber was to act as a shield from rain – but soon, this method became redundant. In replacement, cotton was optimized as it proved to be lightweight, durable and water-resistant. Other fabrics that are used to produce trench coats include nylon and polyester.
Trench Coat Vs Peacoat – Length
Peacoats were initially used by sailors and so their length was slightly longer than usual jackets. Traditionally, these coats fall to the hips of the wearer – sometimes lower than the middle thigh. Basically, peacoats should be longer than the hemline of the shirt but the same as a women's blouse or short dress.
Men's trench coats, on the other hand, are longer and fall right next to the knees of the wearer. The purpose behind the long length is to offer added protection from the wind and rain. The best part about trench coats is their practicality. They are long enough to offer protection but not too long to block movement or cause hindrance.
Trench Coat Vs Peacoat – Fitting
In the starting, peacoats had a straight cut that gave them a flare at the bottom that made the movement flexible and easy. It had an appearance similar to lady's blouses but more masculine in terms of construction. However, in recent years, the fitting of peacoats has changed and become more tapered. What it does is make the body shape of the wearer more defined and strong. 
Despite having a straight cut, trench coats had a looser fit. The purpose was to give the military room to breathe. The looser but helps in layering the outfit in the modern age. Originally, trench coats aren't warm, and so, if you wear sweaters and tops underneath the trench coat, you can make it warm and cozy outerwear.
Trench Coat Vs Peacoat – Warmth & Water Resistance
Are peacoats warm? This is quite a common question. Wool is known to be water-resistant as it absorbs moisture. Therefore, peacoats offer a mild level of water resistance as long as you don't completely submerge them in water. Trench coats, however, are extremely water-resistant as they're constructed from heavy-duty material.
In regards to the warmth, peacoats have the ability to keep you warm and comfortable through and through. Besides, the buttons of the peacoat help you snuggle up in the cozy and fitted double-breasted coat. Trench coats won't be able to give you the same level of warmth but they can be a reasonable layer to your outfit for a breezy winter day. If you tighten the sleeves, the air will be blocked from entering.
Trench Coat Vs Peacoat – Care & Maintenance
The only problem with wool is that its fibers can easily get damaged. Therefore, it is recommended to get a peacoat dry-cleaned regularly. Furthermore, it is best to lay it flat and away from direct sunlight or any other area where there is excessive heat.
In comparison, trench coats for women require little to no maintenance as they are made from heavy-duty materials. However, the trick to cleaning trench coats is to remove their lining and wash both of the parts separately. Try to be gentle with the wash and avoid cool water as it can shrink the material over time. 
Trench Coat Vs Peacoat – Cost
The cost of the two coats is entirely dependent on the feature and design. For example, it's obvious that wool is rarer compared to cotton, and so, it makes complete sense to pay more for a peacoat than for a trench coat. But the thing is, trench coats have other components like belts, shoulder epaulettes, and lengthier fabric – these can also contribute to a larger sum price.
FAQs
Should I Buy A Peacoat Or Overcoat?
There's always confusion about whether you should buy a peacoat or an overcoat. Instead of indulging in a peacoat vs overcoat debate, just know that both serve different purposes. Peacoats can be styled for parties as a standout piece while an overcoat is the topmost or outermost coat usually worn in winter for additional warmth outdoors.
Can Peacoats Get Wet?
A peacoat can help you stay warm in winter and also offer water resistance. However, don't submerge the garment in the water. It can do well in a light drizzle and offer protection.
Is A Peacoat A Trench Coat?
No, a peacoat is not a trench coat. However, a trench coat is sometimes referred to as a topcoat and overcoat. 
Is A Peacoat Good For Winter?
Yes, a men's trench peacoat is a great investment piece for your winter capsule wardrobe as you can style it in many ways and look dapper and ultra-cool.  
What Length Is A Peacoat?
Peacoats are essentially shorter in length, especially in comparison to trench coats. However, they can be termed as longer jackets. 
In Conclusion
It is now established that peacoats and trench coats are separate outerwear that serves a unique purpose. Both have water resistance and protective abilities. However, in terms of design and silhouette, trench coats are longer and more practical than peacoats. With rich history behind both garments, both serve as fashion statements in the modern world.