Watch any period drama movie and you will realize the importance of dress shoes for men – for some, it signifies class while for others it's simply a matter of dress code and regulation. All the best dress shoes for men have some regal archetype attached to them; some were worn by the kings while the others were adopted by their kingsmen, again showcasing the power dynamic with the choice of footwear. In this guide, we're going to discuss different types of dress shoes and their design. 
Men's leather shoes are an integral part of their capsule wardrobes. Leather is expensive but extremely durable with the ability to last decades – granting little maintenance once or twice a year. It wouldn't be wrong to argue that leather shoes are shoes that every man should own; merely for the style, elegance, and confidence they empower you with. There are so many types of leather dress shoes available that one can invest in, depending on personal preferences, of course. And that's exactly what we're going to do. We will educate you on the various types of men's dress shoes available so that you can decide which ones you like the most. 
What To Expect In This Article?
Types Of Men's Dress Shoes
There are so many types of shoes for men, and within the spectrum of footwear, there's one categorized as men's dress shoe type. Here are the top men's dress shoes that you can wear to the next formal event or whenever you want to dress up and put your best foot forward.
Oxford Shoes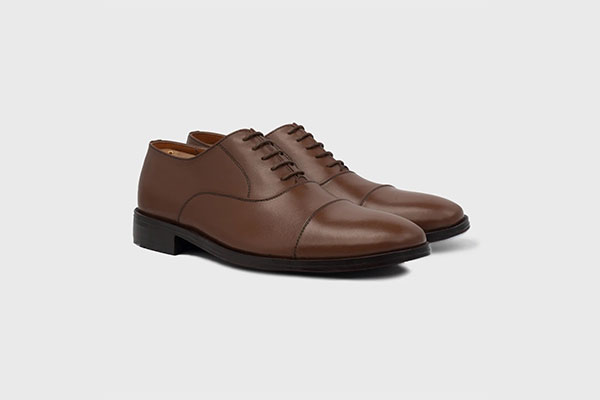 Whenever we think of men's formal shoe types, men's Oxford shoes are the first type of shoes that come to our mind. They have a close-laced, sleek design that makes them suitable for formal wear. Oxford shoes are commonly known as Balmorals in the US, and you can find them in varied colors, finishing styles, and even styles. For instance, you can find men's Oxford shoes in wingtip, plain toe, or even brogue style. We have a wide range of Oxford shoes for men – you can also place an order for custom Oxford shoes should you want something more personalized.
Derby Shoes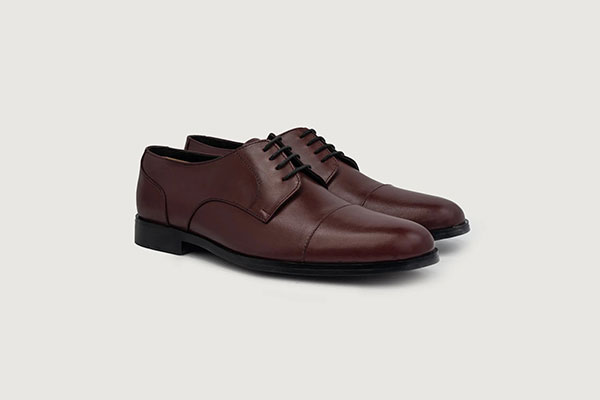 Men's derby shoes are comparatively less formal than Oxford shoes; bringing attention to the Oxford vs. Derby debate. Derby shoes or derby boots are open-laced designs with leather stacked heels and partial rubber capping. We have a wide range of derby shoes available in various sizes, colors, and finishing styles. In the US, Derby shoes are also known as Bluchers. Speaking strictly from a styling perspective, derby shoes have an upper hand; purely because they are more versatile and comfortable. You can wear them to a formal occasion or keep your dress strictly business professional by pairing these shoes with jeans and a blazer.
Brogue Shoes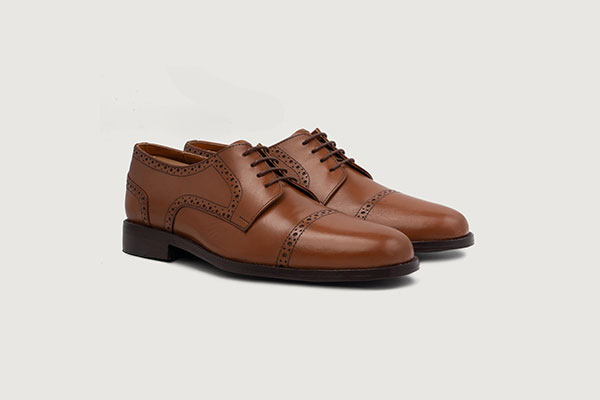 There's no need to raise an Oxfords vs. Brogues debate because one is the design of the shoe and one is the style of a shoe. Basically, Oxford shoes are close-laced shoe styles that are best suited as formal attire. Broguing is a design that can be done on any type of shoe – also serves as a separate category of brogued shoes, of course. Our brogued shoes are available in Oxford style as well. This detailing is hand-punched and done with meticulous care, indicating high craftsmanship.
Wingtip Shoes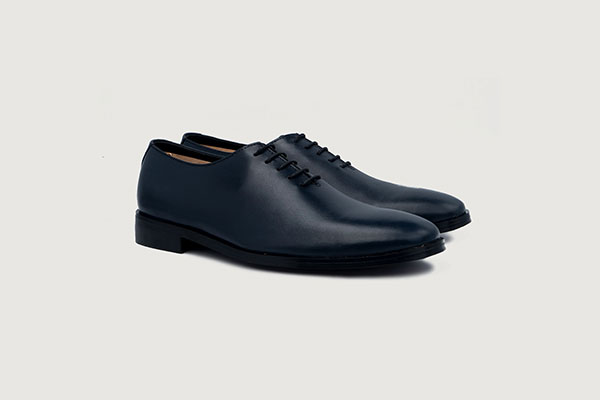 Like brogue shoes, wingtip shoes are also a design of a shoe. Wingtip is considered the best dress shoes for men because of the formality it brings to footwear. They have a toe style that stretches "its wings" like a bird. The classy wingtip is available in every man's wardrobe – it can be worn with tweed blazers, tailored suits, jeans, and whatnot. We offer wingtip shoes in Derby, oxford, and whole cut styles.
Loafers
Loafers are one the best shoes to wear with suits. They transform really well and can fit into any dress code. The slip-on design makes it an effortlessly cool option to wear with jeans and tailored chinos. There are various types of loafers – penny loafers, Moccasins, tassel loafers, etc. Men's loafer shoes can be labeled a wardrobe staple as they keep you looking classy without drawing too much attention. Their soles are slightly thinner than other types of dress shoes, giving you comfort to your feet.
Wholecut Shoes
Wholecut shoes are impeccable as they are the most versatile and comfortable leather shoes for men. They can be worn as formal wear but also match the casualness of brunch or garden party attire. Wholecut is essentially a type of Oxford shoe based on design. It has a single leather cut on top and has no brogue design. Constructed with high-quality real leather and proven to be extremely durable.
Double Monkstrap Shoes
Double monk straps are nice dress shoes for men. Instead of the usual lacing design, these dress shoes come with buckles and straps. If you want something that is classy but something out of the traditional attire, the double monk strap shoes are made for you. They are versatile, comfortable to walk in, and sophisticated. A little fun fact about these shoes is that they are inspired by the sandals that were once worn by monks – hence the name.
Chukka Boots
Chukka boots are casual dress shoes with jeans but they can easily become a top choice as business shoes for men. These are low-top boots that have leather stacked heels with partial capping. Available in various colors and finishing styles, you can dress them up by pairing them with tailored pants and a blazer, and at the same time, dress down these dress shoes by curating an outfit with rolled-up jeans and a collared shirt.
Chelsea Leather Boots
When we speak of dress shoe type, we often fail to include Chelsea leather boots – the most sought-after business professional shoes. These are ankle boots with an open-lace design. These poly cotton laces maneuver the rust-proof eyelets allowing you to wear them in and out in a seamless manner. Available in different colors and finishing styles, Chelsea leather boots for men are truly one of the most versatile pair of dress shoes in your wardrobe.
Suede Shoes
Suede shoes are one of the most stylish pairs of shoes to wear with a leather jacket. They exude charm, confidence, and class. Just put on a fresh pair of suede shoes with a blazer and prepare to receive compliments left, right and center. Suede shoes come in different men's dress shoe styles, like chukka boots, Oxford, Loafers, etc. Suede has a fuzzy texture that feels soft and comfortable.
Dress Shoes That Feel Like Sneakers
Sneakers are men's casual shoes; which makes them supremely comfortable and durable – since they are worn almost every day and last you for ages. If you want comfortable work shoes, you want to have these properties in them. This brings you to leather sneakers; these are sneakers that look like dress shoes. Efficient, cool, and comfortable wear. Leather sneakers can be customized to give you an immaculate and personalized footwear experience. Thus, hop on this latest fashion trend and wear dress shoes with jeans for a professional look that is intimidating and forthcoming at the same time.
What Are The 7 Basic Types Of Shoes?
Oxford shoes, derby shoes, wholecut, loafers, sneakers, chukka boots, and Chelsea boots, are the 7 basic types of shoes for men. 
What Is Classified As A Dress Shoe?
Oxford shoes are classified as dress shoes because they have neat stitching and design – a compact look thanks to the close-lace design and leather stacked heels and flawless polish and shine.  
What Do You Call A Formal Shoe?
Formal shoes are those types of shoes that can be worn on a formal occasion. Oxford and derby shoes are usually the best choice for formal shoes. 
What Are Professional Shoes?
Professional shoes are shoes that can be worn every day to work and give you a business casual look. Chelsea leather boots are often considered the best pair of professional shoes. 
What Are Fancy Men's Shoes Called?
Fancy men's shoes are the ones that help you look dressed up and put together. These are the shoes that you wear to parties and cocktail events. They should be worn with suits and blazers. Some examples of fancy men's shoes are derby shoes, wholecut shoes, and brogue shoes. 
Which Shoes Is Best For Formal?
Formal shoes should ideally have a brogue design with a wingtip toe style. Their finishing should be immaculate with no wrinkles. Oxford shoes are the best choice for formal shoes for men. 
What Do You Call Formal Shoes Without Laces?
Loafers are called formal shoes without laces. You can get custom dress shoes made in loafer design to wear to your next formal dinner. 
What Are Tuxedo Shoes Called?
Oxford shoes are called tuxedo shoes. Wear these shoes with black pants and a matching blazer to look neat and put together. And guess what? You can also wear tuxedo black shoes with jeans to turn a formal look into business casual.
Conclusion
Men's dress shoes are investments that last you decades – if done right. Dress shoes are elegantly designed to match the neat and fresh environment and place you're dressing up to go to. The designs are sleek with distinguished finishing and color grading. From Oxfords to derbys and even loafers and whole cuts, there are so many options to choose from that you don't ever feel limited or unable to express. We have a wide collection of dress shoes that you can wear with suits, jeans, and everything in between.