When girls do not understand what to wear they often go for an all black outfit as they are very sure that nothing can go wrong with such an ensemble. However, wearing the same thing, again and again, might not excite you, so why not give your look a twist? Keep the boring old clothes away and experiment with something new.
Different colors seem to enhance every outfit you wear if you are wearing a red outfit, there is no chance that people won't notice you. You surely are going to be a standout no matter where you go wearing that intensified color. But, it is true that you cannot wear red anywhere you go. 
Whenever you open your closet, you look for a cool bottom to wear and then style the rest of the outfit. So pick an interesting color for your bottom wear. What do you think about green pants? But what goes with green pants? This is the actual question. Drop off your regular colored pants, and pick off your green pants as certainly it is a color you can wear almost anywhere.
Green pants are a truly versatile piece of clothing. If you are still clueless about it, continue reading this article. As summer is approaching, the green color will make your outfit pop naturally. So, below you will find some green pants outfit ideas. Let us get to them.
What To Expect In This Article?
Tips For Wearing Green Pants
With the aesthetic leather skirt outfits, you can add another trendy piece to your wardrobe which is the cool green pants. But, it is true that you cannot pull them off with anything you want. It is best for you to see what matches with green pants, and plan that outfit. Ladies, here are some tips that you are going to need when you are styling green pants:
Pair your green pants with light shirts. Or, blacks and whites are a true all-rounder, these colors tend to help your green pants be the highlight of the outfit.
Wearing a solid green outfit would be very unsafe until and unless you like doing so. Tone down your overall look by picking clothing pieces that are neutral. However, you can wear a monochrome green outfit. Outfits with army green pants, a mint green t-shirt, and white sneakers will give you a rocking look.  
Use green as a highlighting color, whether it be in your shoes, pants, or shirts. 
Not all shades of green suit every skin tone, so, first try out which shade of green goes best with your complexion.
How To Style Green Pants In A Summer Trendy Way
Women are mostly thinking about pairing types of outerwear like what jacket to wear with a dress, or what shirts are going to go with jeans. But, we think that before everything it is very important to choose the colors of your outfits. Especially in summer, you tend to wear cool colors. So, we are now going to talk about different colored outerwear, which is 'green pants'. Further, you are going to know how you can style them.
Green Cargo Pants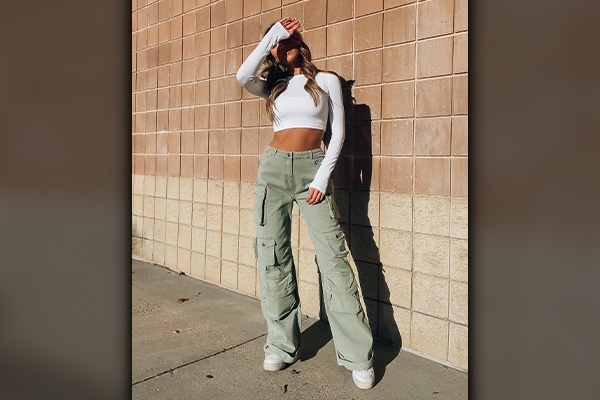 Cargo pants are loved by women as they are loose and comfortable at the same time and enhance your outfit in a big way. We can style many outfits with green cargo pants, but here is one you definitely must try. For a cool summer day baddie, aesthetic clothing will be great for your usual day. Pick out your green cargo pants, pair them with a baggy statement t-shirt, tuck it in from the side, and put on white sneakers. Or if you are not willing to wear shoes, slides are always going to suit your outfit. Let your hair down, put on your cat-eyed sunglasses, and put on a nude gloss. There, you have your baddie aesthetic look.  
Green Dungaree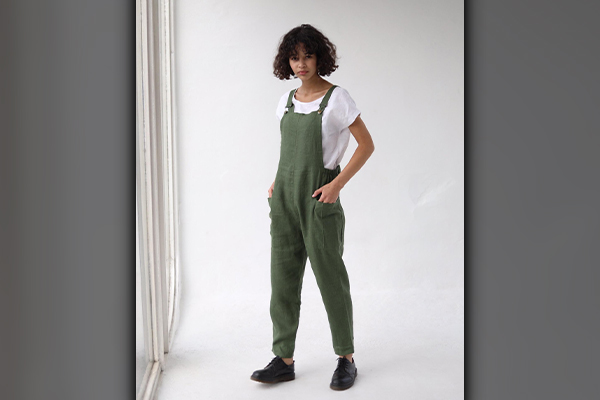 Dungarees are great, if you are really fond of them, you can always wear them with a casual camel coat. As here, we are talking about a summer outfit, a light olive green dungaree will look absolutely stunning. You can put on a plain white T-shirt and then put on the dungaree. For a more summery look, you can wear cute flip-flops with it, and add cute hoops to your ears. And that is all. This look is perfect for wearing on a daily basis, or if you are going to a festival, an expo, or maybe just for shopping. This attire will suit all. 
Casual Green Pants Outfit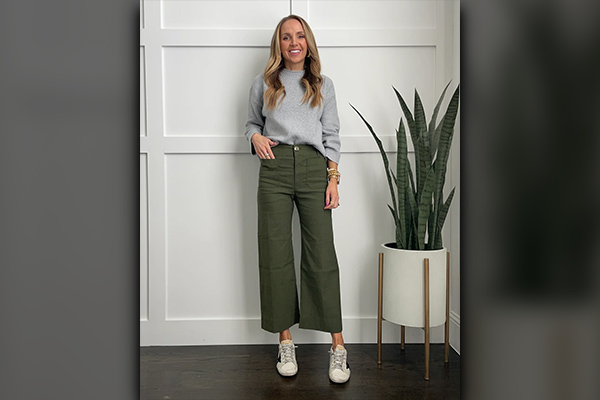 In summer you need a lot of casual outfits as you want to have free movements and not let anything come in between, but even your casual outfits should be different and attractive. You can be a minimalist and wear green pants black shirt outfit. Pick out any type of shirt, possibly black, and wear it with your green pants. You can even tuck it in. Let your hair down or tie it in a bun, and choose a cute bag to go with your look. If you wear this outfit on a summer night when it's all cool, you can wear green suede boots to match your pants. Wear a watch or some handcuffs which are going to go well with your clothes.  
Office Wear Green Pants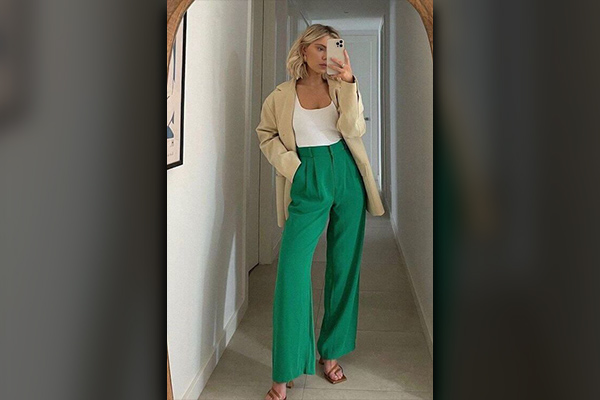 On an everyday basis, people tend to dress the same when they go to work, there is nothing now. However, if you are a woman who loves to dress up and has her own style then we have the perfect office outfit for you. Pick out green cotton pants and tuck in a button-down white shirt, slide over a green jacket, and wear pure white sneakers. Tie your hair in a bun, add some cute studs to your ears, and pick out a matching green bag. This cute green outfit will not be too much and will make you look like a fashionista. It is the perfect attire for your daily office wear, you can even wear it to semi-formal brunch meetings, it all depends on you.
Green Denim Jeans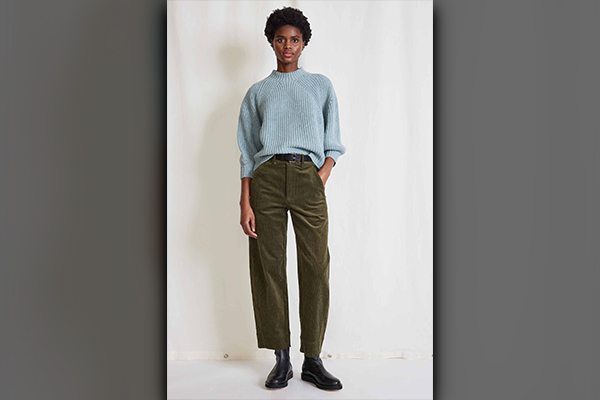 We all cannot live without wearing denim and that is for sure. Ripped jeans, or plain ones, just never seem to go out of style. You can pick out green high-waisted or mom jeans and wear them with a cute crop top tank top, and add on a cropped denim jacket. Fold up your jacket sleeves, and wear sneakers or trainers. Yes, this is a perfectly cute outfit that you can wear on casual breakfast dates, or just out on a picnic with friends, it is that cute.   
Green Leather Pants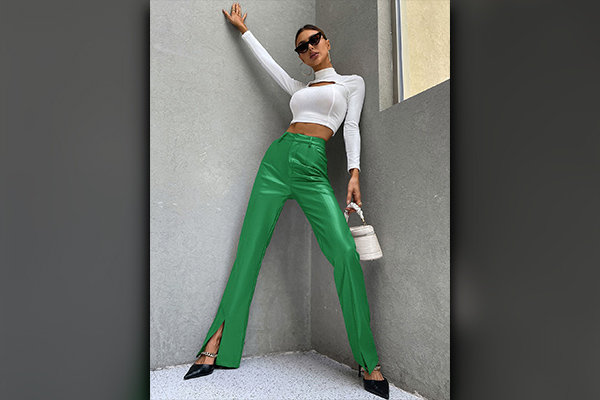 Thinking about green leather pants might seem very edgy, like 'What would such faux leather pants look like?' Green leather pants are surely edgy but if you are someone who loves to take a fashion risk then you are going to love this look. Pick out green leather flare pants, and put on a full-sleeved animal-patterned crop top. Blow-dry your hair, get your makeup on fleek, put on your sassy heels, pick up your mini bag and you are ready to rock any party.  
FAQs
What colors match olive green?
Hues of yellow, white, red, and black seem to complement the olive-green color. So you can always choose a complementary color to go with olive green. But if you want to try out other colors, you surely can. 
What color to wear with green pants?
Green pants work really well with a plain white button-down shirt. Crop tops in light colors also do the thing. If you are someone who likes monochrome then choose tops and outerwear of a light sage color.
What to wear with green pants?
Especially in summer, dark green pants should be paired with a white t-shirt, and then you can slide over a flannel. Put on sneakers and do not forget to wear your cap. 
What color shirt goes with green pants?
You can wear shirts, t-shirts, turtlenecks, and crop tops with green pants. About the color, lime yellow, mint green, rust, white, and even light blue seems to go really well when it comes to the upper wear with green pants.  
Conclusion
Sometimes you think that there are a lot of colors that go with pink clothes. In the same way, lots of colors and lots of styles seem to go with green pants. It really is all about your fashion instinct. If you think you should move from the usual clothing idea, you should. If you think an all-brown outfit should be your thing, then go for it. So, in the same way, if you think that you can slay green pants, do take a chance and try. You may never know that you might have new favorite outerwear.