Varsity jackets are renowned for being the ultimate jacket for athletes. However, the 2023 fashion scene is making it evident that you don't need to be an athlete in order to own this jacket. Read on to learn several ways to put together letterman jacket outfits for a relaxed and casual look. 
With the quintessential striped ribbed hemline, cuffs and collars, the letterman or varsity jackets are a subcategory of the bomber jackets. The material and often the color of the jacket's sleeves are different from its body. This is definitely not a design requisite, as the sleeves and body of many varsity jackets are made with the same material.
Often, the letterman jackets have patches of monograms, initials or slogans. The front closure is mostly with snap buttons. These slightly loose fitted jackets are a classic staple for men of all age groups. The use of varsity jackets isn't limited to the team members wearing them on the field. It's a voguish outerwear that reigns high for fall, winter, and spring fashion for men.
Letterman Jacket Fashion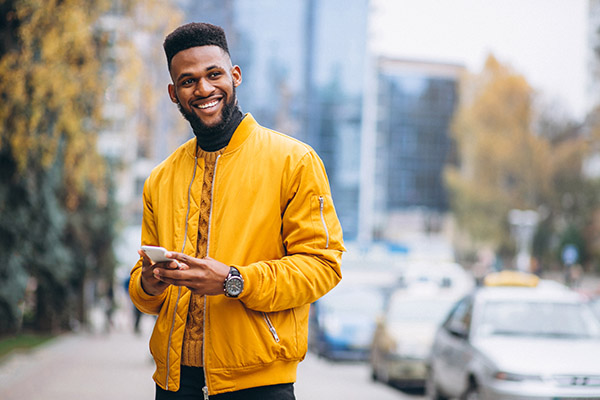 The outerwear that is now enjoying dominance over mainstream fashion has a history behind it. American sports is undoubtedly the birthplace of the varsity jacket. Students got the jacket on being qualified for being a part of the school or university sports team.
Students from prestigious universities played a significant role in redefining American fashion. It was after the 60s that varsity jackets were deemed appropriate as a fashion piece. The jacket was symbolic to many subcultures of the 80s fashion, particularly the hip hop style.
The most common style of varsity jacket has a body made of wool or polyester, with leather sleeves. It is available in many colors, but red, black, white and blue are the most popular. Varieties in different color combinations rule the streets; the best varsity jacket color combinations are hands down white or grey, blue and white, red and white, and green and white.
Varsity Jacket Styles
Varsity, letterman, or the baseball jacket are interchangeable terms for jackets that have a similar appearance. The structure and style are the same. Only minor differences in detailing make them distinct from one another. The use of patches and applique may differ in each type.
It is important to know how should a varsity jacket fit. It must not be too baggy, unless you are deliberately going for an oversized version. It should fit you in a way that adequate room is left for you to layer a hoodie or a sweatshirt underneath.
Varsity jackets are primarily the type of bomber jackets owned by college level athletes, while senior high school students wear letterman jackets. The name of the letterman jacket comes from the large initials on its body.
Baseball Jackets
A bit different from the varsity jacket, baseball jackets have a spread collar instead of the classic ribbed ones. This makes them the best men's bomber jacket as you can layer them efficiently. Another feature of the baseball jackets is their cropped length. You can wear them over different types of casual shirts, jeans, and cargo pants.
What to Wear with a Varsity Jacket?
When building letterman jacket outfits, it's your zodiac sign. You can get your hand on oversized versions as they are trending high, but we also suggest keeping a slim fit jacket for modern letterman jacket outfits.
If you have got a great hoodie, no need to think twice about what to wear with a varsity jacket. The varsity jacket outfit with a hoodie and jeans is a go-to combo for those urbane looks. Or, you can go for chambray shirts, sweaters, flannels, and cardigans under the jacket.
Its great to show your sartorial prowess by knowing what pants to wear with a varsity jacket. You have multiple options besides jeans, such as cargo pants, khakis, sweatpants, and chinos. It's better to opt for tapered, slim fit bottoms for a flattering look.
To go with the sporty vibe, style the letterman jacket with athletic shoes, high top sneakers, boots and baseball caps.
Letterman Jacket Outfits for Men
If you wonder how to style a letterman jacket in infallible ways, you are in for some amazing outfit recommendations below. Outfits with the varsity jacket have a sporty, preppy vibe to them. It's a type of jacket that will be your go-to choice for classic and retro looks as well. Here are some outfit inspirations for varsity jackets in a single color and a few with the best varsity jacket color combination.
Red Varsity Jacket Outfit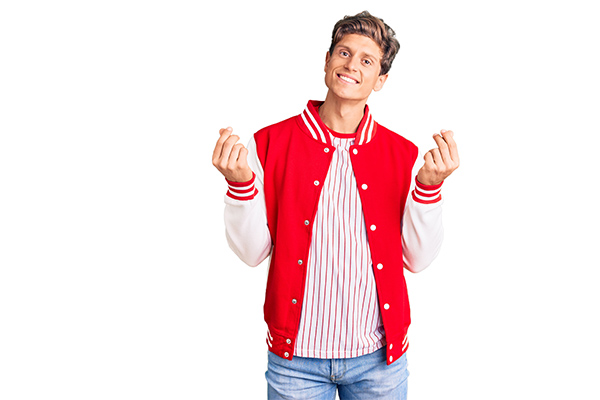 A red varsity jacket reminisces Michael Jackson's "Thriller" sentiments for all of us. Wondering what to wear with a varsity jacket in red color shouldn't be a cause of worry at all. You can try the following combinations with the red letterman jacket to ensure a dashing look.
Wear a solid black t-shirt and black cargo pants with a red varsity jacket. The graphic stripes on the jacket's shoulders would be an excellent detail to maintain the peppy factor for this look. Round off this varsity jacket outfit with black high top converse sneakers.
Wear a black and red flannel and steel blue slim fit jeans along with your red letterman jacket. To complete this outfit, go for a black baseball cap and black and white slip on sneakers.
Blue Varsity Jacket Outfit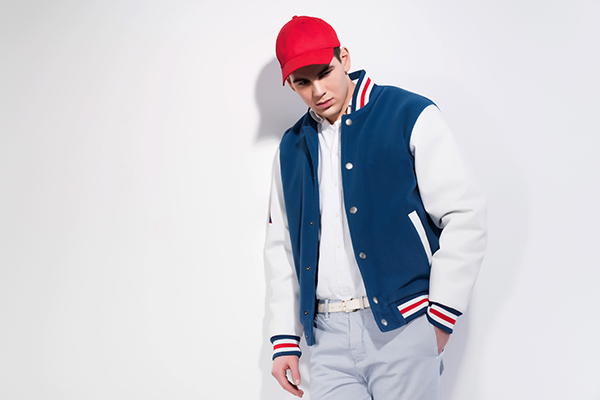 For a flashy style statement, your pick should be a blue varsity jacket. You can try the following outfits with it.
Wear a white graphic t-shirt along with grey stonewash jeans. To make this basic outfit stand out, layer it with a blue leather varsity jacket. Step into a pair of blue and white chunky sneakers.
Want to look uber stylish in a relaxed look? Team up a band collar white casual shirt with camo pants and a blue varsity jacket. You can complete the outfit with tan suede boots.
Black Varsity Jacket Outfit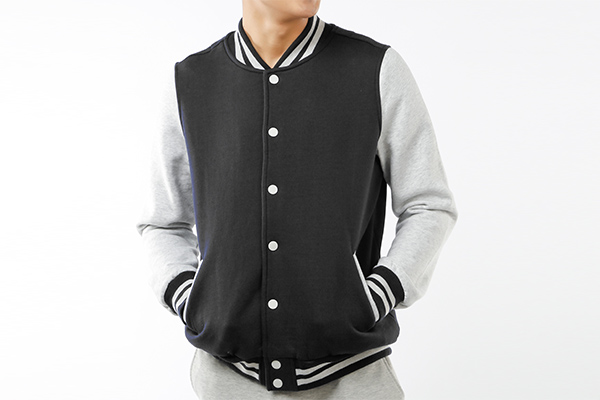 A great piece to wear both in the day and night, a black varsity jacket can be your choice for casual outfits that lean towards the sleeker side. You can interpret the following outfits.
Wear a dark grey button down under a lightweight v-neck sweater. Team it up with charcoal jeans and a black varsity jacket, and finish the look with black chukka boots.
A white hoodie and black joggers combination get a level up with an addition of the black varsity jacket. To complete the casual look, opt for white sneakers.
Black and White Letterman Jacket Outfit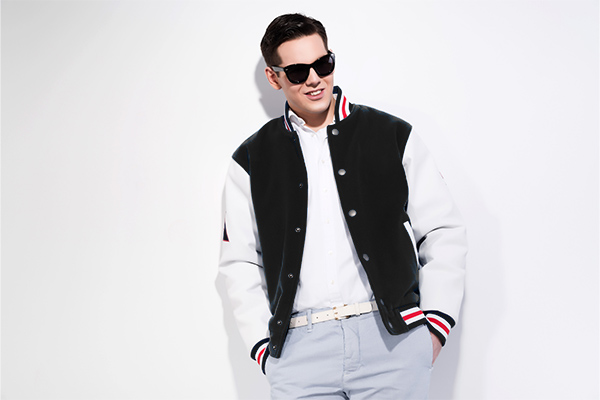 A black and white letterman jacket is a versatile choice. It will effortlessly team up with other staples to create fashionable outfits. For an instantly dandy look, wear a white crew neck t-shirt with black jeans. Layer a black and white varsity jacket over it and go for high top trainers to round off the attire.
Baseball Jacket Outfit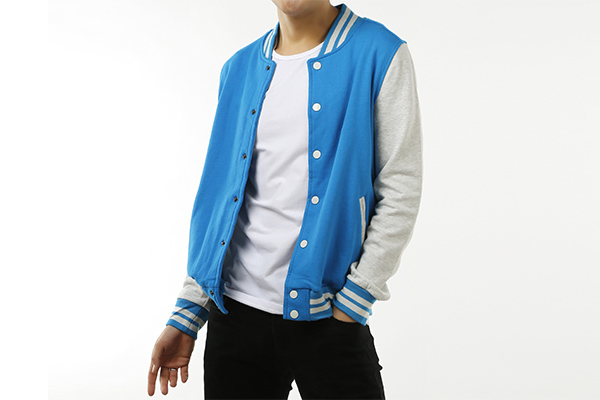 A spread collar and cropped baseball jacket can be an excellent piece to wear over layered outfits. Pick a green and white number to wear over a white t-shirt and off white well-worn jeans. Green converse shoes will go nicely with this outfit.
Light Grey Varsity Jacket with Black Sleeves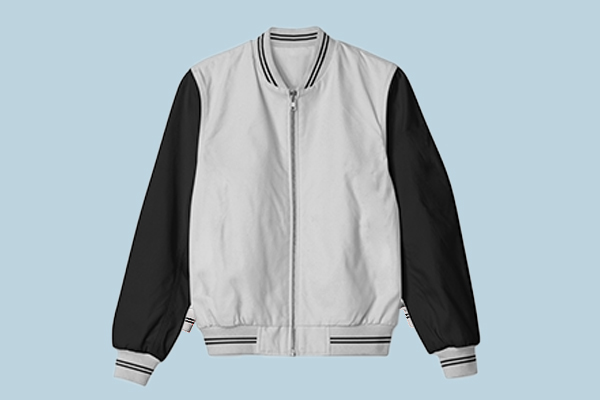 A very trendy color combination for the letterman jacket is light grey with black leather sleeves. Giving a modish look, it is surely one of the best varsity jacket color combination. Use it with navy blue jeans and a grey roll neck for a voguish look. If you are looking for appropriate footwear for this outfit, go for grey suede boots.
Oversized Letterman Jacket Outfit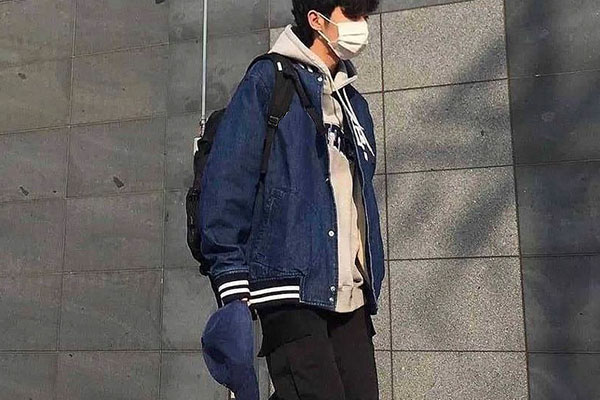 Baggy, comfortable and incredibly stylish, the oversized varsity jacket ticks all the boxes for the trendy outerwear this year. 2023 fashion is high on loose fits and baggy styles, so we advise you to add an oversized jacket in your favorite color to increase the number of casual outfits.
Wear a baggy army green and beige letterman jacket over a black t-shirt and green sweatpants. To finish this hip hop style look, wear a black bucket hat and white chunky soled sneakers.
FAQs – Letterman Jacket Outfits
How Should a Letterman Jacket Fit?
Tall guys can opt for oversized letterman jackets as they will help balance the elongated appearance. If you want to learn how to style a letterman jacket if you are short, opt for a slim fit jacket to divert attention towards your stature and physique.  
Are Letterman Jackets Still a Thing?
2023 marks the comeback of a plethora of trends from the past decades, particularly 90s themed fashion. Varsity or letterman jackets, too, are resurging, taking over the mainstream fashion outerwear. They go well with the currently popular sporty and preppy styles for men. 
What Goes With a Letterman Jacket?
A variety of jeans and trousers go with all the letterman jacket styles. You can go for slim fit jeans and a V-neck sweater beneath the jacket for a subtle look, or choose a white t-shirt, loose fit khakis and chunky sneakers for a relaxed, casual look.
Many accessories look nice with the letterman jacket outfits, such as baseball caps, sports watches and chains for a hip hop style.
What Pants to Wear With a Varsity Jacket?
Varsity jackets give a smart look when paired with khakis, dark and light washed denims, track pants, joggers, and cargo pants. 
Conclusion
By now, you must have learned many ideas on when and how to wear this bomber jacket. Knowing how to style a letterman jacket would help you create fashion forward contemporary looks for street and casual wear. Diving into this raging trend doesn't require much thought. You can choose any of the letterman jacket styles and recreate the outfits ideas mentioned above with a hint of your own style.