Named after the Chelsea district of London, the Chelsea boots were originally designed for the Royal Mews cleaners. However, it wasn't until Queen Victoria was seen wearing them that these boots came into the fashion limelight.
In modern times, women's Chelsea boots outfits are a must-have for the fall and winter season. With different types of dresses they can produce distinctive and stylish outfits or even relaxed, laid-back ensembles. They not only appear contemporary and stylish, but also sophisticated and refined.
In terms of style, these boots are a mid-calf boot with a rounded toe and a thick rubber sole. The boot is typically constructed of leather (or faux leather), but it can also be suede or cloth. On the back of the boot, an elastic side panel with pull tabs is present.
The "how to dress Chelsea boots" fashion query is easy to answer with the variety of options available including flat, block, and medium heels. Without doubt, the comfort of Chelsea boots is exceptional.
What To Expect In This Article?
Chelsea boots outfits
Here are our recommendations on styling this appealing footwear and relieve you of thinking what to wear with chelsea boots.
Wear with cozy knitwear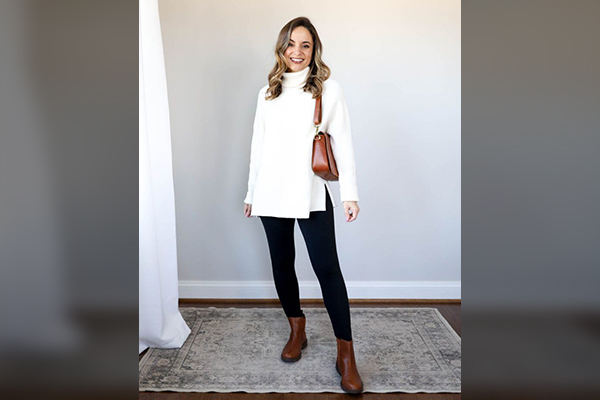 Particularly for the colder months, sweaters are a basic base layer that can be used to dress up or down your attire. With its softness, it also has the advantage of giving your outfit texture and warmth.
We recommend you to choose a pair of nude Chelsea boots with a cream-colored sweater. Layering an oversized sweater over your Chelsea boots can offer you a casual Chelsea boots outfit. It will also pose as one of the many model outfits we crave for. You can combine this outfit with a regular pair of slender blue jeans.
Got jeans in your genes?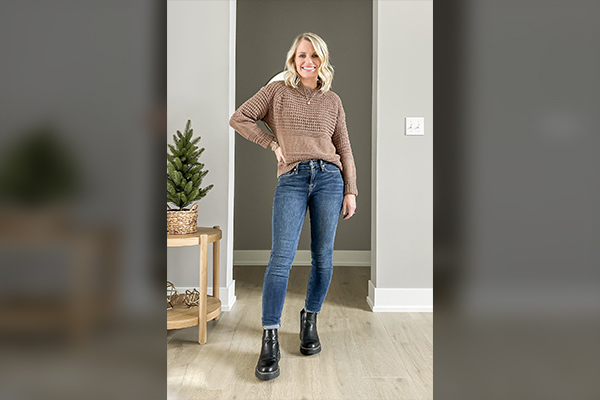 Keep in mind that you want everyone to see your appealing Chelsea boots! The combination of
jeans and chelsea boots is one that keeps the boots in limelight. Therefore, you shouldn't choose jeans that are too long or that substantially hide your boots.
So when you are selecting types of pants to wear with chelsea boots, you can rummage through the many well-liked jean styles such as cropped, slim, and even flared jeans!
But how to wear Chelsea boots with jeans, you ask? Well, black Chelsea boots look fantastic with slightly distressed cropped black jeans. If your pants and boots are the same color, exposing a bit of skin helps break up the color and somewhat lengthens the appearance of the leg. Also, with cropped jeans you can display the boots and some skin without even cuffing the ankles.
Chelsea boots have the amazing quality of being simple to wear with both formal and extremely informal clothing combinations. Craft an amazing leather chelsea boots outfit with a classic white shirt, black skinny jeans, and olive bomber leather jacket.
Straight leg jeans that hit at the top of your boot are always a good choice. Even if this style may not be the newest, it will always make you look elegant and professional. An adorable spring outfit can be crafted with an oversized graphic tee and jeans paired with a cropped blazer.
Plaid to the aid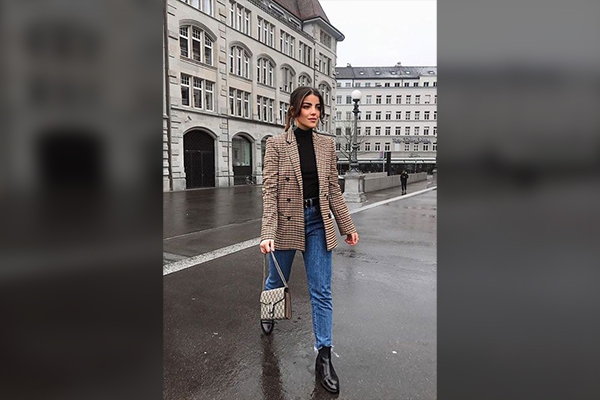 A plaid shirt and a comfy pair of Chelsea boots are a go-to outfit for fall and winter. Really, any color of boot can be paired with a plaid shirt. To make it look lively and contemporary, it's all about experimenting with various textures and colors.
For a stylish, laid-back appearance, we recommend a timeless pair of black Chelsea boots with the plaid shirt. However, trying a dark brown Chelsea boots outfit poses a distinctive look that is ideal for everyday use.
Well, if plaid can rescue you while on top, it can also save you when worn at the bottom. This outfit, which combines a black leather coat and plaid pants with chelsea boots, effortlessly blurs the lines between classy and casual. It's going to become one of your favorite Chelsea boots outfits.
How about putting on a pair of plaid pants and a black crew-neck sweater? When combined, these pieces look good and are highly practical. Complete your look with a pair of chelsea boots if you want to quickly glam up this ensemble.
Skirts and dresses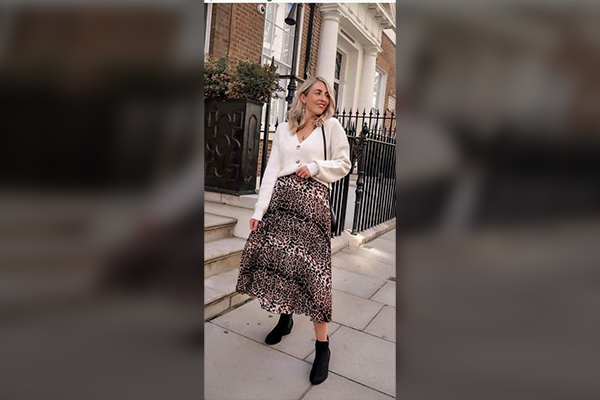 You don't always have to wear Chelsea boots with jeans to look adorable. You can wear them with anything—leggings, tights, dresses, skirts, overalls –and they will look wonderful!
With a mini-skirt, you can create a cute Chelsea boots outfit women in their early twenties would love to wear. Pair a bulky sweater, a gray miniskirt with black tights and black boots and get the overload of cuteness.
Wearing Chelsea boots with dress is another desirable feminine trend. And if you wear a coat over a dress, whether it's a mini, maxi, sweater, or slip dress –the whole equation will escalate to the top on the fashion charts.
Short dresses look great with boots, especially if you are aiming for a flirtatious and lively vibe. For a coordinated outfit, choose a patterned dress(e.g floral) and matching boots.
Guess what? You can wear Chelsea boots with long dresses as well! Create a heeled chelsea boots outfit by pairing it with a flowy floral dress. For a daring twist, you can swap it with a leather or denim dress. The heels of your boots will add some height to your silhouette.
The charisma of Chelsea boots will even let you figure out how to style a slip dress with it. Simply pair a silk slip dress with a pair of chunky Chelsea boots for a striking appearance. The style of this ensemble can be enhanced if you have a jacket to wear with the dress.
Perfecting with dress pants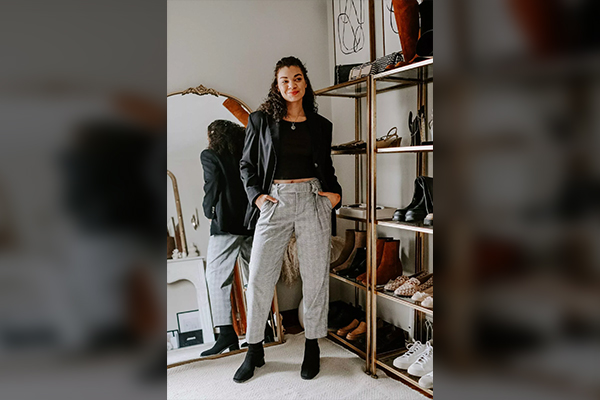 The ideal footwear that transitions from summer to fall are chelsea boots. They are easy to dress up or down and are cozy and fashionable. To get you through the winter, some are waterproof and winterized, so keep an eye out for those!
Wide-leg pants, cropped pants, palazzo pants, leather pants, slim dress pants, and cargos all look fantastic with Chelsea boots. However, finding the ideal balance between proportion and silhouette is crucial.
Try black dress pants and black Chelsea boots to create a sleek appearance. Convert this into an excellent business outfit by adding a simple tee and a blazer.
If you are wondering how to style brown pants, try pairing your boots with a brown pants suit. Make sure the pants are tailored to a slim-fit to get the sophistication on spot!
What to wear with brown ankle boots?
Women should wear bright colors with dark brown boots. For example, Red dresses are best companions for dark brown boots. They can also enhance any casual blue jeans outfit.
What to wear with black Chelsea boots?
Black Chelsea boots can be worn casually with jeans, a white t-shirt, and a denim overshirt. When paired with pants, a roll-neck sweater, and an overcoat, they can be dressed up for an urbane vibe. Put them together with chinos, an Oxford shirt, and a blazer for business-casual attire.
How to wear suede Chelsea boots?
Suede Chelsea boots can be worn with jeans, a loose t-shirt and a suede jacket to create a stylish ensemble.
What are tall Chelsea boots?
A classic Chelsea boot is ankle-length . However, tall Chelsea boots have higher-than-average shafts.
Conclusion
In conclusion, Chelsea boots go well with dresses, skirts, jeans, and other bottoms. They successfully complement every major wardrobe staple. Women can enjoy a great number of outfit combinations with the charming Chelsea boots.
Above you can find amazing ideas on how to wear chelsea boots for women to spend their winters and fall without any wardrobe worries.