Couples that slay together stay together. Relationships are beautiful, difficult, overwhelming, joyful and so much more. Finding that one special person with whom you want to spend your day and nights talking is everyone's dream.
Once you get into a relationship you start adopting each other's likes, dislikes, and habits. Eventually, you end up with a similar fashion sense. Couples that dress alike really are couple goals.
You may think that matching outfits mean corny shirts that have 'he's mine' or 'she's mine' written on them. That was a trend no doubt but thanks to ever-changing fashion, all that has changed. Couples nowadays wear clothes that complement each other's outfits or match in a more sophisticated way. They choose clothing pieces that look good both individually and unitedly.
What To Expect In This Article?
Matching Outfit Ideas for Couples
Fashion trends change with every season and if you want to stay relevant you have to stay in the loop. There are a few wardrobe staples that you and your significant other should invest in. You too can be a couple that matches, just by learning how to style certain pieces and making them work on the both of you.
Down below are 7 ways you can become the 'It-Couple' of the town.
Denim Duo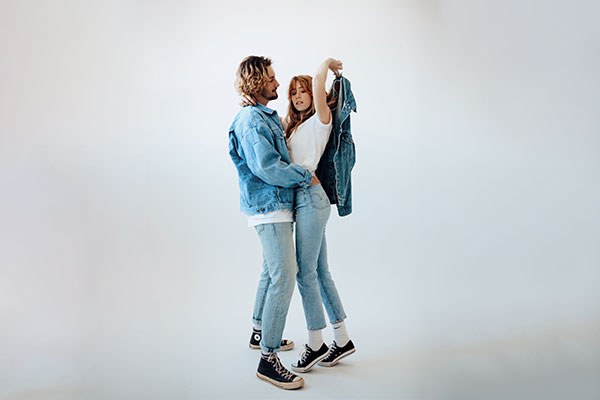 This is one of the easiest yet chic-est ways to match. Denim jackets paired with white tees and denim jeans are a classic look. Whether it be a date or just a day at the park, denim jackets elevate any look.
There are two ways you can go about this look;
You can style similar denim jackets but with different styles of T-shirts. For example, girls look cute in round necks or scooped necks, while guys look better in V-necks. This minor detail can be the perfect way to make this look more wearable as a couple.
You can also go all out and match everything from head to toe, which means the same jackets, shirts, jeans, shoes and even hats! Remember one thing about fashion, if you wear it with confidence, you can pull off pretty much any look.
Seeing Double in Athleisure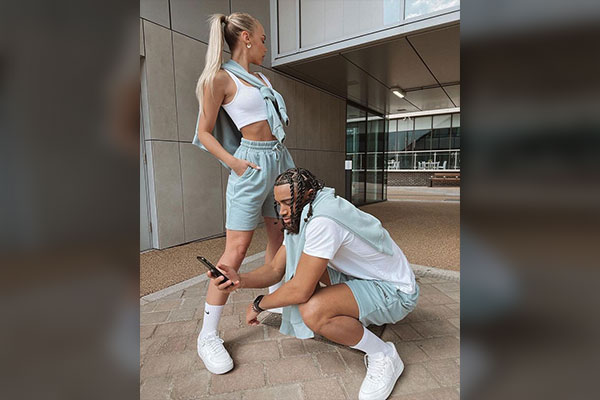 Streetwear style is one of the biggest trends at the moment. This style is all about being comfortably stylish. The street is your actual runway. The best thing about athleisure wear is that it looks insanely good when you match with your partner.
Black on black is a must-try streetwear look. Girls can wear a black sporty crop top with matching loose-fit trousers. Guys can wear black sports jackets with black jogger pants. Tie the look together by wearing matching white sneakers and run the block in style.
For a more high-class athleisure look, an all-white outfit may be more fitting. Transition into the winter by adding on matching puffer jackets, and beanies, or throwing on matching sweaters. The overall look is hard to miss.
Airport Casual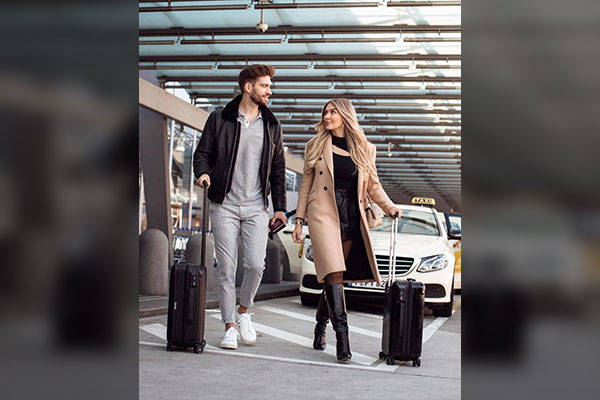 You may not be a celebrity but that doesn't mean you can't travel in style. Airport looks are one of the most searched fashion styles. These outfits can be best described as stylishly-comfortable. Most outfits consist of sweatpants, crop tops, ribbed tees and jackets.
For the ultimate couple airport look, pair matching white sweatpants and white accessories. To add a bit of variation, girls can wear brown bomber jackets with a white crop top while guys can wear a similar brown sweatshirt. The slight difference in clothing pieces complements the overall look. Your ticket may be economy but this look is definitely first class.
Everything Looks Better in Leather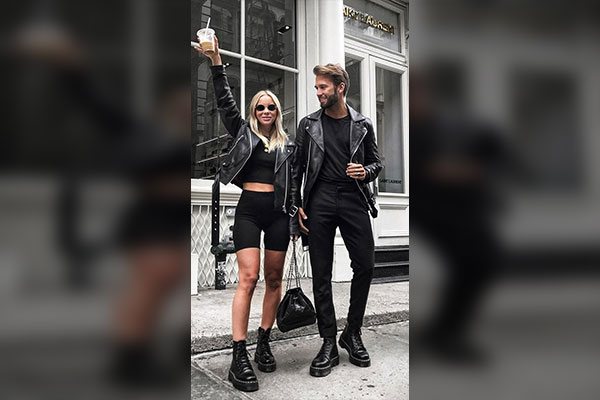 Leather jackets are one of the best, if not THE best, matching clothing items you can have in your wardrobe. They are versatile, edgy, chic and sexy. Men's leather jackets are larger and longer than women's jackets while women's leather jackets are smaller and more cinched in at the waist. They are also usually cropped and have a snugger fit than men's jackets.
Start out with an all-black, monochrome outfit. Girls can wear black lace tops or tank tops with biker shorts/skirts or even skinny jeans. Finish off the look with combat boots. For men, a simple black tee with black jeans and matching combat boots will do just the trick. Add on the matching jackets to look bold and fabulous.
If you want the leather jackets to be the center of attention then try pairing white T-shirts with blue jeans. The look works wonderfully on both men and women. Add on your black leather jackets, and shoes/heels and you have a timeless fashion look on your hands.
Matching Prints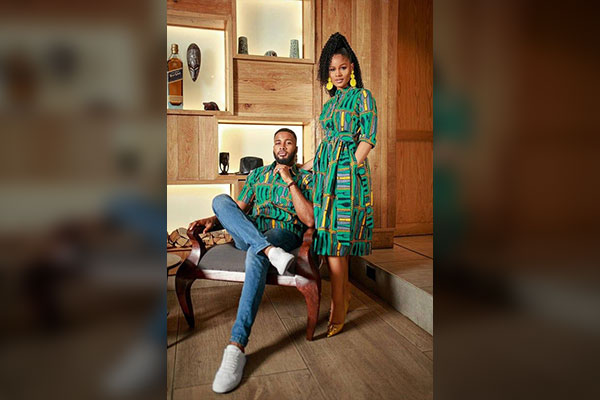 Nothing says summertime like a bunch of colorful prints. Summer outfits are all about being vibrant, lightweight and fun. If matching in the traditional style isn't for you then you can always wear matching prints. Girls look great in printed body-con dresses. Guys can wear a tie, handkerchief, or shorts with a similar print. The overall couple's outfit looks well-balanced and unforgettable.
When the heat gets out of control, pool parties are all the rage. High temperatures can present an opportunity for you to wear matching swimsuits. You can get away with any sort of print and the pictures come out phenomenal!
Layered Twins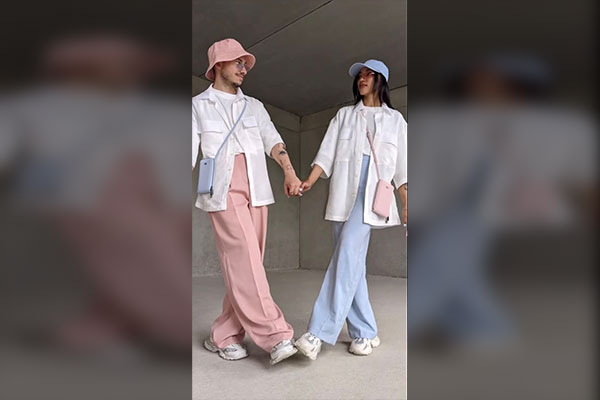 Layering is truly an art form. Stacking on a bunch of clothing pieces and getting them all to work in harmony is not as easy as it looks. Winter is all about bundling up and when done right the looks are to die for.
Tan and black make a sultry color combination. For women, black sheer tights, a little black dress,a black ribbed sweater and a tan trench coat create a subtle but sexy look. Thrown on a scarf for a more cozy look. Men can match with an all-black outfit and a tan trench coat to cover up. The matching outerwear look can be a bit intimidating but can also be spotted from miles away.
Corduroy is making a comeback and what better way to wear it than by matching with a partner. Corduroy is a thick cotton sort of material with a raised 'cord' texture. It is unlike any other material and is great for colder days.
Women look stunning in corduroy jumpsuits. Pair a caramel corduroy jumpsuit with matching caramel accessories. Men can wear corduroy pants with a beige turtleneck and a brown blazer. The final look is a perfectly balanced, eye-catching look.
Alternatively, corduroy pants for men can also be paired with a simple, off-white, linen button-down. Women can match the outfit with a similar shirt, a mini skirt and leggings.
A Formal Couple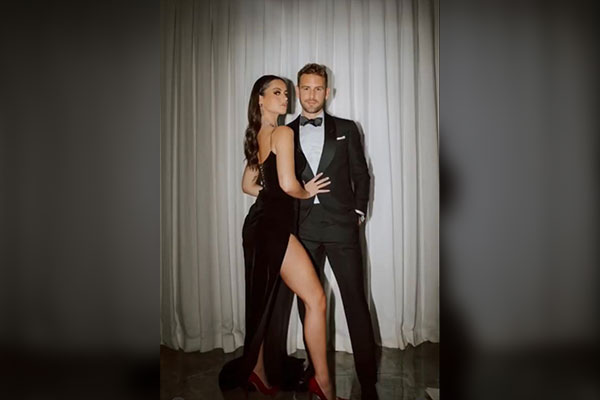 Cocktail parties, events and weddings are great places to coordinate outfits. If you want to avoid matching completely, choose clothes belonging to the same color palettes. For example, women can wear black slip dresses with maroon heels. Men can match with a well-fitted, black suit and a maroon pocket square. Adding this accessory is a sneaky way to match without it being too out there.
Play with color for a more noticeable couple outfit. An emerald green ball gown pairs beautifully with an emerald green suit. Add on a white shirt to add a refreshing touch to this couple's look.
Men look exceptionally dapper in suits and when they have a gorgeous lady, in a similar color gown by their side, the result is fireworks!
FAQ's
How to match a couple outfits?
There are a bunch of ways you can match outfits as a couple. You can wear matching tees, bottoms, jackets, coats, shoes, blazers, prints, and accessories. It is up to you to wear completely identical outfits or you can mimic certain pieces. 
How to coordinate outfits for couples?
In order to coordinate an outfit as a couple, it is important to,
– have matching clothing pieces
– have knowledge of the weather so you can plan accordingly
– have an idea as to what you want the overall look to look like. 
You can match by wearing similar clothing pieces, accessories, or even fabrics. 
Why do couples wear matching outfits?
Couples wear matching outfits to show a united front. In a way, they express their love and understanding for each other by coordinating their outfits. 
Conclusion
Fashion is personal and sharing your unique fashion sense with someone is a huge thing. Matching outfits look super cute but they are so much more than that. They reflect understanding, love, and unity. Accepting each other's personal style is no less than poetry.
With that being said, matching couple outfits can always get out of hand, which is why we came up with this guide. To sum it all up, you can either, match completely or, with just one or two clothing pieces. You can also keep the matching subtle by picking outfits that belong to a similar color palette. Just remember to pick outfits you think you and your partner will look good in and style away!