Did you know that the word corduroy is derived from the French word, corde du roi, which means 'cord of the king'? So it's out of harm's way to say that choosing corduroy means choosing like a king! Basically, corduroy can be described as a ribbed fabric made out of bands of threads that are stitched together in a hard-wearing and dense weave. Means, it is slightly weighty as compared to jeans, soft in textile, and long-lasting.
So, for those men who want to dress to impress and make an enduring impression, corduroy pants are a must-have in their wardrobes. Initially, corduroy pants came in only two colors; brown and green. They are a worthy replacement for your basic jeans and trousers. It is no doubt a great garment choice for the fashion-savvy looking for comfort and style in a single garment.
If you are looking for outfit ideas with corduroy pants, you will find the ultimate guide in this article. Cords are versatile and holds an important position in men's essential clothing. They can be paired up into amazing outfit combinations. Go through this guide and select an idea that suits you best!
What To Expect In This Article?
Earthy brown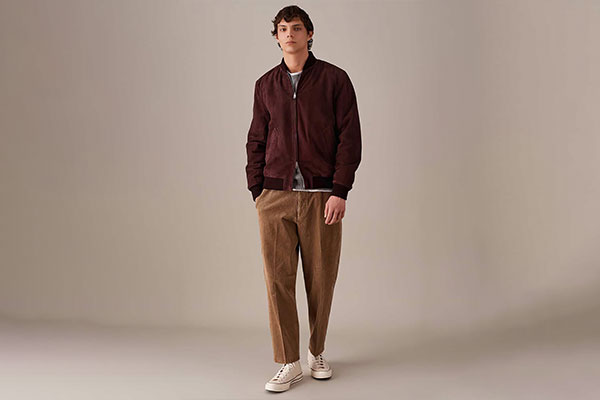 Brown corduroy pants are the first of their kind. It is a classic piece that can be paired with different types of shirts and you can achieve a variety of smart casual and casual looks.
For the expressive men, grab hold of your graphic tee and wear it with your earthy cords. It gives you the comfort of a t-shirt and helps out in expressing yourself too. From running chores to hanging out with friends, this is the most effortless look.
For denim lovers, it is about time you bring your shirts to the front row of your wardrobe. Denim shirts are popular and look good on everyone, irrespective of age and body stature. So, pair your denim shirt with corduroy pants and complete the look with leather shoes. This ensemble emanates charismatic vibes and can be easily worn throughout the year.
For businessmen, the safest and sound combination is to pair your brown corduroy pants with a white collar shirt. Top it with a dark blue blazer and instantly transform yourself into a true style icon. If you are the boss, then you will be a fashion mentor for many.
Finally, for a smart casual look, we recommend pairing your old blue plaid shirt with your new brown cords. Shades of blue look great with earthy browns.
Mellow mustard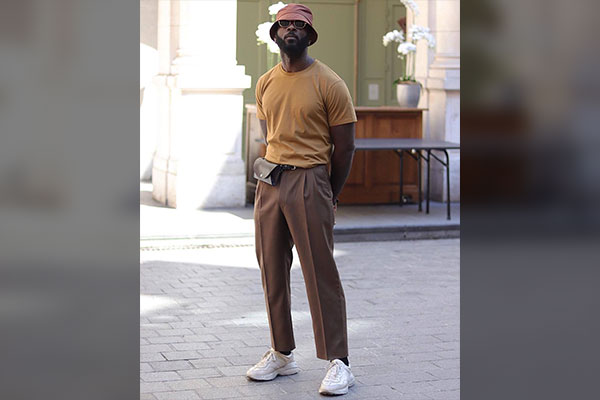 If you own mustard corduroy pants, don't fret! They look very appealing when paired with dark-toned shirts, especially shades of blue, black, and maroon. A combination of navy blue turtleneck and overcoat matched with mustard corduroy pants is a very likable and on-trend look. Wear black leather loafers and you are ready to go!
For a simple daytime look, you can wear mustard cords with a white button-down shirt. This is the most elegant classy outfit that every modern man should have in his wardrobe.
Another smart combination of a grey wool blazer and mustard cords can keep up the style flag. Inside you can wear a plain light blue collared shirt and a mustard v-neck sweater on top. Finish off with brown loafers for a relaxed formal look.
Basic Blue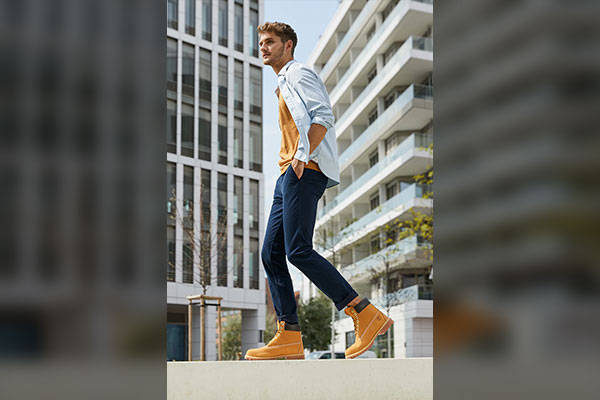 Blue corduroy pants were one of the first arrivals in the corduroy family. With these basic corduroy pants, you can create a variety of sophisticated outfits. All you have to do is wear a yellow sweater with black leather boots. This whole outfit is very attractive because the yellow brings out the best of the blue pants.
If you are a jacket enthusiast then you don't need to hold back your jackets. Some of the best ensembles can be crafted with leather jackets. A brown leather jacket paired with blue cords and a white tee is worth a try because it brings out your sophisticated side.
Yes, how can we forget double rider leather jackets? Almost every man possesses a rider jacket in their wardrobe. A hassle-free combo can be derived with a black double rider biker jacket and blue corduroy pants. A light-colored tee shirt inside and black casual boots will complement the whole look.
Another creative combination for a more formal look is to pair a navy sweater vest on top of a plain light-blue shirt and of course, your blue corduroy pants. Everyone at your workplace will love this classy and stylish combo.
For fool-proof casual dressing, a white turtleneck sweater and blue cords are a combo you can pull off when you have zero time.
Neutral Grey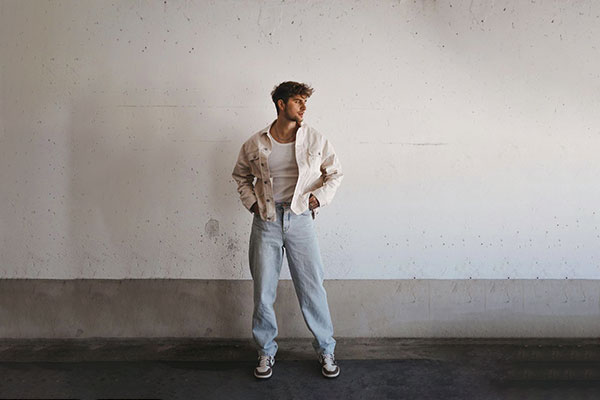 Do you think you had a losing deal when you bought your grey corduroy pants? Not at all! We have many clothing ideas for you on how to wear grey cords with ease. Start with a black overcoat that will bring a smart touch to an all-grey outfit. Slip into a pair of black leather shoes for a neat look.
For casual dressing, you can style your grey corduroy pants with a beige long-sleeved shirt. For the cherry on top, wear your white canvas sneakers. This whole outfit is very youthful and charming.
If you are in search of a mature and good-looking outfit and don't have much time to haul through your wardrobe, then don't hesitate to try this one out. Well, it's a day out for your café-racer jacket! The ultimate brown café-racer jacket when paired with your grey cords creates a contemporary outfit look.
For comfort dressing with a creative twist, reach out for a blue vertical-striped long sleeves shirt. Wear it on top of a plain white tee and finally slip into your grey corduroy pants. This combo creates an instant appeal in your casual dressing game.
Bold burgundy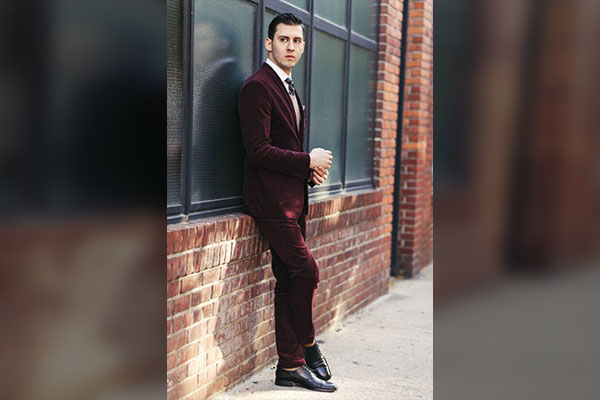 Burgundy is ideal for men who want to stand out in the crowd. And let us tell you that wearing burgundy corduroy pants takes more than just confidence. It involves the understanding of style and color. Wearing a burgundy cord is daring because these ruby-hued pants can craft quite a statement for the fashion-savvy. Luckily we are here to pour some outfit ideas for you to inspire from
For the most dauntless men out there, wear a beige collar shirt and top it with a black blazer. This is one of the many ways to wear a black blazer whilst making a fashion statement. Your burgundy cord will complement the whole look and you will appear nothing short of a handsome hero!
Since burgundy gives a pop of color, it is likable to tone down the rest of your clothing pieces. Reaching out for an overcoat in grey color is a way to do this. The combination of burgundy pants with a grey overcoat is an effortless way to infuse refinement into the outfit.
Even workaholics can put on a formal look with these bright-hued pants. Style them with any button-down shirt and a blue blazer. Don't forget to add a matching tie to complete this dapper ensemble.
FAQs
What shirts go with corduroy pants?
Speaking of shirts, a denim shirt and chambray shirt is a match made in heaven for the corduroy pants. However, graphic tees, button-down full sleeves shirts, and turtlenecks also go well with cords.  
Do men wear corduroy pants anymore?
Yes! Thanks to the vintage styling and fashion comebacks, corduroy pants will never be out of style. Nowadays men are considering corduroy as a fashionable closet essential.
Are corduroys for winter?
Corduroy is a versatile clothing piece. It is a perfect winter fabric because it is thick and yielding and keeps you warm in freezing temperatures. But it can also be worn with button-down shirts for a cozy summer look.
What colors go well with corduroy?
Corduroy brings together many colors. For a bold look, deep reds, greens and blues go well with corduroy. For a mature look, neutrals such as white, grey, and black harmonize well with the cords. And for an inventive look even mustards, oranges, and plums do the trick!
How do you style a cord?
Cords have a distinctive ability to look both dressed up and comfortable at the same time. To style a cord you need to keep your shirts simple and experiment with colors.
Conclusion
Whether you prefer laid-back dressing or stand-out dressing, we think you will agree with us that men's corduroy pants will never be out of your choice pool. The fabric of corduroy is most favorable for winters –thick, woven, and cozy. These characteristics add volume and an almost velvety feel to the garment. Corduroys are also popular in spring and fall due to their weight and texture. However, you may also wear cords in summer with no trouble. Just pair them with neutral tones and you are good to go!
All in all, we have mentioned a multitude of outfit ideas above for your corduroy pants. You will appreciate that even the rarest of colors won't go to waste if you follow our guide. Well, what are you waiting for?