Looking sharp and professional can be quite tough at times, especially for women. Many stylish outfits are not that comfortable as a whole. However, the real discomfort starts and ends with footwear, specifically heels, pumps and other elevated shoes.
Loafers are the ideal, comfortable alternative to raised corporate footwear. Some jobs may mandate heels in their dress code. But if you have the choice, switching over is worth it. They're also a great addition to your wardrobe for smart casual and preppy styles as well.
What To Expect In This Article?
What Makes Loafers So Special?
The value of loafers lies in their balance of classiness, style and comfort. For example, you might assume that ballet flats are a reasonable alternative for loafers, at least for a corporate office.
The issue with ballet flats is their sheer simplicity which can very quickly turn into blandness under plain work attires. Loafers, on the other hand, fulfill the professional duty and make you feel empowered without any issues while also emanating a stylish aura that's tough to replicate with anything else.
As for comfort, many loafers give sneakers a run for their money thanks to adequate padding, a covered design, and a relatively flat sole. Plus, it only takes seconds to wear or remove loafers.
Best Way to Style Loafers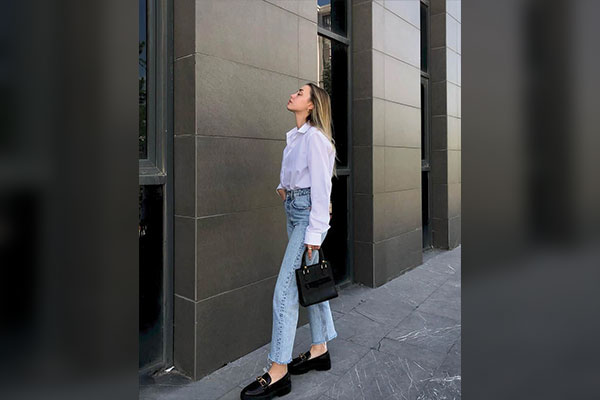 Styling loafers is not as simple as understanding a few of the best outfits and repeating their ideas in outfits you create on your own. Well, you can do this, but it will only scratch the surface of what's possible with loafers.
One of these example outfits might show that loafers are ideal shoes for flared jeans, which is true. But they're also fantastic with skinny jeans, dress pants, skirts and dresses.
The core theme to learn about loafer fashion is that it does not work well without a plan. Unlike a pair of white low-top sneakers that you can wear under almost any casual outfit, loafers require you to plan ahead.
This can be something as simple as matching the color of your shirt with the loafers or complicated like crafting a brand new outfit with the loafers as the origin. You can even go a bit experimental with stuff like velvet pants. Whatever you do, the end result will be worth the effort.
Loafers in a Professional Setting
Loafers are super underrated when it comes to corporate professional settings. Though half of it is many workplaces don't allow loafers or other similar footwear in their dress code. If they are allowed, loafers are the perfect replacement for traditional heels and a massive step-up over ballet flats.
Keep in mind that not all leather loafers will fit well with a corporate environment. If you are interested, these are the ideal loafer colors for professional settings.
Black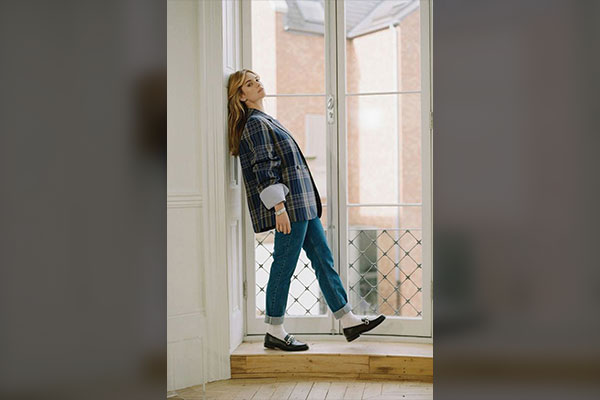 All you need is a pair of black leather loafers, and you'll never be uncomfortable in the office ever again. You can wear this basic pair under black pencil skirts, dark dress pants, and even flared trousers without any issues or setbacks. These are also the key to regular black outfits outside of work.
Brown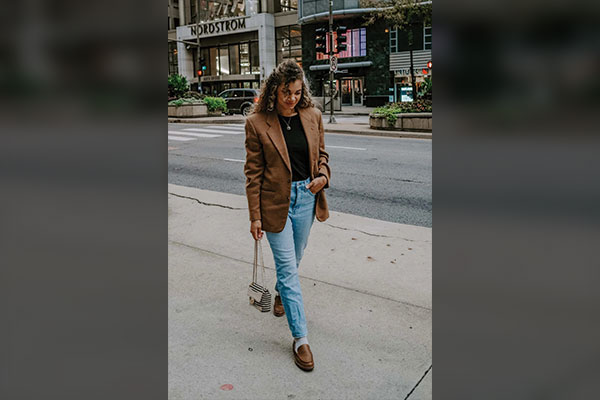 If your office attire includes colors other than black and white, look into brown suede loafers. Their matchup against anything blue, light blue and pink is legendary. Plus, they can also be repurposed with even more colorful outfits on casual Fridays.
White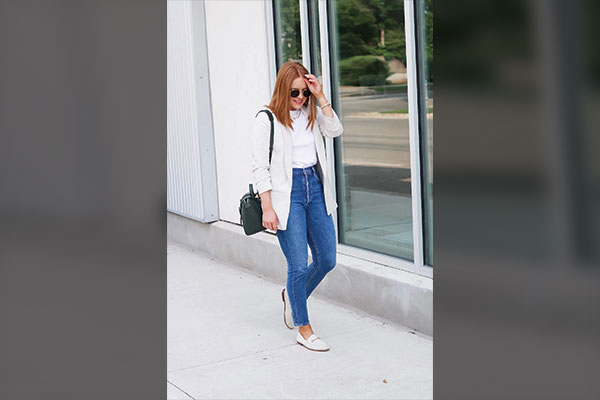 White loafers are your last key option, and they look pristine. The only issue with white loafers is that they require extra care and attention. In other words, white loafers are high-risk, high-reward footwear that's not for everyone.
Corporate Loafer Outfits To Try
You need to learn about and understand the greatest corporate outfits for women with comfy loafers. It doesn't matter if you want to be a lazy fashionista that uses their styling skills to save time or someone who put as much effort as they can into looking their best every day.
Here are a few of the best loafer outfits you can wear to the office today. (Keep in mind that you might not be able to rock all of these ensembles to work as it depends on the dress code at your workplace.)
Let's get started.
Classic All-black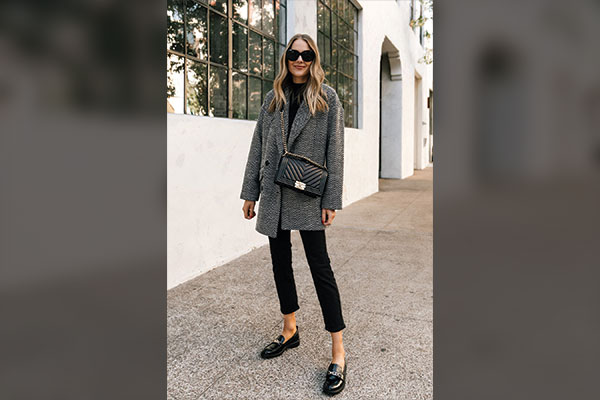 The sophisticated vibe of an all-black outfit is already the perfect match for most corporate scenarios. Adding black loafers into the mix not only reinforces this notion but also adds some uniqueness to your look.
The base of this outfit would be a pair of skintight black jeans and a plain black button-up. Top it all off with a fitted black blazer and black leather loafers to complete the look. You can also upgrade this look to be more unique, but that will require more work and planning.
First off, replacing the black blazer with a black and dark gray striped suit jacket would add some variety to the attire. Secondly, you can try to find black loafers with golden-looking metal strap and wear jewelry that matches it.
Brown & Cream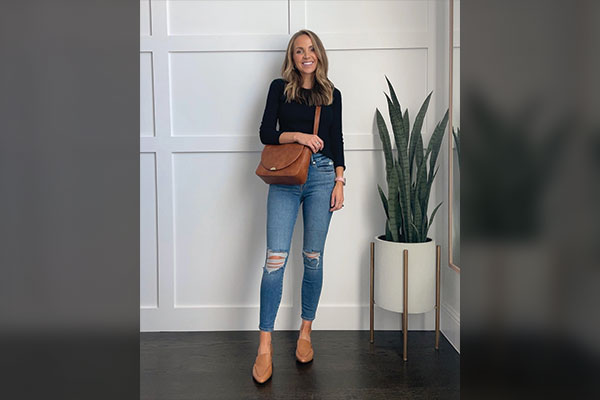 This is the outfit for when you need to look approachable and friendly while also maintaining a level of professionalism. It offers a flawless balance between neutral and colorful as well (for a corporate setting).
The star of the show here is a dusty corduroy blazer that attracts all the attention due to its color and distinct texture. All you need to turn this into a successful workplace outfit is a loose-fitting cream knit turtleneck, tucked into a pair of black dress pants.
Now, this attire is brilliant as is, but it will feel more cohesive if worn alongside brown leather loafers with a shiny finish. Brown leather dusters are also the ideal outerwear addition for rocking this look during winter.
Light-weight Gray Tones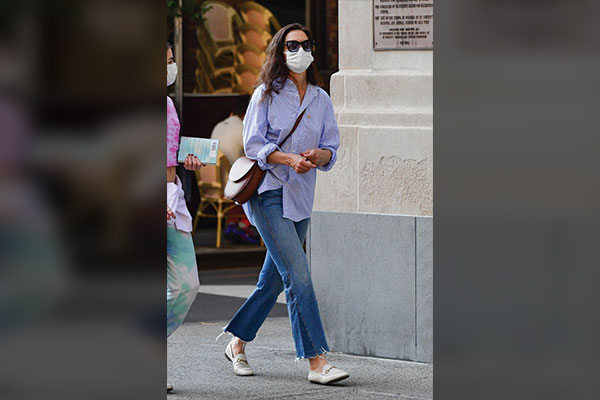 Not all corporate settings require you to wear a semi-formal outfit with a blazer/suit jacket. If you're looking for ensembles that look fantastic without multiple layers, these outfits with gray loafers are for you.
The simplest look you can pull off with gray loafers is with black pants. It features a pair of black jeans or dress pants with gray loafers and a matching gray top. This top can be a button-up, turtleneck, or anything in between; that choice is completely up to you.
How do you wear loafers with style?
The secret of wearing loafers with style is to put in the effort. Look for even a single element in the outfit that can contrast or complement the loafers.
What is the purpose of loafer shoes?
The purpose of loafers is to be a bridge between the professional and casual world. You can wear a pair to work and then rock the same loafers to a late-night party.
How comfortable are loafers?
Well-built loafers as a whole are all surprisingly comfortable thanks to generous padding, adequate pressure and support on all sides, and relatively flat soles.
What are loafers made of?
You can find loafers made from aniline leather, suede, fabric, denim, velvet, and more.
Are loafers formal?
No, loafers are not fully formal. They are instead a bridge between formal and casual.
Final Words
The search for the perfect corporate footwear is a long one for women. They need something that's stylish, comfortable, easy to integrate into outfits, and versatile, all at the same time. While there is no such thing as a perfect pair of office shoes in the real world, loafers come pretty close.
Learning how to style loafers properly will not only enhance your experience dressing up for a corporate office job but open the doors to thousands of new and exciting fashion opportunities as well.