You might have heard of terms like "Boss Lady" and "Boss Girl" floating around and wondered to yourself what they mean and if there's any reality to dressing like a boss. Here's what we've realized, when you dress up in a manner that is powerful, it exudes confidence and boosts your performance.
You are what you eat and you feel the way you dress – this is a mantra that all executives, who are leveling up to take the management spots in their respective fields, operate on.
But what does dressing like a boss truly mean? Does it mean you wear expensive clothes that consummate your savings? Does it mean that you look older than your age by choosing clothes that are boring and nonexperimental? No, those are just allegations that stand in the way of you dressing up to your potential.
In order to dress like a boss, you need to start by paying attention to the details. You don't need to dress opposite to your personality; instead, be as authentic to your true self as possible because it shows that you know who you are and what you're talking about.
Select outfits that are practical so that you can operate smoothly at work or wherever you are – there shouldn't be any hindrance in the way you dress as it could quickly reflect that you're uncomfortable. Wear garments that look sophisticated and chic.
In this article, we will discuss not only how to dress like a boss, but also how to produce a capsule wardrobe that helps you wear boss woman outfits every day.
What To Expect In This Article?
Blueprint of Dressing Like A Boss (Even When You're Not One – Yet)
When we say boss lady or girl boss, we typically refer to women who look chic and are well-groomed. To dress like a boss, you can take up the styling tips mentioned below.
Darker Palette
If you're someone with a bright and sunny personality, it's better to dress slightly opposite of the energy you exude to balance the preppy vibe. Therefore, opt for colors that make you look powerful and credible.
Black is the most obvious color when you think about authority and business. But if you want to step out of the usual scheme of things, you can play with charcoal brown, sage green, ivory, tan brown, mocha brown and grey. Stick to solids and checkered looks. Plaid suit and plaid pants can take you a long way in establishing elegance and practicality.
Dress Smartly & Lean More On The Formal Side
When it comes to dressing like a boss, you must avoid wearing casual clothes. The trick to understanding this concept is this: keep it comfortable but chic. Now you can look like a boss even in a clean pair of sweatpants and sweatshirts. Conventionally, both garments are casual, it's simply how you carry the look.
Hence, one could say it's all in the attitude, but then the role of the occasion and your surroundings come to play. The color you choose, how you accessorize the look, and the fabric and silhouette, all are part of your overall appearance.
And so, what you need to take away from this tip is to dress in clean clothes with fabrics that don't easily crease. You want to ensure that even if you wear a regular white shirt with jeans, you're tucking in the shirt, adding a layer of outerwear in the form of a blazer or a leather jacket, and complete the look with footwear that is not too flashy or dirty.  
Quality Over Quantity
The idea that we debunked early on in this article is the notion that you don't need to dress in expensive clothes every single day. However, once in a while, you should invest in a quality garment or an accessory that gives the onlooker an indication that you really take care of how you present yourself to the world.
The key to ensuring this is by investing in quality clothes instead of buying truckloads of clothes just because you want to create a new look every day. In fact, we would argue that you can create a wide range of outfits with the same clothes in your capsule wardrobe. Again, for that to happen, you need to invest in durable, versatile and sophisticated garments.
To simply give you an example: you can wear a custom leather blazer in black with a plain white t-shirt and jeans, a floral midi dress, a bodycon, a leather miniskirt, and even tailored pant. There's no limit to how you can wear a leather blazer, thus, invest in clothes that you can pull off with other garments in your wardrobe. 
Instead of impulse buying, don't give in to your temptation, and plan what you want to buy and from where ahead of time. This tip will actually help you save money as well.
Always Have One Staple Accessory
A boss lady never steps out of the house without her watch or just that one accessory that is a staple regardless of what she's wearing and where she's going. Thus, it could be a branded watch or a designer bag, or even a pair of earrings.
Be Well Groomed
Another tip that is essential for anybody wanting to make a mark on the world and be taken seriously. Your presentation is not complete without you looking properly groomed. Therefore, always keep your nails clean, skin moisturized, and perfume on.
Girl Boss Outfits – The Staple Garments
As we discussed earlier, there are a few items that can be paired in a bunch of cool ways. You don't have to become a hoarder to dress like a boss lady. We previously gave an example of a blazer, but apart from that, these are a few more garments that will help you create elevated looks every time you step out of the house.
Two different types of leather jackets
Tailored sheath dresses in solid shades
A custom black suit
Four to five blouses in neutral tones
A-line dress with sophisticated silhouettes
A wide array of tailored pants
A pair of baby blue straight jeans
Cotton single-breasted blazer
Black and nude-colored heels – platform or stilettos
How to Dress like a Boss the Effortless Way – Outfit Ideas for a Boss Lady
Now that you have an idea of what comprises a classy boss lady outfit, you can create some looks on your own. To give you a booster of luck, here are some ideas you can work with as a beginner.
Outfit Number One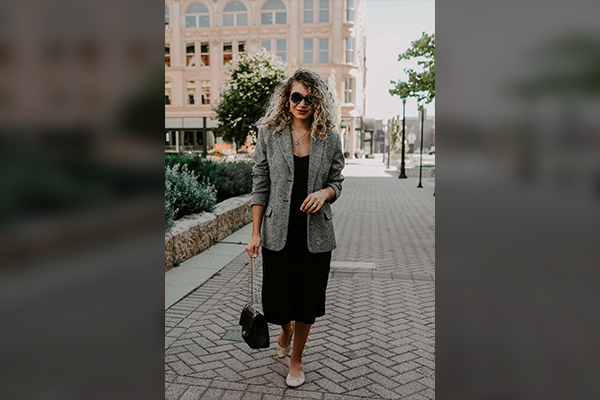 Opt for an A-line dress in any neutral color. You can wear a mocha toned oversized blazer with it and add height by wearing the most comfortable pair of heels that you own. Keep your hair down and wear the clean look that is so popular these days.
Outfit Number Two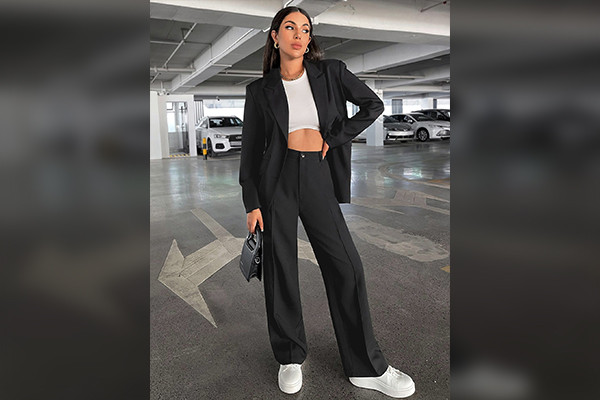 Wear a custom black suit with a white ribbed crop top if you want to keep things casual. However, you can also wear a white collared shirt if the event you're attending is somewhat formal. And complete the look with nude heels and a branded watch. As for the makeup, you should consider a bold, red lip color and your hair tied into a sleek bun.
Outfit Number Three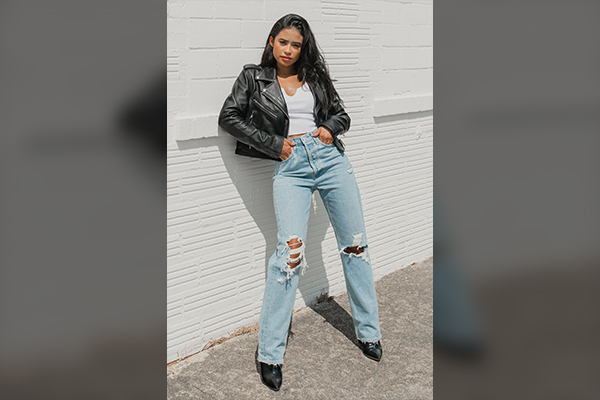 There is nothing more chic and stylish than blue straight jeans with a white bralette and a black bomber leather jacket on top. The look can be elevated by wearing ankle boots and an arm full of bracelets. 
Outfit Number Four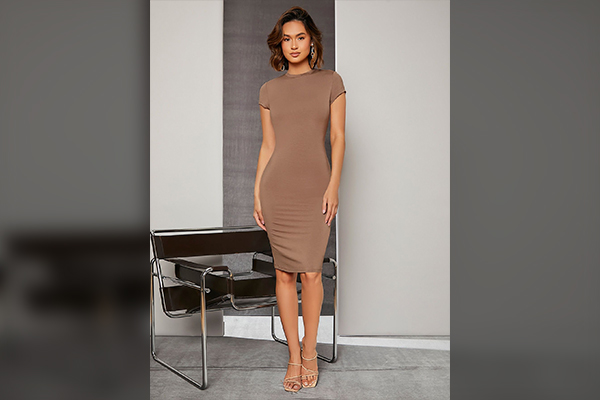 Opt for a bodycon outfit. You honestly cannot top a nude bodycon outfit that complements your figure and makes you look sleek and stylish. The look can be elevated by wearing a mocha brown or charcoal black suede leather jacket and strappy heels.
Outfit Number Five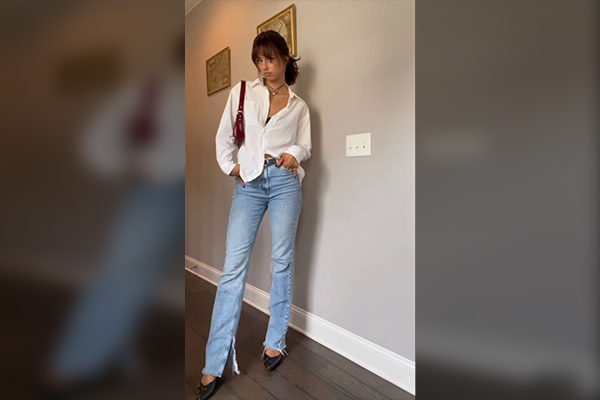 The final look that we would recommend for the ultimate boss lady outfit is this. A basic white collared shirt with the top button open. Wear a black tailored pant with platform heels. Again, a bold lip never goes out of style.
FAQs
Should You Dress Like A Boss?
Of course, you should. The real question is, why should you not dress like a boss.
What Do Female Bosses Wear?
Blazers, pencil skirts, and leather jackets are all instrumental in every female boss's capsule wardrobe.
How Do I Look Like A Girl Boss?
Outerwear like blazers and leather jackets are important if you want to look like a girl boss. However, it all comes down to your attitude and the way you carry yourself.
In Conclusion
Whether you came here looking for female ceo outfits or just wanted to know how you can wear a classy boss lady outfit for your first day at a new workplace, we have made sure you get something from this blog. Let us know which one was your top choice in the comments below!