Saffiano leather is used exclusively by luxurious brands for the production of leather bags, wallets and belts. The popularity of Saffiano leather is credited to its exceptional durability along with stain resistance. In addition to which this type of leather is also quite elegant and robust.
What is Saffiano Leather?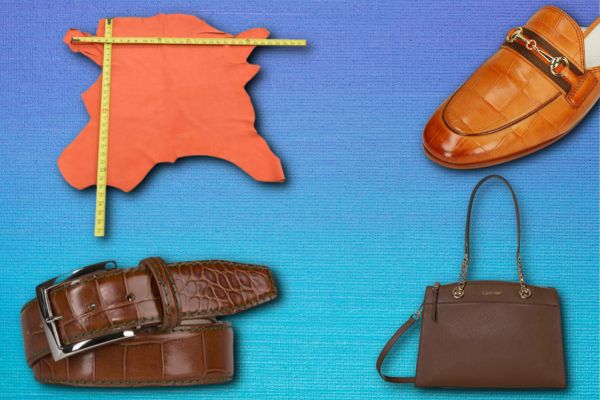 Originally from Italy, Saffiano leather is derived from the calf and is coated as opposed to dyed in various colors, like purple, blue, tan, etc. This specific leather has an opaque resin layer along with a crosshatch textured finish. Due to this reason, you don't see any pale coloring unless the coating scratches over time – something commonly observed with Saffiano leather.
The most interesting fact about Saffiano leather is that despite having a synthetic finish, the leather withstands elements like water, skin contact, and sun exposure quite easily. Furthermore, the Saffiano leather tends to preserve its appearance for a long time all thanks to its coated surface. 
Production of Saffiano Leather
The leather is first heated at 70°C during which the Saffiano pattern is pressed into the leather – treated for 10 to 15 seconds. In the final steps, the leather is treated with a protective wax finish; this step makes the leather resistant to stains, scratches, and water. Now the only thing that could potentially damage the leather is sharp items that are capable of cutting through the wax finish. The significance of the coating is that it elevates the durability of the leather and allows the creation of a diverse palate of colors. 
This is a full-grain leather known for its diagonal lines and crosshatch pattern that are pressed mechanically into the wax coating ultimately giving the subtle sheen.
Fun fact: Textured leather is the type of leather that gains its grain pattern via the stamping method.
Attributes: Durability, Saturated Colors & Daily Use
Saffiano leather has a wide array of positive attributes. Hence, it is used on a daily basis in laptop bags, tote bags, wallets, etc. The durability of this leather aids in creating vibrant and saturated colors. In addition, a full grain leather pattern is created by crisscrossing diagonal lines.
Is Saffiano Leather Genuine?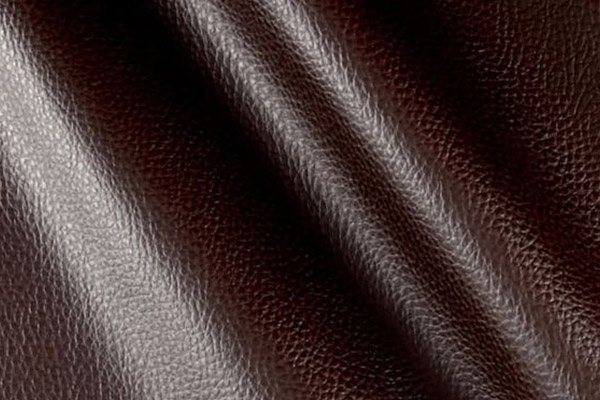 Saffiano leather is a genuine and high-quality leather. Many fashion houses have embraced calf leather and started creating their own versions of Saffiano leather in the production of their handbags, wallets and belts, etc. because of which the quality may not be the same in all. 
It must be noted that Saffiano leather is one of the most expensive leather products as it undergoes vegetable tanning, a heavily time-intensive process. This process is used to create the straps of many handbags.
Saffiano Leather Vs. Pebbled Leather
Saffiano leather is a natural leather that is made from pressed leather with applied coating. It has enhanced durability and a plastic finish. Pebbled leather, on the other hand, can be made from natural leather but it is not deemed essential. Furthermore, it is exposed to grain which requires additional care for long-term maintenance. 
Calfskin Leather Vs. Cowhide Leather
There are many types of leather but there are always comparisons between Saffiano and Cowhide leather. Saffiano leather is made of calfskin leather which is dense, lightweight abrasion resistant. The interweaving of this leather gives off the scratched look to the leather; something highly admired by top-notch stylists and designers. Cowhide leather, on the other hand, varies in terms of thickness and changeability. It has a soft finish that is usually observed in Tuscan products. This leather is mostly used to customize products. 
Saffiano Leather: Care and Maintenance
The good news about Saffiano leather is that it is extremely easy to clean. Hence, whenever you do buy a Saffiano product, check the care tags as they come with specific instructions. In case there are no instructions specified, follow the care instructions entailed below:
Empty the purse/bag/wallet before you start the cleaning process.
Always test the chosen cleaning method on concealed areas of the product before you spread it all over.
Check the surface of the sponge or brush that you are using to clean. If it starts disrupting the color, abort the mission and use another cleaning method.
A soft cloth is deemed best to remove lighter stains and dust. Baby wipes are also effective but be gentle with the use.
Dampen the brush if you find difficulty cleaning the aggressive dirt on the product. Never press down on the leather as it can potentially harm the sheen on the cover.
Buy a specialized stain remover in case the stain on the leather is an aggressive one.
Once you're done cleaning, leave the leather to dry at room temperature. Make sure you leave it in a place far away from heat sources.
Saffiano Leather: Use and Storage
Saffiano leather is a premium good and so it obviously comes with a dust bag. Make sure that you protect your leather as it can safeguard against dust and accidental spills. Protect the leather from direct sunlight, radiation exposure, or any kind of excessive heating as it can threaten to damage the color of the leather. 
Another pointer in the checklist is to put old newspapers inside the product for as long as you don't use it. Also, make use of the leather conditioner to maintain its softness. This may seem like an unnecessary step but it's essential for long-term maintenance. Clean it with a damp cloth every two to three months and be gentle with the touch. 
What animal is Saffiano made from?
Saffiano leather was originally made in Italy and from the highest quality calf leather. The leather is pressed into wax which it attains its crosshatch print; the reason behind its name, is calf leather. 
Is Saffiano leather soft?
Saffiano leather is hard-wearing and easy to clean. This is exactly the reason why most luxurious brands use this leather for their in-house leather productions. 
Is Saffiano leather expensive?
Saffiano leather is extremely expensive because of its time-consuming tanning process. Furthermore, it has many attributes that make it one of the most widely used leather. 
In Conclusion
Saffiano leather is a luxurious leather that is made from calf leather. It has a hard-wearing that makes it exceptional for daily use. Not only is it easy to wipe clean but it is also abrasive resistant. This is why most purses, wallets, handbags, and belts are made from this leather.