What is leather? You must be wondering what a strange question that is – we all know what leather is, we use it in our daily lives, so obviously we must know what it is. But does that really hold true? Leather is more than just bags and shoes. There are so many types of leather and their purposes. Every leather has a distinct use, appearance, and resistance. Depending on their preparation and source, you can identify leather of varied types. In this guide, we're going to discuss what is leather, how it is made, its history, and much more. Let's get started.
What Is Leather Made Of? – Process & Preparation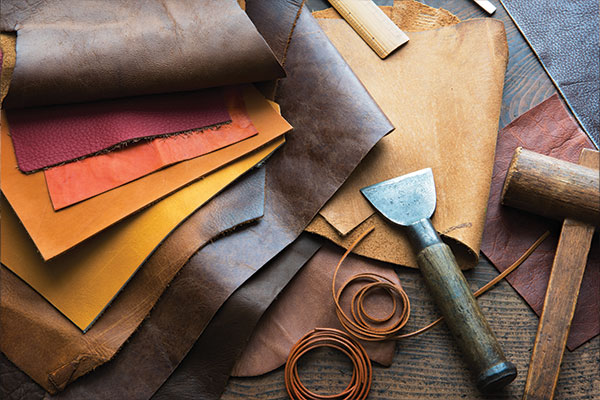 To give a brief answer to this ever-so-confounding and controversial question, leather comes from animal hides that undergo a few manufacturing processes to produce a wide range of products.
Italy, China, and Brazil are the main hubs of leather production. Depending on the grade type and intention, every leather goes through the aforementioned steps and processes. Once the finishing is done, leather is transformed into sofas, different types of leather jackets, shoes, and other accessories.
Brief History Of Leather
To give a brief introduction to the history of leather – because let's face it, the history of leather is comprehensive and if we get into minor details, it will turn into a thesis. Anyway, leather was one of the first inventions of human beings that came out of necessity. As you know, human beings used to hunt animals for food and so they started using animal hides to fulfill clothing needs too. In the industrial era, this need rapidly increased and leather became an essential and fast-growing industry. Leather goods were made, from boots to coats and even corsets. More recently, leather has become a luxury item. Popular and top-tier brands launch leather bags, footwear, and apparel all over the world. Hides attained from cattle animals aren't deemed to be as luxurious as the hides acquired from exotic animals.
How Leather Is Made?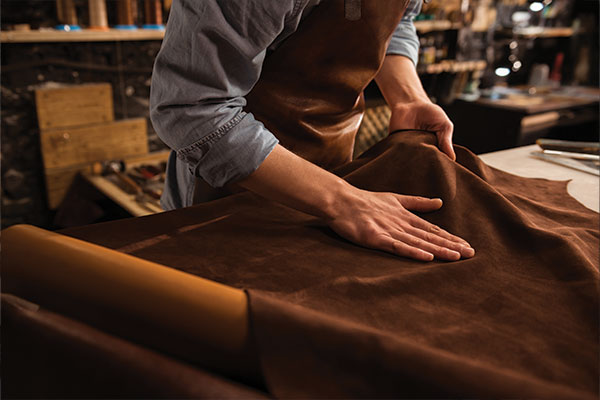 The manufacturing processes are as follows:
Cleaning: The hide is cleaned and brushed to remove dirt, wool, and excessive hair.
Tanning: This is the step that gives us leather. The hide undergoes vegetable or chrome tanning that stabilizes the animal hide and gives shape to the leather. In this step, the leather splits sometimes.
Retanning: This is the step where a unique character is given to the leather that shapes its color and appearance. For instance, oiling is used to make the leather softer and fuller and dyes are used to give a proper and consistent color to the leather.
Milling: the leather is made softer by putting in machinery – this is also called tumbled leather.
Finishing: This is the last step of the manufacturing process. This is when a protective layer is given to the leather via waxing, coating, embossing, oiling, and other printing procedures.
Uses Of Leather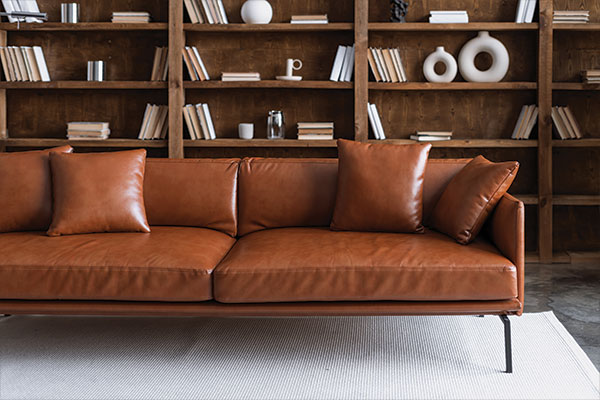 There are countless uses for leather. From leather jackets to coats, blazers, and vests to leather boots, bags, belts, and other accessories, leather is used for everything. If you keep your eyes open, you'll find leather being used in your car seats, sofas, as well as coasters and decoration.
Most Popular Leather Types- Based On Grading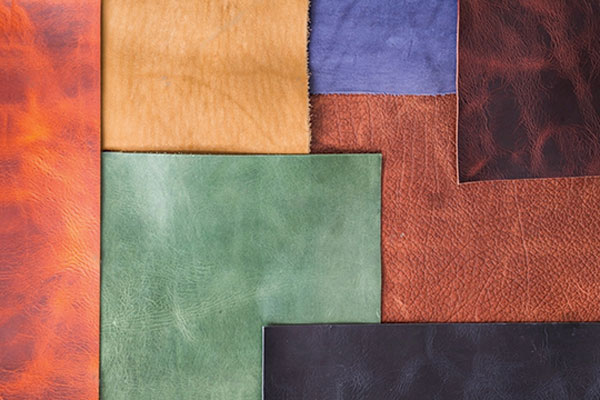 Here are the most popular types of leather-based on their grades.
Full Grain Leather
This is the top-most layer of the animal hide retaining all the marks and irregularities of its past life. Although it doesn't carry animal hair, it has not been sanded nor buffed so as to maintain its original and authentic appearance. Because it has not been touched or chemically treated, it is also the most durable and long-lasting leather of all the grades – indicating high quality which is mostly used to produce saddles, furniture, and footwear. Only full-grain leather is capable of developing a leather patina which is a gorgeous, vintage shade that appears on the surface of the leather with time and use.
Top Grain Leather
Top grain leather is the second layer of animal hide – it is resistant to abrasions and incredibly durable. It has been slightly treated; sanded and buffed, to remove irregularities and make the surface even-toned and free of blemishes. It is relatively stronger than genuine and bonded leather and also extremely soft and supple in touch. It is used for wallets, handbags, and jackets.
Genuine Leather
Genuine leather is extracted from all grades or layers of animal hide, however, it is deeply treated and fixed. Therefore, it is also called corrected leather. You can produce different leather products from genuine leather but they won't be good quality or at par with top-grain and full-grain leather. It is less durable and can easily develop scratches and tears. This leather has been sprayed, embossed and peeled, and much more to give a certain shape, color, and texture because of which the quality drops as well as its longevity.
Bonded Leather
Bonded leather is extracted from the scrapes of leather. This leather is extremely poor in quality and barely manages to resist any abrasions. It is cheap and easily available. It has been processed and contains 90 percent plastic which deeply reduces the quality of the leather and the lifetime of the products.
Most Popular Leather Types- Based On Source
Here are the most popular types of leather based on their source.
Cowhide Leather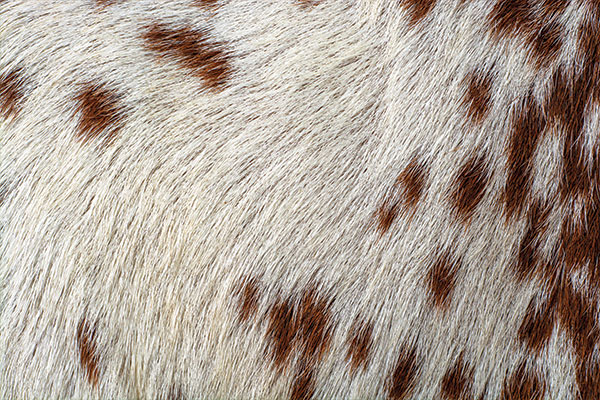 Cowhide leather is extracted from cow hide and is extremely durable and long-lasting. In comparison, it isn't as soft or flexible, but it is deemed best for rugged & custom leather jackets and cowboy boots.
Sheepskin Leather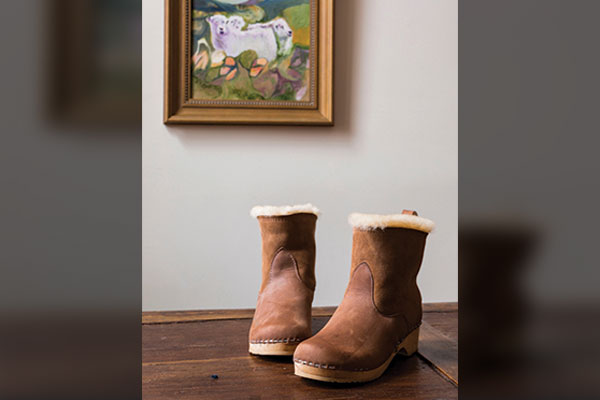 Sheepskin leather is extracted from sheep's hide. It is extremely durable, soft, and supple in touch. Flexibility is supreme and a semi-aniline finish makes it even more porous.
Goatskin Leather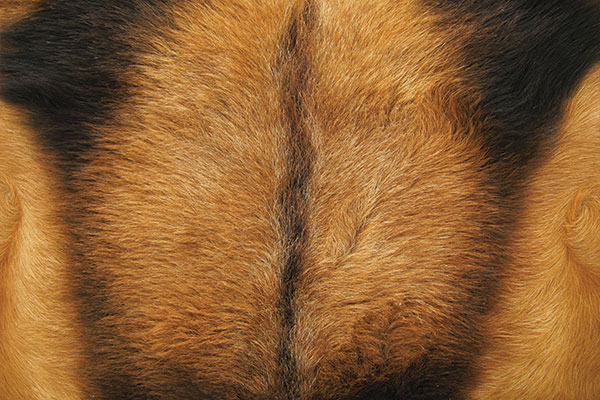 Goatskin leather is extracted from the goat's hide. It is supremely durable and long-lasting. It is resistant to abrasions and has a gorgeous appearance. Soft to the touch and overall flexible, goatskin leather is used to produce different types of leather jackets and bags.
Suede Leather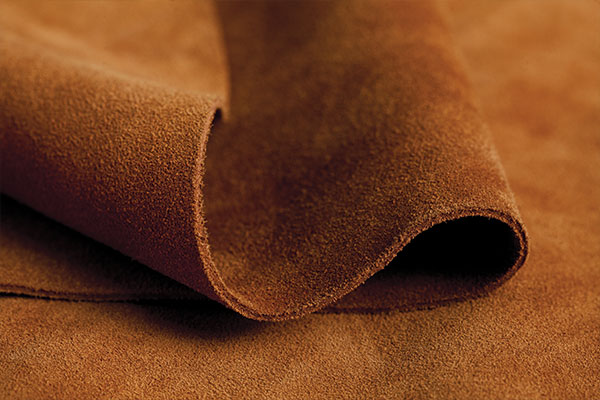 Suede is a type of leather that is extracted from the underside of animal hide. Suede leather is soft, fuzzy, and napped. It is extracted from sheep, goats, deer, and other animal hides.
Nubuck Leather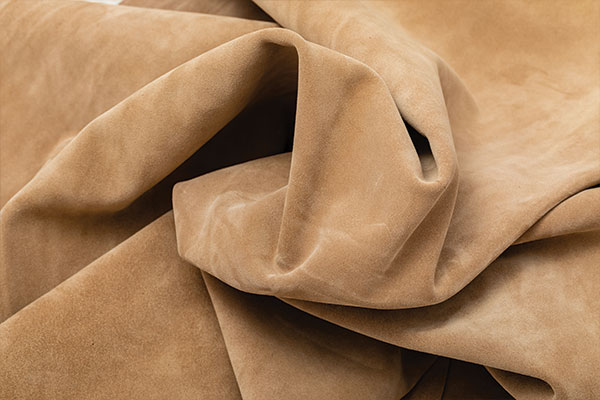 Nubuck leather is extracted from deer's hide. It has a velvety texture and is often compared to suede leather for its soft and supple feel. Having an extremely authentic look, this leather retains the original appearance of the hide; hence, you will find birthmarks, scars and other identifications of the old animal hide.
Is Leather Fabric Long Lasting?
Yes, leather attained from full-grain leather is long-lasting and extremely durable. They can resist abrasions and watermarks. However, bonded and genuine leather don't stay in their best state for long.
What is Leather Patina?
Leather patina, to put it simply, is the aging of good quality leather. What that means is, as time passes, and leather gets exposed to sunlight, water, air, and other impurities, it forms a layer on the top of the leather which is unique in color and gives a vintage look. This faded hue is nostalgia-inducing and supremely sublime and indicative of high-quality material.
Protection & Maintenance Of Leather
Here are some of the issues that you might face as your leather ages and gains exposure. We have provided protective and maintenance methods too.
Leather Cracking
You can try to fix leather cracks by cleaning them with a microfiber cloth damped in a mild soap and brushing off the dirt on the cracks. Now firmly apply leather conditioner on the cracks and let it dry.
Leather Peeling
If the leather starts peeling, it is best to wipe it clean with a microfiber cloth damped in a mild soap. Then apply fabric glue only on the areas that require fixing and then let it dry.
Is Leather A Textile Feasible?
Leather textile is essentially a misleading term – it is imitation or artificial leather. This term is mainly used by the furniture market and tries to convey the wrong message to the buyers. This isn't genuine leather either. Textile leather is cheap but not worth it.
How Do You Restore A Worn Leather Jacket?
You can restore a worn leather jacket by wiping it clean first with a dampened microfiber cloth. Brush off the impurities and strands with steady movements. Next is to put conditioner on areas that have received tearing or scratches over time. If the jacket faces peeling, you can apply fabric glue only on the areas that require attention too.
What Is The Best Treatment For A Leather Jacket?
The best treatment is to condition it regularly twice a year. 
Can Real Leather Be Restored?
Yes, real leather can be restored but it might hamper the durability considering real leather full-grain is mostly untouched. 
What Should You Not Use On Leather?
There are several advertisements and DIY tactics that have gained momentum over the years regarding the cleaning of leather. If you're ever trying to clean and restore leather, try to avoid the following items as they degrade the quality of leather: Baking soda, alcohol, vinegar, tartar, and lemon juice.
Is Leather Restoration Worth It?
Yes, leather restoration is definitely worth it – because leather itself is a luxurious item, it's important to keep it in its best condition, and for that, you need to restore it every few months. This way, you can make the most of the cost. 
Conclusion
Leather is one of the oldest inventions of human beings. It is available in various types based on source and grade. Full-grain leather is the best grade of leather that is capable of developing a leather patina where as cowhide and sheepskin leather are supreme in terms of flexibility and durability. You can find various methods to avoid leather cracking or peeling, conditioning being the most effective one. You can both restore and repair leather jackets.