Let's start with the common fashion query, "what is a midi dress?". A midi dress is a type of clothing named after its length. Midi dresses typically reach mid-calf, falling between the lower knee and upper ankles.
There are many shoes to wear with midi dress, depending on your own style. We suggest high heels and sandals if you are dressing for the summer. However, try boots or sneakers for the winter. Your footwear must complement midi-style dresses because they cut off at your shin.
There are many shoes that go with everything, but the following are our 15 best recommendations of stylish shoes that complement a midi dress.
Strappy sandal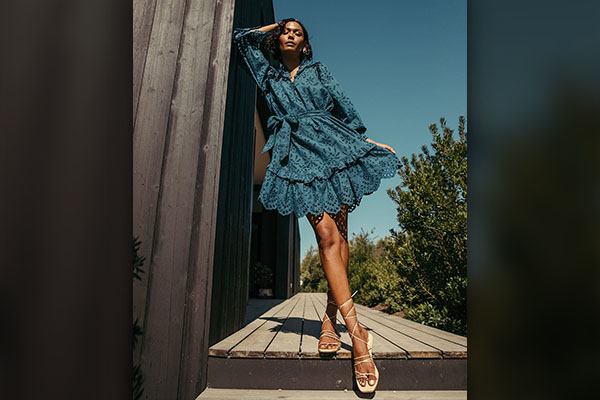 A sandal with an upper strap that crosses the foot is referred to as a strappy sandal. Sandals are casual shoes that go well with a variety of outfits. Every style of midi skirt looks great with these barely there strappy sandals. If your skirt includes striking designs or decorations, go with a neutral or metallic colored sandal.
Strappy sandals are looked upon as a fancier variation of basic flat sandals. There may be one or many straps on these sandals. They'll make it appear as though you're barefoot the entire time!
For all situations, if you are wondering what shoes to wear with midi dress, we assure you will look fantastic with strappy kitten heels or block sandals with a low or high heel. The delicate ankle-wrapping straps complement the midi dresses.
Flat sandal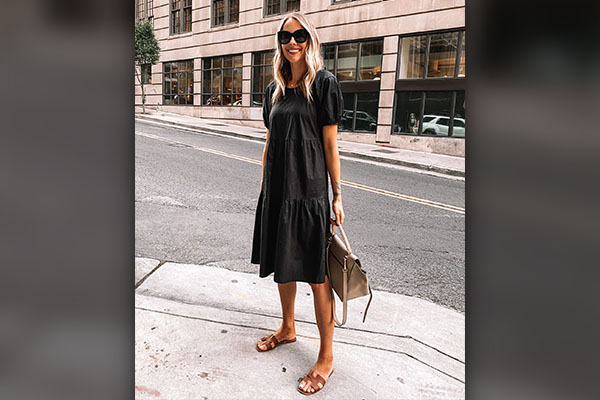 Here's an unconventional thought: What if you had flat shoes to wear with dresses? Although we may believe that heels appear the most attractive with midi skirts, simple flat sandals can also seem quite stylish. We adore this casual and oh-so-comfortable aesthetic, whether the shoes are embellished sandals or straightforward flats.
A midi dress looks fantastic with flat shoes. They can be worn all year round and are cozy to wear. The flat shoes are available in a wide range of hues, fashions, and forms. For the ideal casual style for both daytime and evening wear, combine them with your midi dress.
Flat sandals are ideal for all seasons, particularly the summer, and can also be paired with resort wear for women over 50.
Ballerina flats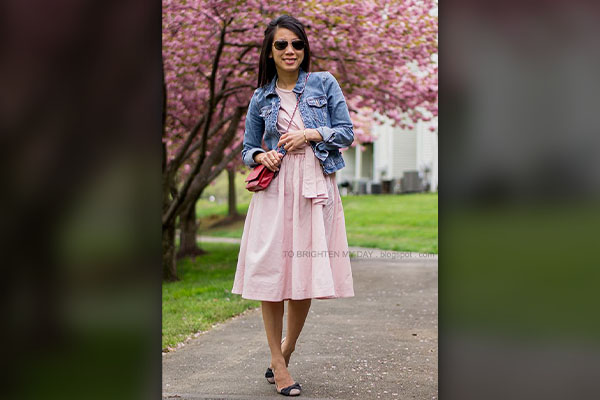 A midi dress belted on the waist with a voluminous skirt will look beautiful and retro with a pair of classic ballerina flats. The traditional black flats crafted with leather with a small cute bow play the perfect role as skirt shoes.
A stylish pair of pointed ballerina shoes might be a terrific alternative to a traditional flat. With a cocktail midi dress, select a flat with a satin finish. You can make them your go-to shoes to wear with midi dress.
A black or nude flat can look just as polished with an office-appropriate midi. If the straps are eliminated, it is all the better. For a funkier look, choose a pair of square-toed flats in any neutral color.
Summer slides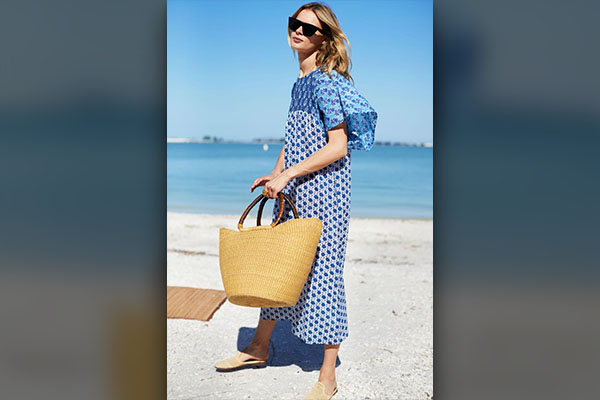 What could go better with a midi dress than a breeze like the summer slides? Your legs will appear to be considerably longer thanks to these slides, and your entire summer wardrobe will appear hassle-free.
Summers are all about light skirts. The most comfortable shoes to wear with skirts can be a pair of plain or elaborate leather slides. Many variations are available such as slides with single straps, criss-cross straps, or even square-toed with a low block heel. For women who are shorter or for anyone who wishes to gain height, a platform slide is a fantastic option.
Sneakers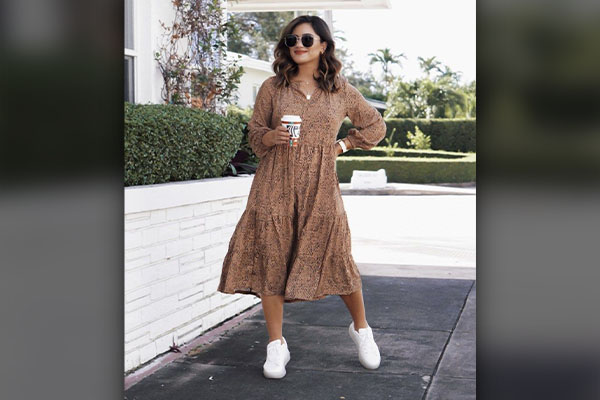 Sneakers are the ideal choice for casual shoes to wear with skirts and midi dresses. Sneakers go well with any kind of regular midi dress style, whether you choose to wear them in the spring, fall, summer, or even winter (if you dare).
White sneakers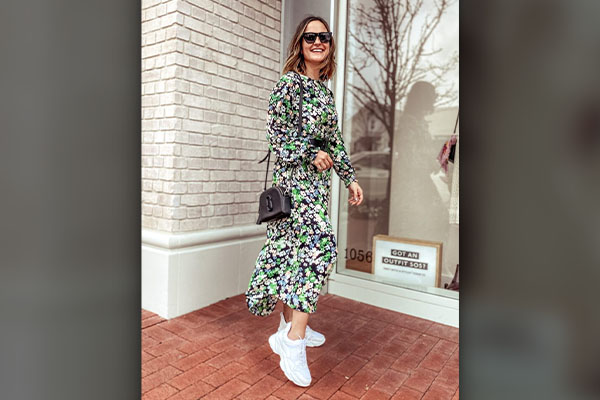 You'd be surprised at how regularly white shoes are worn. It is best to choose sneakers to wear with dresses that are either above or below your largest calf, for a casual gathering.
If you want a sophisticated and stylish look, wear a pair of white sneakers with your midi skirt. However, pairing your midi dress with a pair of white lace-up sneakers is a terrific approach to achieve a casual-cool look. White sneakers, sometimes referred to as tennis shoes in various regions of the world, are constantly stylish and trendy.
Black sneakers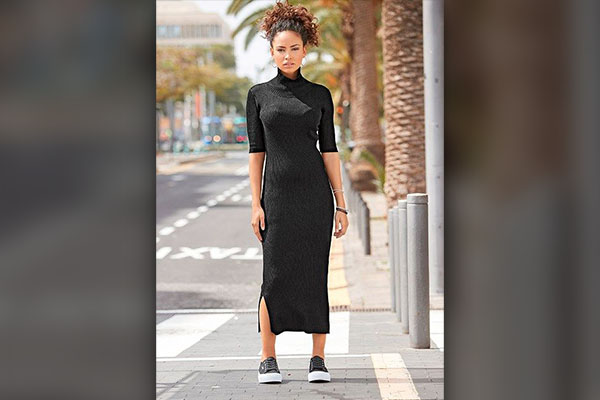 Sneakers come in a variety of colors, including black, white, orange, and red. You may craft an all-black ensemble by matching the color of the shoes to wear with black midi dress. Women who don't like to wear heels but still want to feel feminine should wear this attire.
Slip-on sneakers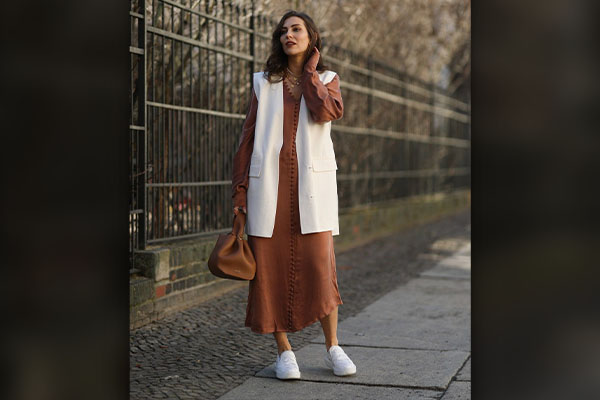 Slip-ons are an excellent substitute for shoes that go with skirts for people who are always on the go or who prefer a more stylish option. Any midi dress may be paired with a pair of slip-on sneakers thanks to the wide variety of colors, metallics, animal designs, and embellishments.
Slip-on sneakers come in lower or platform styles. These go well with a knit midi dress or a little black dress. In the fall, try it with a sweater dress.
Chunky sneakers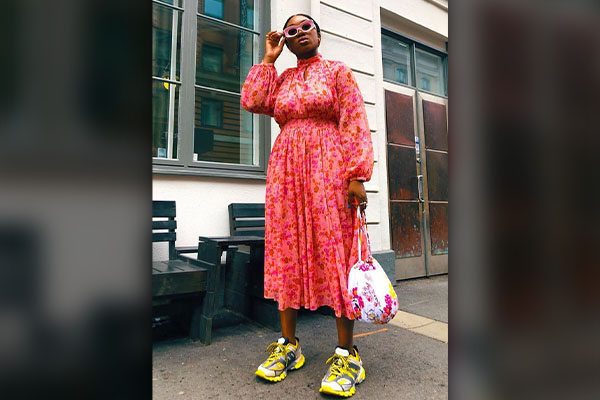 Pick a set of chunky sneakers for a cool, casual vibe. They've been popular for a long time, whether they're all-white or have patterned or color-blocked designs.
If you are deciding what shoes to wear with dress for a sporty look, then go for chunky sneakers. However, if you desire to craft a statement style with a simple dress like a bodycon, chunky sneakers with midi dresses work best.
Block heel sandals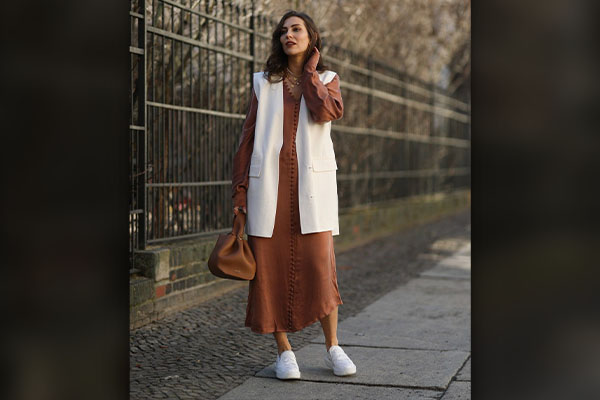 Block heel sandals are a good alternative to high heels. You won't appear overly tall because of them. This is an excellent option to pair a midi dress with stylish footwear. Sandals with a block heel are a terrific choice for warm summer days.
In the summer, they look great paired with a midi dress. When your midi dress has long or short sleeves, block-heeled sandals are the best shoes to wear with this knee length dress. This combination is straightforward, fashionable, and contemporary.
A lower, chunkier heeled sandal is also preferable shoes to wear with leather pants for a dramatic entry. It is up to you. If the dress and high heels match, the drama is on!
Pumps
The most traditional choice of shoes with long skirts or midi dresses is pumps. The classic stiletto pump with pointed-toe looks amazing with a midi cocktail dress.
Particularly, if the heel of the pump is lower and chunkier it can be a more laid-back shoe to wear with midi dress, along with knitted dresses. These might be more appropriate for more formal occasions and will be more comfortable than pointed heels.
If you're wearing a short or midi dress, pumps help in adding height to your look. Because they are so adaptable, these shoes look fantastic with both a midi dress and a short dress. Whether you want your shoes to be visible or not, these beauties are one of those shoes that go with everything. They are timeless while being stylish and attractive.
Espadrille Wedges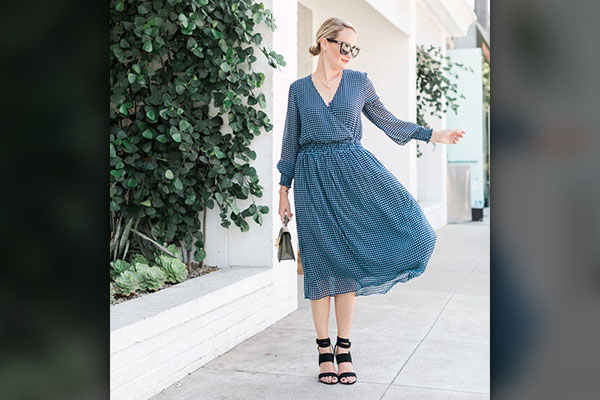 Espadrilles, which are ideal for warmer days, are one of the most comfortable shoes to wear with midi dress. Any woman can even incorporate them with her florida outfits because they perfectly define casual summer shoes.
Espadrille wedges can make your legs and frame appear shorter because of their lace-up strap theme. Choose an elevated wedge espadrille if you're small so that your ensemble can be balanced out.
Espadrille wedges appear incredibly feminine while still being versatile. They have lace and provide your feet some breathing room in the summer heat, making them ideal for the season. When worn with a midi dress, this is one of the most comfortable shoes you can own. It is ideal for making the change from the fall to spring and summer seasons.
Knee-high boots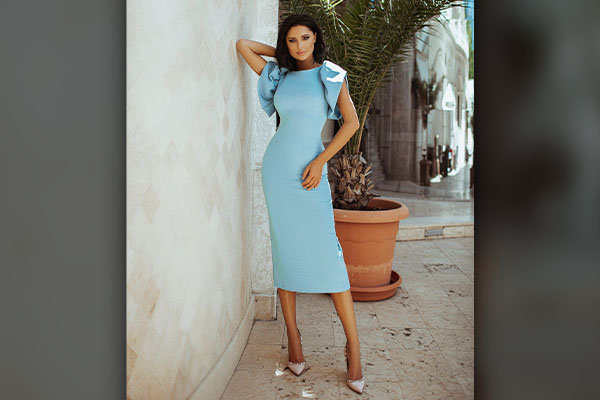 For the winter and fall seasons, knee-high boots are excellent shoes to wear with midi dress. A midi dress and boots are a great combination for cooler weather and more laid-back occasions, but the proper boot style can also be worn in spring or with more dressy outfits.
A knee-high boot is a terrific option to protect yourself from the heat of the pavement if you want to gain that extra height from a pair of boots. Additionally, there is a diverse collection of shades and styles available, allowing you to match your clothing with everything.
A classic appearance can be achieved by pairing knee-high boots with a midi dress. This attire is appropriate for the club as well as casual gatherings.
Low heel boots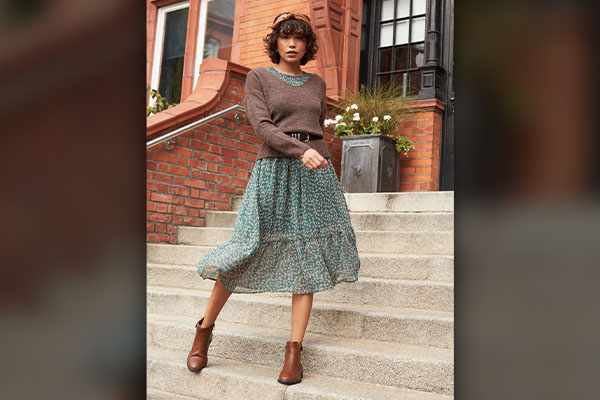 Boots with low heels are ideal for the warmer weather. They are ideal for days when you want to move around a little bit but don't want to wear stilettos. A midi dress looks great with these shoes.
Low heel boots will resemble heels if you wear them with a mid-length outfit. They are comfortable enough for walking around in. They are ideal as business casual shoes for women.
Ankle boots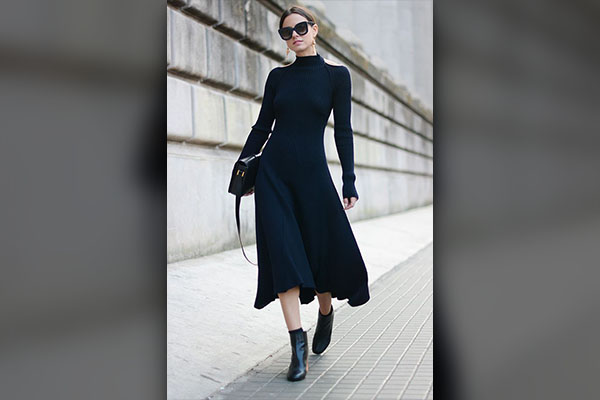 You might wonder if ankle boots are a good choice of shoes to wear with midi dress. Yes, however the design of the dress and the ankle boots will determine exactly how to wear ankle boots with a midi dress.
Your height is a consideration. That's because midi dresses often give the impression that you are shorter, especially when they hit just above your calf. Therefore, you should stay away from these lengths, particularly if you are a shorter woman.
Any style or length of dress works well when worn with tight sock ankle boots. That's as a result of how slim and tight these boots are. And these delicate boots are the ultimate in shoe styles that match with everything!
Combat boots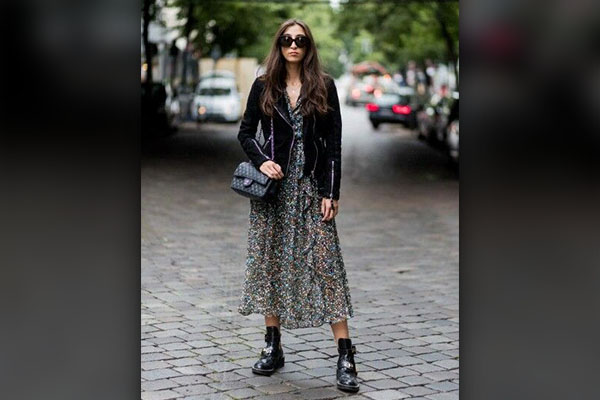 Combat boots will ensure that you look fashionable while wearing a midi dress if you simply don't feel comfortable wearing one. The combat boot also supports your leg, which adds to its comfort level and allows you to wear it all day.
This particular style of footwear is more appealing than the others. You should pick a midi dress that really highlights this stylish boot in addition to comfort and aesthetics. It goes well with both a formal outfit and a party dress.
FAQs – Shoes to Wear With Midi Dress
What do you wear on your feet with a midi dress?
With a midi dress you can wear a variety of footwear such as slides, sneakers, boots and strappy sandals.
What goes well with a midi dress?
Put on your favorite crossbody bag, your go-to summer sandals, a scarf around your bun, and your favorite sunglasses to complete the most well-crafted look with a midi dress!
Is it fashionable to wear ankle boots with a dress?
No matter the length of the dress, ankle boots can be a quite fashionable footwear choice. An ankle boot always looks chic whether you're wearing a midi dress to work or a maxi dress on the weekend.
Is a midi dress flattering?
For tall women, midi skirts look the best because they highlight their height. A midi dress is perfect for you because it hits you at the slimmest area of your legs. Ruffles and a belt can be used to add some curves to this flattering outfit.
Conclusion
Now that you know what shoes to wear with midi dresses, we hope you feel more knowledgeable. As you've read, there are numerous pairs of shoes that go well with midi dresses.
Fortunately, this enables you to wear midi dresses with most of the shoes that are already present in your wardrobe. And we all know that a woman's wardrobe is incomplete without a pair of flats, boots, heels, and sneakers. Such versatile footwear gets you through all the seasons.