This is not the first time that trends from the 50s and 60s have influenced fashion in today's world. Pinup style and rockabilly are two somewhat novelty looks that emerge from time to time. The credit for their popularity goes to the timelessness. The modern versions of these styles celebrate all shapes and sizes.
The interesting part about these two styles is that they are often used as interchangeable terms based on a common misconception. After all, although they share some similarities, they still are clearly different. Rockabilly, being a mashup of rock and roll music, hillbillies, rhythm and blues as well as country-westerns make for a strikingly unique style statement. On the other hand, there is pinup style, a fusion of rockabilly and old Hollywood glamour that originated from artistic and photographic poster sized images of fashion models or actresses that were meant to be 'pinned-up' for display.
To help you distinguish between the two, we will do a brief rundown on pinup style vs rockabilly.
What To Expect In This Article?
The Rockabilly Style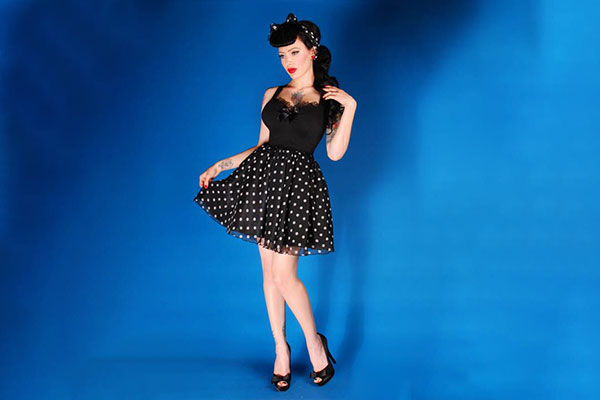 The rockabilly style came into existence at a time when pinup style was already popular, all over the world. That is probably why we can spot the similarities between the two. As rockabilly style continues to carry strong elements from pinup style from apparel and footwear to accessories, hair and makeup.
The major factor that sets them apart is their purpose. Women's rockabilly fashion initially was simple, amusing and inspired by rock music gradually incorporating elements from pinup style. Hence, this look evolved with rock music of the era. In the '80s, the era of the tougher rockabilly girls began. This was not as simple as what was followed in the 50s. The girls started to wear red and black, tattoos, love skulls. From here, rockabilly received the spooky touch.
The clothing, makeup and footwear appropriate for rockabilly are as follows:
Clothing
High waists, poodle skirts, boat necks, sweetheart necklines, halter-tops, tight shirts and shoes with pop-socks. Wearing dresses with a varsity jacket or a leather biker jacket is linked to this style.
The bottom can be teamed together with a menswear-style dress shirt that helps achieve some fun leather outfits as well. High-waisted pencil skirts and ankle-length pants are the ultimate pieces for a retro, rockabilly feel. The jeans included in this category are current wardrobe staples these days.
Hairstyles
The rockabilly hairstyle includes the unique victory rolls and gorgeous pin curls with v-shaped bangs, s-shaped waves, side buns, vintage snoods and bandanas as hair scarves.
Makeup
50's rockabilly was all about the no-makeup look with bright red lips. The eyeliner was perfect to the tip.
Footwear
For this style, almost every shoe shape and style is correct. In the early days, the rockabilly shoes had plaid prints, polka dots, red and black colors, skulls, etc.
After a while, the use of saddle shoes, ballet flats, low heels and platform heels became prominent. For a casual look, women wore converse and sneakers.
Accessories
Big flowery headbands, scrunchies, hairnets and bandanas were all the components to create a rockabilly look. Even though these accessories are a few, they make a huge difference to rockabilly outfits. Plus, statement jewelry is essential for this look. Additionally, funky sunglasses, tattoos and piercings are the accessories that define this style.
The Pinup Style
Pinup girls' styles are like fine wine, they get better as they age. The clothing for this style have given us classic cuts that are flattering, fits that complement everyone and colors that are easy to match. Gutsy, charming and sensual; this style has all the characteristics a modern woman in different age groups would want. If we rewind time, back to the 30s moving towards the 50s decades, many postcards and magazines had pinups of popular starlets and models of the day. Influencing and introducing pinup, as a style many women set their hearts on achieving.
Here are the items that contribute to this style:
Clothing
Pinup style dresses have a range of different shapes that move from fitted to flared. From waist hugging designs to patterns like polka dots, stripes or checks. The materials of these dresses are usually satin and often had ruched accents. However, the skirts have no limitation of length but they do have flounces.
The t-shirts have a heart neckline to show off just a little skin, while the pants have short lengths with high waists, circle skirts and cigarette pants.
Hairstyles
In pinup, there are hairstyles that scream retro chic like updos, rolled-up hair, big waves, among others. Most of these hairstyles are suited for women with long hair, but that doesn't mean you can't achieve them if the length of your hair is short.
Pinup hairstyles have a feminine opulence and charisma that you won't find in any other hairstyle. Greased upswept rolls, straight short fringe, wavy hair and flawlessly spiral locks are the epitome of the pinup hairstyle. Although these styles require some effort, once you get into practice they are easy to achieve. The women in their 30s can definitely try them out to look more sophisticated.
Makeup
This style made women look like dolls. So, the makeup look was to make the skin pale like porcelain. They used to wear red lipstick, black eyebrows, brown eyeshadow and black cat eyeliner.
Footwear
Unquestionably, the essential types of pinup style shoes are peep-toes and footwear with high heels.
Accessories
Unlike rockabilly style, you don't have to wear eye-catching accessories. Wide-brim hats, ribbons, scarfs, flower brooches are the accessories associated with the pinup style.
Finally, it's time for some outfit inspiration of these styles. Let's find out how they work in synergy:
Knit Vest with Dress Shirt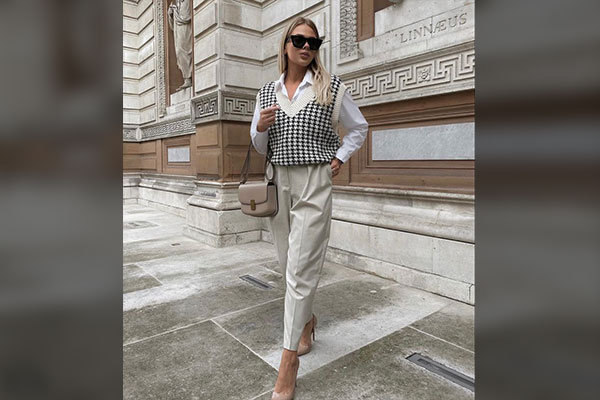 In the first pinup rockabilly style, you can wear a striped sweater vest with a white dress shirt that covers your thighs. You can wear your black stockings with heels. For the makeup, you can go for a red lip and a cat gel eyeliner. There is no need to do too much makeup. You can wear slim sunglasses with this look. Wavy hair is perfect to finish the look. This sweater vest outfit is great for winter. Just make sure that the stockings are a little warmer for the season.
A Black Wiggle Dress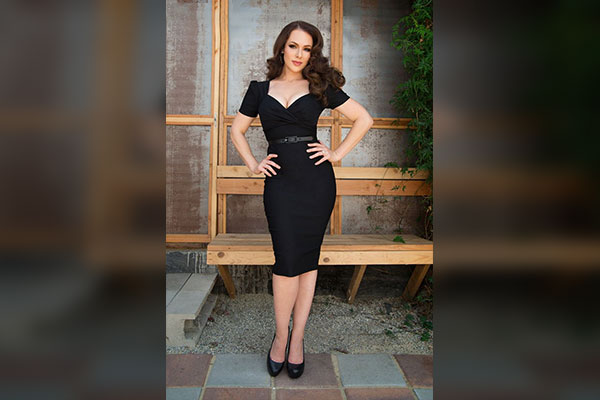 A wiggle dress is not just a 50's rockabilly pin-up style garment; it is an asset. Wear a drop-dead gorgeous black with black high heels. For the accessory, you can use rose brooches. Pearl necklace will look breathtaking with this get-up. You can sweep your hair in victory rolls to look more ladylike. This outfit is great to wear at any formal event. So, giddy up and order a black wiggle dress to kill people with your fashion sense.
White Full-sleeved Top with Red Pencil Skirt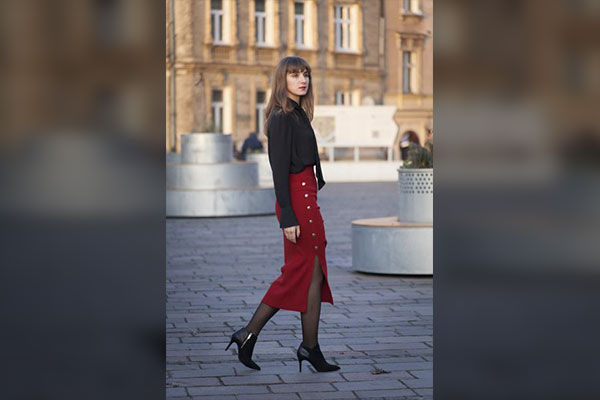 For a true top-to-toe rockabilly pin-up look, you can wear different types of shirts, a red pair of peep-toe heels, and a pencil skirt with plaids. Once you wear it, you will be shocked at how simple and comfortable this outfit actually is. You can run all your errands in the day and groove in the evening at a party. You can wear a hat with a neat bun and turn to red lipstick.
Ruffled Shirt with Capri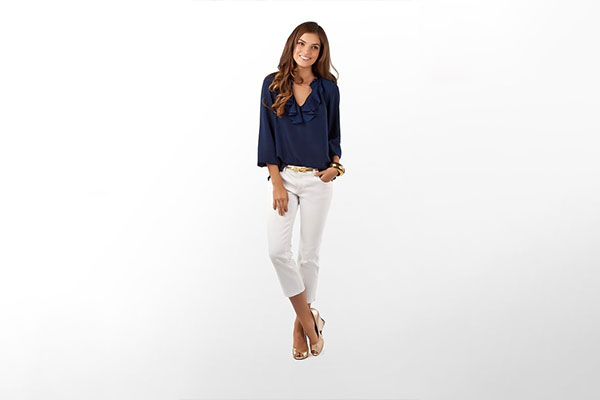 For the modern pin-up style, you can go with blue capris with a white ruffled shirt. A scarf on your head will give this a sweet classy touch. Wear a white belt and for footwear, you can choose white platform heels.
F.A.Qs
What is Pin-Up & rockabilly style?
The vintage pin-up style swerves away from cuteness, entering the chic zone with wiggle dresses and pencil skirts. The term pin-up came into the origin as boys used to pin up the picture of girls wearing these styles on their lockers, etc.
Rockabilly is a somewhat pin-up style with a contemporary edge.
What is rockabilly style?
Rockabilly fashion style for women is a combination of tons of piercings, floral swing dresses, tattoos, converse, polka dots, skulls and roses, bandanas, and bold red lipstick. This style is an attitude that comes from rock music to exude the daring side of a woman.
Are rock and roll a subculture?
Yes, in the 1950s, it was the rise of rock and roll music. It was everywhere from lifestyles choices, fashion, attitudes, and language. It brought teenagers of different races together. Everyone used to enjoy this genre, therefore it became a common ground for them,
In a Nutshell
The best part about these styles is that you don't have to be a certain size to pull off these looks. They both celebrate your curves and your natural body shape without crossing any boundaries. If you are apprehensive about the look and don't know any more sweatpants styles, better saddle up to explore the fun side of your personality.