Weddings and wedding receptions are no more similar to the ultra-formal theme that was followed for years in the past, where men and women dressed up in their traditional best. Dressing for weddings is now a matter of synchronization and uniformity, while at the same time sparking casualness and elegance.
This makes the whole matter of the dressing code rather confusing, where guests are in a toilsome situation, even more than the bride and the groom in terms of what to wear to a wedding reception.
Dressing as a Wedding Reception Guest- A Few Handy Tips:
The first and foremost rule is to know that the event isn't your chance to be a style rebellion. Nothing about your outfit must outdo that of the bride and the groom. At the same time, your attire must also not look like you have been recently out on an overzealous holiday in Hawaii.
Wedding reception dresses need to maintain a fine balance between sobriety and elegance, unless you are a part of the entertainment clan, or such a requirement has been proposed from the host's side.
Here is a brief guide that can help you in clearing out the confusion as to how you should look when attending a wedding reception.
Respect the Dress-code:
Most wedding invitations mention the dress code they expect their guests to show up in. If you are in close acquaintance with the bride or the groom, better discuss directly with them so as to avoid any confusion later.
PRO-TIP: in case a dress code has not been proposed, go with formal wedding attire. Do not wear white to a wedding or the after party unless asked by the hosts to do so.
Follow the Theme:
Themed weddings are on a high rising trend these days. Outdoor wedding dresses for guests are even trickier to choose. Themes mostly follow the destination of the event. Hence, use the venue as a guide for your attire. For instance, a beach wedding usually asks for vibrant colors, more so non-formal dressings, such as floral shirts and ties. Weddings at country estates may welcome a nice glen-check suit with trusty brogues. Wearing leather shoes to a beach is highly inconvenient, as you may find your feet sinking into the sand with every step. The key is to wear formal-looking Skechers to complement your style.
Keep it Formal:
It should be formal unless asked otherwise by the hosts. That is the primary rule. Hence, you need to practice some courage to suppress your temptation of wearing funky shirts and jeans (save them for later!).
The wedding reception accommodates more casualness. Here, you can escape the prime requirements of formal wedding attire. Similarly, if the wedding theme reads 'casual,' you may ditch the tie and go with an open collar grandad-style shirt instead.
Elegant Outfit Ideas for a Guest at the Wedding Reception:
The Unbeatable Sharp Look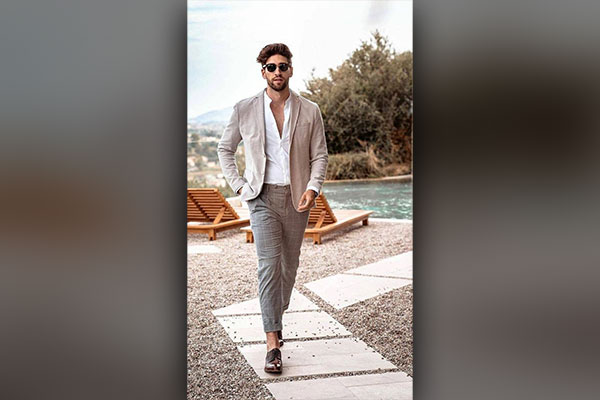 If you are in no mood to purchase a new outfit, your work-suit can do the task as long as it is correctly tailored and well-fitted. A navy-blue, jet black or subtle grey suit paired with a striped, light-colored shirt, a plain dark tie, or a bow tie with a correctly-placed knot will do justice to your wedding reception attire. Some fancy sleeve buttons won't do any harm. Complete the look by wearing sleek leather Derbys.
Skip the Traditional Look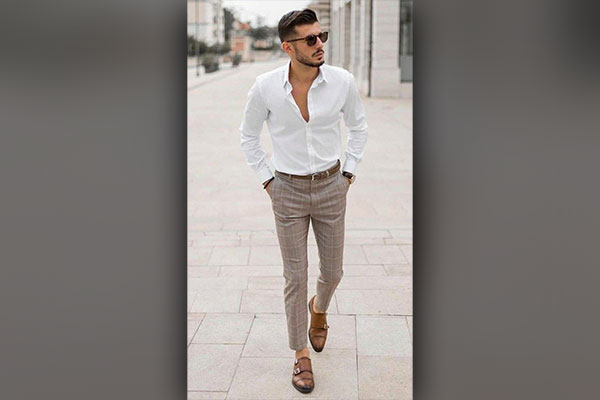 If you are going to be a part of the reception only, you can embellish your formal attire with some casualness. Time to get a bit creative here with your clothing pieces. Put aside the tie and go with an open-collar look or perhaps a polo shirt. Accessorize with a colored pocket piece and a fancy wristwatch. Keep the tones of your suiting dark and sober. Neutral colors also make a good choice.
Wear Separates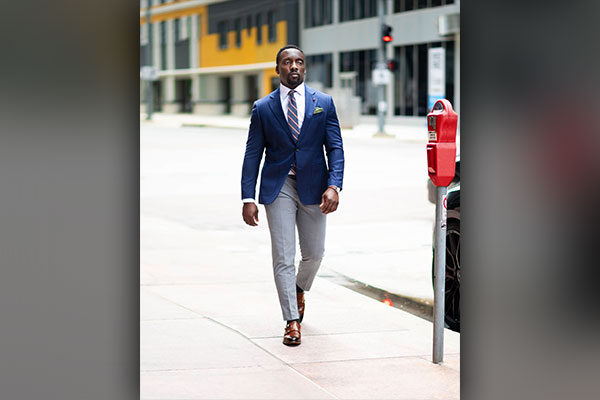 Another way to get creative with your wedding reception look is to combine clothing from different sets of clothes. This amplifies your options by several folds especially in terms of outdoor wedding dresses for guests. Pair a dark suit jacket with trousers of a lighter or neutral shade. Wear a plain light-themed shirt and complete the look with the help of trusty brogues of a contrasting shade. Patterned shirts and suits are welcomed here. Accessorize your attire with suspenders to add a jest of uniqueness.
Seasonality and Dress-code:
When shopping for an outfit, always do so in accordance with the season. You would certainly not want to drench in sweat during a reception. Shivering through an entire wedding evening is equally undesirable.
It is also crucial that the fabric you wish to purchase complements your look, and must not take away its elegance.
Here is how you can dress for a wedding reception in various seasons:
What to Wear to a Wedding Reception in the Summer?
Summers call for dresses bearing lighter tones, lighter materials and are flowy. At times, the wedding destination gives a strong hint about the dress code. For example, a wedding reception at a beach during summer is a big no to the traditional formal look. However, jeans and flip-flops are still not an option (sorry!).
Summer formal wedding attire is originally defined by black tuxedos or white dinner jackets and black or white ties. The color theme can shift to a dull grey and navy blue if black sounds too prescriptive.
The fabric must be breathable, which won't be hard to find if you are shopping during summer.
Semi-formal attires can be completed using tan suits of rather a laid-back tailoring. Keep the jacket a bit loose if you wish to make it seem more casual. Light blue suits with patterned shirts and a pocket square will maintain the edge in the look. Alternatively, you can wear your jacket over a button-down shirt and a pair of dark blue chino pants.
What to Wear to a Wedding Reception in Winter?
Everything about winter is unarguably formal, sober and classy by nature. Hence, winter weddings call for the traditional wedding look; black tuxedo, bow-tie, golden cufflinks, and Derby footwear. Choosing the right fabric is crucial.
What to Wear to a Wedding Reception During the Fall Season?
Shopping during the crisp and dry fall season is easy. Fall is the official season for weddings due to the friendly outdoor temperature, breath-taking picturesque landscapes and low travel rates. Barns make an ideal wedding destination. The use of light and vibrant fabrics is welcomed. Dresses to be worn during fall are rather a combination of that of winters and summers, that is, heavy fabrics adorned with funky patterns. You can transition from black-tie attires to more cocktail dress-like versions. A button-up shirt under a blazer, paired with dress pants is a promising look. You can wear these in contrasting colors. Smart casual dress code is the key.
Cheat-sheet for Dress-codes at Weddings:
White Tie Attire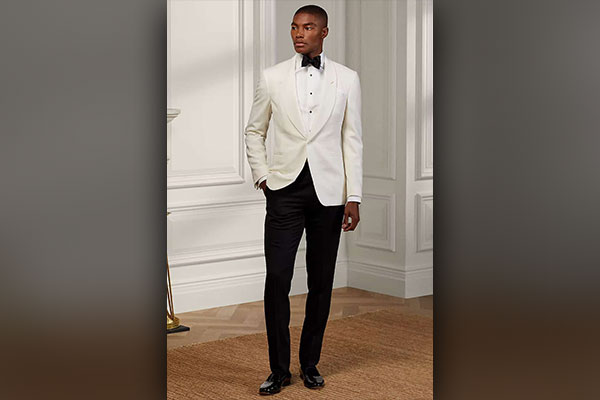 The formal-most of all wedding dress codes, is mainly reserved for VIP gatherings such as royal banquets and state dinners. Traditionally, this dress code entails a tuxedo tailcoat with extensions that measure up to the back of the knee. The color of the jacket and the pants must match. A white button-down shirt must be worn underneath the tuxedo along with a cummerbund and bowtie.
Black Tie Wedding Guest Dress-code
It's popularity ranks after its white counterpart. Evening weddings usually follow this dress code. Black tie attires allow hardly any room for alternatives. It requires a slim-fit black tuxedo with a pair of black dress pants and a white shirt underneath the jacket. The tuxedo can bear formal cufflinks. A black or a dark-blue bow tie is a must.
Cocktail Dress-code for Weddings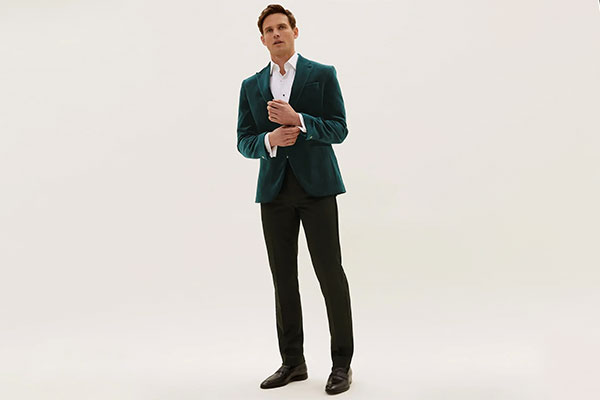 This wedding dress code translates as formal attire with a shorter hemline. Cocktail attires allow room for embellishment using accessories, color contrasts and patterns. Tuxedos can be replaced by formal jackets. Suits can be made of lighter fabrics. Cocktail wedding dress codes are usually followed in the spring and summer seasons. However, even if a wedding is taking place at a beach with a cocktail theme, you are not spared from a suit and a bowtie- these are the must-haves.
Beach Formal Attire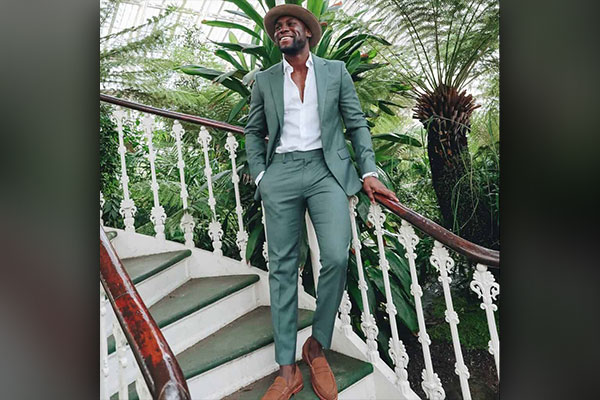 This dress code allows somewhat leniency as compared to the others. Choose the kind of fabric for your suit that won't take away its charm, whereas at the same time maintain your body temperature. A classic beach wedding outfit would be a linen dress shirt and slack with a blazer. Accessorise the look using trendy shades. Weddings at beaches are a great chance to show off your trendy cropped pants. Ties are optional and jackets can be replaced by waistcoats. Suspenders are also welcomed under the definition of beach formal attire.
To Conclude…
Wedding attire is formal in all ways, however, certain conditions and codes allow some room for versatility and innovation. It is always in the best interest to dress according to the host's requirements. Stay up to date to avoid lagging behind on wedding and after-party dressing and trends.